Operations
Oticon Donates Hearing Supplies, Virtually Tracks Mission in South Africa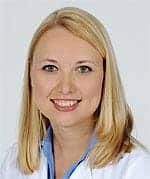 Jamie Burton Shumaker, AuD
A new Mission to Xanthia blog and hearing instrument donation program created by Oticon Inc, Somerset, NJ, may provide a way for hearing care professionals across the United States to make a positive difference in a part of the world severely in need of hearing care services.
This summer, Oticon Inc, in partnership with the American Academy of Audiology Foundation (AAAF), is putting People First into action by underwriting the cost for Jamie Burton Shumaker, AuD, and Julie Martinez Verhoff, AuD/PhD candidate, to join a humanitarian mission to remote villages in South Africa, including Mpumalanga, the location of the Oticon Xanthia Hearing Clinic.
The two audiologists were selected during a special drawing held at 2010 AudiologyNOW! and will travel with Jackie L. Clark, PhD, of the University of Texas at Dallas (who also has a research scholar appointment at the University of Witwatersrand in Johannesburg, South Africa) and a volunteer team of US audiology students.
Clark's teams have been working for more than 12 years, engaging professionals in the program, which includes school screenings for incidence/prevalence measures and community hearing clinics to identify and refer those with remediable hearing.
(Left to right, rear) Oticon's Henning Falster, Mariann Cadieu, and VP of Sales Jim Kothe, along with Jamie Shumaker and AAAF Director Kathleen Devlin Culver.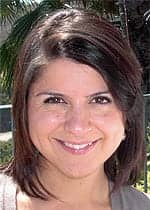 Julie Martinez Verhoff, AuD/PhD candidate
To enable hearing care professionals and other supporters to experience the day-to-day successes and challenges of this life-changing mission, Clark, Shumaker, Martinez, and other members of the Mission to Xanthia team will post their comments on a Mission to Xanthia blog located in the Professionals section of oticonusa.com. Click on "TEAM XANTHIA—Mission to South Africa" under the Professionals section.
In addition to an assortment of supplies and gifts for young children donated by the AAAF, Oticon will supply the team with 100 hearing instruments and more than 5,000 batteries for their mission. To sustain the humanitarian effort throughout the year, Oticon plans to refurbish and ship any gently used Oticon hearing instruments that are donated by hearing care professionals from across the country.
"As much as they might wish to, not every hearing care professional has the opportunity to travel to remote locations to deliver much-needed audiological care and supplies," said Oticon President Peer Lauritsen. "The daily blogs from Xanthia will allow hearing care professionals to follow the progress of our team as they provide needed care for children and adults with hearing loss.
"Through the Mission to Xanthia hearing instrument donation program, we aim to enable hearing care professionals to make a tangible contribution to the success of the program and thus share in the satisfaction of the many good works accomplished," he added.
Hearing care professionals may ship gently used Oticon hearing instruments to Oticon Inc, 29 Schoolhouse Rd, Somerset, NJ 08873, Attn: Customer Service/Xanthia Donations. Tax receipts will be issued for all donations.
Starkey's Zon Hearing Aid Featured in Smithsonian Cooper-Hewitt Exhibit
The Zon hearing aid from Starkey Laboratories Inc, Eden Prairie, Minn, which was released in 2008, is being featured in the Smithsonian's Cooper-Hewitt, National Design Museum in New York City as part of the museum's National Design Triennial series through January 9, 2011.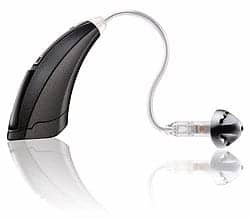 The ergonomic and patient research conducted to develop Zon has since been used to develop all of the company's standard products worn behind the ear.
"It is an incredible honor to have one of our hearing instruments featured in the Smithsonian's Cooper-Hewitt, National Design Museum and recognized for its results-oriented design," said Jerry Ruzicka, president of Starkey. "We invest heavily in research and development to ensure our technologies and innovations are designed to meet the varied needs of our patients. It's gratifying to be recognized for those efforts."
The company notes that its products are developed using an evidence-based design approach, blending world-class technology with beautiful design, ultimately providing high levels of acceptance and satisfaction for patients. Its standard products are built out of moisture-resistant materials and designed to minimize the number of touch points on wearers' skin. Working with respected cosmetics researchers, the company has developed a sophisticated hair and skin-tone color palette designed to complement and match natural skin tones and hair.
Inaugurated in 2000, Cooper-Hewitt's National Design Triennial series seeks out and presents what it determines to be the most innovative, forward-thinking designs at the center of contemporary culture from the previous 3 years. The exhibition showcases design solutions that promote environmental stewardship, social equity, accessibility, and creative capital in more than 125 projects.
This year's exhibition title asks the question "Why Design Now?" to examine why design thinking is an essential tool for solving some of today's most urgent problems; what draws creative thinkers, makers, and problem solvers to this crucial field of discovery; and why business leaders, policy makers, consumers, and citizens should embrace design values. Key developments across design disciplines will be presented through eight themes: energy, mobility, community, materials, prosperity, health, communication, and simplicity.
Starkey's Zon will be one of 15 innovations in the exhibit's health category, along with a prosthetic limb controlled by the human mind, a low-cost neonatal incubator made from car parts, affordable corrective eyewear that is self-adjusted by injecting various amounts of fluid into the lenses of thick glasses, and a system that uses UV light to make water potable.
Cooper-Hewitt, National Design Museum is the only museum in the nation devoted exclusively to historic and contemporary design.
On another front, Starkey Laboratories has donated 100 hearing aids to the Special Olympics Healthy Hearing Program for the benefit of Special Olympics athletes with intellectual disabilities. The Special Olympics North America Regional Games were held in August in Lincoln, Neb. Starkey's Elizabeth Galster, AuD, assisted the hearing aid team, which operated under the direction of Ruth Bentler, PhD, from the University of Iowa.
House Ear Institute Marks 30th Anniversary of First Pediatric Cochlear Implant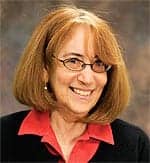 Laurie S. Eisenberg, PhD
In July, House Ear Institute (HEI), Los Angeles, celebrated the 30th anniversary of the first pediatric cochlear implant. HEI received FDA approval for a clinical trial in July 1980 to implant three patients under the age of 18 with the single-channel cochlear implant. The single-channel device had been developed at HEI by William House, MD, in the 1960s and successfully implanted in adults.
The success of HEI's clinical trial led to implantation of the same single-channel device in the first preschool-aged child the following year. Soon after, other centers in the United States initiated FDA pediatric clinical trials under the guidance of HEI in partnership with 3M Company.
Cochlear implants are surgically implanted electronic devices that also include externally worn components. The implants provide sound information for people who are unable to hear conversational-level speech through the use of even the most powerful hearing aids.
"Today, pediatric cochlear implantation has become standard clinical practice across the globe," said Laurie S. Eisenberg, PhD, codirector of the Children's Auditory Research and Education (CARE) Center at HEI. "This is a remarkable outcome when one considers that 30 years ago the implant technology was crude and the idea of implanting children was abhorrent to many in the scientific and clinical communities.
"Although there are many reasons why cochlear implants have become as successful as they are in helping deaf people with profound hearing loss to hear sound, it is the courage and commitment of a small group of clinicians and parents of deaf children who were instrumental in the eventual success of this technology for children," added Eisenberg, who was an audiologist on the first pediatric cochlear implant team in 1980.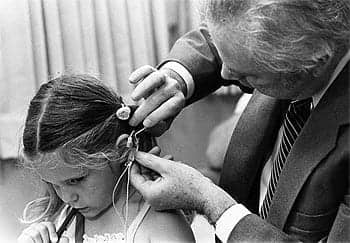 Dr William House fits the processor on Tracy Husted, one of the first children to receive a cochlear implant.
Since the summer of 1980, HEI and House Clinic surgeons have implanted approximately 600 children. In the early 1990s, typically 12 children per year were implanted. In 2009, House Clinic surgeons performed 74 cochlear implants on children, with 44 of those implants on children under 5 years old.
In the late 1980s, HEI became the first center in the United States to implant a young child with a multichannel device. The multichannel cochlear implant was FDA-approved for pediatric use in 1990. With the development of multichannel cochlear implants, recipients have been able to realize even greater benefits from this technology.
The FDA approved implanting children at 12 months old in 2000. HEI researchers participated in a national study led by Johns Hopkins University. Findings from this study were published in April 2010, showing that the earlier a child with hearing loss is implanted, the more successful the spoken language development outcome is for a child.
To further improve auditory and oral communication results for children, the growing trend across the country is for bilateral cochlear implants.
"Since the benefits of bilateral hearing have been proven, we are increasingly implanting 1-year-olds with bilateral cochlear implants," said William Luxford, MD, House Clinic associate. "In addition, we are seeing more children we implanted as toddlers who are now coming back as teenagers to get a second implant."
To read the entire article and view an array of photos, visit our news story from July 21, 2010. To read HR Editor Karl Strom's interview with Laura Eisenberg marking HEI's 25th anniversary (August 2005 HR), see the sidebar from the August 2005 issue.