TOP NEWS and HEADLINES in April
Panasonic to Enter US Hearing Care Market
Starkey Launches Raft of Products, Programs
New York Seeks to Allow Physicians to Provide Hearing Aid Services
Sonova Guns Toward Greater Market Share
Pop Singer Joey McIntyre Reveals Newborn Son's Hearing Loss
ReSound Introduces Alera
German Court Voids 2007 Decision Blocking GN's Sale of ReSound
Siemens Launches BestSound Technology
New Oticon Agil Helps Reduce Cognitive Effort Needed to Understand Speech
Children with CIs Attain Education, Employment on Par with Peers
UK Researchers Examine Sudden Sensorineural Hearing Loss
German supreme court strikes down previous antitrust ruling. Germany's supreme court has struck down a previous German antitrust court's decision that blocked a 2006 sale of GN Store Nord's hearing aid division to Sonova. As Germany constitutes approximately 10% of the worldwide hearing aid market, the previous court decision blocking the GN-Sonova deal had essentially prohibited any company with significant market shares in Germany from acquiring, or merging with, each other.

GN had filed an appeal after German antitrust authorities blocked the planned $2.8 billion sale of ReSound to Sonova, its Swiss rival and the parent company of Phonak and Unitron. Reuters reported that the company said it did not did not plan to revive the sale of its ReSound division, and it did not expect the court's ruling to facilitate compensation. Likewise, Sonova said it had no plans to make a new offer for ReSound. William Demant's chief executive declined to comment to Reuters on whether his company is interested in buying ReSound.

The new ruling could instigate takeovers in the hearing aid manufacturing industry where GN and Sonova rank among the world leaders, along with German-based Siemens and Danish-based William Demant Holding (Oticon and Bernafon), US-based Starkey Laboratories, and Widex.

The announcement initially triggered a surge in GN's shares. Trading in GN's stock was temporarily halted on the Copenhagen bourse after rising 8% in early trade.

The news also sparked a fair amount of speculation regarding consolidation among industry experts (see feature article in this edition of HR). In March, Siemens AG in Munich cancelled plans to sell its hearing aid business after it received bids that sources close to the deal said the company saw as too low (below 2 billion euros or US$2.73 billion).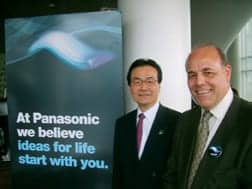 Panasonic's Corporate Senior VP Yoshi Yuasa and Director of Sales Delain Wright enjoy a moment after the first full day of the American Academy of Audiology meeting in San Diego
Panasonic enters US hearing aid market. Panasonic Corp of North America, Secaucus, NJ, announced it will enter the hearing care business in the US market, and the company hosted an exhibit at the recent American Academy of Audiology convention in San Diego.

"With the recent development of its own proprietary digital sound processing devices and algorithms, sleekly styled products, coupled with the powerful consumer brand's strength, I think Panasonic is in a strong position as we launch local operations in this country," says Delain D. Wright, a veteran of the industry who was recently appointed director of sales for Panasonic Corp of North America's Healthcare Group and has held previous leadership positions at Rexton and UK-based A&M Hearing. "Panasonic's commitment to understanding the needs of audiologists and patients, and partnering with the industry will enable us to be successful in this people-focused business."

Panasonic has its own proprietary hearing instrument technology, which it markets in Japan, and has been active in the worldwide hearing care field for close to 50 years, according to Wright. The company plans to collaborate with audiologists and hearing care professionals, and will offer a full range of products from CICs to BTEs and RICs. Currently, Panasonic is in the process of seeking and hiring professional sales, marketing, and business development managers, and audiologists.

Wright says that, from a worldwide corporate perspective, Panasonic is focusing its efforts on two broad product categories, establishing separate environmental and health care divisions, the latter of which will include hearing health. "The core philosophy of this company," says Wright, "is outlined in 7 basic objectives, the first of which is to offer products that make significant contributions to society. Our hearing instruments will certainly fulfill this goal, and we'll be able to leverage our technology and experience in hearing care for the North American market."

"As a leader in audio and video products for more than three-quarters of a century, and [with] a long history in hearing products in the Japanese market, Panasonic is well positioned to participate in the convergence of audio products and hearing aids," said Yoshi Yuasa, corporate senior VP of Panasonic Corp of North America. "We believe that Panasonic hearing instruments have the potential to help audiologists provide more desirable solutions to their patients while helping to build Panasonic's reputation for other types of health care solutions as well."

Panasonic Corp of North America provides a range of digital and other electronics products for consumer, business, and industrial use. The company is the principal North American subsidiary of Panasonic Corp, and the hub of Panasonic's US branding, marketing, sales, service, and R&D operations.

Heritability of tinnitus is low. The relative importance of genetic factors in tinnitus is low, according to new research from the Norwegian Institute of Public Health, Oslo, in what is reported to be the first large population based study on the subject.

The study, published in the February 2010 edition of Archives of Otolaryngology-Head & Neck Surgery, looked at prevalence of tinnitus and to what degree it is hereditary. Prevalence of tinnitus was 15.1%, which correlates well with findings from other countries, say the researchers. The new study shows that only 11% of the variance of tinnitus in the population is caused by genetic effects, whereas environmental factors account for the remaining 89%.

"Such a low heritability is a surprising find because most other diseases studied earlier have been more or less hereditary," says Dr Ellen Kvestad at the Division for Mental Health at the Norwegian Institute of Public Health. "We had expected that genetics and the environment would be roughly as important as each other."

Structure of inner-ear protein is key to hearing and inherited deafness. New work from the laboratories of David Corey, professor of neurobiology at Harvard Medical School and Howard Hughes Medical Institute investigator, and Rachelle Gaudet, associate professor of molecular and cellular biology at Harvard University's Faculty of Arts and Sciences, has discovered how the structure of a vital region of cadherin-23—one of two proteins that join to form each tip link in the cochlea's stereocilia—relates to the hearing process. Researchers found cadherin-23 to be stronger and stiffer than previously thought, a characteristic produced by calcium ions that bind within folds of the protein and tie the folds together. Furthermore, they found that many mutations to cadherin-23 cause inherited deafness by weakening the ability of calcium to hold the protein together.

"Our findings help explain a whole class of inherited deafness," said Corey. "Many, many different mutations that cause inherited deafness are mutations specifically to the amino acids that bind the calcium. And these findings show how critical calcium ions, and the amino acid residues that bind them, are to the structure of this protein." The researchers believe the findings offer new insights that may one day better inform efforts to develop therapeutic interventions. The research was funded by the National Institutes of Health, National Science Foundation, Department of Energy, and the Klingenstein Fellowship Award.

Children with cochlear implants attain par in education and employment compared to normal-hearing peers. Deaf children who receive cochlear implants seem to be more likely to fail early grades in school, but they ultimately attain educational and employment levels on a par with their normal-hearing peers, according to a report in the April 2010 issue of Archives of Otolaryngology-Head & Neck Surgery.

Frederic Venail, MD, PhD, of the Centre Hospitalier Universitaire Gui de Chauliac, France, and colleagues interviewed the parents of 100 children who were deaf before they began to speak, received cochlear implants before age 6, and had at least 4 years of follow-up. Of the 74 patients without additional disabilities, 24 were age 8 to 11, 24 were age 12 to 15, 18 were age 16 to 18, and 8 were older than 18.

The report notes that most children who did not have additional disabilities received mainstream schooling (67% to 83%, depending on the age group). Some 19 or 26% experienced delays in acquiring reading and writing skills, 53% experienced grade failures, and, compared with the age-matched general French population, they experienced a mild delay in educational placement.

In the group of 8 participants older than 18, a total of 5 had a high school diploma, 3 had pursued vocational training, 4 had a university-level education, and 1 was employed with a master's degree. Among the participants with other disabilities, level of academic achievement and employment status varied.

The researchers concluded that, to help minimize delays and boost academic success in mainstream education, "early oral education and early cochlear implantation are important."
---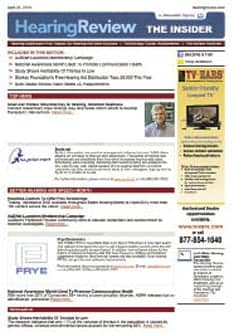 Want the inside scoop?
Every week The Hearing Review sends out THE INSIDER, a weekly FREE e-newsletter devoted to the top hearing-related news, research, product introductions, fitting topics, and marketing research stories that are influencing your business or practice, as well as the industry at large. [register]Sign up for your free subscription[/register].