OPERATIONS
Sonova Raises Sales, Earnings Outlook for Current Business Year

Sonova Holding AG, Stafa, Switzerland, says the group anticipates an organic sales growth of 17% to 18% and an EBITA margin of around 28% for the business year 2009/10—barring unforeseen events.
"With one-and-a-half months to go before the end of the business year, the better-than-expected demand for our products has allowed us to raise the outlook for the current business year," said Valentin Chapero, CEO of Sonova Holding AG, in a statement. "The success of the recently launched products in particular has contributed strongly to this improved growth outlook and will enable us to make further sustained gains in market share. Furthermore, the market environment as a whole has also continued to improve."
The company issued its former outlook of 13% to 15% organic growth and an EBITA margin of 27% to 28% for the current business year as part of the semiannual report in November 2009.
Sonova will publish its results for the business year 2009/10 on May 18.
Oticon Announces New Corporate Strategy That Strengthens Commitment to People First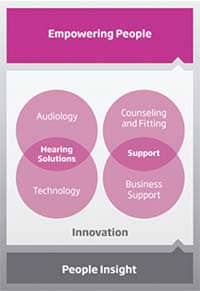 A new, active generation of end users is coming, and Oticon, Somerset, NJ, says it will meet their rising expectations with new products, services, and business support initiatives—and a new corporate brand strategy that is built on three guiding principles: People are the starting point, innovation is the means, and empowering people is the company's shared goal.
"Everything Oticon does is grounded in a long-standing commitment to putting the needs of People First," says Oticon President Peer Lauritsen. "While our core philosophy remains the same, in the future Oticon will interpret this philosophy in the context of the new changed user, and the consequences this has for the hearing industry."
The broadened approach will combine technological aspects with new services and business-support initiatives based on end-user insights. Working one-on-one with hearing care professionals and their clients—in the laboratory, in the field, and at Eriksholm, the company's international research center—the company gathers insights that form the starting point for new discoveries that address users' expectations, needs, and social interaction in daily life. "Our culture of innovation gives Oticon the energy and the ability to be the first to bring the best ideas to markets," says Lauritsen. "This enables us to set new standards by turning seemingly impossible needs and wishes into new and beneficial solutions."
The company says it will strengthen its offering with a wide range of effective online and offline tools. The strategy will shape and direct the work of the entire Oticon network, which includes more than 100 sister companies around the world.
2010 Starkey Academic and Clinical Scholarship Applications Now Being Accepted
Starkey Laboratories Inc, Eden Prairie, Minn, will be accepting applications for the William F. Austin and Outstanding Student Clinician scholarships through June 11. Students can find information about the scholarships and application forms at StarkeyPro.com in the Audiology and Education section. Scholarships will be awarded in August 2010.
Starkey awards scholarships through Starkey University, a comprehensive educational outreach program offering hearing care professionals and audiology students learning opportunities that focus on a variety of relevant, hands-on curricula. The scholarship recognizes outstanding audiology graduate students pursuing clinical, teaching, and research careers in audiology, and the Outstanding Student Clinician scholarships are awarded to students pursuing careers in clinical audiology and private practice.
Starkey Hearing Research Center Staff Presents Around the World
Staff members from the Starkey Hearing Research Center, Berkeley, Calif, a division of Starkey Laboratories Inc, Eden Prairie, Minn, have been invited to speak at a number of important conferences around the world this spring.
Karrie Recker, AuD, was to present on three different hearing aid-related topics in February, including acceptable noise level, hearing aids and cell phones, and high-frequency real-ear measurements, at the VII National Convention of Audiology & EXPO 2010 in Bogota, Colombia. Also in February, Sridhar Kalluri, PhD, was due to present "Binaural Function and Its Benefits for Wearers of Hearing Aids" to the Association of Independent Hearing Healthcare Professionals in Edinburgh, Scotland. Brent Edwards, PhD, was set to present "Binaural Psychoacoustic Considerations for Hearing Aid Processing" as the opening keynote address for the Swedish Association for Technical Audiology in Stockholm, Sweden, on March 17.
| | | |
| --- | --- | --- |
| Brent Edwards, PhD | Karrie Recker, AuD | Sridhar Kalluri, PhD |
"We are excited to have the opportunity to share our research and insights with audiology communities around the world," says Edwards, VP of research for Starkey Laboratories Inc and director of the Starkey Hearing Research Center. "It is an honor to be seen as a leader in hearing research, and we look forward to the opportunity to share our knowledge."
The Center is staffed by an interdisciplinary group of engineers and scientists whose research, primarily in auditory perceptual science and signal-processing technology, is then translated into real-world technologies that offer real benefit to hearing aid wearers. Visit StarkeyResearch.com for more information.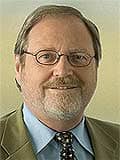 Peer Lauritsen
Oticon Foundation Supports Haiti Earthquake Victims
The Oticon Foundation has donated 250,000 kroners (approximately $50,000) to support relief services for victims of the earthquake that devastated Haiti in January. The funding aims to bring needed services and supplies to survivors of the disaster that killed 200,000 and left an estimated 1 million people homeless.
"We are pleased that we are able to add our support to the relief efforts now under way in Haiti," said Peer Lauritsen, president of Oticon. "This is truly a situation in which a commitment to People First is evidenced by many—from international rescue organizations to individual volunteers who are working together to put the needs of the people of Haiti first."
Contributions by employees at Oticon Inc's Somerset, NJ headquarters and offices across the country also helped support Haitian relief efforts.
Sonic Innovations Teams with Utah Department of Health to Give Children Hearing Aids
Sonic Innovations Inc, Salt Lake City, is partnering with the Utah Department of Health, Hearing, Speech and Vision Services, and the Utah Newborn Hearing Screening Advisory Committee to help children with hearing loss. The program, titled Sonic Kids, will provide two hearing aids per month to Utah children at no cost to their families.
The first recipient was 8-year-old Kingsly Nana Fabu, who received the initial fitting in January at the Children with Special Health Care Needs Bureau, Salt Lake City. She received a pair of Sonic Velocity 24 BTE (behind the ear) hearing aids, which are premium aids in the Velocity line of products suited for patients who are constantly in challenging listening environments that typically include background noise.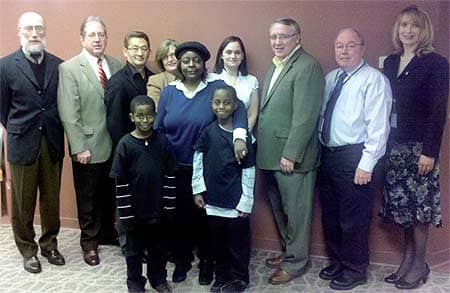 Donors flank Nana Fabu family, after Kingsly Nana Fabu received hearing aids via the Sonic Kids program.
"Sonic Innovations is proud to be part of such a worthy project," said Sonic CEO Sam Westover. "Children's hearing loss can lead to developmental, emotional, and communication issues, which can often times be corrected with a simple hearing aid. I believe that the Sonic Kids project will change the lives of several children in need."
Program applicants may be referred by public and private agencies and audiologists. Audiologists who fit the hearing aid(s) must agree to the use of the best practice hearing aid fitting protocol endorsed by the Utah Newborn Hearing Screening Advisory Committee. The managing audiologist will work with Sonic to choose appropriate hearing aid(s) for the eligible child.
Oticon Pediatrics Publishes New Child-friendly Comic Book Series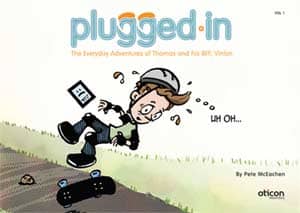 Thomas, the hero of the new Plugged In comic strip, is a typical boy who navigates the ups and downs of middle school with a sense of adventure—and a hearing loss. Oticon Pediatrics, Somerset, NJ, is bringing Thomas and his humorous antics to children with hearing loss through an exclusive arrangement with Plugged In's creator, cartoonist and toy designer Pete McEachen.
The first Plugged In book—a compilation of dozens of comic strips starring Thomas and his friends—will be included with all new Oticon Pediatrics hearing instruments for children ages 5 to 18. The characters in the series are named after prominent historical figures with hearing loss or deafness. Thomas is named for inventor Thomas Edison, Vinton for Vinton Cerf, cofounder of the Internet, and Juliette is named for Juliette Low, founder of the Girl Scouts.
Volume I of Plugged In, The Everyday Adventures of Thomas and his BFF Vinton is available exclusively from Oticon Pediatrics. In addition to providing the book as a gift with all new Oticon Pediatrics instruments, the company is making copies of the book available for a small fee. For more information, visit www.oticonusa.com/children, or contact Oticon Pediatrics at .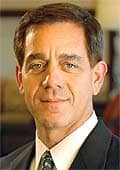 George Dennis
TV Ears Relocates Headquarters
TV Ears, Spring Valley, Calif, has moved its headquarters to keep up with growth on many fronts—due to recent product development expansion, creation of a new IT department, and the need to accommodate more employees.
"TV Ears has already helped more than 1 million people hear the TV more clearly, and we're going to raise that number by expanding our operations," says George Dennis, the company's founder and CEO.
The new, 15,000-square-foot office space nearly doubles the size of the previous location, and the building streamlines operations by bringing three local warehouses together under one roof—a key factor in choosing the new location.
The company's new offices are located at 2701 Via Orange Way, Suite 1, Spring Valley, CA 91978.
HearUSA Introduces AARP Hearing Care Program for Americans Aged 50-plus in Several States
The AARP Hearing Care program, provided by HearUSA, West Palm Beach, Fla, was just introduced in several states as part of a nationwide rollout.
Residents in New York, North Carolina, Pennsylvania, Missouri, Massachusetts, and Michigan are among the millions of 50-plus Americans nationwide who will receive access to the Hearing Care Program exclusively for AARP members.
"The program features more affordable, state-of-the-art digital hearing aids that are also smaller, smarter, and more comfortable than ever before," said Stephen Hansbrough, CEO and chairman of HearUSA. He added that the program offers uniform pricing and extended warranties on hearing aids and related products, thorough testing and evaluation, and best practices hearing rehabilitation (acclimation guidance and support) that exceed industry standards.
The company anticipates that, by 2011, the HearUSA nationwide network of approximately 5,000 credentialed hearing care providers will be available to AARP members in all 50 states and the US territories. Earlier, the program was made available to people in Florida and New Jersey.
For a detailed description of the HearUSA hearing care program for AARP members, visit: www.hearusa.com/corporate/aarp.
BHI Publishes First Comprehensive Guide to Financial Assistance for Hearing Aids
The Better Hearing Institute (BHI), Washington, has published Your Guide to Financial Assistance for Hearing Aids to help people obtain financial assistance to purchase hearing aids. Two out of three adults with hearing loss cite financial constraints as a core reason they do not use hearing aids, even though more than 95% of people with hearing loss could benefit from hearing aids, according to the organization. The publication provides a financial resource for people considering a hearing aid and allows them to quickly and easily identify charitable foundations, private organizations, insurance plans, corporate benefits, and government programs that help people access hearing care.
The average cost for a hearing aid in 2008 was $1,675, including fitting, evaluation, and post-fitting treatment. Nearly 80% of people with hearing loss require two devices, increasing average out-of-pocket expenses to $3,350, said BHI. According to the organization's research, 33% of people with hearing loss have annual incomes of less than $30,000. In addition, BHI says household incomes of people with untreated hearing loss are usually much lower than those of their non-hearing-impaired counterparts.
Audigy Group Releases New Digital Assets
Audigy Group, Vancouver, Wash, has released two new digital assets for both corporate and consumer information. The first is a new interactive corporate Web site at audigygroup.com that reflects the 4-year growth in member/owners, shared services, and support staff. The second digital asset, thehearingcareblog.com, is a destination for patients and consumers interested in hearing care topics, services, and products.
---
CONFERENCES
Starkey Announces Jackson Hole Rendezvous Dates, Preliminary Topics
Starkey Laboratories Inc, Eden Prairie, Minn, will again be the title sponsor of the 2010 Jackson Hole Rendezvous, which is to be held August 18 to 21 in Jackson Hole, Wyo. Thought-provoking sessions will cover topics including telehealth, pediatric hearing aids, evidence-based practice and product design, cognition, hearing loss and hearing aids, and new innovations in hearing technology.
"We are excited to provide a forum for serious discussion about important topics in the hearing industry," says Barry Freeman, senior director of education and audiology for Starkey. "This conference will offer hearing professionals the opportunity to focus on cutting-edge research, the newest innovations, and news from across the industry."
The event is a combination of high-level educational programming and social events. The program will feature speakers including Jerry Northern, PhD, Dave Fabry, PhD, Brad Stach, PhD, Patricia Kricos, PhD, and many more industry and professional leaders.
Watch StarkeyPro.com for registration information.
Tinnitus Practitioners Association Hosts Booth at AudiologyNOW! Conference
The Tinnitus Practitioners Association, Hamden, Conn, which aims to advance standards of excellence in tinnitus care, will occupy booth 2919 at AudiologyNOW!
For more information, visit www.tinnituspractitioners.com.
NJSHA 2010 Convention Features Audiology Program

The New Jersey Speech and Hearing Association (NJSHA), Hillsborough, NJ, is to hold its 2010 convention from May 6 to 8, with audiology sessions on May 7 to 8, at the Atlantic City Convention Center, NJ.
The audiology program will kick off on May 7 with an expert on infection control, AU Bankaitis, PhD, from Oaktree Products Inc, presenting data and practical strategies for ensuring best practices in this area. Mary Ellen Nevins, EdD, and Patricia Chute, EdD, will discuss educational issues of children with hearing impairment and cochlear implants. Bob Woods, PhD, the ASHA Legislative Council member from New Jersey, will provide an update on audiology issues. The following day, Brian Fligor, ScD, director of diagnostic audiology at Children's Hospital Boston and instructor in the Department of Otology and Laryngology at Harvard Medical School, will present the latest research on adolescents and noise-induced hearing loss, followed by Nancy Schneider, MS, discussing what is new in New Jersey early hearing detection and intervention.
For SLPs or audiologists who do not work with amplification, Carolyn Smaka, AuD, will present an overview of the latest technology. The convention's speech–language curriculum features many topics with crossover appeal to audiologists, such as developing leadership and presentation skills, educational issues with Asperger syndrome, and funding school-based programs.
More information, including a downloadable convention brochure with session abstracts, can be found at www.njsha.org.
University of Iowa Conference Spotlights Tinnitus
The University of Iowa, Department of Otolaryngology—Head and Neck Surgery, and Department of Communication Sciences and Disorders, will hold its 18th Annual Conference on Management of the Tinnitus Patient, from September 16 to 18, 2010, to provide a review of current evaluation and management strategies for the treatment of tinnitus. The conference is intended for otologists, audiologists, psychologists, and nurses who provide clinical management services for patients with tinnitus. It will also provide information to patients who have tinnitus, their families, and friends, but will not include individual diagnosis and treatment.
Upon completion of the program, participants will be able to discuss the management of tinnitus and tinnitus patients. Brochures can be downloaded at www.uihealthcare.com/depts/med/otolaryngology/conferences.
Speakers and topics include: Guest of honor Gerhard Andersson, PhD (Sweden): Are there differences in the psychology between people with and without tinnitus: Treatments that work for people with tinnitus. Special presentations by: Carol Bauer, MD: Changing the loudness and severity of tinnitus with sound therapy; Tom Brozoski, PhD: Neurotransmitters and tinnitus via magnetic resonance spectroscopy; and Christina T. Stocking, AuD: Setting up a tinnitus clinic.
International Association of Physicians in Audiology XV Anniversary Symposium in the Fall
The XV Anniversary Symposium organized by the International Association of Physicians in Audiology is to be held from September 19 to 22, 2010, in Krakow, where the organization was established in 1980.
The scientific session will provide an update on diagnostics, treatment, and rehabilitation of hearing and balance disorders. The symposium's social program will stress Krakow as a monument of Polish and European culture and a charming city. The abstract submission deadline is May 31, and notification of the type of presentation is by June 30.
For more information, visit the group's Web site, www.iapa2010.eu
---
AWARDS
AFA and Starkey Award AuD Scholarship
Ohio audiologist Maryann Heider is the Audiology Foundation of America's latest AuD scholarship winner. Heider won an AFA scholarship for $1,000, sponsored by Starkey, to pursue her AuD degree via distance education.
Heider, an audiologist with Hillcrest Hearing Aids, recently celebrated her 25th anniversary with the company, which has five Dayton-area offices. She was instrumental in the development of Hillcrest Hearing Aids' nationally recognized aural rehabilitation program, The Kooser Program, the Hidden Impact of Hearing Loss, now in its 10th year, which actively promotes hearing care awareness in her community via monthly radio spots and a monthly consumer interest column on hearing loss-related topics.
Heider is an active member of the American Speech Language Hearing Association, International Hearing Society, Ohio Speech Hearing Association, American Tinnitus Association, Hearing Loss Association, and the American Academy of Audiology, and will pursue her AuD via AT Still University's Arizona School of Health Sciences distance education program.