OPERATIONS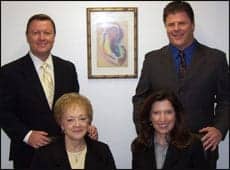 Back left: Keith Greene, division manager; back right: Jim Boyd, regional sales manager; front left: Dora Cercone, patient; front right: Sheryl Figliano, AuD, Center for Hearing Care.
Sonic Innovations Commemorates One-Millionth Device; Provides Support to Service Personnel
Sonic Innovations Inc, Salt Lake City, recently celebrated a milestone as Sheryl Figliano, AuD, from the Center for Hearing Care in Boardman, Ohio, and Dora Cercone, her patient, were recognized as the prescriber and purchaser of Sonic's one-millionth hearing instrument.
The company's product lines include: Velocity 24, Velocity 12, Velocity 6, Velocity 4, ion 400, ion 200, ion, Balance, Applause, Natura Pro, and Natura 2SE.
In related news, Sonic Innovations has donated $35,492 to the Armed Forces Foundation (AFF), Washington, in conjunction with a program launched in July, when it pledged $50 for each Velocity hearing instrument sold through October 1, 2008.
"Our armed forces personnel have given so much to this country, and Sonic Innovations wanted to do something to recognize the sacrifices they have made on our behalf," said Sam Westover, the company's chairman and CEO. The Velocity series of hearing instruments represents the company's premier line of digital products.
The nonprofit AFF supports active-duty and retired personnel, National Guard, Reserve components, and military families during their time of need.
CONFERENCES
AAS Plans Annual Meeting in March
The American Auditory Society (AAS), Dammeron Valley, Utah, will hold its annual meeting on March 5 to 7, 2009 in Scottsdale, Ariz.
This year's conference features the Carhart Memorial Lecture from Mike Merzenich, PhD; translational research that includes presentations from Jochen Schacht, PhD, Robert Zatorre, PhD, Jay Rubinstein, MD, PhD, and Mary-Claire King, PhD; and a special tribute to the late Margaret Skinner by Laura Holden, AuD, Jill Firszt, PhD, Lisa Davidson, PhD, and Nancy Tye-Murray, PhD. Additionally, the AAS Lifetime Achievement Award will be presented to James Jerger, PhD.
For more information, visit the AAS Web site at www.amauditorysoc.org.
Starkey Labs Backs Revival of Jackson Hole Rendezvous
Starkey Laboratories Inc, Eden Prairie, Minn, will be the sponsor this summer of the revitalized 2009 Jackson Hole Rendezvous, a conference focusing on hearing aid technology that had been organized for 25 years by audiologists Michael Marion and Dennis Van Vliet but was discontinued in 2004.
The event will take place at the historic Wort Hotel on June 18 to 20. The agenda will feature keynote speakers, contributed papers, cutting-edge research, and the newest clinical applications and updates on amplification technology and hearing rehabilitation.
Although sponsored by Starkey Laboratories, the conference is open to all. More specific information about the conference will be available in the future in HR and at www.starkeypro.com.
Better Hearing Institute Creates Pediatric Advisory Council
The Better Hearing Institute (BHI), Washington, DC, has established its first Pediatric Advisory Council to help reduce the sizeable population of young people and children nationwide who are at risk due to untreated hearing loss. Members of the Council include Karen Anderson, PhD; Jane Auriemmo, AuD; Jackie L. Clark, PhD; Christine Jones, MS; Dawna E. Lewis, PhD; George Lindley, PhD; Patti F. Martin, PhD; Maryrose McInerney, PhD; Arla Melum, MS; Alyssa R. Needleman, PhD; Eileen Cornetta Rall, AuD; Johnnie Sexton, MS; Lynn Spivak, PhD; Gail M. Whitelaw, PhD; Jody Winzelberg, AuD; Jace Wolfe, PhD; and Nancy Young, MD.
An estimated 1.4 million youths have hearing loss, but only 12% wear hearing devices, according to a national study released by BHI.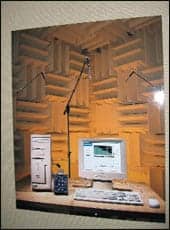 ETS-Lindgren Acoustic Lab
ETS-Lindgren Establishes New Acoustic Research Lab
ETS-Lindgren, Cedar Park, Tex, has opened a new acoustic research laboratory featuring state-of-the-art chambers for acoustic test services.
With the hemi-anechoic chamber, two reverberation chambers, impedance tubes, and supporting acoustic test equipment and software, the lab now offers product noise emission testing and structural/architectural acoustic testing. Acoustic field testing services are available upon request.
The lab is ISO 17025 accredited under the Department of Commerce NIST National Voluntary Laboratory Accreditation Program.
Product noise emission testing is commonly performed in the double-walled hemi-anechoic chamber that is designed to measure very low noise emissions from products and devices at 80 Hz and above. Outside chamber dimensions are 8.5 x 8.5 wide by 7 m high. The chamber is useful for testing sound power and pressure levels and small fan noise.
Products tested include information technology equipment, such as laptop computers and associated printers. Any noise-emitting device may be tested. Commonly referenced standards for testing in the chamber include ISO 3744, ISO 3745, ISO 7779, ISO 11201, and ECMA 74.
Structural/architectural acoustic testing is performed in the reverberation chambers. With transmission loss testing of wall samples, windows, doors, and automobile panels, customers can determine how much sound energy is transmitted through a product sample at specific frequencies. Sound absorption testing may also be performed in the chambers to determine how much sound energy products absorb, and these include sound insulation products, fabrics, and wall absorbers for theaters. ASTM E90, ASTM C423, ASTM E596, and ISO 3741 are the most commonly referenced standards for testing in these chambers.
EVENTS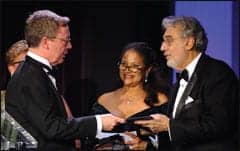 Pictured from left to right: Jeffrey Greiner, CEO of Advanced Bionics; Debbie Allen; and Placido Domingo. Partially visible behind Greiner is Claude Mann.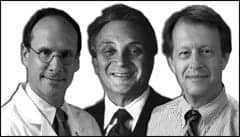 Richard Gans, PhD, Charles Berlin, PhD, and James Hall III, PhD.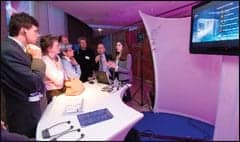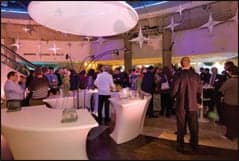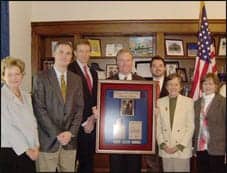 From left to right, Catherine Murphy and Alexander Graham (AG Bell), Andy Bopp (HIA), Rep Van Hollen, Micah Spangler (HIA), and Brenda Battat and Lise Hamlin (HLAA).
Advanced Bionics Donates Cochlear Implants to Mann Foundation
The Alfred E. Mann Foundation announced the donation of two cochlear implants valued at $50,000 from Advanced Bionics Corp, Valencia, Calif, during the recent Alfred Mann Foundation Gala in Los Angeles. Legendary opera star Placido Domingo accepted the implants on behalf of the Hear the World Foundation, Stäfa, Switzerland.
Donated surgeries to be performed by John Niparko of Johns Hopkins University Hospital, and follow-up audiology and medical services, are part of a package valued at more than $100,000.
Domingo and the Vienna Philharmonic Orchestra are the first ambassadors of the foundation, and serve as members of the advisory board.
Berlin-Gans-Hall Beachfront Workshop in January
The American Institute of Balance education foundation, Largo, Fla, announces the inaugural Berlin-Gans-Hall beachfront workshop is set for January 22 to 24, 2009, at the Tradewinds Island Grand, St Pete Beach, Fla.
The 3-day event will focus on evoked potentials, otoacoustic emissions, speech and cortical potentials, vestibular evoked myogenic potentials, and facial nerve testing. The faculty includes Charles Berlin, PhD, Richard Gans, PhD, and James Hall III, PhD.
Hands-on demonstrations and lab sessions will be offered, ranging from basic to advanced. The event provides an opportunity to learn from some of the best-known experts in the field, and the program provides AAA CEU hours.
For more information or to register online, visit www.dizzy.com, or call (800) 245-6442.
Starkey Hosts Program in City of Lights, Science, & Industry
Starkey Laboratories Inc, Eden Prairie, Minn, recently hosted Starkey 2008-2018: Voyage into the Future at the Géode in Paris, spotlighting the company's evidence-based design, projects under way at its Hearing Research Center, and an overview of its research philosophy.
La Géode, a metallic sphere housing France's leading Imax movie theater, is outside the Cité des Sciences et de l'Industrie—the City of Science and Industry.
AWARDS
Support for Hearing Aid Tax Credit Nets Honor for Maryland Congressman
Supporters of the Hearing Aid Tax Credit recently visited Rep Chris Van Hollen (D-Md) at his Washington office to convey their appreciation for his work on hearing health issues, such as cosponsorship of the measure.
The group presented a plaque to the Congressman, who is a member of the House Ways and Means Committee and chairman of the Democratic Congressional Campaign Committee.
The Hearing Industries Association, Washington, sponsored the recent HLAA/AG Bell-hosted supper in Washington for Van Hollen and his Maryland constituents with hearing loss. More than 130 HLAA and AG Bell members attended the event.
To hear a five-part podcast series about the Hearing Aid Tax Credit Bill, visit the Media Center at www.hearingreview.com and click on the Podcast tab.