Watch for The Hearing Review's new Science and Technology Thursday Podcast series starting this month! Upcoming scheduled podcasts include:

| | |
| --- | --- |
| Dec 4: | Journey to the Dead Zone, Part 1. Special guest: Brian Moore, PhD, University of Cambridge, UK |
| Dec 11: | Journey to the Dead Zone, Part 2. |
| Dec 18: | Tinnitus Treatment in Dispensing Practices. Special guests: Richard Tyler, PhD, University of Iowa, and Sergei Kochkin, PhD, Better Hearing Institute |
| Jan 8: | Watching the Brain Choose Words from Speech. Special guest: Kate Pirog Revill, PhD, Georgia Institute of Technology |
| Jan 15: | Diabetes and the Incidence of Hearing Loss. Special guest: Kathy Bainbridge, PhD, National Institute of Diabetes, Digestive, and Kidney Diseases |

Vitamins and minerals for the prevention of hearing loss? Researchers and physicians at the University of Michigan Kresge Hearing Research Institute, Ann Arbor, are hoping to reverse noise-induced hearing loss with a cocktail of vitamins and the mineral magnesium. The nutrients were successful in laboratory tests, and now researchers are testing whether humans will benefit as well. The combination of vitamins A, C, and E, plus magnesium, is given in pill form to patients who are participating in the research. Developed at the Institute, the medication, called AuraQuell, is designed to be taken before a person is exposed to loud noises. In earlier testing at U-M on guinea pigs, the combination of the four micronutrients blocked about 80% of the noise-induced hearing impairment. AuraQuell is now being tested in a set of four multinational human clinical trials: two military trials in Sweden and Spain, an industrial trial in Spain, and a trial involving students at the University of Florida who listen to music at high volumes on their iPods and other PDAs. This is the first clinical trial involving the prevention of noise-induced hearing loss funded by the National Institutes of Health (NIH). "If we can even see 50% of the effectiveness in humans that we saw in our animal trials, we will have an effective treatment that will very significantly reduce noise-induced hearing impairment in humans. That would be a remarkable dream," says co-lead researcher Josef M. Miller, PhD, the Lynn and Ruth Townsend Professor of Communication Disorders and director of the Center for Hearing Disorders at the U-M Department of Otolaryngology's Kresge Hearing Research Institute. Miller is leading the research along with colleagues at Karolinska Institute, where Miller also has an appointment; the University of Florida; and the University Castille de La Mancha. Miller notes that the military tests in the new study could be of particular importance because of the high number of soldiers who develop hearing loss in the line of duty, due to improvised explosive devices (IEDs) and other noises. Last year, he says, the Department of Defense spent approximately $1.5 billion in compensation for hearing impairment, and Veterans Affairs hospitals spent close to $1 billion for clinical care and treatment of hearing impairment. The most recent figures in a report by the Institute of Medicine indicated that one-third of returning soldiers fighting in Afghanistan and Iraq cannot be redeployed specifically because of hearing impairment.
Beltone New England expands to 108 offices. Beltone New England, Warwick, RI, which is privately owned by Michael Andreozzi, has opened 23 new hearing clinics throughout New England in the month of October. This builds on 5 straight years of 30% average growth from 2002 to 2007, according to the company. The new clinics represent a 27% increase over the 85 clinics existing as of the end of September. Beltone New England operates hearing aid retail clinics in nine states. With more than 160 employees, the company reports that it is the number-one distributor of Beltone hearing aid instruments in the country and is more than twice the size of any other Beltone distributor.

Read the November/December issue of

Hearing

Products

Report

Visit www.hearingreview.com for the latest news headlines:

Slim Tube and Open BTEs. An in-depth matrix-style comparison of the parameters and options available in slim tube and open BTEs.
Going Mobile with Audiometric Testing. Test-driving transportable solutions that take on-site hearing testing to the streets.
Mercury Falling. The move to mercury-free batteries and what it means for dispensing professionals.

Please visit our Web site at www.hearingreview.com.

Tinnitus treatment study published. A 470-patient study published in the November issue of Annals of Otology, Rhinology & Laryngology shows that 92% of the patient cohort who met suitability criteria significantly improved following treatment with the Neuromonics Tinnitus Treatment system. This is the first study that has evaluated the treatment's efficacy for the entire tinnitus population. The study did not just include the most suitable patients, but also more difficult-to-treat sufferers with complicating clinical factors. The research showed the treatment also improved symptoms for those patients with complications, including patients who also presented with decreased loudness tolerance (hyperacusis) or severe hearing loss. The results provide instructive guidance to health care professionals, by demonstrating how defined criteria relating to treatment suitability impact treatment outcomes.
First case of phonagnosia documented. The first known case of someone born without the ability to recognize voices has been reported in a paper by researchers at the UCL Institute of Cognitive Neuroscience, London, in a study of a rare condition known as phonagnosia. UCL team members are calling for others to come forward if they think they have also grown up with the condition. The case study, reported in the online issue of the journal Neuropsychologia, is of a woman who is unable to recognize people by their voice, including her own daughter—whom she has great difficulty identifying over the phone. The woman, known as KH, avoids answering the phone when possible, and for many years has only answered "booked calls." Phonagnosia has been documented only in people with brain lesions in the right hemisphere following a stroke or brain damage, and the mechanisms behind it are not well understood. In KH's case, a MRI brain scan showed no evidence of brain damage in regions associated with voice or auditory perception, and her hearing abilities were found to be normal. Those who are seeking more information on phonagnosia may contact Dr Brad Duchaine via e-mail at .
---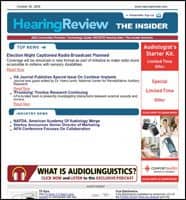 Want the inside scoop?
Every week The Hearing Review sends out THE INSIDER, a weekly FREE e-newsletter devoted to the top hearing-related news, research, product introductions, fitting topics, and marketing research stories that are influencing your business or practice, as well as the industry at large. [register]Sign up for your free subscription[/register].