Hearing Aid Tax Credit Bill attracts 123 Congressional sponsors. In the 6 months since The Better Hearing Institute (BHI) launched www.hearingaidtaxcredit.org, more than 17,000 letters have been received on Capitol Hill in support of tax credits for hearing aids. During this time, 29 representatives and five senators have signed on as co-sponsors for the tax credit bill. BHI's syndicated NAPS article, "Winning in Washington—Possible Financial Help for Hearing Aids?" has been published in 88 newspapers in 14 states, reaching an audience of some 5.5 million people. Hearing health professionals may be able to influence local newspaper editors to publish the article by sharing the NAPS article, or by referring them to www.Napsnet.com. Additionally, HR hosted a special five-part podcast series on the Hearing Aid Tax Credit, available in the Media Center at www.hearingreview.com.

Watch for HR's new Science and Technology Thursday Podcast Series.

NAFDA to merge with SAA. The National Association of Future Doctors of Audiology (NAFDA) plans to merge into the American Academy of Audiology's Student Academy of Audiology (SAA). The leaders of both organizations say the move best serves the needs of current and future audiology students and strengthens the SAA. It is expected to provide additional benefit to, and communication with, audiology student members on their campuses and nationally. AAA President M. Patrick Feeney, PhD, says the parties will be working together in the coming months to finalize the SAA bylaws and develop SAA policies and procedures. The NAFDA executive committee and students from the Academy's SAA task force will form the interim board of directors for the SAA until elections are held in 2009. Plans are under way to facilitate the incorporation of local NAFDA chapters into SAA.
AAA singers wanted! Every year at the AAA convention, Robert Disogra, Mead Killion of Etymotic Research, Dave Speidel of Interacoustics, and others have treated attendees to "end of day" barbershop-style songs at the exhibit hall. The event has always been extremely well received and fun for everyone. As with last year's convention, the singers have been asked again to assemble a group of singer/audiologists to perform the National Anthem at the Opening Session. So, if you can carry a tune (or just think you can!), contact Bob DiSogra at for details.
Study indicates cochlear implantation a relatively safe procedure for children. A study at the Washington University School of Medicine in St Louis suggests that cochlear implantation in children has become reliable, safe, and relatively free of severe complications. At the American Academy of Otolaryn­gology-Head and Neck Surgery Foundation (AAO-HNSF) annual meeting held in Chicago on September 21-23, researchers Anita Jeyakumar, MD, and Randall A. Clary, MD, reported that, out of 155 cases of pediatric implantation between 2001 and 2006, the rate of the most common complications in patients was below 3%, with only 25 total complications observed during that period. The most common complication was related to local surgical wounds in the ear flap. Furthermore, the rate of device failure, which was cited as the most common complication in previous studies, was very low in this study. The researchers stress that it is critical that patients undergo a lifetime of continuous follow-up.

eUHA Held in Leipzig, Germany

Leipzig, Germany—The 53rd International Congress of Hearing Aid Acousticians was held October 15-17 in Leipzig, Germany, a city known for the acoustic pleasures of Bach and Mendelssohn, as well as the birthplace of Wagner. The 3-day event featured exhibits from the worldwide hearing care community, as well as sessions devoted to topics including the NAL-NL2 fitting procedure, hair cell regeneration, auditory localization in children, the effects of music on tinnitus, self-learning hearing aids, open fittings, group aural rehabilitation, wireless applications, cochlear implants, progressive hearing loss in children, and the advantages of electronic venting, to name a few. The educational sessions concluded with an innovative demonstration of the physical properties of music, which included a short concert using various stringed instruments, horns, and woodwinds.

Volta Review features CASP speech development assessment tool. David Ertmer, PhD, of Purdue University and Carol Stoel-Gammon, PhD, of the University of Washington have developed a test called the Conditioned Assessment of Speech Production (CASP), a game-like activity to monitor early auditory-guided speech development. "Working with infants and toddlers can be tricky because they are often shy and not inclined to vocalize on request," says Ertmer. "Although parents hear the child vocalizing throughout the day, they do not have the training needed to recognize subtle changes in vocalizations. The idea behind CASP was to find a way to encourage toddlers to imitate their parents' vocalizations during a play activity." A description of the tool and field testing results were published in the recent edition of The Volta Review, available at the AG Bell Web site at www.agbell.org.
NIDCD launches hearing awareness Web site for "tweenagers." The National Institute on Deafness and Other Communication Disorders (NIDCD) has introduced a campaign to help parents of 8-to-12-year-olds teach their children how to avoid hearing loss from overexposure to loud noise. The campaign Web site, called "It's a Noisy Planet. Protect Their Hearing," features advice for parents on causes and prevention of noise-induced hearing loss, tips on how to recognize when a child's hearing is at risk, and ways to reduce noise exposure. Tween-oriented content includes games, posters, and interactive information about noise and hearing loss. To view it, visit noisyplanet.nidcd.nih.gov.
Gene therapy research may be breakthrough for hearing care. Recent research by scientists at the Oregon Health & Science University in Portland shows that a key gene known as Atoh1 (also known as Math1) can not only cause cells to develop into hair cells but that these cells function like normal hair cells. "Our work shows that it is possible to produce functional auditory hair cells in the mammalian cochlea," says John Brigande, assistant professor of otolaryngology at the Oregon Hearing Research Center. Brigande and colleagues were able to produce hair cells by transferring Atoh1 into progenitor cells in the inner ear of developing mice. This type of cell becomes specialized to perform different functions during development, according to the instructions they receive from genes. To find out if hair cells would work normally when Atoh1 is introduced artificially, the team inserted Atoh1 into progenitor cells along with a fluorescent protein molecule that is used as a marker to make cells easily visible. They were then able to see that the gene transfer technique resulted in mice being born with more hair cells in the cochlea than are normally found. Anthony Ricci, PhD, associate professor of otolaryngology at the Stanford University School of Medicine, demonstrated that the gene-treated hair cells function like ordinary hair cells.

Read the November/December issue of

Hearing

Products

Report

Visit www.hearingreview.com for the latest news headlines:

Slim Tube and Open BTEs. An in-depth matrix-style comparison of the parameters and options available in slim tube and open BTEs.
Mercury Falling. The move to mercury-free batteries and what it means for dispensing professionals.

Please visit our Web site at www.hearingreview.com.

Videos on hearing-related surgeries offered. The Warren Hearing Foundation, a nonprofit venture by William H. Lippy, MD, FACS, has posted 24 streaming videos providing education, insights, and surgical examples from Lippy and his colleague Leonard Berenholz, MD, FACS. Lippy, who founded the Lippy Group for Ear, Nose & Throat, Warren, Ohio, offers information on stapedectomy, Baha, facial nerves, interoperative audiometry, and other subjects at www.thelippylibrary.com.
Argentina's UNHS program failing, says study. Up to 60% of newborns still do not undergo hearing screening in Argentina in spite of a law enacted 6 years ago mandating newborn hearing screenings. The law calls for all newborns to be screened for hearing loss before the age of 3 months in private or public health care centers. The failure in carrying out the national screening program was reported by Argentina's Federation of Othorhinolaryngology Societies and the Society of Othorhinolaryngology.
---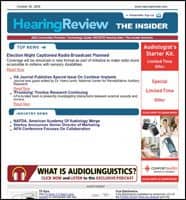 Want the inside scoop?
Every week The Hearing Review sends out THE INSIDER, a weekly FREE e-newsletter devoted to the top hearing-related news, research, product introductions, fitting topics, and marketing research stories that are influencing your business or practice, as well as the industry at large. [register]Sign up for your free subscription[/register].