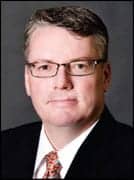 Paul R. Wennerholm
Sonic Innovations Appoints New President, COO
Paul R. Wennerholm has been named as Sonic Innovations Inc president and chief operating officer.
Wennerholm was previously with Patterson Companies Inc, a $3.6-billion dental, rehabilitative, and health supply company, with operations worldwide. Wennerholm held several positions of increasing responsibility with Patterson, most recently heading one of the company's most successful divisions.
He will share his executive sales management expertise with the company's North American wholesale organization.
Wennerholm holds a bachelor's degree in political science with minors in economics and Spanish from Brigham Young University, and formerly served on the board of the Horton Valve Company.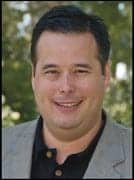 Jerry Schloffman
Advanced Bionics Promotes Schloffman to VP Marketing
Jerry Schloffman has been promoted to vice president of marketing for Advanced Bionics Corp, Sylmar, Calif. He will be responsible for the organization's global marketing strategy, overseeing product-development marketing, marketing communications, and education.
Schloffman joined the company in 1997 as a clinical specialist and has served as an area sales director, leading three regional sales and service teams spanning 31 states.
In addition to working with the company, Schloffman was an adjunct instructor from 2000 to 2005 at the University of Northern Colorado where he developed graduate- and doctorate-level curriculums for a new course on cochlear implants for the audiology graduate school. Schloffman started his career as a clinical audiologist at the University of Miami/Jackson Memorial Medical Center where he completed an audiology fellowship in the department of otolaryngology, and was a member of the cochlear implant team for 3 years.
He has earned a bachelor's and master's degree in communication disorders from the University of Northern Colorado.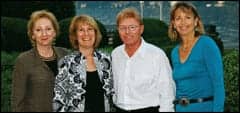 Pictured from left to right: Karen Anderson, Rebecca Kooper, Pat Henry, and Cheryl DeConde Johnson.
Phonak Honors Pair of Audiologists for Pediatric Research
Phonak, Stafa, Switzerland, each year honors a US audiologist working in a school program or pediatric research who contributed significantly to improving the level of service for hard-of-hearing children by sharing knowledge about communication systems and working to advance the use of available technologies. The 2007 honorees are Karen Anderson, PhD, and Rebecca Kooper, AuD.
In 2006, Phonak introduced the Cheryl DeConde Johnson Award for Outstanding Achievement in Educational Audiology, which honors educational and pediatric audiologists for their work and commitment to advocate and improve communication and academic outcomes for children.
Anderson's service has spanned more than a quarter of a century, and the first 18 years were focused on educational audiology. Anderson helped develop many of the educational and pediatric protocols and validation tools used today. She has been active in the Educational Audiology Association (EAA), including newsletter editor from 1988 to 1994, president in 1996, and 2003 recipient of the Fredrick S. Berg Educational Audiology Award. Anderson was also appointed by the governor to the Florida Department of Health Coordinating Council for the Deaf and Hard of Hearing in 2004, and has been a frequent contributor to HR through the years (see November 2002 and September 2004 issues).
Kooper has focused her life study and work toward the professional practice of educational audiology. Her achievements include serving as the coordinator of Nassau BOCES Hearing Services program for 25 years and numerous publications on FM systems. Her dedication has been recognized as the recipient of honors from ASHA, the Roland VanHattum Award, the NYSSHLA nomination for the ASHA Foundation, and Honors of the Association from the Long Island Speech and Hearing Association.
The selection committee for the award includes Cathy Jones, Pat Henry, and Christine Jones. Cheryl DeConde Johnson is an honorary chairperson of the committee. Award recipients' names are engraved on a plaque located at the company's US headquarters, and they are transported to the company's world headquarters in Switzerland.
Nominations are open for the 2008 Award and will be accepted until November 15; call (888) 777-7316 or visit the Web site (www.phonak.com) for a nomination form.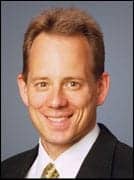 Joseph W. Neve
The President of Avada Minnesota Receives Doctor of Audiology Degree
Avada Audiology and Hearing Care, Louisville, Ky, reports that Joseph W. Neve, president of the Minnesota region, has recently received his AuD degree from the University of Florida. Neve has been the president since 2006 and was previously the director of audiology and patient care for the Minnetonka, Minn-based company.
He joined Avada in 1991 after receiving his bachelor's degree in finance and marketing from Marquette University, Milwaukee. He received his master's degree in communication disorders—Audiology from the University of Minnesota in 1996, and has completed advanced training in vestibular/balance testing and rehabilitation from the American Institute of Balance, Seminole, Fla. Neve is a Minnesota- and Wisconsin-licensed audiologist and received the Certification of Clinical Competency as an audiologist from the American Speech Language Hearing Association in 1997.