TOP NEWS and HEADLINES in August
AARP, HearUSA Partner to Provide New Hearing Care Program
Hearing Aids Are Not All Created Equal
Chronic Ear Infections Linked to Taste Damage, Increased Obesity Risk
Sound Adds Speed to Visual Perception
Project Will Explore One-Sided Hearing and Cochlear Implants
FDA OKs Phase II Study for Drug to Prevent Chemo-Induced Hearing Loss
HearingMed Hosts Local Clinical Trial for New Laser Tinnitus Therapy
Sonic Innovations Appoints New President, COO
Inherited Form of Hearing Loss Stems from Gene Mutation
Tinnitus Treatment Survey Taps Scope
Study Examines Prevalence of US Hearing Loss
Wiley-Blackwell to Publish The Laryngoscope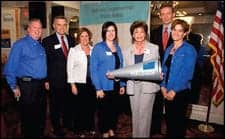 The Hearing Aid Assistance Tax Credit Bill topped 102 co-sponsors in Congress, including support from Rep Shelley Berkley (D-Nev), a member of the House Ways and Means Committee that determines the fate of tax legislation. From left: Arnie Altman, AG Bell Nevada; Nevada State Senator Terry Care; Carole Rogin, HIA; Laura Richards, AG Bell Nevada; Rep Shelley Berkley; Andy Bopp, HIA; and Corrine Altman, AG Bell Nevada.
AARP and HearUSA join to offer hearing aids. AARP Services and HearUSA have announced a new relationship to supply hearing solutions designed to meet the needs of AARP's diverse 39+ million members. According to HearUSA, AARP members will have flexible product features and access to thousands of hearing care professionals, including audiologists and hearing instrument specialists. The new program will include state-of-the-art technologies, an extended warranty, battery supplies, aural rehabilitation, as well as ongoing consultation with the patient and family, and a significant savings when compared to other hearing programs. The program is being introduced gradually, starting in December with Florida and New Jersey. August 14, 2008 HR The Insider.
HR Podcast Series. HR ran a 5-part podcast series on the Hearing Aid Assistance Tax Credit Bill on August 18-22. To listen to the podcasts, go here.
Low-cost OTC hearing aids inferior. Michigan State University researchers Jerry Punch, PhD, and alum Susanna Love Callaway analyzed 11 over-the-counter hearing aids, subjecting them to the same test protocols as traditional hearing aids. The study measured how well the electronic features of the devices could compensate for commonly occurring types of hearing loss, employing prescriptive fitting methods. The researchers found that only a few of the aids studied met the basic fitting requirements, and, for the few that did, that was true only for a specific degree of hearing loss. "Aside from being of extremely poor quality, very low-cost hearing aids—those under $100—have the potential to damage your hearing because they send very loud sounds into the ear," Punch says. "The study's mid-range hearing aids ($100-500) were of higher quality and were not considered a safety hazard." The research, published in the June issue of the American Journal of Audiology, was funded by the Oticon Foundation, with equipment provided by Frye Electronics. August 14, 2008 HR The Insider.
---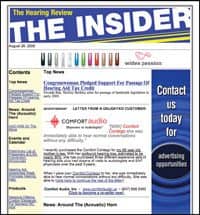 Get Your Weekly Edition of THE INSIDER
Every week The Hearing Review sends out THE INSIDER, a weekly FREE e-newsletter devoted to the top hearing-related news, research, product introductions, fitting topics, and marketing research stories that are influencing your business or practice, as well as the industry at large. [register]Sign up for your free subscription[/register].