Diabetes doubles the risk for hearing loss; hearing testing warranted. Hearing loss is about twice as common in adults with diabetes compared to those who do not have the disease, according to a new study in the June 17 edition of Annals of Internal Medicine. In a large nationally representative sample taken from the National Health and Nutrition Examination Survey (NHANES), the researchers discovered a higher rate of hearing loss in those with diabetes. The test measured participants' ability to hear low, middle, and high frequency sounds in both ears. The link between diabetes and hearing loss was evident across all frequencies, with a stronger association in the high frequency range. "Hearing loss may be an under-recognized complication of diabetes," says senior author Catherine Cowie, PhD, of the National Institute of Diabetes and Digestive and Kidney Diseases (NIDDK). "As diabetes becomes more common, the disease may become a more significant contributor to hearing loss." Cowie suggests that people with diabetes should consider having their hearing tested: "Our study found a strong and consistent link between hearing impairment and diabetes using a number of different outcomes." June 26, 2008 HR The Insider.

Starkey Hearing Foundation Gala Nets $5 Million

Garth Brooks was the unexpected standin headliner for the Starkey Hearing Foundation Gala.

St Paul, Minn—Through emotional and energetic performances, Garth Brooks, Jon McLaughlin, and Pat Benatar and Neil Giraldo helped the Starkey Hearing Foundation raise a record $5,045,000 at its annual "So the World May Hear" Awards Gala June 14. With money raised at the gala, the Starkey Hearing Foundation will travel the world donating hearing instruments to children in need. "Because Garth performs so rarely, it was a true honor to have him headline this year's gala and help the foundation raise an extraordinary amount of money to help give the gift of hearing to those in need all over the world," says Bill Austin, founder of the Starkey Hearing Foundation. According to Austin, Brooks stepped in as headliner when the original event headliner had to cancel unexpectedly.

Two cochlear implants are definitely better than one. A study of cochlear implant patients seen by Richard Miyamoto, MD, and colleagues at the Indiana University School of Medicine is the first research to show evidence that cochlear implants in both ears significantly improves quality of life in patients with profound hearing loss and that the cost of the second implant is offset by its benefits. The study, which appears in the May issue of Otolaryngology-Head and Neck Surgery, found that improvements in factors that contribute to quality of life—including such critical abilities as hearing in noisy environments, focusing on conversations, and speaking at an appropriate volume—resulted when cochlear devices were implanted in both ears. The benefits of the second implant outweighed the added cost of the second device, findings that may have a significant impact for profoundly deaf individuals who hope to have their health insurance providers pay for bilateral cochlear implants. June 5, 2008 HR The Insider.
Sonova expands manufacturing facility. Sonova is expanding capacities for the manufacture and engineering of its hearing systems at its headquarters in Stäfa, Switzerland. The new plant, which is expected to be ready at the end of 2009, will cost approximately 40 million Swiss francs (US$38.3 million). June 26, 2008 HR The Insider.
Hearing loss study: Don't smoke or overeat, but go ahead and have a drink. Smoking and body mass index (BMI) are risk factors in the development of age-related hearing loss, says one of the largest-ever studies into risk factors for hearing loss published in the Journal of the Association for Research in Otolaryngology (JARO). The research found that smoking, being overweight, and occupational noise are risk factors in the most common type of hearing loss. In contrast, moderate alcohol consumption (at least one glass of wine, spirits, or beer a week) was seen to have a protective effect. "Hearing loss has always been considered an inevitable part of aging, but more and more studies seem to indicate this is not necessarily true," says Erik Fransen in professor Guy Van Camp's research team at the University of Antwerp. "Apparently a healthy lifestyle can be beneficial for hearing conservation at higher ages." June 19, 2008 HR The Insider.
Etiology for neonates' hearing loss often identifiable. In almost half of the neonates with confirmed hearing loss, an underlying factor can be identified, Belgian researchers report in the July issue of Pediatrics. The study found that, of the causes identified, a genetic mechanism was present in 60.4% of the cases, peripartal problems in 20.8%, and congenital cytomegalovirus infection in 18.8%. June 26, 2008 HR The Insider.
Classical musicians at-risk for hearing loss. A study among classical musicians conducted by the Finnish Institute of Occupational Health, as well as at the Finnish Institute of Occupational Health at Tampere University Hospital, and reported by Hear-It.org, found that 15% of the musicians in the study suffered from permanent tinnitus, in comparison to 2% among the general population. Temporary tinnitus affected another 41% of the musicians in group rehearsals and 18% of those in individual rehearsals. It is estimated that 15% of the general population experience tinnitus temporarily. As many as 43% of the classical musicians suffered from hyperacusis. June 12, 2008 HR The Insider.
---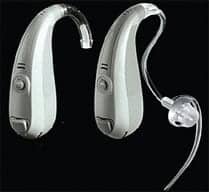 Get Your Weekly Edition of THE INSIDER
Every week The Hearing Review sends out THE INSIDER, a weekly FREE e-newsletter devoted to the top hearing-related news, research, product introductions, fitting topics, and marketing research stories that are influencing your business or practice, as well as the industry at large. [register]Sign up for your free subscription[/register].