TOP NEWS and HEADLINES in April
May Is Better Hearing and Speech Month
Lyric Deep-fitting Disposable Device Profiled by New York Times
AAA AudiologyNOW! Celebrates 20 Years of Achievements
Cochlear Dysfunction Apparent in Migraineurs
Obituary: Qualitone Co-Founder and Engineer Mas Harada
Maternal Thyroid Autoantibodies Linked to Hearing Loss in Children
Bill Cole Honored By NASED
Sonic Innovations Celebrates 10-Year Anniversary
Drug Development to Prevent Hearing Loss for Kids with Cancer
Starkey Donates $75,000 for ABA's Pediatric Specialty Certification
One in Three People Over 70 Has Memory Impairment
To access any article on this page, go to HR's Web site and click on the "HR Online" item in the online Table of Contents or search by keyword.
May is Better Hearing and Speech Month. The Better Hearing Institute (BHI) has announced the "Across America Hearing Check Challenge" (www.hearingcheck.org), a nationwide campaign to help millions of Americans reclaim their quality of life by facing up to unaddressed hearing loss. The campaign will serve as the central theme for Better Hearing and Speech Month, which occurs during the month of May. Spouses, Baby Boomers and their aging parents, and all American families and friends are encouraged to rise to the challenge and get their hearing checked—together. "Now, simply by visiting and walking through a 15-question self-screener in the privacy of one's own home, anyone can easily take the first step in addressing hearing loss," says Sergei Kochkin, PhD, executive director of BHI.
Hearing problems stress relationships. As part of the company's "KEEP GOING®, Live Healthy" campaign, Energizer conducted a random sample of 1,065 men and women who have a spouse who suffers from hearing loss—all members of the CyberPulse™ Advisory Panel, which was carefully selected to closely match US population demographics. The respondents are representative of American men and women ages 18+. The survey found that nearly half (47.8%) of the respondents feel that their marriage has suffered because of their spouse's hearing loss. Being hard of hearing can also cause hard feelings; nearly seven out of 10 (64.8%) respondents feel annoyed when their spouse cannot hear them. In addition, 16.4% feel ignored and 8.1% feel sad or hurt.
Cochrane Review: exercise boosts auditory performance. Aerobic physical exercises that aim to improve cardiovascular fitness also help boost how fast you can think, manual dexterity, and how well you can concentrate on visual and auditory tasks, concludes a Cochrane Review. The conclusion was drawn after Cochrane Researchers identified 11 studies that examined the effects of getting healthy people over the age of 55 to take on additional physical exercise. In these studies, participants showed an increase in at least one aspect of cognitive function. "This benefit adds to the other known benefits of aerobic exercise," says lead researcher Maaike Angevaren, who works in the Research Group Lifestyle and Health at the University of Applied Sciences, in Utrecht, Netherlands.

Lyric Deep-Fit Disposable Premieres at AAA

Insound Medical's disposable deep-fitting device, Lyric.

Newark, Calif—InSound Medical's Lyric was premiered at an American Academy of Audiology (AAA) convention seminar in Charlotte by VP of Marketing Susan Whichard, and Mark Sanford, MS, who dispenses the device in his practice. Lyric is a disposable deep-fitting device that is inserted completely into the ear canal to a depth of about 4 mm from the tympanic membrane (TM). It is marketed as the first 100% invisible extended wear hearing solution that isn't a cochlear or middle-ear implant. Taking advantage of the device's extreme proximity to the TM, the device—which is placed by an ENT doctor—is designed to provide improved sound quality, hassle-free 24- hour operation, and unbeatable cosmetics. The deep-fitting programmable device is also said to provide less distortion, improved sound localization, better protection from wind noise, more security/retention of fit, and complete ease of use with telephones. Lyric is disposable and is discarded after 120 days or when the battery ceases to function. The device is currently being used by about 500 hearing-impaired people, and the company plans a controlled regional product rollout—currently about a dozen hearing care offices in California, New Jersey, and Florida—with possibly 80-100 practices offering the device by the end of 2008. Patients pay for the device on a subscription basis in a range of about $1,450-$2,000 per year per ear. For details, see HR's April 24 The Insider.

Language acquisition in children. New studies conducted by April Benasich, a professor of neuroscience, and her Infancy Studies Laboratory at Rutgers University are revealing new and exciting clues about how infant brains begin to acquire language, paving the way for correcting language difficulties at a time when the brain is most able to change. Benasich and her lab were reportedly the first to determine that how efficiently a baby processes differences between rapidly occurring sounds is the best predictor of future language problems. Using methods developed by Benasich and her lab, it can be determined as early as 3 to 6 months whether a baby will struggle with language development.
Hearing aid/CI hybrids in news. A new hybrid hearing aid/cochlear implant device designed for patients who can benefit from both is being evaluated by UT Southwestern Medical Center otolaryngologists, as part of a multisite national study. The cross-breed device, called the DUET Electric-Acoustic System, or EAS, is already used in Europe, but not yet approved for use in the United States. It targets a population currently falling through the cracks: borderline cases for which hearing aids don't adequately distinguish sounds, but some natural hearing remains. For these individuals, cochlear implants that entirely replace natural hearing aren't recommended either. Also reported in the April 24 edition of The Insider was an article on Professor Sid P. Bacon, dean of natural sciences in the College of Liberal Arts and Sciences at Arizona State University, who was recently awarded a National Institutes of Health grant—$1.1 million over 3 years—that will contribute to his ongoing research into EAS.
FDA approves new cochlear implant processor. The US Food and Drug Administration (FDA) has approved MED-EL's new OPUS 2 cochlear implant speech processor, designed for switch-free operation with special features for bilaterally implanted listeners. It is operated entirely by a remote control unit, the FineTuner™, which enables changes to settings without removing the processor from the ear. The device also offers compatibility with integrated telecoil and a universal direct input for wireless FM and Bluetooth® connection.
EHDI passes in US House. The Early Hearing Detection and Intervention Act of 2008 (HR 1198) passed the House on April 8. Introduced by Rep Lois Capps (D-Calif) and Rep Jim Walsh (R-NY), the act reauthorizes and amends legislation that was originally passed 9 years ago as part of the Children's Health Act. That act created the federal government's landmark Early Hearing Detection and Intervention (EHDI) program. This reauthorization will expand the program to provide services for young children (previously limited to only infants and newborns) and include diagnostic services such as family-to-family support programs.
Top audiology programs named. U.S. News and World Report released its list of "America's Best Graduate Schools 2009″—the always-controversial and informative look at collected data from more than 12,000 graduate programs. This year, Vanderbilt University in Nashville, Tenn, was ranked as the number-one graduate school in the field of audiology by U.S. News and World Report's methodology, followed by 2) University of Iowa, Iowa City; 3) University of Washington, Seattle; 4) University of Texas-Dallas (Callier Center); 5) Washington University in St Louis. For the top 20, see the April 10 edition of The Insider.
AFA to host educational conference. The "Conference on Professional Education II: Positioning Audiology for the 21st Century" will be held October 4-5, 2008, at the Arizona School of Health Sciences in Mesa. The conference is intended as a 20-year review of AuD education with a focus on determining future goals and improving current models of AuD education.
Product introductions. Oticon Vigo Pro, Vigo, and Epoq V; Widex Passion; Phonak Exélia micro, Naída SuperPower, Audéo III, Acoustically Optimized Venting (AOV), iCube, and inspiro Transmitter; Starkey's Zon RIC; Sonic Innovations Velocity mini-BTE and ion 400 open-fit micro-BTE; Unitron Hearing's NEXT; Two Pi Acoustic Comfort Optimization.
---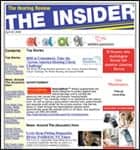 Get Your Weekly Edition of THE INSIDER
Every week The Hearing Review sends out THE INSIDER, a weekly FREE e-newsletter devoted to the top hearing-related news, research, product introductions, fitting topics, and marketing research stories that are influencing your business or practice, as well as the industry at large. [register]Sign up for your free subscription[/register].
Read the May/June issue of
Hearing

Products

Report
Visit www.hr-hpr.com for the latest news headlines:
In with the New at AAA! The AudiologyNOW! convention is to hearing care what the Detroit Auto Show is to the auto world—the main showplace for new products and services.
To Protect & Serve. Hearing conservation research and technology, as well as current hearing-related issues and the use of hearing protection devices by US Armed Forces.
Please visit our Web site at www.hr-hpr.com.