TOP NEWS and HEADLINES in February
New Findings Contradict Prevailing Beliefs About Traveling Wave
GN Appoints Van der Wallen as New Corporate CEO
Obituary: Research Trailblazer Margaret Skinner, PhD
Starkey Signs Patent License Agreement with SeboTek
Mammalian Protein Helps Calibrate Hearing
Audiologists Eligible for Student Loan Forgiveness Program
Cochlear Ltd Reports 17% Increase in First-Half Profits
Freeman and Van Vliet Join Starkey
Folate Deficiency Linked to Dementia
Siemens Director of Engineering Honored as Black Engineer of the Year
Miss America 2005 Deidre Downs Named BHI National Spokesperson
Reconsidering the traveling wave. "The former wisdom on how otoacoustic emissions left the ear was that there was a backward-traveling wave going along the structure of the cochlea in the same way as the forward-traveling sound wave. These measurements show that is not the case," says Karl Grosh, a professor at the University of Michigan Departments of Mechanical Engineering and Biomedical Engineering, and a coauthor of the paper, "Reverse Wave Propagation in the Cochlea," published in the February Proceedings of the National Academy of Sciences. Instead, the findings suggest that the outbound sound waves travel through the fluid of the inner ear, rather than rippling along the basilar membrane of the cochlea. "This knowledge will change scientists' fundamental thinking on how waves propagate inside the cochlea, or how the cochlea processes sounds," says Tianying Ren of the Oregon Health and Science University and the principal investigator of the study.
Margaret Skinner, PhD, dies. The hearing care research field lost an iconic figure when Margaret "Margo" Skinner, PhD, passed away on January 11 at age 72. Skinner was a trailblazing audiologist who was respected internationally in the clinical audiology and aural rehabilitation research community. Her skills culminated in the publication of a book considered by many to be "the bible" on hearing aids, Hearing Aid Evaluation. She was a pioneer in the field of cochlear implants, and was among the first to recognize the importance of care when applying amplification to more severe high-frequency losses—research with large implications in the development of ski-slope algorithms.
New student-loan forgiveness for audiologists. The House of Representatives has passed the College Opportunity and Affordability Act of 2007 (reauthorizing the Higher Education Act) that included a provision to forgive a portion of student loan obligation for audiologists. The provision adds audiologists to a program that establishes loan forgiveness for service in areas of national need, and authorizes the Secretary of Education to forgive up to $2,000 in Federal Family Education Loan (FFEL) and William D. Ford Direct Loan (DL) student loan debt (other than PLUS Loans borrowed on behalf of a dependent student), per year of full-time employment, with a maximum of $10,000 over 5 years of service.
Technitrol completes acquisition of Sonion. Technitrol Inc has announced it has completed the acquisition of Denmark-based Sonion A/S, which was announced in January. The purchase price was approximately $410 million. The deal marks the third major acquisition or merger of a hearing aid component supplier within the last 4 months, following the merger of AMI Semiconductor with ON Semiconductor in December and the purchase of Gennum Corporation's Hearing Products Division by Sound Design in late October. Additionally, Intricon (RTI) purchased Tibbetts Industries in May 2007.
Researchers find cause for genetic hearing loss that's inherited from mothers. NIDCD scientists have demonstrated that a particular mutation in mitochondrial DNA causes deafness. Their findings are based on a study of a large North American family with maternally inherited deafness and is published in the January 2008 issue of Clinical Genetics. Experts estimate that genetic factors cause 50-60% of severe-to-profound childhood hearing loss in developed countries. Most DNA is found in the cell nucleus, but DNA can also be found in the mitochondria. Mitochondrial DNA carries genes that have been linked to hearing loss, heart disease, nerve damage, and epilepsy. Unlike DNA in the nucleus, which is inherited from both parents, mitochondrial DNA is passed only from mother to child.
Coming soon: laser therapy? In 2006, HearingMed, Granite Bay, Calif, hosted a successful pilot study to demonstrate the use of "cold" medical laser therapy in improving unaided word recognition in hearing-impaired patients. As a result of this study, the company is providing Institutional Review Board (IRB) approved test sites for an expanded, double-blind, placebo-controlled clinical trial. The trial data, to be presented in a seminar called "Effects of Low Level Laser Light Therapy on Word Recognition" at the AAA AudiologyNOW! Conference in April, is part of an ongoing clinical trial. The laser device is called the Erchonia Hearing Laser. While the device and its application to word recognition in the study are not currently approved by the FDA, several Erchonia Medical lasers have received FDA clearance for various therapeutic indications.
CSI Beethoven. The Baltimore Symphony Orchestra is trying to solve two of music history's most enduring mysteries: Why did Beethoven lose his hearing, and what was the cause of his death? Conductor Marin Alsop leads the investigation in a National Public Radio series of concerts called CSI Beethoven. The orchestra plays selections from Beethoven's symphonies, joined by a team of forensic scientists, including Dr Charles Limb, a leading researcher on hearing loss from the Department of Otolaryngology at Johns Hopkins University Hospital.
Widex supports independent practice growth. In recognition of a shared interest in increasing private practice opportunities and support for audiology practitioners, Widex donated more than $60,000 to the Audiology Foundation of America (AFA) to promote independent practice, enhanced education, and practice development and management skills.
Youngest patient worldwide receives auditory brainstem implant. A team of ear, nose, and throat (ENT) specialists and neurosurgeons at the University Hospital of Navarra (Spain) have successfully operated on a 13-month-old girl who had been born deaf due to the lack of auditory nerves—reportedly the youngest patient in the world who has received an auditory implant in the brain stem.
Avada reports gains in 2007. Nationwide, Avada increased net sales by 15.3% in 2007, with 69% coming from organic sales growth and 31% from recent acquisitions. "Just as impressive as the significant sales jump in 2007 has been the bottom line performance of the company overall for the period," says CEO Steve Barlow. During 2007, Avada opened an additional 39 offices.
Want the inside scoop? [register]Subscribe to HR's FREE weekly e-newsletter, The HR INSIDER[/register].
---

Mike van der Wallen is the new CEO of the GN hearing group.
New Leadership at ReSound and Otometrics
---
Copenhagen, Denmark—GN Store Nord has appointed Mike van der Wallen as the new CEO of GN ReSound and GN Otometrics. Van der Wallen will manage alongside GN Netcom CEO Toon Bouten, GN's other business unit. He will take up his position on March 1 after which, as previously announced, outgoing CEO Jesper Mailind will officially resign.
Van der Wallen was the managing director and founder of Inspiring Management in Munich, Germany, an executive coaching services company, and he has been a member of GN's Supervisory Board. Prior to founding Inspiring Management, he was a corporate VP of Sony Ericsson and head of its EMEA Region from 2001 to 2005 and was a key force in establishing the joint venture between Sony and Ericsson in terms of strategy, organizational architecture, and branding. Under his leadership, Sony Ericsson established its activities in more than 60 countries and reached a solid double-digit market share in the region.
---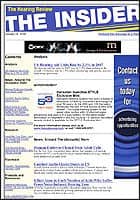 Get Your Weekly Edition of THE INSIDER
Every week The Hearing Review sends out THE INSIDER, a weekly FREE e-newsletter devoted to the top hearing-related news, research, product introductions, fitting topics, and marketing research stories that are influencing your business or practice, as well as the industry at large. [register]Sign up for your free subscription[/register].

---
Web Poll
Question: When considering your BTE fittings, what percentage of those fittings involve traditional BTEs with a custom earmold and typical (eg, #13) tubing?
A lot or a little. The results show that 36.2% of respondents say they use the traditional BTE with typical (#13) tubing for 20% or fewer of their fittings, meaning they probably depend heavily on thin-tube and/or RIC/RITE BTE options. A total of 40.4% use the traditional fittings in over half their BTEs, possibly implying that there is still room for upward movement in the thin-tube and RIC/RITE categories.
This month's poll: Do you maintain a battery club program in your office/practice? Cast your vote on the home page.