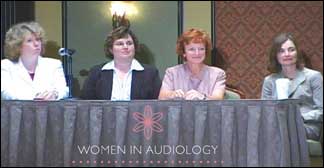 Featured speakers at the Women In Audiology Conference (left to right): Gail Whitelaw, Danielle Tryanski, Mary Beth Wright, Mary Sandro.
Oticon Women In Audiology Conference
More than 200 women in the field of audiology attended the first national Women in Audiology Conference, July 13-15. The forum, which was sponsored by Oticon Inc, featured a series of educational sessions that addressed the challenges and rewards that face women in hearing care. Featured speakers included: Gail Whitelaw, PhD; director of clinic instruction and research, Ohio State University, Danielle Tryanski, AuD, director of international training for Oticon; Mary Beth Wright, MSl, president and owner of Wrights Audiology Hearing Care Inc, Mary Sandro, founder of ProEdge Skill, Inc; and keynote speaker Jan Fraser, author of "Ordinary Women…Extraordinary Success."
The conference program was developed by Oticon Steering Committee members Cathy Van Evra, Mariann Cadieu, Nancy Palmere, and Randi Pogash.
Beckman Becomes Director of Marketing at Williams Sound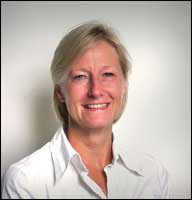 Janet Beckman
Williams Sound Corp has appointed Janet Beckman to the position of director of marketing.
Beckman previously served for 5 years as a marketing manager, championing business development in the judicial and government markets. Prior to becoming marketing manager, Beckman served for 10 years as a sales representative for Williams Sound. In that tenure, she helped to shape the success of Williams Sound by spearheading sales and supporting a network of Williams Sound dealers and distributors. In 2006, Beckman successfully negotiated a contract with the General Services Administration (GSA), establishing Williams Sound as an approved supplier for the federal government. That same year, Beckman solidified her leadership credentials by completing her BA in Marketing Management at Concordia University in St Paul, Minn.
"Janet is a person of great integrity, is knowledgeable, creative, enthusiastic, and energetic, and has a great passion for WSC and its mission of Helping People Hear," says Paul Ingebrigtsen, president and CEO of Williams Sound." We are fortunate to have someone of Janet's ability and experience for this position,"
Beckman succeeds Jeanne Aamot, who is leaving Williams Sound to pursue a career in ministry. Over the next few months, Beckman and Aamot will be working closely to ensure a seamless transition of marketing leadership.
AHAA Names New Executives, Sets Convention Date
Janet M. Andrews
American Hearing Aid Associates (AHAA) has named Janet M. Andrews director of marketing. Andrews has worked for nearly 20 years in marketing and most recently directed client and creative services for The Garr Group, a New Jersey-based marketing firm. Andrews holds a bachelor's degree in design from Drexel University in Philadelphia.
Leslie Johnson has joined AHAA as director of human resources. Johnson comes to AHAA with 23 years of experience in the field and served most recently with MBNA America, Wilmington, Del. Johnson graduated from The Catholic University of America, Washington, DC.
The 12th Annual AHAA Convention is scheduled to take place February 20-23, 2008. The event will be at Disney's Contemporary Resort in Orlando, Fla. More information about the event will appear in The Insider and HR. For immediate information, contact the AHAA regional managers or Gayle Silvestri at (800) 984-3272, x355.
Help Me Hear Foundation Joined by Kevin McHale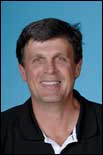 Kevin McHale
Kevin McHale is one of five board members starting the Help Me Hear Foundation (HMH), a nonprofit organization incorporated in St Paul, Minn. McHale will also act as the spokesperson. HMH was created to gift cochlear implants to impoverished deaf children who would otherwise never be able to obtain one. Dr William House also sits on the board of directors.
McHale says he supports the organization because he believes every child deserves a chance to hear. "I love the fact that the goal of this organization is to create independent, productive people. It's a small, one-time investment that will have a lifetime of benefits."
In the United States, the real cost of a cochlear implant, required implant surgery, and follow-up rehab ranges from $50,000 to $100,000. HMH, however, will buy a cochlear implant, locate an experienced surgeon willing to donate services, and coordinate the needed follow-up therapy all for $7,000 per child.
"The impact will be felt not only by the children, but by the families of these kids," McHale says, adding, "I'm just happy to be a part of it."
Obituary
George S. Osborne, PhD
The Pennsylvania College of Optometry (PCO) has announced the sudden death of George S. Osborne, PhD, Dean of the PCO School of Audiology. An avid pilot, Osborne passed away on June 14, while preparing to fly his plane.
Osborne was the founder and past-president of the Pennsylvania Academy of Audiology, and he was a charter member and/or a co-founder of the American Academy of Audiology (AAA), Audiology Foundation of America (AFA), and the Accreditation Commission for Audiology Foundation.
Originally from Chicago, Osborne held six degrees, including doctorates in audiology and dentistry, and he devoted more than 40 years of his life to the audiology field. He started one of the earliest private speech and hearing centers in the country in Oak Park, Ill, in the late 1960s. Before signing on to develop the School of Audiology, he was the director and owner of Suburban Audiology & Balance Center in Paoli, and he also maintained a private practice in Cotton, Minn.
The recent graduation of the PCO School of Audiology's first residential audiology class was an historic event for the profession of audiology and was made possible through Osborne's vision, tenacity, and dedication. "His commitment to advancing the profession of audiology was unwavering," states Heather S. Giampapa, director of Annual Giving and Alumni Relations at PCO. "All who knew and worked with him will sorely miss George Osborne's experience, humor and passion."
Beyond audiology, one of Osborne's passions was his home-built Seawind amphibian aircraft. He spent 3 years building the recreational plane from a kit, completing it in 2003. In 2004, the Experimental Aircraft Association awarded his plane the "Charles Lindbergh Reserve Grade Champion Trophy"—a kind of "Oscars" for aircraft enthusiasts—during Air Venture, the air show held in Oshkosh, Wis.
Osborne was well known as a leader in audiology, and for his kindness, humor, and enthusiasm.
Dr. Osborne's family has requested that, in lieu of flowers, donations be made to the PCO Foundation's George S. Osborne Scholarship Fund. Condolences to the family and contributions can be sent to the PCO School of Audiology, Attn: Paula Kane, 8360 Old York Rd, Elkins Park, PA 19027.
For more on Osborne's life, family, and achievements, see the June 21 edition of HR Insider. Additionally, PCO has established a Web blog, "Remembering George Osborne," at www.pco.edu.