Up-to-the-minute access to hearing-related news, products, marketing stats, access to the HR archives, and much more
Top Online & Insider Headlines in April
AAA Convention Attracts More Than 7,400 Attendees
BHI Offers Press Kit for Better Hearing and Speech Month (BHSM)
ASHA to Sponsor NPR's Morning Edition in May for BHSM
Audiology Direct-Access Legislation Introduced
Isolation of Stem Cells May Lead to Treatment for Hearing Loss
Tectorial Membrane Responds to Different Frequencies
HearUSA Announces First Quarter Revenues Up By 8%
11th Annual AHAA Convention Held in Las Vegas
Fight for Early Hearing Detection and Prevention Makes Progress
Over-the-Counter Hearing Aid Bill Introduced in California
Sudden Hearing Loss Patients Experience Fast Recovery
Tinnitus Negatively Affects Quality of Life
---
According to the Hearing Industries Association first-quarter statistics, 49.3% of all units dispensed were BTEs, while 50.7% were ITEs. The BTE trend was even more pronounced for private sector dispensing: 51.0% of non-VA units dispensed were BTEs.
In the March edition of The Journal of the American Academy of Audiology, researchers from the University of Wisconsin at Madison show that tinnitus clearly reduces the quality of life for older adults. The most significant effects of tinnitus showed up in the domains of physical pain and stress, as opposed to the mental/emotional domains.
Confirming what physicians have long suspected, a new study published in the April edition of Otolaryngology-Head and Neck Surgery shows that the presence of cochlear implants increases the risk of bacterial infections that can cause meningitis in recipients.
Oticon Inc has introduced Epoq, a hearing instrument designed with a binaural high-speed wireless technology that reportedly enables a pair of the devices to communicate at data transfer speeds 100 times faster than hearing instruments now on the market. This wireless connectivity also enables hands-free access to the world of electronically transmitted sounds and electronic and Bluetooth devices like cell phones, computers, and PDAs.
Members of the National Center for Regenerative Medicine research team recently published research findings in Developmental Neuroscience offering further evidence for the existence of cochlear stem cells in the mouse cochlea by confirming the ability to form "stem cell" spheres in culture. The formation of spheres from early postnatal cochlear tissues and their expression of a wide range of developmental markers unique to hair cells confirm the possibility that self-supporting hair-cell precursors exist in or can be derived from the postnatal mammalian cochlea.
On March 29, Senators Olympia Snowe (R-Me) and Tom Harkin (D-Iowa) introduced S 1069, legislation that reauthorizes the Early Hearing Detection and Intervention (EHDI) grant program and puts a greater emphasis on follow-up diagnosis and treatment of infants and children.
Want the inside scoop? [register]Subscribe to HR's FREE weekly e-newsletter, The HR INSIDER[/register].
---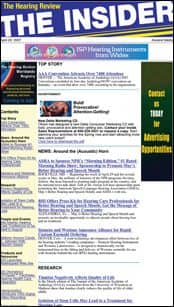 Get Your Weekly Edition of THE INSIDER
Every week The Hearing Review sends out THE INSIDER, a weekly e-newsletter devoted to the top hearing-related news, research, product introductions, fitting topics, and marketing research stories that are influencing your business or practice, as well as the industry at large. Sign up for your free subscription at hearingreview.com.