Sound ID
Rodney Perkins, chairman and founder of Sound ID, announces that Michael R. Jones has joined the company as president and CEO. In addition, Jones will also join the board of directors of Sound ID. He has more than 25 years of experience in the hearing device industry, holding senior management and executive positions with major hearing aid manufacturers, both internationally and in the US.
Siemens Hearing Instruments Inc
Siemens Hearing Instruments Inc, Piscataway, NJ, has added three key individuals to the Siemens sales team as well a two new people to its Marketing Group.
Michael Faiella joins Siemens as an inside sale account representative for the North Texas and Oklahoma region.
Mark Punsal also joins Siemens as an inside sales account representative. Punsal will serve the Maryland, Virginia, and Washington, DC, areas.
Christine Santos also joins the company as an inside sale account representative for the Western Regional Sales team in the La Mirada, Calif, facility.
Jennifer Balas joins Siemens as marketing services project manager. Balas is responsible for managing the development of marketing services projects to support our customers and consumers. This includes advertising, promotions, user guides, technical information, and product literature.
Kia Bergman joins the company as PR and communications specialist. Bergman is charged with public relations initiatives and product launches for the Marketing Communications Group.
American Tinnitus Association
David Fagerlie has been appointed CEO of the American Tinnitus Association, Portland, Ore.
"There has never been a greater need—or a greater opportunity—to find a cure for tinnitus," Fagerlie says. "The American Tinnitus Association has long been a leader in combating the condition. I have tinnitus myself, and this is a challenge I'm personally honored to accept."
Fagerlie, 54, brings a strong background in nonprofit leadership and fund-raising to his new position with the American Tinnitus Association. For the past 6 years, he has operated his own nationally successful consulting practice for nonprofit organizations. He previously served for three years as executive director of the 300,000-member University of Washington Alumni Association and as the University's assistant vice president for alumni affairs.
AFA
Five more school-based practitioners have each won $1,000 in support of their distance AuD education through the AFA School-Based Scholarship program. A total of 14 scholarships will be provided through this program, with additional winners to be announced at a later date.
Gayla Reed has been an audiologist in Louisiana for 8 years, and has been employed by the St. Mary Parish School Board in Centerville, La, since 2001. She began AuD classes this fall at the University of Florida.

Cindi Jones has worked as an audiologist for over 20 years, and has been employed by the Phoenix Day School for the Deaf since 2001. She began AuD classes at the Arizona School of Health Sciences in June.
Bridgit Whitford has been an audiologist at the Cleveland Hearing and Speech Center in Cleveland since 1993, and fills the educational audiologist position for the Brecksville-Broadview Heights School District. She began her AuD program in September at the Arizona School of Health Sciences.
Brandi Odell has been an educational audiologist for the New York City Department of Education in Bronx, NY, since 2002. She will begin AuD classes in December at the Arizona School of Health Sciences.
In other AFA news, the Arizona School of Health Sciences (ASHS) and the University of Florida both recently bestowed AFA Professional Leadership Awards on two of their graduating students. AFA Professional Leadership Awards recognize distance education students who possess a positive attitude and strong work ethic throughout their AuD program, are involved in professional activities to promote the profession and patient care, and who show a dedication to public service.
In a ceremony in May, the University of Florida honored Kara Bean and Ann Anderson as its award recipients. Bean was recognized for implementing newborn hearing screening services, both in the United States and Saudi Arabia, and for her outreach efforts in hearing conservation education in her local school district. Anderson was honored for her willingness to share her expertise in the area of tinnitus with colleagues, and for her national leadership role in hearing conservation efforts.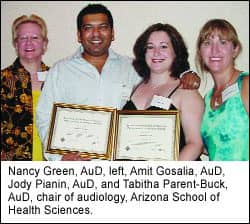 During August graduation ceremonies at ASHS, Nancy Green, AuD presented awards to Amit Gosalia and Jody Pianin.
Gosalia was honored for his commitment in working for state licensure change in Arizona and his motivational efforts to inform and involve other audiologists in the activities of their profession. Pianin was recognized for her drive to advance the profession and her work to establish hearing conservation programs and complete comprehensive training and certification for newborn hearing screening personnel.
In more AFA news, GN ReSound recently sponsored an AFA postcard that awarded a $1,000 scholarship for distance AuD education to Laura Holden. Holden has worked at the Washington University School of Medicine in St. Louis for 20 years. She works with patients clinically, and also has a special interest in adult cochlear implants. She began classes at the Arizona School of Health Sciences this fall.
Electone
Jenelle Hovde, MS, has joined Electone, Longwood, Fla, as director of audiology. Her responsibilities at Electone include training, technical support for sales and customer service, and serving on the product development team.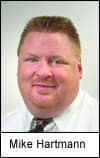 Williams Sound
Williams Sound, Eden Prairie, Minn, announces the appointment of Mike Hartmann to the position of ALD sales representative.
Hartmann's career with Williams Sound began in the Manufacturing Department in 1999. Within a year, his enthusiasm for serving customers was noticed, and that led to a position in marketing as a customer service representative.
His responsibilities will include developing new business and markets for the Williams Sound ALD product line. He will be focusing on two of Williams Sound's newest ALD products: the Pocketalker™ Ultra Personal Amplifier and the SoundPlus™ TV Infrared Listening System.
Callier Center/UTD
Saying "the time is ripe to create new initiatives that deal with highly needed research, education, and service," Ross J. Roeser, PhD, stepped down as executive director of the Callier Center for Communication Disorders at The University of Texas at Dallas (UTD) effective October 1. Roeser has been replaced by Thomas Campbell, PhD, former director of the Department of Audiology and Communication Disorders at Children's Hospital of Pittsburgh and a professor in the Department of Communication Science and Disorders at the University of Pittsburgh.
Roeser has been at the center for more than 35 years. He has served as its executive director since 1988. He will serve as director emeritus of the center and will remain a professor of communication sciences at the university. He also will continue as editor-in-chief of the International Journal of Audiology.
"I'm thrilled to join Callier at such an exciting time in the center's history," Campbell says. "An important aspect of my vision for Callier is to continue to develop the center into a world-class facility for clinical service delivery for both children and adults with hearing and communication disorders, and I believe that this goal can be achieved with carefully integrated, innovative clinical research and education programs."
A certified speech-language pathologist, Campbell has focused his research on understanding the environmental, physiological, and behavioral markers that underlie speech and language disorders in children. In recent years, he has studied both the genetic and physiological processes that are associated with childhood motor speech disorders.
Campbell's wife, Christine Dollaghan, PhD, who was a professor in the Department of Communication Sciences and Disorders at the University of Pittsburgh, also will join the Behavioral and Brain Sciences faculty at UTD.
GN Otometrics
GN Otometrics, Schaumburg, Ill, recently hired Wendy Crumley, MS. She will work directly with the fitting team to build market share and increase end-user knowledge of leading-edge fitting systems such as the AURICAL Visible Speech.
CareCredit
CareCredit® has promoted Jessi Everett as business development manager for the company's Audiology Division. She is responsible for enhancing client partnerships by increasing practice profitability and patient satisfaction, as well as directing new business development.
With 6 years experience in health care, Everett joined CareCredit in 2004 as a business development manager. Prior to joining CareCredit, Everett was the referral development coordinator for NorthEast Medical Center where she led key strategic marketing and community relationship initiatives.