BHI Mini-Documentary Expected to Draw Over 3 Million Viewers
Alexandria, Va—Vinton Cerf, PhD, a computer pioneer who is now Google's vice president and chief Internet evangelist, urges viewers to stop ignoring hearing problems in a Better Hearing Institute (BHI) documentary that began airing on public television affiliate stations in August. Cerf, who has worn hearing aids since age 13, is participating in an ongoing campaign by BHI to educate Americans about hearing loss and new technologically sophisticated solutions that are available to address it.
The PBS program, Spotlight On: Hearing Loss, was recently made available for showing to 348 public television affiliate stations around the country as part of the popular "Spotlight On" series with a successful 16 year history on National Public Television. The hearing loss segment is a 9.5-minute program guaranteed a minimum of 500 airings to at least 3 million public television viewers. It conveys the negative consequences of untreated hearing loss and shows viewers what they can do about it. The mini-documentary was made possible by a special grant from Sonion, Minnetonka, Minn.
"I have spent much of my life thinking about the potential of communications technology to transform people's lives," Cerf says in the documentary. "Now I'm equally excited about new digital technology that is transforming the lives of people with hearing problems."
Known as one of the "Fathers of the Internet" when he was a professor at Stanford University in the early 1970s, Cerf co-designed the protocols and architecture that now make it possible to communicate through cyberspace. He has indicated that, without hearing aids, he would not have been able to function as productively as he did throughout his long and successful career.
"We hope the Public Television 'Spotlight On program will be a wake-up call to the 25 million Americans who know they have hearing problems but aren't doing anything about it," says Sergei Kochkin, PhD, BHI's executive director who generated the study, "Hearing Loss and Its Impact on Household Income" (October 2005 HR, available in the www.hearingreview.com Archives). "As a result, they often lose income on the job, have psychological problems, and find that intimate relationships and family life are disrupted." The program explains the value of hearing, shows viewers what happens when they visit a hearing professional, and how modern digital hearing aids are fitted and then manufactured.
"The use of Dr. Cerf as a spokesperson for better hearing is of particular significance to people with hearing loss," Kochkin says. "Dr. Cerf is a communications pioneer who has contributed worldwide to the development of the Internet and e-mail, and now these are common tools in modern communication. We are hoping that his involvement in hearing health will motivate Americans with hearing loss, who have benefited from the Internet and e-mail, to also explore digital technology as a means of enhancing their ability to hear, listen, and communicate."
Visit www.betterhearing.org/video/pbs/spotlight.cfm to view or download the video.
IHS Names New President-Elects
Washington, DC—The International Hearing Society (IHS) has elected IHS Governor and Treasurer James Ogurek, BC-HIS, as its new president-elect after former president-elect Neal Waingrow, BC-HIS, withdrew for reasons that include business commitments to his new dispensing office located in Florida, as well as his current obligations as governor of the Florida Society of Hearing Healthcare Professionals.
Ogurek, who will succeed outgoing IHS President Harlan Cato, BC-HIS, in January, has been a licensed hearing instrument specialists for 29 years, and owns Hearing Solutions in Wausau, Wis, a business that his father started in 1976 and he took over in 1984. He has chaired the Wisconsin Hearing and Speech Examining Board, served as president and vice-president of the Wisconsin Alliance of Hearing Professionals, and has a masters degree in applied economics from Marquette University.
The IHS Board also named Chris Gustafson, BC-HIS, of McMinnville, Ore, as president-elect during Ogurek's term (2007-2009). A well known dispensing professional in the Northwest, Gustafson is the chair of the Oregon Advisory Council on Hearing Aids and is chair of the Tri-State Board for the Tri-State Hearing Convention.
On HR Online…
The Hearing Review presents news online everyday as well as a monthly reader's poll. Check out www.hearingreview.com for the latest information.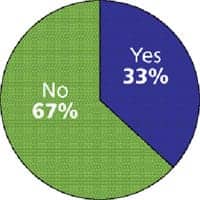 Online Poll: Do you have a predetermined marketing plan that you develop then try to follow throughout the year?
HR Online News Sampler in August:
• Study Investigates Hearing Loss and High Speed Dental Tools
• NY to Offer Captioned Telephone Service for Hearing-Impaired Customers
• Sonic Innovations Enters Into Definitive Agreements for $12M Private Placement
• America Hears Introduces New Line of Hearing Aids
• Present-day Non-human Primates May Be Key in Language Evolution
• Anniversary of the Americans with Disabilities Act, 2006
• Phonak Cycling Team Drops Landis Amid Doping Inquiry
• House Clinic Offers Less Invasive Treatment for Acoustic Neuromas
• AG Bell Awards Honors of the Association to Ken Levinson
• New Q&A Released on Deafness and Employment
• MP3 Players Increase Risk for Early Hearing Loss
• Study: Earlier Use of Cochlear Implants Leads to Better Speech
• US Troops Likely to Suffer Hearing Loss from Combat
• RNID Research Discovers Genetic Link to Hearing Loss Caused By Loud Noise
HR's Archives and departments are also searchable by key word. To get the latest in hearing-related news and articles, point your browser to www.hearingreview.com