Marion Downs Lecture Presents New Research on Pediatric Assessment Methods

Marion Downs was honored at the AAA convention by the first annual Marion Downs Lecture in Pediatric Audiology, sponsored by the AAA Foundation and a generous grant from Oticon.
Washington, DC — The first annual Marion Downs Lecture in Pediatric Audiology, made possible through the AAA Foundation and a grant by Oticon Inc, was presented by Annu Sharma, PhD, a researcher at the University of Texas-Dallas/Callier Center for Communication Disorders during the American Academy of Audiology Convention. Downs herself launched the first annual lecture series by making fun of her own age (she is 91) and displaying the crackling intelligence and wit that has earned her the reputation as a world-leader in pediatric hearing care. She pioneered the first infant hearing screening program in 1963, and is currently a distinguished professor emeritus at the University of Colorado School of Medicine where she spent more than 35 years performing clinical services and research.

Annu Sharma of the UTD/Callier Center presented a new technique for measurement of central auditory maturation.
Sharma's presentation featured a fascinating look at how there is more to the auditory periphery than previously assumed, and she described a new technique for measuring the central auditory maturation of hearing-impaired infants using cortical auditory evoked potentials (CAEPs). These CAEPs can be used as objective markers of central auditory development and plasticity in hearing-impaired infants and children. Through the use of these objective measurements, it is hoped that more light can be shed on decisions involving the implementation of cochlear implants, amplification, or both types of devices in intervention strategies. Sharma is the principal scientist in two NIH-funded 5-year studies. The first revolves around "critical" or sensitive periods during infant development when fitting a cochlear implant will lead to optimal speech and language development (see the interview with Sharma in the October 2002 HR, p 32). Understanding more about this critical period will provide audiologists and physicians with knowledge to make better-informed decisions regarding when to place a cochlear implant in a congenitally deaf child. The second NIH study focuses on the use of the latency of CAEPs as markers of maturational status in infants, as described above.
---
May is National Better Hearing & Speech Month
Washington, DC — May is Better Hearing and Speech Month, which is traditionally a time for the hearing healthcare field to raise public awareness about hearing loss and hearing loss prevention, as well as promote initiatives involving pediatric hearing care and universal newborn hearing screening (UNHS) efforts.
On April 13, Senator Norm Coleman (R-MN) and Senator Joe Lieberman (D-CT) cosponsored a resolution in the US Senate recognizing May as National Better Hearing and Speech month. In a letter to colleagues, they noted that one in every 10 Americans suffer from hearing loss, making it one of the most prevalent chronic health conditions in the country. Additionally, the senators noted that, each day, an average of 33 babies are born with hearing loss, making it one of the nation's most prevalent birth defects, and that "delayed detection and intervention can last a lifetime."
---
Cochlear Corp Purchases Entific Medical Systems
Englewood, Colo — In early March, Australian-based Cochlear Ltd (US offices in Englewood, Colo), makers of the Nucleus cochlear implant, purchased Entific Medical Systems, which is headquartered in Goteborg, Sweden (US offices in Columbus, Ohio), from the Swiss-Swedish group Nobel Biocare Holding AG for $152 million.
Entific has developed and marketed the Bone-Anchored Hearing Aid (BAHA) system, a bone-conduction implant designed for conductive and mixed hearing losses which has also seen widespread use in cases of single-sided deafness (see Marshall Chasin's article, "Assessment Methods for Bone Anchored and Bone Conduction Hearing Aids," in the December 2001 HR). Besides having complementary product lines and possible synergies in R & D, the two companies say that their distribution will also be bolstered by one another. "I have a lot of respect for Cochlear's technological base and achievements and feel that Entific's people and products are joining a like-minded environment," says Entific's CEO Dan Pitulia. "This should benefit patients, clinicians, and employees alike."
Entific reports that over 25,000 patients use the BAHA, and its parent group has experienced over 35% in annual revenue growth during the past 5 years. Cochlear, until last year when its profits slumped, experienced over 20% profit growth during the previous 7 years and reports that there are about 60,000 people worldwide who have been implanted with their devices.
---
Spectrum Hearing Systems Inc Launches New Digital Devices
Cornelius, NC — A new manufacturer of hearing instruments, Spectrum Hearing Systems Inc, officially launched its first products at the American Academy of Audiology (AAA) convention in April. Owned by W. Randy Wohlers, BC-HIS, the new company offers two lines of digital hearing aids: EasyFit Digital designed for mild-to-moderate hearing losses, and EasyFit Custom Digital designed for moderate to severe hearing losses.
The hearing instruments incorporate a soft shell technology that is said to provide fittings on the first client visit, while optimizing service times for the dispensing professional and providing an economical alternative for custom aid pricing and fitting. The aids—which come preprogrammed and are offered in ITC, mini-canal and CIC styles—reportedly feature adaptive noise reduction, adaptive feedback cancellation, noise reduction, and WDRC.
For more information, contact (866) 275-2098; www.easyfithearingaids.com.
---
Mick Fleetwood Endorses Energizer "It's Hip to Hear" Program
Cleveland — Fleetwood Mac icon and Rock-and-Roll Hall of Fame Inductee Mick Fleetwood is helping to kick off the Energizer® EZ Change® "It's Hip to Hear™" program. Fleetwood launched the national initiative in mid-April at the Rock and Roll Hall of Fame and Museum. The program educates Baby Boomers and music fans about the importance of hearing loss prevention and treatment, offering practical, everyday solutions to preserving hearing health.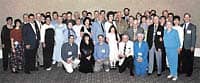 Mick Fleetwood listens to the Hip to Hear exhibit at the Rock and Roll Hall of Fame and Museum.
"Having spent my career behind a drum set, I know how hazardous noise— including music—can be to your hearing," says Fleetwood. "But musicians aren't the only ones affected by hearing loss—there are millions of baby boomers who have experienced some form of damage. That is why I'm encouraging people to listen to loud music responsibly, so they can hear it for years to come."
Despite the fact that more than 16-million baby boomers have some degree of hearing damage, only 1% of this group cites hearing loss as a health concern, according to a survey conducted by Energizer.
World's Quietest Concert and Rock Hall of Fame Exhibits. To turn up the volume on "responsible listening" and reach out to an even broader audience, Energizer EZ Change is producing the "world's quietest concert." Hosted by Mick Fleetwood at the Rock and Roll Hall of Fame and Museum, the event features a special performance by an up-and-coming rock band called the Eagles of Death Metal. The concert audience will hear the band's live vocals and music simulcast through portable FM radio headsets, rather than speakers or amplifiers used in traditional concerts.
"Instead of rocking out to standard 110-130 dB levels, this concert will be so quiet, the applause will be the loudest part of what you're hearing," says Fleetwood. "Our point? You can enjoy the music and the experience while being good to your ears at the same time."
After the concert event, Energizer is providing opportunities for boomers and their families to learn more about their hearing health so they can protect it. The company is unveiling two exhibits at the Rock Hall that will educate visitors about music, technology and hearing. The "It's Hip to Hear" Sound Check exhibit is an interactive kiosk that allows visitors to guess the lyrics of famously misunderstood songs, learn about the latest hearing technology and ways to listen to music responsibly. The second exhibit, "Listen to the Music: Rock and Roll and the Evolution of Audio Technology," examines the development of audio technology over the last century.
In addition to the Museum exhibits, the program also features a free Energizer EZ Change 'It's Hip to Hear" Survival Guide that provides insight from Fleetwood and information on everyday lifestyle changes that can help prevent hearing loss. The brochure is available free of charge on Energizer's Web site, at the Museum, in dispensing professionals' offices, and where hearing aid batteries are sold. "We're extremely excited to be educating consumers about hearing loss through the Energizer EZ Change 'It's Hip to Hear' program," says Ernie Petrus, director of marketing for Energizer Miniature Batteries US. "With Mick Fleetwood's help, we are reaching music fans directly through the Rock and Roll Hall of Fame and Museum, while supporting groups like ASHA to reach people across the country on a grass-roots level."
Energizer is supporting ASHA and other non-profit organizations that promote the quality of hearing health, and is providing a monetary donation to the organization for May's Better Hearing and Speech Month. For more information, visit www.energizer-ezchange.com.
---
NASED Honors David Kemp

Lance Brown (left) of Gordon Stowe & Associates-Memphis, president of NASED, left, honored David Kemp, PhD, with the Association's Lifetime Achievement Award at the NASED Annual Meeting which was held in Washington, DC during late-March.
Washington DC — The National Association of Special Equipment Distributors (NASED), the trade organization for distributors of testing instruments for the hearing healthcare industry, honored David Kemp, PhD, with the NASED Lifetime Achievement Award, the Associations highest honor. Kemp is professor of auditory biophysics at the Royal National Throat, Nose, and Ear Hospital in London and is chairman of Otodynamics Ltd. He is credited with the discovery of otoacoustic emissions (OAEs) in 1978. OAE testing has developed into a vital addition for evaluating the auditory pathway and is widely used for diagnostic and screening purposes through a wide range of special testing devices. For more information on NASED and its member companies, visit www.nased.com.
---
HIPAA Security Rule Now in Effect for Hearing Care Providers
Washington, DC — The third, and final, part of the Health Insurance Portability and Accountability Act (HIPAA) rule—this one relating to security standards—went into effect April 21 (for details, see the article by Popp & Lane, "HIPAA Security Rules and Compliance Specifications," in the July 2004 HR). Physicians, hospitals, insurance companies, and other health professionals—including hearing instrument dispensing offices/practices—should now be in compliance with all HIPAA requirements.
The latest rule applies to the electronic, administrative, and physical security of health information, and it establishes standards with which health care providers must comply, specifying a series of security procedures for covered entities to use to assure the confidentiality of electronic protected health information.
As the Hearing Industries Association (HIA) points out, the requirements are based on the national federal interest for developing safeguards to protect consumer privacy of health records, standardizing electronic health care transmissions, and protecting the security of electronically transmitted data, and the requirements date back to enactment of the Health Insurance Portability and Accountability Act (HIPAA) of 1996. This latest HIPAA safeguard requires health groups, including individual dispensing offices and hearing aid companies that deliver hearing aids on their premises, to have on staff a chief information security officer, perform an analysis of security risks, take safeguards to address security vulnerabilities, and train employees on compliance. Violators of the rule are subject to a penalty up to $250,000 and 10 years in prison.
There are a number of suggested steps the security officer should be taking, including: ensuring that there is a process for authorizing, establishing, and modifying user access for electronically protected health information (PHI), ensuring appropriate encryption capabilities, and addressing emergency access procedures. The overall goal, according to HIPAA experts, is to ensure that providers have a balanced security program, with sufficient management, operational, and technical security controls for their business.
Feature articles covering HIPAA regulations can be found in the February 2003, March 2003, April 2003 (two articles), and July 2004 editions of HR. There is also a list of recommended resources on HIPAA that can be found in the March 2003 HR (p 50).
---
New Portable Captioning System Developed
Atlanta — A wearable captioning system has been developed at the Georgia Tech Research Institute (GTRI) and recently licensed by the Georgia Tech Research Corporation's Office of Technology Licensing to Peacock Communications Inc, Marietta, Ga. In the new system, wireless-enabled personal digital assistants (PDAs) and laptop computers can serve as receivers and displays, or patrons can use a micro-display that plugs into a PDA and attaches to their glasses or is worn on a headband.
The system is designed to allow users to receive information that is being presented audibly to the general public in a variety of public venues, including movie theaters, museums, sports arenas, transit stations and places of worship. "The venue must generate the captions for patrons, but our system is an easy way to get captioning to patrons in a way they want—customized for each person," says GTRI project director Leanne West. "Right now, captioning is typically available only in movie theaters…but this device gives us a way to deliver captioning at any venue."
Peacock Communications plans to sell the captioning system software, called COMMplements™, and consult with venues on hardware and installation issues, says Chair and CEO Jack Peacock who is seeking investors to finalize software enhancements. Captions are sent by a venue's transmitter via standard wireless technology (ie, 802.11b) to a receiver device, such as a PDA, which also displays captions. The venue operates the transmitter, and the patron can borrow the receiver and display from the venue or they can use their own. PDAs and laptop computers can serve as receivers and displays, or patrons can use a micro-display that plugs into a PDA and attaches to their glasses or is worn on a headband. Although positioned close to the eye, the micro-display reportedly uses optics that make its screen appear to float several feet away, giving users viewing of text seemingly overlaid on their visual field.
Captions can be pre-recorded or text can be generated in real-time using CART (Communication Access Real Time Translation). West says that, as voice-recognition technology improves, captioning could be derived in this way as well. West says the GTRI system handles multiple text streams, is fully customizable and discreet, and can be used in any public venue willing to provide captioning.