Washington Notables to Speak at AAA
MacLean, Va — Political analysts and husband-and-wife team James Carville and Mary Matalin, as well as Senator Tom Harkin (D-IA), will be keynote speakers for the American Academy of Audiology's (AAA) 17th Annual Convention General Assembly on Thursday, March 31 beginning at 10:00 am in Washington, DC.

Senator Tom Harkin (D-IA)
Senator Harkin is a long-time leader in the fight to improve health care. As co-chair of the Senate Rural Health Caucus, he has successfully pushed legislation to bring health professionals to small towns and rural areas. As a ranking Democrat on the Senate panel that funds most health programs, he has guided efforts to focus more on prevention and early intervention. In addition to having a personal and family experience with hearing impairment, Senator Harkin authored the 1990 Americans with Disabilities Act with former Senator Bob Dole, and he has also led efforts to improve educational opportunities for children with disabilities. Senator Harkin is a Senate Co-Chair of the Congressional Hearing Health Caucus. He has also repeatedly championed health research funding initiatives as Ranking Member of the Senate Labor, Health and Human Services, and Education Appropriations Subcommittee.

James Carville and Mary Matalin
Carville and Matalin—America's best-known, politically diverse couple —will talk on the subject of "All's Fair: Love, War and Politics." Carville is renowned for his razor-sharp wit, down-home common sense, and penetrating analysis of the political world. His no-holds-barred political commentary, quick wit, and Southern drawl make the "Ragin' Cajun" the instantly recognizable co-host of CNN's Crossfire. Carville is also a best-selling author. One of America's hardest hitting conservative political commentators, Mary Matalin brings an insider's perspective to her analysis of the corridors of power and future of the United States. Matalin formerly served as assistant to President Bush and counselor to Vice President Cheney, and was the first White House official to hold this double title. Before joining the Bush/Cheney White House, Matalin hosted CNN's critically acclaimed debate show, Crossfire. Former founding co-host of the Washington-based political weeknight talk show, Equal Time, Matalin's humor, straightforward discussion, and ability to talk about the hottest political issues in Washington helped to make the show one of the most talked-about programs in CNBC's history.
For a look at the AAA Convention schedule, as well as highlights of important feature sessions, see p. 16 or visit www.audiology.org/convention.
---
Gene Therapy Reportedly Restores Hearing in Mammals
Ann Arbor, Mich — Researchers from the University of Michigan (U-M) Medical School have inserted a corrective gene using a virus and restored the cochlear hair cells in adult guinea pigs—reportedly the first restoration of auditory hair cells at the structural and functional levels in mature living mammals—according to a study published in Nature Medicine (February 13 edition). The researchers later demonstrated that the animals responded to sounds.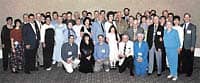 Yehoash Raphael, PhD
After 11 years of intensive research, the U-M researchers succeeded in using gene therapy to grow new auditory hair cells and restore hearing in deafened adult guinea pigs—a major achievement in the search for new ways to treat hearing loss in humans. Guinea pigs are used in hearing research, because their ears are large and their inner ear structure is virtually identical to that of humans. For years, scientists have been searching for a way to regenerate functioning hair cells. (For a recent update on hair cell regeneration, restoration, and otoprevention, see the article by Edwin Rubel, PhD, and his comments in the October 2004 HR, pgs 18-20, 62).
Yehoash Raphael, PhD, an associate professor of otolaryngology at U-M's Kresge Hearing Research Institute, who directed the U-M study, credits advances made by other scientists worldwide for his team's success. "Progress in gene delivery methods and in understanding of the molecular mechanism that controls hair cell development facilitated the experimental approach used by our group," says Raphael.
"We inserted a gene called Atoh1, a key regulator of auditory hair cell development, into non-sensory epithelial cells that remain in the deafened inner ears of adult guinea pigs, whose original hair cells were destroyed by exposure to ototoxic drugs," Raphael explains. "Eight weeks after treatment, we found new auditory hair cells in the Atoh1-treated ears of the research animals. Auditory tests indicated that the generation of new hair cells coincided with restoration of hearing thresholds."
Raphael describes Atoh1 (formerly known as Math1) as a "pro-hair cell gene" which normally is active only during embryonic development. Originally discovered in fruit flies, the genis is present in all animals, including humans. During the embryonic stage of animal development, Atoh1 is turned on, or expressed, in inner ear cells destined to become hair cells, while its expression is inhibited in supporting (non-sensory) cells.
"Our goal was to find a way to activate Atoh1 in mature non-sensory cells in the inner ear, causing them to develop into new hair cells," says Raphael.

Masahiko Izumikawa, MD
The first author of the paper, Masahiko Izumikawa, MD, is a research fellow from Kansai Medical University in Osaka, Japan, who is now training with Raphael at the U-M Medical School. Izumikawa used an adenoviral vector to deliver the Atoh1 gene to inner ear cells. He injected the Atoh1 vector into the left ears of 10 guinea pigs that had received large doses of ototoxic drugs 4 days earlier to destroy their hair cells. The same procedure, but without transfer of the Atoh1 gene, was performed on matched control animals. The right ears of the deafened animals did not receive the Atoh1 treatment and served as an additional control.
Microscopic images of inner ears from deafened animals taken 3 days after ototoxic drug treatment confirmed that the drugs had destroyed all the hair cells. However, images of inner ears treated with Atoh1, taken 8 weeks after inoculation, showed large numbers of hair cells in the cochlea. Images of control ears treated with the vector alone, or with the vector in combination with green fluorescent protein, showed no hair cells. Contralateral (right, untreated) ears were also devoid of hair cells.
"Because we eliminated all the original hair cells in the organ of Corti, we know that any new hair cells must have developed from non-sensory cells, which were induced by Atoh1 gene expression to change into auditory hair cells," says Izumikawa.
To find out whether the new hair cells were actually functional, the scientists used auditory brainstem response (ABR) tests. "Four weeks after treatment, the threshold levels indicated profound deafness. But at 8 weeks, average thresholds in Atoh1-treated ears were lower (better) at all frequencies than in the control ears. This is the most exciting finding of our study," says Raphael, who adds that he repeated the tests four times to be sure of his results.
Restoring auditory threshold levels is an important advance, but Raphael cautions that it shouldn't be considered the same as restoring normal hearing. "At this early stage, the structural and functional repairs are incomplete and the hearing of these animals is likely to be distorted," he says. "For this and other reasons, it will be several years before Atoh1 gene therapy is ready for human testing."
In future research, Raphael plans to test Atoh1 treatment in aged animals and animals deafened by noise exposure, rather than drugs. He also wants to determine if the treatment is effective months or years after the original hair cells have degenerated.
Previous research by Raphael and his U-M team, published in the June 1, 2003 issue of the Journal of Neuroscience, demonstrated it was possible to grow new hair cells in non-deafened guinea pigs by inserting Atoh1 into non-sensory epithelial cells lining the inner ear.
Additional study collaborators and co-authors included Ryosei Minoda, MD, and Kohei Kawamoto, MD, former U-M research fellows; Karen A. Abrashkin, former U-M undergraduate student; Donald L. Swiderski, PhD, research associate; and David F. Dolan, PhD, U-M research associate professor. The research was supported by the National Institute on Deafness and Other Communication Disorders (NIDCD) of the National Institutes of Health, a gift from Berte and Alan Hirschfield, Center for Hearing Disorders, and GenVec Inc, a biopharmaceutical company in Gaithersburg, Md. GenVec provided its proprietary adenovector with the Atoh1 gene insert. Douglas E. Brough, a co-author of the paper, is a GenVec employee. The university reports that Raphael has no financial interest in the company.
---
Focus on People Awards Announced
San Diego, Calif – The 2005 Oticon Focus on People Awards honored 12 outstanding hard-of-hearing people who prove that hearing loss does not limit a person's ability to live a full, productive, and even inspiring life.

David Hawkins, PhD, Mayo Clinic-Jacksonville
The national awards competition, sponsored by Oticon Inc., Somerset, NJ, celebrated the accomplishments of first place winners: Wyatt Spencer, Adam Brownfeld, Michelle Tjelmeland, and Brenda Battat. A special award recognizing the critical role of hearing care professionals in improving the world of hearing-impaired people was presented to Eleni Boston of Willamette Education Service District in Salem, Ore. Additionally, a new research award in honor of the late Poul Erik Lyregaard was awarded to David Hawkins.
Now in its eighth year, the Oticon Focus on People Awards program is designed to focus attention on common misconceptions about hearing loss, correct negative stereotypes, and motivate people with hearing loss to take advantage of the help that is available to them. "Oticon created the Focus on People Awards to show the world that hearing loss does not diminish a person's ability to live life to its fullest and most productive," says Oticon President Mikael Worning. "Most importantly, we want to encourage those with hearing loss to seek professional guidance and take advantage of the new technologies and procedures that enable them to live the life they want with the hearing they have."
Selected from over 200 nominees, a total of 15 winners earned first, second, or third place honors in one of the program's five categories: Youth (children, ages 5-12), Student (full-time students, ages 13-25), Adult (age 18 and over), Advocacy (individuals involved in advocacy for the deaf and hard-of-hearing community) and Practitioner (hearing care professionals currently in practice).
Poul Erik Lyregaard Hearing Aid Research Award. This year, Oticon presented a special award in tribute to the late Poul Erik Lyregaard, former head of development for Oticon. Lyregaard earned international recognition for his extensive work and research and has been credited with helping to create the foundation for the way hearing aids are fit today.
David Hawkins, PhD, professor of Audiology at the Mayo Medical Clinic and Head of the Audiology Department of the Mayo Clinic Jacksonville, was presented with the first Poul Erik Lyregaard Hearing Aid Research Award. Dr. Hawkins has more than 20 years of distinguished work as a clinician, teacher, and researcher. "Beginning in the 1980's, David demonstrated through his words and work that the field of hearing aid fitting could and should be treated as a serious scientific endeavor," says Oticon Vice President of Audiology and Professional Relations Donald Schum, PhD. "He is among a select few who ushered in a new level of focus on the importance of careful, evidence-based clinical service."

Wyatt Spencer
2005 Focus on People Youth Category Winner, Wyatt Spencer, Corning, Calif. Seven-year-old Wyatt Spencer, born with bilateral, mild-to-moderate hearing loss, has no intention of letting anything in life slow him down. This hard-riding cow poke earned a silver buckle in the Mutton Busting event at the Corning Junior Rodeo competition. Along with his faithful pony, Trigger, Wyatt participates in his hometown's "Cattle Days", roping in prizes and the hearts of his community as he proudly displays his colorful hearing aids for all to see.
Student Winner: Adam Brownfeld, Bronx, NY. Twenty-one-year-old Adam is currently completing his bachelor's degree at Rochester Institute of Technology. Born with a profound bilateral sensorineural hearing loss, Adam plans to pursue a doctoral degree in clinical or industrial/organizational psychology, a career goal that places him in an elite group of hearing-impaired individuals who choose to function in the mainstream with high-level professional qualifications. Adam is already contributing to a scholarly body of knowledge about deafness in research areas traditionally conducted by hearing people. He has a keen interest in knowing more about his own hearing impairment and expanding the world's understanding of hearing loss.
Adult Category Winner: Michelle Tjelmeland, Springfield, Ill. Michelle, who is profoundly deaf, has been called "an example of positive attitude and fortitude, displayed with a keen sense of humor." Mother of Ellie, age 7, who is also deaf, and Lucy, age 4, Tjelmeland channeled her energies into creating a successful Web development and consulting firm, e-websmart. She is winner of numerous awards including Small Business Owner of the Year by the Greater Springfield Chamber of Commerce, the Golden Web Award by the International Association of Web Masters & Designers and the "40 under 40 Award" by the Springfield Business Journal. Through her web site iloveellie.com, Michelle shares her experiences with hearing loss as an individual and mother.
Advocacy Category Winner: Brenda Battat of Bethesda, Md. Despite a hereditary hearing loss, Battat's most significant achievements have occurred in advocacy, a field requiring outstanding communication skills. Her efforts have directly and indirectly impacted legislation and regulations that govern such essential areas as telecommunications and community accessibility and healthcare coverage for life-changing technology including hearing aids and cochlear implants. Brenda has worked collaboratively with every major national group related to hearing loss and has brought together consumers, professionals, and corporations to effect positive and far-reaching change for people with hearing loss.

Eleni Boston
Practitioner Category Winner: Eleni Boston of Salem, Ore. One sentiment echoed by the many professionals who nominated Boston for this award was their inability to capture the full scope of all that she has given to children and families in her 27 years of service. Praised for her knowledge in all areas of education and technological developments, it is her everyday interactions with people that truly distinguish her as a role model for all. To quote one of her colleagues: "Eleni never fails to look beyond what is — to see what can be."
Ten Second and Third Place Winners. The Oticon Focus on People Awards also recognized second and third place winners in each category. Second place winners were: Poul-Erik Transo, MS, of Boscobel, Wis (Practitioner), Stacy Ridgeway of Louisville, Ky (Advocacy), Denise Kapsa of South Bend, Ind (Adult), Michael Sullivan of Woodhaven, NY (Student), and Sonjay Sivarajah of Lino Lakes, Minn (Youth). Third place winners were Deborah Price, AuD, of Dallas, Tex (Practitioner), Sandra Clark of South Glens Falls, NY (Advocacy), Senator Charles Lemmond of Harrisburg, Pa (Adult), Rahul Rajagopalan of Ellicott City, Md (Student), and Reede Fisher of Salem, Ore (Youth).
Focus on People Blue Ribbon Judging Panel. Winners were selected by independent judging committee composed of leading hearing care professionals. This year's program judges included: Jack Adams, MS, of Audiology Consultants, Cape Coral, Fla; David Dodero, AuD, Dodero Hearing Center, Santa Barbara, Calif; Leslie E. Herman, MS, Summit Hearing Center, Summit, NJ; Kurt Pfaff, AuD, Hearing Care Specialists Ltd, Minneapolis; and Ellen Simon, MS, Hear Center, Encino, Calif.
---
Starkey Opens SHRC Research Center in Berkeley, Calif
Berkeley, Calif – Starkey Laboratories has opened its new Starkey Hearing Research Center (SHRC) in Berkeley, Calif. The SHRC, a division of Starkey's Hearing Research and Technology department, is reported to solidify Starkey's long-term commitment to developing advanced hearing instrument technology.
Areas of research at the SHRC will include auditory science, digital signal processing, wireless applications, directional technology, diagnostic procedures and validation techniques.
Long-time hearing instrument researcher Brent Edwards, PhD, has been appointed SHRC Executive Director. "We are excited about this challenging opportunity and to be a part of the Starkey family," says Edwards. "We look forward to applying the science of hearing to solutions for the hearing impaired. Today's technologies offer us unique opportunities to continue Starkey's history of innovation."
The SHRC is located two blocks from the University of California, Berkeley campus and is near Stanford University, the University of California, San Francisco and several other major universities.
The Center will collaborate with these and other universities to investigate new areas of benefit for the hearing impaired. SHRC researchers will also work closely with colleagues at the company's headquarters in Eden Prairie, Minn, to translate research results into new products offered by Starkey.
---
Hearing Components & GN ReSound Develop New Aid
Oakdale, Minn — Hearing Components announced a new technology alliance with GN Resound, Bloomington, Minn, to make a compliant mini-canal hearing aids designed for demonstration and loaning to hearing aid users. The licensing arrangement allows GN Resound to create what the company describes as the first practical instant-fitting, final-electronic-product-comparable demonstrator and loaner completely-in-the-canal (CIC) hearing aids.
Hearing Components' Comply™ Capsule System utilizes viscoelastic foam with a specially designed capsule that features a built-in patented compliant coupling technology. The mini-canal sized capsule is designed to hold the electronic parts necessary to build multi-channel digital aids. GN Resound utilizes this system with their electronics and software to create their own demonstration instrument for hearing professionals.
Digital electronic technology enables customization of circuits in much smaller instruments and allows for adjustments for each individual's hearing loss using standard methods and software. The patient information—which is already stored electronically in the hearing professional's office—can be directly downloaded into the electronic capsule in seconds making for a demonstration model that allows the patient to experience the true electronics without an impression or custom fitting. When the electronics are combined with the Comply Capsule and Snap Tips, this system offers patients the first digital custom demonstration, according to the company.
"The combination of the Hearing Components and GN Resound technologies provides the practitioner with a superior solution for their patients who want to experience how a custom aid performs," says Hearing Components National Sales Manager Karen Dee. "The technology alliance has created a significant win-win opportunity for practitioners and their patients. Also, when a patient who wears a custom aid must surrender it for factory service or repair, the dispensing professional can relieve this hardship by offering a temporary, yet customized, loaner to the patient."
For more information, contact Hearing Components at (800) 872-8986 or visit www.hearingcomponents.com.
---
Hearing & Balance Part of Medicare Assessment
As part of the "Welcome to Medicare Preventive Exam", a component of the Medicare Modernization Act of 2003, the Centers for Medicare & Medicaid (CMS) have included hearing and balance assessment in their 12-point examination for new Medicare enrollees. Medicare beneficiaries are now eligible for a preventive physical that includes a question on hearing impairment and balance. CMS recently published the final rule providing for changes to the physician fee schedule for 2005, which contains this hearing assessment.

The new "assessment" means the physician will talk to the beneficiary about hearing loss and any hearing problems and/or have the patient answer some form of a written questionnaire.

CMS made it clear that the assessment is not a screening test, and the agency reportedly does not intend for primary care physicians to do screening tests or examinations (eg, pure tone screening, watch tick tests, etc), but instead prefers that physicians have a method of questioning their patients to red flag those who require additional evaluation or are at risk. CMS elaborated on their decision by stating that "medically necessary" hearing tests are covered elsewhere under Medicare. CMS has also reiterated that hearing tests simply for the benefit of determining what type of hearing aid the patient may need are also not covered.

For more information on the Welcome to Medicare Exam, see Dennis Hampton's article on p 75, or visit www.cms.hhs.gov.
---
Cell Phones Hit 2 Billion Mark in '05; Implications for Hearing Aids
In its Technology, Media & Telecommunications (TMT) Trends: Predictions 2005, the consulting firm Deloitte & Touche (www.deloitte.com) predicts that the global wireless phone market will grow to 2 billion subscribers by the end of 2005. The firm also predicts that:
• Voice will continue to be the primary source of cellular mobile revenues (80%), although a significant minority of voice customers will take a second 2G subscription for data, creating mobile penetration surpassing 100% in some markets.
• Dozens of 3G networks will go live in 2005. In the 2G and 3G cell phone platforms, messaging will continue to be the primary source of non-voice use.
• Chat, instant messaging, and other emerging services will grow substantially. So will the lucrative mobile content market. For example, cell phone ring tones are already a $2 billion industry (about half the size of the US retail hearing aid market).
Deloitte & Touche say that the impact of radio frequency identification devices (RFID)—which use wireless technology to transmit product serial numbers and other information from tags to scanning devices without human intervention—are "expected to be enormous, immediate, and global, with literally billions of RFID tags being deployed in 2005." The firm states that RFID will initially be based on closed-loop, proprietary networks, but will eventually spill out onto public networks, creating a huge amount of data traffic.
The above trends may be of great future consequence for the hearing industry and professional and consumer groups who are trying to keep hearing aid compatibility (HAC) issues in the forefront of the FCC's agenda. The giant telecommunications industry has been reluctant to address HAC concerns (see HR News, January 2004, p 10). Additionally, the trends may verify many industry experts' predictions that "total communication devices" will evolve and ultimately link everyday items like cell phones, computers, stereos, etc, to hearing instruments.
---
Congressional Support for Tax Hearing Aid Tax Credit Grows
Washington, DC — As reported in last month's edition of HR, Congressional Representative Jim Ryun (R-KS) reintroduced the Hearing Aid Tax Credit Assistance Act (HR 414) on January 26th, and he has been joined by 20 co-sponsors. Momentum for HR 414 is growing, and by mid-February, there were already a total of 32 co-sponsors, with 12 new Congressional Representatives signing on.
The reintroduced bill is identical to last session's HR 3103, also authored by Congressman Ryun, and would provide $500 ($1000 for binaural fittings) towards the purchase of a hearing aid, once every 5 years, for individuals under the age of 18 or for those age 55 and older, or those purchasing a hearing aid for someone under 18.
An informal "Hearing Aid Tax Credit Coalition"—which is composed of the Hearing Industries Assn (HIA), American Academy of Audiology (AAA), American Speech-Language Hearing Assn (ASHA), International Hearing Society (IHS), Deaf and Hard of Hearing Alliance (DHHA), and Self Help for Hard of Hearing People (SHHH)—has been actively setting up meetings with both Senate and House offices to gain support for the new bill. Currently, the coalition's main focus has been gaining Senate support for the issue as Senator Norm Coleman (R-MN) prepares to reintroduce a companion bill later this spring.
The allied organizations will call on their membership to contact Senators via email, fax, and phone, urging the Congressmen to become cosponsors to Senator Coleman's bill. Passage of the tax credit legislation is also the key focus of the HIA's "Hearing on the Hill" event on May 17-18, 2005 which coincides with Better Hearing and Speech Month.
For more information on the Hearing Aid Assistance Tax Credit Act, see the Dec 2003 HR, p 12 and the March 2004 HR, p 8.
---
AAAS Conference Focuses on Hair Cell Restoration
Rockville, Md — Research on ways to restore functional hair cells in mammals, including in vivo and in vitro genetic manipulations, application of mitogenic growth factors, and stem cell characterization and transplantation, were presented as part of the Association for the Advancement of Science (AAAS) annual meeting. Sponsored and organized by the American Speech-Language-Hearing Association (ASHA), the symposium also addressed efforts to identify the signaling pathways in the inner ear that are necessary for neuronal survival and regrowth after hair cell loss.
Hair cells are critical for hearing function and are highly susceptible to acoustic trauma, pharmaceutical agents, and microenvironmental changes, such as those associated with aging. The majority of deafness and balance disorders are sensorineural. While it has been known for over 50 years that sensory hair cells can be regenerated in cold-blooded vertebrates, it was not until recently that it was demonstrated that warm-blooded vertebrates, such as mammals, are capable of this process (see p 14). This discovery suggests that hair cell regeneration could be stimulated in humans to cure sensorineural hearing loss, which has long been believed to be irreversible.
Presenters summarized the current state of scientific knowledge about hair cell regeneration and neural regrowth, and identified areas of promise and limitation for future approaches toward treating sensorineural hearing and balance disorders.
Specific presentations included "Hair Cell Regeneration in Non-Mammalian Vertebrates," by Jennifer Stone, PhD, assistant professor at the University of Washington Medical School and Virginia Merrill Bloedel Hearing Research Institute. Stone reviewed the knowledge base on the spontaneous occurrence of hair cell regeneration in non-mammalian species.
In "Controlling Cell Division During Regeneration of the Mammalian Inner Ear," Neil Segil, PhD, senior scientist at the House Ear Institute, addressed the effects of hair cell injury in mammals, how the cell cycle can be altered genetically to stimulate the initial stages of hair cell regeneration, and methods for stem cell isolation from the mature cochlea.
Additionally, Steven Green, PhD, associate professor of biological sciences and otolaryngology at the University of Iowa, discussed the challenges associated with promoting neural regeneration and connection to restored hair cells in his presentation, "Control of Spiral Ganglion Neuronal Survival and Axon Growth."
---

Erratum
In the February HR news item on the Phonak Savia product launch (p 14), the wrong photo was published. The correct photo appears left showing long-time industry leader and former HIA Chairman Mike Jones, Phonak President Cathy Henderson Jones, Phonak Director of Clinical Research David Fabry, and Phonak AG's Ora Buerkli-Halevy, along with a snow owl and its trainer.
---
Studies Indicate that Diabetes Increases Risk of Hearing Loss
Hearing loss has been added to the list of possible side-effects of diabetes, according to three studies reported on by the Hear-It Web site (www.hear-it.org), and the data suggest that diabetics have a slightly increased risk of hearing impairment. However, the nature of the relationship between diabetes and hearing loss is still unclear.
A study by Vaughan, McDermott, & Fausti entitled "A Large-Scale Study of Auditory Function in Diabetic Veterans" (www.aro.org/archives/2004) involved 694 Americans between the ages of 28 and 85 years. The results indicated that diabetics under the age of 60 have a higher incidence of hearing loss than others in their age group. Diabetes was found to affect the central auditory processing system, resulting in significantly worse hearing. The authors concluded that cochlear test results (OAEs and hearing thresholds) do not reflect significant changes associated with diabetes; auditory changes associated with diabetes occur primarily beyond the cochlea and affect central auditory processing in the form of neural conduction time delays.
An earlier study ("The Effect of Diabetes on Sensorineural Hearing Loss", Otology & Neurology 2003, No. 3) involving 66,036 people from Maryland indicated that sensorineural hearing loss is more common among diabetics than in the general population. In total, 13% of diabetics suffer from hearing loss, while the same is true for only 10% of non-diabetics.
A study ("Increased Prevalence of Impaired Hearing in Patients With Type 2 Diabetes in Western India, Postgraduate Medical Journal 2000, Vol. 76) of 1,344 people in India found an even greater risk of hearing loss among diabetics. Nearly 1-in-4 people with Type 2 diabetes over the age of 50 used a hearing aid, as compared to just 1-in-14 in the same age group among non-diabetics. The greatest disparity was found among 50-60 year-olds. In this group, diabetics were six times as likely as a non-diabetic to use hearing aids.
---
ASHA Joins World Parkinson Congress
Rockville, Md — The American Speech-Language-Hearing Association (ASHA) announced that it is a financial supporter and organizational partner for the World Parkinson Congress to be held February 22-26, 2006, in Washington, DC.

The World Parkinson Congress, Inc. (WPC) is a nonprofit organization dedicated to providing an international forum showcasing the best scientific discoveries, medical practices and caregiver initiatives related to Parkinson's disease. The meeting next year will bring together physicians, scientists, other health professionals, care givers, and people living with Parkinson's to learn more about the disease and to move forward in finding a cure.

"The work of WPC and the 2006 meeting are very important efforts in the search for a cure for Parkinson's," says ASHA President Dolores E. Battle, PhD. "We are pleased to support this international forum and to share evidence-based knowledge with experts from a broad range of disciplines."

Parkinson's disease is a chronic, degenerative nerve disease that primarily affects movement, balance, and muscle control. The National Parkinson Foundation estimates nearly 1.5 million Americans live with Parkinson's. The disease usually develops after age 65, although 15% of Parkinson's patients are diagnosed before turning 50 years old. The WPC works to bring the global Parkinson's disease community together to help build awareness about Parkinson's and to increase collaborative efforts to find a cure.

The Congress will present four days of programs that feature cutting-edge science, public policy, best practices in care delivery, and quality of life topics that all relate to Parkinson's disease. In addition to ASHA, financial supporters for the Congress included Parkinson's Disease Foundation, The Michael J. Fox Foundation for Parkinson's Research, Northwest Parkinson's Foundation, Israeli Neurological Association, and the American Physical Therapy Association. A pledge to offer financial support has been made by the National Parkinson Foundation.
---
Study Shows Drug and Cognitive Stimulation Slow Alzheimer's
Richardson, Tex — A program of active cognitive stimulation performed in conjunction with the drug Aricept (donepezil hydrochloride) produces greater mental and functional benefits in patients in the early stages of Alzheimer's disease than taking the drug alone, according to a study published in the October issue of the Journal of Speech, Language, and Hearing Research. The study was conducted by Texas university researchers and funded by by Eisai Co, Ltd, the Tokyo-based pharmaceutical company that manufactures Aricept, and Pfizer, Inc, of New York, the US distributor of the drug.
The results add to the mounting evidence that active cognitive stimulation may slow the rate of verbal and functional decline and decrease negative emotional symptoms in Alzheimer's patients when combined with an acetylcholinesterase inhibitor like Aricept.
Fifty-four patients with mild to moderate Alzheimer's disease, ranging in age from 54 to 91, took part in the randomized study. Twenty-eight of the patients received Aricept only, while 26 were given the drug and took part in a cognitive stimulation program consisting of 12 hours of intervention treatment by speech-language pathologists over an eight-week period at the beginning of the one-year study. The stimulation program consisted of participant-led discussions requiring homework, reading and discussion on Alzheimer's treatment and composition of written life stories. Evaluations of the patients were conducted at the end of the fourth, eighth and 12th month.
According to the study, the Aricept-plus-stimulation group showed a slower rate of decline than patients taking Aricept alone. Specifically, benefits include:
Slower rate of disease progression, as measured by a widely used screening method.
Reduction in emotional symptoms of irritability and apathy.
Maintenance of meaningful verbal communication.
Improvement in patient-reported quality of life.
Slower decline in functional abilities.
"For decades, attention has been drawn to the brain's incredible ability to adapt after stroke and traumatic brain injury, " says Sandra Bond Chapman, PhD, director of the UTD Center for BrainHealth and leader of the study team. "Only recently has the concept called 'plasticity' been applied to progressive brain diseases such as Alzheimer's. The UTD–UT Southwestern study supports the idea that it is possible to stimulate the brain to halt or slow the progression of early-stage Alzheimer's disease."
The study was conducted by researchers at the University of Texas at Dallas (UTD) and The University of Texas Southwestern Medical Center at Dallas (UT Southwestern). UTD's portion of the research was conducted by scientists from the Center for BrainHealth, part of the university's School of Behavioral and Brain Sciences.
Alzheimer's is a complex disease that causes the gradual loss of brain cells, making it difficult for those who suffer from it to remember, reason, and use language. Approximately 4.5 million Americans have the disease. Although many things about Alzheimer's remain a mystery, research continues to yield a better understanding of the disease, more accurate diagnoses and more effective treatments.
The disease is more common in older adults. About one in 10 people over the age of 65 have Alzheimer's. As many as five in 10 people over the age of 85 have the disease.
The disease was first described in 1906 by German physician Dr. Alois Alzheimer. Although the disease was once considered rare, research has shown that it is the leading cause of dementia.
Besides Chapman, members of the study team included four other researchers, two from UTD (Audette Rackley, MS, and Jennifer Zientz, MS) and two from UT Southwestern (Linda S. Hynan, PhD, Myron F. Weiner, MD).