Extreme Makeover Focuses on Hearing Loss for Second Time
Detroit, Mich – For the second time this year, a segment of ABC's Extreme Makeover programs featured hearing loss prominently in its story line.

Extreme Makeover: Home Edition Host Ty Pennington and HITEC Vice President Michelle Ahlman.
HITEC Group International, Burr Ridge, Ill, was asked to be part of Extreme Makeover: Home Edition (EMHE) for a show that aired on October 24. In that show, the EMHE team spent 7 days transforming the Detroit home of a deaf couple and their children—one of whom is a blind and autistic 12-year old boy, and the other who is a 14-year-old boy who has learned to help both parents and younger brother—with high-tech communication and safety devices. As the 14-year-old enters high school and plans to enter college, he expresses concerns about how the family will cope with phone calls and other verbal communications (the family relies on American Sign Language and does not communicate verbally).
The EMHE segment represented a virtual showcase for assistive device technology, providing viewers with a look at many advanced technology products that assist people with hearing and communication problems. "This presents us with a great opportunity to use our knowledge and expertise and to find innovative ways in which to deal with this family's special needs in order to make a difference in their life," says HITEC Vice-president Michelle Ahlman.
In January 2004, Extreme Makeover (the original "people" edition) aired a segment that featured Cynthia Lunceford, a hearing-impaired mother of three who has a congenital hearing loss. She was successfully fitted with a pair of Widex Diva hearing aids, resulting in a dramatically improved quality of life. The segment generated a large amount of press attention for the hearing industry, with the gregarious Lunceford going on to do a number of special appearances on the Larry King Show, Fox News, and Inside Edition, as well as other radio and television shows (for more information, see HR News, February 2004, p 74, and July 2004, p 10).
---
ASHA Convention Goes to Philadelphia

The 2004 American Speech-Language Hearing Association (ASHA) Convention heads to the Pennsylvania Convention Center in Philadelphia, November 18-20, for three days of seminars, exhibits, and special events for audiologists, speech-language pathologists, and speech and hearing scientists. More than 1,500 educational sessions highlight the latest developments in research and clinical practices, and close to 300 exhibitors—including hearing aid manufacturers and suppliers of products and services to dispensing professionals—will be showcased at the convention exhibit hall.

ASHA President Larry Higdon will lead off the convention's opening ceremonies and general session, along with Convention Program Co-Chairs Kenn Apel and Dennis Burrows. The general session will also feature personal finance expert Suze Orman, who has been called a "one-woman financial advice powerhouse" by USA Today. Jane Seymour, award-winning television and movie actress, will receive the Annie Glenn Award during ASHA's annual awards ceremony on Friday, November 19. A dedicated activist for children's welfare around the world, Seymour will be presented with the award by Senator and Mrs. John Glenn.

Of particular interest at this year's convention are the three audiology keynote presentations. On Thursday, November 18, Sharon G. Kujawa, Dianne Durham, and Douglas Cotanche will present "Rescue, Repair, and Regeneration of the inner Ear," addressing the genetic and molecular mechanisms of rescue, repair, and regeneration in the ear. The researchers will present findings on the genetics of susceptibility to hearing loss, the potential of stem cell and gene therapy to prevent or treat hearing loss, and the consequences of hair cell regeneration on the central nervous system. On Friday, November 19, Ruth Bentler, Michael Valente, and Patricia Kricos will present "Current Issues in Amplification." Bentler will discuss technological advances in hearing aids and cochlear implants with respect to the limitations of the auditory system; Valente will talk about advances in introducing amplification for patients with varying degrees/types of hearing loss; and Kricos will discuss effective pre-fitting and post-fitting rehabilitation strategies. On Saturday, the final day of the convention, Barbara Cone-Wesson, Judith Widen, Christine Yoshinaga-Itano will present "Diagnosis and Follow-up of Hearing Loss in Infants." Cone-Wesson will discuss the significance of auditory-evoked potentials, including event-related potentials, in the assessment of infant hearing abilities; Widen will present theoretical and practical aspects of operant conditioning audiometry; and Yoshinaga-Itano, will discuss the role of the interventionist given physiological and behavioral findings.

ASHA is a national professional, scientific, and credentialing association for more than 114,000 audiologists, speech-language pathologists, and speech, language, and hearing scientists. For more information, contact ASHA at (800) 638-8255; www.asha.org.
---
Governor Schwarzenegger Says Hasta La Vista to Hearing Aid Bill
Sacramento, Calif – California Governor Arnold Schwarzenegger vetoed California State Senate Bill 1158 which would have mandated that insurance companies maintain provisions in health care plans for the reimbursement of hearing aids for children. The bill would have required that all health service plans operating in the state to provide $1,000 for hearing aid coverage for all enrollees under 18 (once every 3 years). The governor vetoed the bill with an eye toward the state's fiscal challenges and skyrocketing health insurance costs.
While, on the surface, the bill looked like a good idea, several in the hearing industry expressed reservations about it. If the bill had been passed, insurance companies would have had sole discretion as to which hearing aids would be available to program participants and how they would be purchased. This type of system is of increasing concern to hearing care professionals. The Hearing Industries Assn (HIA) and several professional and consumer organizations have expressed reservations about programs that limit patient access to technology or provider choice, as well as programs that have the potential to result in a "closed provider network" that could limit access to advanced hearing aid technologies. HIA recently drafted a white paper entitled Addressing the Societal Costs of Hearing Loss and Issues in Third Party Reimbursement that has been endorsed by AAA, AG Bell, ASHA, DRF, IHS, and SHHH.
In contrast to "closed provider" programs, the overwhelming hope by the above organizations is that the Hearing Aid Assistance Tax Credit Act (HR 3101 and SB 2055) will continue to gain the support of Congress and be passed into law. HIA and coalition partners have garnered 10 new co-sponsors for HR 3103, bringing the total list of co-sponsors to an impressive level of 64. HIA and its allies continued to meet with Congressional staff members until the November election, and it is hoped that the bills will be reintroduced when the next Congress convenes in January 2005.
---
First "Phonak U" Held for Audiology Students

Warrenville, Ill – Over 160 AuD and PhD students attended the inaugural meeting of "Phonak U" August 12-14 held at Phonak's US Headquarters. Students from over 30 graduate programs across the United States were welcomed to the 3 day event by Phonak US President Cathy Jones. The program was developed specifically for doctoral students in audiology, and was designed to augment the experience gained in their educational programs and clinical rotations.

Students were able to customize their experience by creating their own program schedule by selecting from numerous workshops and "hands-on" sessions. The interactive format also included lectures given by Phonak employees and guest faculty, including Drs A.U. Bankaitis, David Fabry, Alan Frient, Richard Gans, Ron Gleitman, Paul Pessis, and Robert Sweetow.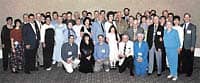 A total of 163 students from more than 30 graduate programs participated in the first annual "Phonak U."
A wide variety of educational topics were covered, including an extensive offering of amplification seminars, sessions on vestibular diagnosis and treatment, aural rehabilitation, infection control and practice development. In addition, students participated in "role play" exercises designed to simulate real-world interactions, discussed interviewing skills, professional issues, and had the opportunity to improve their earmold impression and modification, hearing aid programming, and clinical verification skills.
Next year's meeting will be held August 11-13, 2005. Interested students should contact David Fabry at (800) 777 7333 or [email protected].
---
Widex Aids Continue to Draw Media Attention
Widex hearing instruments and the usefulness of hearing aids in general have continued to gain media attention through celebrity testimonials in recent months. In October, Don Imus in his Imus in the Morning syndicated radio talk-show spent nearly 10 minutes on the subject of Widex hearing aids. In essence, the show was a testimonial for hearing aid technology, including the menton of their small inconspicuous size, that aging baby-boomers who grew up with rock-and-roll need hearing help, and that ignoring a hearing problem (and asking people to repeat things) is far more unattractive than wearing hearing aids.

Guitar legend Les Paul toured Widex facilities in New York and learned about new innovations.
Guitar legend Les Paul has also become a "proud and happy wearer of Senso Diva hearing instruments," according to Widex. Paul is a world-renowned guitarist who has performed with a who's-who list of contemporary stars like Eric Clapton. However, he is probably best known and loved by musicians around the world for his dedication to music and his innovative ideas in guitar/electronic designs. The "Les Paul Guitar" is considered a "classic" instrument among musicians, borne from Paul's painstaking attention to detail in music technology.
Paul was introduced to Diva hearing aids by an audiologist who heard him perform in concert. Dissatisfied with his older hearing aids, Paul now speaks highly of his new aids during his concert performances, and he continues to do a wonderful job of publicly raising awareness about hearing loss. Recently, he and his wife paid a visit to Widex to personally thank the technicians who have helped him open up a new world of sound. He also saw some of the dramatic changes that have impacted the way hearing aids are made, including Widex's CAMISHA Laser-Fit technology.
---
Interton and Sonovation Announce Strategic Partnership
Plymouth, Minn– Hearing instrument manufacturer Interton and assistive-device and hearing aid manufacturer Sonovation, Eden Prairie, Minn, announced a strategic partnership in early October, with Interton acquiring an interest in Sonovation's parent company AVR Communications Ltd, Scarborough, Ontario. The announcement is said to reinforce the dedication of both companies to provide innovative technologies and services to hearing care professionals. Interton has developed a robust digital product line and silicone soft-shell (SilFlex) technology (see article in August 2003 HR, p 40), and recently introduced a wireless CROS/BiCROS hearing aid. Sonovation has developed a frequency-compression hearing instrument (see article in February 2001 HR, p 34) and ear-level FM wireless hearing systems.
"We are very excited by this new venture," says Interton President and CEO Stephan Sagolla. "While the hearing industry was generally stagnate, we have been growing steadily over the last few years. Now, to fuel our future growth, Interton must strengthen its position as a provider of advanced hearing technology…Sonovation's technologies are appealing to the industry's mainstream, and with our quality manufacturing, innovative hardware design, and worldwide distribution, we are in a position to offer cutting edge technologies in a broad product line."
"Interton and Sonovation have great synergy," said Sonovation CEO Barak Dar. "We have a track record of innovation and engineering breakthroughs, but as a small company, we have always struggled with product packaging, marketing, and international distribution. Interton is a perfect partner…This partnership produced immediate results. Interton's sleek looking, European-designed Nano instruments are based on open-platform DSP, which enable us to run our proprietary digital frequency compression and directional microphone algorithms."
Both companies announced a future focus on wireless technology for hearing-impaired individuals, and Sagolla was nominated to AVR's board of directors. "We are surrounded by small portable devices such as PDAs and cell phones, and everything is now wireless. There is no reason why we cannot bring some of these benefits to the hearing impaired," says Sagolla. Dar concurs: "We developed the first ear-level wireless system, Extend-Ear, over 12 years ago, and we were probably too early for the market. Now, with Interton, I feel confident that together we will offer very exciting products that will better the lives of people with hearing loss."
---
New Study Indicates that Half of Baby Boomers Have Hearing Loss
Nashville, Tenn– According to a recent research study by The EAR Foundation and Clarity, both of Nashville, Tenn, about half (49%, or approximately 37 million) of the nation's 76-million Baby Boomers are experiencing some degree of hearing loss—a dramatic increase compared to previous surveys. Earlier estimates from the National Health Interview Survey by the National Center for Health Statistics indicated 16-million people (20%) of a comparable age group (ie, between ages 46-64) were suffering from hearing loss.
The survey, conducted by Prince Market Research, an independent research company and a member of the Council of American Survey Research Organizations, is reportedly one of few studies of its kind in the last decade. It looked at the occurrence, cause, and impact of hearing loss on people ages 40 to 59 (born between 1945 and 1964). Not only did the study find that half of those surveyed said they had difficulty hearing at times, it also revealed that most people experiencing hearing loss are not seeking help to remedy their hearing issues. Only 1 in 3 individuals (34%) surveyed had gotten their hearing tested, and the majority of Boomers who report hearing loss blame it on exposure to noise.
"This study indicates that Baby Boomers are losing their hearing at a more rapid pace than past generations," says Michael Glasscock, MD, Founder of The EAR Foundation. "Whether because of apprehension or denial, Boomers are not seeking the help they need to alleviate the affects of hearing loss. Hearing loss is a serious yet often overlooked issue, and this study will help bring it into the national spotlight so we can help this generation take the next steps on the road to better hearing."
The study reports that more than half (51%) of individuals who reported hearing problems attributed their hearing loss to noise pollution, either on the job or during recreational activities. Slightly more than one-third (37%) reported that their hearing loss was due to aging, while only 18% said their hearing loss was due to a medical condition. "Baby Boomers are the first generation of rock and roll," says Glasscock. "They have a very active lifestyle and they are used to getting what they want, from careers to family to recreation. This lifestyle lends itself to experiencing an increased amount of noise and that is why we believe Boomers have encountered more noise pollution than any other generation."
The study revealed that difficulty hearing can often create obstacles in a person's life at home, in the workplace, or in social situations. Almost half (46%) of the individuals who reported having some difficulty hearing said they were most affected by the loss at home, and 44% said that hearing loss caused problems for them in social situations. More than one-third (35%) said they have difficulty hearing and understanding telephone conversations, 24% said their hearing loss made them feel misunderstood, and 9% said they felt isolated.
Admitting a problem doesn't necessarily translate to finding a solution. Most of the individuals in the study who said they had difficulty hearing were doing little to find appropriate care or products to alleviate their hearing issues. Only 1 in 8 (15%) individuals had been medically diagnosed with hearing loss, and about half (52%) of these individuals had received this diagnosis within the last 10 years. About 1 in 3 (34%) had received a hearing test.
Although the survey shows that a large majority of the individuals who reported having difficulty hearing are not actually seeking treatment, it did find that most Baby Boomers are well-informed in general about products that can improve hearing. Almost all (97%) of the respondents said they were aware of hearing aids. Almost 80% were aware of amplified telephones, which boost high-frequency sounds often missed during telephone conversations. The vast majority of survey respondents expressed a willingness to purchase hearing-related products, with 62% saying they would buy a product for up to $100, and 23% saying they would spend more, if necessary, for a hearing solution.
"Baby Boomers need to take advantage of both audiology testing and the wealth of products for better hearing that are available to them," says Clarity President Carsten Trads. "There is no need for either Boomers or their loved ones to literally suffer in silence. We urge anyone who thinks they may be experiencing hearing loss to contact an audiologist, and seek information about the many convenient and economical devices—from hearing aids to amplified telephones to assistive listening technology—on the market today."
The study's research methodology was designed to ensure that the results are accurate within a margin of error of ±5% at a 95% confidence level. To access the full report, visit: www.clarityproducts.com/boomer
---
Natus Purchases Fischer-Zoth
San Carlos, Calif– In late September, Natus Medical Incorporated acquired privately held Fischer-Zoth GmbH, located near Munich, Germany, which is also a manufacturer of otoacoustic emissions (OAE) products. The acquisition reportedly adds to Natus' growth opportunities by broadening its product offerings and supporting expansion into new markets.
Under the terms of the acquisition, Natus will retain Fischer-Zoth's operations near Munich, as well as its existing sales channels. Fischer-Zoth Co-Founder Peter Zoth will continue to serve as that company's managing director. The company currently has 20 employees and recorded revenues of about $3.1 million in 2003.
"We believe Fischer-Zoth's complementary products will round out our hearing screening product portfolio and give Natus a stronger European presence," says Natus President and CEO Jim Hawkins. "Fischer-Zoth has built a growing, profitable operation with strong margins and a reputation for producing high-quality products. Natus has become the world leader in newborn hearing screening through our proprietary AABR® technology. Now we can build on this position by bringing the Fischer-Zoth products into the pediatric and diagnostics markets."
Fischer-Zoth develops and manufactures products for the detection and diagnosis of hearing disorders, distributing its products in more than 40 countries. As a developer of proprietary, patented signal-processing software, the company has sold more than 3,500 OAE devices worldwide.