Micro-Tech Assists in Humanitarian Mission

Members of the team that delivered hearing help to Oaxaca and Puerto Excondito, Mexico, included (l to r): John McNamera, CCC-A, Lisa Kagel, Gordon Bye, Kathy Young, CCC-A, Kelly Gessert, AuD, Michelle Menendez, AuD, Peter Noll, Frederic Rondeau, MS, Kamal Elliot, AuD, Dashielle Febo, AuD.
Plymouth, Minn— In May, Micro-Tech Senior Vice President Gordon Bye, National Sales Manager Lisa Kagel, and Government Services Audiologist Kathy Young participated with 7 audiologists on a humanitarian mission to Oaxaca and Puerto Escondido, Mexico. This group fit approximately 250 disadvantaged people with 400 hearing instruments. With the help from Micro-Tech and other contributors, these people were able to receive hearing health care.
---
FCC Partially Lifts Exemption on Cell Phones; Hailed as Large Step Forward for Hearing Impaired
Washington, DC — Representing a major victory for those with hearing impairment, the Federal Communications Commission (FCC) announced last month that it would partially lift its exemption of cell phones from regulation requiring telephones to be compatible with hearing aids. The new regulation requires at least half of all handsets produced by cell phone manufacturers to be compatible with hearing aids by 2008. National wireless carriers will need to make at least 2 handset models or 25% of their cell phones compatible in the next 2 years. (smaller carriers/vendors will be subject to less stingent requirements).
The Hearing Aid Compatibility (HAC) Act of 1988 requires nearly all new telephones be hearing aid compatible. However, the law exempted mobile phones, instead directing the FCC to assess periodically whether continued exemptions were appropriate. Since the early 1990s, when cell phones became popular, many people with hearing aids and cochlear implants have found it impossible to use digital phones because of interference problems, and hearing-impaired consumers and hearing care professionals have become frustrated at with the wireless industry's lack of response to the issue. More than 85 percent of cell phones are run on digital networks, and most of the technology used either emits too much noise to be used with a hearing aid or disables a part of the aid. Relative to hearing aid manufacturers, many of the newer hearing aid lines have provisions designed to shield the hearing aid components from the interference, but interference still poses major problems for many users. Additionally, the vast majority of hearing aids currently in use do not have these provisions, and the average hearing aid is replaced every 7 years, so the problem represents a major long-term obstacle for hearing-impaired consumers.
The FCC outlined key elements of their unanimous decision:
Adopts performance levels established by the American National Standards Institute (ANSI C63.19);
Requires handsets to provide both reduced RF interference/U3 and telecoil coupling capability/U3T;
The compliance scheme will be phased in for phone manufacturers. Within 2 years, they must make available at least two HAC-compliant handsets at the U3 level and increase that number to 50% of their product line by February 18, 2008;
Encourages digital wireless phone manufacturers and service providers to offer at least one lower-priced HAC model and one that has higher-end features.
Predictably, the wireless industry is not happy about the ruling. It has argued that the C63.19 standard needs more "validation" and testing before it can be used commercially. It also has urged the FCC not to require that all phones comply with the interference standard or include t-coils. Essentially, they believe that a mandate, if necessary at all, should take a much less demanding form. "The wireless industry is committed to ensuring that our customers who wear hearing aids are able to use wireless services, and we will work with the hearing aid industry and consumer groups to achieve this goal," says Tom Wheeler, president of the Cellular Telecommunications & Internet Association. "But, today's FCC mandates will unnecessarily complicate this cooperation and constrain innovative solutions to meet this challenge."
The Hearing Industries Association (HIA) played a major role in helping the FCC keep updated on the interference issue and standards. Working closely with its member companies, consumer groups, and the professional organizations, HIA provided technical, engineering and audiologic expertise for over 7 years in an effort to end the exemption. Although these allied organizations did not get what they wanted (ie, all handsets be made hearing aid compatible), the new ruling is clearly viewed by them to be a step in the right direction. Consumers with hearing impairment will now have the option of using cell phone technology. "This is a big decision—and an excellent one—for both the industry and the consumer," says Carole Rogin, executive director of HIA. Rogin gave particular credit to HIA Technical Committee Chair Tom Victorian of Starkey Labs and expert consultants Ron Scicluna of Etymotic Research and Mike Sacha of Starkey Labs, as well as many other members.
The decision does not require labeling or any action by the hearing aid manufacturer. However, the FCC is encouraging hearing aid manufacturers to label their pre-customized products according to the ANSI C63.19 standard, and says that if "…inadequate progress is made [in labeling], the Commission plans to examine the scope of its jurisdiction over hearing aid manufacturers."
---
Unitron Hearing Expands International Offices
Kitchener, Ont, Canada — Unitron Hearing has opened new offices in the Warrington, Cheshire, United Kingdom, and Nieuwegein, in the Netherlands. Roger Lewin has been appointed general manager of Unitron Hearing United Kingdom. Lewin will broaden Unitron Hearing's digital products through the introduction of new product offerings, and plans to heighten the company's brand and presence across the UK and Ireland. He holds a Masters Science Degree in Technical Audiology and is past-chairman of the National Committee of Professionals in Audiology. He began his career in Audiology at King's College Hospital, London, and has worked for 15 years in various positions, including head of audiology, for two other major hearing aid manufacturers in the UK.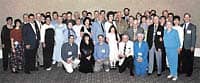 Roger Lewin
In the Netherlands, André C.M. de Goeij will be the manager of the new Unitron Hearing BV office. de Goeij, 33, has represented Unitron Hearing for the last 3 years, and has over 10 years experience in the hearing industry.
"With the success of our progressive product offerings, we are continuing to build a strong distribution network to serve our customers worldwide," says Michael Jones, president and CEO. "Our new [offices are a] positive step to continuing our reach and improving the accessibility of Unitron Hearing products to the European market." The facilities will complement Unitron Hearing's offices in Germany, Canada, and the US. Headquartered in Kitchener, with operating centers in Canada, the US, Germany, the UK, and the Netherlands, Unitron Hearing serves customers in more than 50 countries worldwide.
---
Bernafon Completes Move to New US Headquarters
Somerset, NJ — Bernafon has completed its move from Minneapolis to Somerset, NJ. The company announced in February that it would move its hearing aid manufacturing to new, modern facilities to achieve business efficiencies (see March HR, p. 10). Its new address is Bernafon Inc, 200 Cottontail Lane, Bldg B, Somerset, NJ 08872; tele: (888) 941-4203. About 20 years ago, the company was headquartered in Mountainside, NJ.
In a recent visit to the new US headquarters, Bernafon Worldwide CEO Erich Spahr remarked that their manufacturing and operational processes are now in place and equal to that of Bernafon Inc around the world. "It's a new era for Bernafon US," according to new president and COO John R Luna. "We have experienced technicians and professionals who are dedicated to continuing the Bernafon tradition of quality products and excellent customer service."
Bernafon recently introduced a complete line of 100% digital hearing aids. Fit with Bernafon's Oasis plus software, high-end Symbio, mid-range Smile Plus, and entry-Level Flair are available in CICs to BTEs.