Former Miss America Still Busy Promoting Hearing Health Care Issues

New York City — Heather Whitestone McCallum, the first deaf woman to be crowned Miss America, visited New York in February to address two professional conferences on the importance of early identification and early intervention for children with hearing loss, "Controversial Issues in Pediatric Audiology" at Beth Israel Medical Center, and the "Network of Educators of Children With Cochlear Implants (NECCI) Conference" at Manhattan Eye, Ear & Throat Hospital.
McCallum was in New York to stress the importance of identifying hearing problems in infants and the use of corrective measures as early as possible. She explained that early intervention can help children identify sounds and learn to listen and speak at the same rate as their hearing peers, better preparing them to mainstream in the hearing world. She also found time to visit a two-year-old Romanian girl at Mt. Sinai Hospital who was implanted that day with a Cochlear Nucleus® 24 Contour™, a component of the Cochlear Nucleus® 3 system—the same implant system with which McCallum was recently implanted
While in New York, McCallum also met and visited with a few children at NYU Medical Center who had recently received cochlear implants.
Since she was crowned Miss America, McCallum has been traveling across the country giving motivational speeches to corporations, schools, and government agencies about overcoming challenges to achieve dreams. She served as a former executive board member on the President's Committee on Employment of People with Disabilities, and the National Institutes of Health's National Institute on Deafness and Other Communication Disorders Advisory Council. She also spearheaded the nation's largest multimedia public service campaign to identify early hearing loss, and was a spokesperson for the Helen Keller Foundation for Research and Education. In addition, she has authored three books, Listening With My Heart, Believing The Promise and a third book, which is expected out in the fall.
AAA Heads for San Antonio
McLean, Va — "Ridin' the Winds of Change" is the theme of the 15th Annual American Academy of Audiology (AAA) Convention and Exposition, held in San Antonio on April 2-5. More than 7,000 hearing care professionals are expected to attend the event at the Henry B. Gonzalez Convention Center, according to AAA.
The opening night reception on Wednesday at the village of La Villita kicks off the event, and Thursday morning features the general assembly and address by AAA President Angela Loavenbruck, EdD. The convention includes 26 feature sessions and more than 100 instructional and exhibitor courses, round table discussions, and research podiums, as well as poster presentations. Additionally, over 140 hearing-related manufacturers, suppliers and organizations will be exhibiting their products and services Thursday through Saturday.
For more information, see the AAA Preview in this issue of HR (pages 54-62) or visit the AAA Web site at www.audiology.org.
---
Bernafon to Move to New Jersey in May; Luna Appointed President
Eden Prairie, Minn — Starting in May, Bernafon Inc will relocate the company to Franklin Township, NJ. Bernafon will move its hearing instrument division from its current Minneapolis location to new, modern facilities to achieve business efficiencies that will enhance service to customers and their clients, according to the company.
"The move will effectively position Bernafon for further expansion in the US, says John Robert Luna, newly appointed president of Bernafon. Luna replaces Peter Van Nest, who has decided not to relocate with the company. Van Nest, who chose to remain in Minneapolis with his young family, will oversee the smooth transition to New Jersey.
According to Luna, who brings over 10 years experience in hearing instrument business development, manufacturing, and sales leadership to his new position, Bernafon customers will experience no discernable change in day-to-day service and contact with the company. The company anticipates that a number of employees, including sales staff and account managers, will choose to relocate to the new facilities.
"Enhancing the quality of our instruments and service to customers in a challenging economy is a primary goal of the relocation," says Luna. "The new location will enable Bernafon to take advantage of the newly expanded production facilities at Oticon Inc, another New Jersey-based William Demant Group company."
A dedicated production line will be established to manufacture Bernafon instruments. The relocation involves only the Bernafon Hearing Division and reportedly will not affect its diagnostic division.
---
First Pediatric Bilateral Cochlear Implants Performed
Dallas — During the last 2 months of 2002, 12-year-old Victoria Reuling, of Keller, Tex, and 8-year-old Michaelyn Wiggins, of Midlothian, Tex, became the first children in the nation to receive two Cochlear Nucleus® cochlear implants as part of a sequential pediatric bilateral study at Dallas Otolaryngology Associates. The study is being conducted to determine the advantages of cochlear implantation in both ears compared to cochlear implantation in just one ear in children.
Bilateral cochlear implantation may offer recipients an increased ability to locate the source of various environmental sounds and improve their understanding of speech in background noise. "Bilateral cochlear implantation in children is an area that, to date, has not been widely explored," says Robert Peters, MD, of Dallas Otolaryngology Associates. "Yet, the benefit that could potentially be derived from two cochlear implants rather than just one could have a profound impact on a child's speech development."
The study, consisting of up to 50 children between the ages of three to 13, will be conducted at 20-25 investigational sites. Children will be studied over a 1-2 year period and must have at least 6 months of unilateral implant experience and a severe-to-profound sensorineural hearing loss in the ear to be implanted. Additionally, children must have received their first implant prior to the age of 5 and be in a habilitation/educational program with an emphasis on spoken language development.
---
HIPAA Deadlines Loom for Dispensing Professionals
Washington, DC — The first requirements of the Health Insurance Portability and Accountability Act (HIPAA) go into effect on April 14. According to the schedule contained in the law, hearing care professionals need to have a Business Associate Agreement (BAA) on file with each manufacturer with which they do business beginning April 14, 2003. For more information on BAAs, see the article on page 14. An article on HIPAA requirements also appears on page 44, and a HIPAA Web site resource list is offered on page 50. Additionally, an article on HIPAA regulations by HR associate editor Ben Van Houten appeared in last month's HR (pages 36-39), and more information will be offered in future issues.
---
SeboTek to Launch New Instant-Fit Digital

Mike and Jim Feeley of SeboTek.
Tulsa, Okla — An new hearing instrument, called (Post Auricular Canal) PAC, is being launched at this year's American Academy of Audiology Convention (AAA) by SeboTek. The sound processor portion of the device is a digital 4-channel WDRC instrument that features a directional microphone system, four memories, and a telecoil. The PAC processor resembles a mini-BTE in appearance; however, instead of acoustic tubing, it is linked to the receiver by a clear wire speaker and the receiver module is housed within a proprietary Ultra Soft Tip. This receiver tip is made of medical grade silicone, and obviates the need for a custom earmold.
SeboTek was founded by Jim and Mike Feeley, two brothers who have both worked as dispensing professionals and in manufacturing for nearly 20 years. "The patented deep-canal PAC system was developed to address a number of problems, including acoustic feedback and receiver repairs," says Mike Feeley. As dispensers and manufacturers, the brothers felt that it was a great advantage to be able to deal immediately with repairs. "When we developed this product, our real goal was to help expand the marketplace and provide that same benefit [of repairs] to other dispensers." The Feeleys explain that the receiver is the component that is most often implicated in repairs, and the PAC's receiver module is very easy to replace.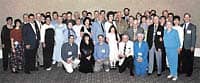 The PAC system.
"The PAC provides dispensing professionals with more control and allows better hands-on management of the entire hearing aid system," continues Jim Feeley. "The system doesn't require an impression, so there are no remakes or shell modifications. The Ultra Soft Tip fits over the speaker module and essentially floats within the ear canal, providing minimum contact in the ear for reduced acoustic feedback and occlusion effect, and better sound pressure levels. The only thing we're putting down into the ear is the speaker/receiver itself. The end of the soft tip is what creates the seal, and the seal is located in the bony portion of the ear canal. A common challenge for fitting a CIC or ITC is dealing with all the jaw movement that can cause feedback or slippage. The receiver of the PAC floats between the first and second bend and doesn't occlude the ear canal." The separation between the microphone and the receiver also greatly reduces the incidence of mechanical feedback.
While similar-looking hearing aids have been available in the past (eg, GN ReSound Avance and Rexton's BTE-CIC hybrid), the PAC is a significant departure from these devices in terms of the receiver/soft tip and processing unit. The instrument has been distributed on a limited basis within the US during the last few months with excellent reception from dispensing professionals, according to the Mike Feeley. "The one nice thing from a dispensing standpoint is that you can demonstrate what it feels and sounds like instantly. People can walk around with it and hear it for themselves."
---
Sound ID Develops Noise Compensation Phone System
Silicon Valley, Calif — The founder of ReSound Corp, Dr Rodney Perkins, and his company, Sound ID, is back in the news with a new Bluetooth-compatible wireless mobile phone earpiece called the Personal Sound System (PSS). The product and the company's systems were demonstrated at the 2003 International Consumer Electronics Show in Las Vegas.
The product is said to utilize Bluetooth technology and allow consumers to use the earpiece wirelessly with any Bluetooth-enabled cell phone. To improve performance and utility, the company has integrated a high performance digital signal processor to digitally enhance the sound quality.
The "personalization" system reportedly uses the signal processing embedded on the DSP of the PSS to tune incoming sound to an individual's personal hearing profile, accommodating for hearing changes that potentially limit the perception of sound. For personalization of the device, the company has developed the EarPrint™ hearing evaluation system, an Internet-based tool that reportedly can create a listener's hearing profile in minutes. The coefficients of the listener's profile are then transmitted to a Sound ID-enabled device, allowing the signal processing to adjust the incoming sound to accommodate hearing changes that limit the perception of sound.
Adaptive Noise Compensation (ANC) conducts a continuous spectral analysis of the sounds in the listener's environment and rapidly adapts the audio signal to optimize the intelligibility and quality of speech in response to the measured background noise. The ANC processing is said to rapidly manipulate the audio signal to optimize the clarity, intelligibility, and comfortable loudness of speech for every listener as noise that surrounds the listener changes.
The company says this method of adjusting the signal to background noise is different from solutions that try to block or cancel background noise. ANC adapts the desired audio signal (ie, the person's voice on the other end of a phone call) to preserve clarity for the PSS wearer in noisy environments like automobiles, city streets, shopping centers, and airports. The background noise is unchanged, but the PSS wearer reportedly will be able to hear more clearly because the sound output of the system will be adapted to compensate for the noise.
"The Personal Sound System establishes a totally new category for the personalization of sound to individual users and the environments in which they listen," says Perkins. "It is completely different from typical noise compensation or sound enhancement systems. The PSS is a small, ergonomic, and easy-to-use wireless mobile phone earpiece that also provides a more enjoyable and intelligible listening experience for everyone…Our core technology rests on an understanding of the human auditory system, particularly the physiology of the cochlea and the effects of acoustic processing on the perception of sound."
The Sound ID PSS earpiece will be available at the end of March 2003. For more information, visit the Sound ID Web site at www.soundid.com.
---
Hearing Health magazine purchased by the DRF
Corpus Christi, Tex — Hearing Health magazine, a for-profit publication that concentrates on hearing health care issues for consumers, was recently sold to the Deafness Research Foundation (DRF), a non-profit organization probably best known for its National Campaign for Hearing Health and May Babies campaign. Paula Bonillas, who has served as the owner and founding editor of Hearing Health for almost 20 years, will pass the magazine's reigns onto Lorraine Short who has been a contributing editor of the publication for nine years, and DRF director of public relations Karyn Butts, who will serve as assistant editor, working from DRF's Washington office.
---
First Exam Prep Course Held at Digicare
Rye, Colo — Hearing health care professionals from five states attended a 2-day "Certification/Licensing Exam Prep Course" held at the Rye Country Lodge, an historic Rocky Mountain retreat located in Rye, Colorado. The course, which offered 14 CEUs, was sponsored by DigiCare Hearing Research & Rehabilitation. Max Stanley Chartrand, PhD, Health & Human Services/Research in Communicative Disorders, was the instructor, utilizing slide presentation and workshop format.
The course covered all aspects of dispensing, from assessing patient needs to best practice applications of digital and analog amplification, and basic auditory rehabilitation. A new section on practice management, which includes regulations under HIPAA, FDA, FTC and ADA, will be added. Experience level of attendees ranged from new trainees to more than 25 years' experience. The course helped prepare students for state licensing and the national board certification (NBC) examinations. Experienced professionals utilized the seminar as a refresher course.
For information on the next exam prep course (scheduled for May 2003), contact Helen Horner at (866)864-6449 or visit the company's Web site: www.digicare.org.
---
Correction
In the January 2003 HR, the reference for the quoted material on page 38 of Brian Taylor and Von Hansen's article "To Change the Industry, We Must Change" was mis-attributed. Although the quote was used in Kris English's article in Audiology Today as referenced, the original source of the passage is found on page 168 of the book Difficult Conversations: How to Discuss What Matters Most by Douglas Stone, Bruce Patton, and Sheila Heen. This book was published in 1999 by Penguin Books (New York City).