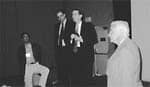 Asela Jayampathy,
National sales manager
Varta Microbattery GmbH
Varta Microbattery GmbH, based in Germany with sales facilities in the US, Europe, and Asia, manufactures power and performance optimized electrochemical energy storage systems. The company reports that it has been in the hearing aid battery business since 1888, and manufactures and distributes the Power One line. The company's national sales manager, special microbatteries, Asela Jayampathy, recently answered questions from the Hearing Review on a variety of topics.
q: What products is Varta known for?
a: The company manufactures a wide variety of batteries. Varta NiMH batteries, for example, are the number one choice for memory back up and bridging in notebook computers around the world. Varta silver oxide batteries power the world's leading blood glucose meters. Power One watch cells are recommended for use by world-leading time piece manufacturers. In the category of hearing instruments, our zinc air batteries power cochlear implants, as well as high power hearing instruments from world leading hearing aid manufacturers. The company is the primary source of rechargeable power for advanced digital hearing aids, artificial larynx, speech, and assistive listening devices.
q: What trends are you seeing and how are you as a company responding to those trends?
a: We are experiencing a push for more power combined with an overall reduction in cell size. Consumers want batteries for everyday use (PDAs, laptop computers, hand-held medical test devices, etc) to last longer, be easier to replace, and have less negative impact on the environment. Taking this into consideration, we believe that small, rechargeable batteries based on the latest lithium polymer and nickel metal hydride, and primary silver oxide, lithium and zinc air micro batteries are the future of energy storage. With the growing potential in the microbattery segment, it was a strategic decision on the part of Varta to create a microbattery enterprise serving this specific market.
q: What do you see for the future of the hearing industry, in terms of technology?
a: Hearing device technology has benefited tremendously from the push toward the miniaturization of digital signal processors. The true-to-life hearing experience is now a reality; however, the devices that make this possible put a tremendous strain on their batteries. It is also true that the harder a hearing device works, the more power it draws from its battery. For example, if a hearing aid user is in a noisy environment for a prolonged period of time, he/she will have reduced the overall life of the battery. Conversely, quiet environments require less energy, thus lasting longer. We have succeeded in developing a battery that will deliver consistent performance over a longer period of time, with minimal degradation until the battery is exhausted. There is also a push to reduce mercury content in hearing device batteries. For Varta, this is not a particularly new subject. In recent years, the company has reduced Cadmium consumption by 90,000 kilos per year down to zero and reduced mercury consumption by 10,000 kilos per year. In the context of retail hearing device batteries, it is all but impossible to manufacture a powerful, long lasting battery without some mercury content. Thus, most manufacturers trade reduced mercury content for a reduction in battery performance. Power One is developing a recycling initiative that will encourage hearing device users to return exhausted batteries for appropriate recycling. The program will provide incentives to a market sector that has not adapted well in the past to the methods and value of recycling.
q: Tell us about your battery technology. What makes it unique?
a: Following the rapid growth in popularity of digital hearing instruments, a new, global IEC standard is in development for hearing aid batteries. Power One identified the emerging digital technology as an opportunity to re-tool specifically to accommodate the requirements of both newer devices as well as existing hearing aids. Responding to the newer requirements, all of our batteries feature stable voltage that will withstand high pulse current. The result is improved reliability and longer battery run times. Additionally, every cell is tested for open circuit voltage, on-load voltage, and cell height to ensure top performance and physical fit.
The batteries feature four significant design improvements: 1) Unlike traditional batteries that are made from Ni-plated sheet, Power One uses a proprietary technique to further inhibit the possibility of corrosion. They provide optimized cell balance and include a special foil to provide exceptional performance under extreme conditions; 2) Since the anode material will physically grow after activation, Power One provides extra space in the can for expansion, thus eliminating the possibility of lid displacement; 3) To further deter the possibility of leakage, these products feature a special sealing method that is unique to the brand; 4) The combined result of these features adds up to higher voltage level from the cathode technology, higher drain capability due to optimized air diffusion, and a highly efficient catalyst, reduced environmental impact, and excellent performance.
q: What makes the brand attractive to dispensing professionals?
a: We know that virtually every hearing aid is fitted by a hearing health care professional. With this in mind, we decided to make the brand available exclusively through those professionals. From an economic standpoint, any dispenser who fits over 100 hearing aids per year can make a profit from selling the batteries. On battery revenues of $25,000, net profit for the dispenser equals approximately $14,000. Power One created a single formula for the four popular sizes in 13, 312, 675 and 10. The batteries are especially suited for new digital devices for severely impaired patients, as the high pulse current draw in these devices can drain retail hearing aid batteries within hours of installation.