Publications
Hearing Impairment Book
A new 112-page book, Voices from a Quieter Land: Insights Into the Impact of Hearing Impairment, is available from Hear Again, Inc., Austin, TX. Written by Donna S. Wayner, PhD, and Ellen I. Rupert, MEd, the work is a collection of experiences reflecting the impact hearing loss has had on each contributing writer. Coupled with the results of their audiological evaluations, the writers describe living with hearing impairment. The material was gathered at a writing workshop coordinated by the authors. Visit www.hearagainpublishing.com for more information.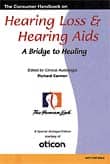 Accessories Catalog
Great Lakes Earmold Laboratory, Broadview Heights, OH, presents the 2002 accessory catalog. The 30-page, full color book features sections on impression materials, syringes and mixing materials, build-up materials, tubing and accessories, ear blocks, otoscopes and earlights, vacuum systems, ITE and ITC accessories, disinfectants and drops, and several other categories. The catalog also features a full index for easy reference. For more information, call (800) 842-8184.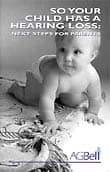 Physicians' Newsletter CD ROM
Hearing HealthCare® News, White Plains, NY, a patient newsletter publisher, is offering a new 11-minute video/CD-ROM presentation about the benefits of patient newsletters for dispensing practices. The presentation is available on either CD-ROM or VHS tape, and those interested in receiving a copy may call (800) 342-1643.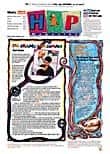 Institute of Auditory Prosthetics Handbook
A new publication, The Hearing Healthcare Practitioner's Handbook, is now available from the North American Institute for Auditory Prosthetics, Santa Rosa, Calif. The book, written by Paul Popp and Gregg Hackett, is designed as a comprehensive discussion of the treatment of hearing loss with hearing instruments, and is intended for hearing health care professionals, students, physicians, pharmacists, educators, counselors, and consumers interested in knowing more about the topic. The book also marks the Institute's first educational product. To order a copy, call (707) 575-3591.

CAOHC Brochure
The Council for Accreditation in Occupational Hearing Conservation (CAOHC) recently introduced a new brochure, The Stamp of Approval for Occupational Hearing Conservation. The brochure is being distributed to CAOHC course directors and recertification course attendees, and is intended to stress the importance of certification as an Occupational Hearing Conservationist (COHC). For more information, contact CAOHC at (414) 276-5338, or e-mail: [email protected].
Infant Hearing Loss Book
The Central Institute for the Deaf, St. Louis, announces the publication of its new advice book for parents of hearing-impaired infants, Baby Talk: Helping Your Hearing-Impaired Baby Listen and Talk, co-authored by Victoria J. Kozak, MAEd, and Betsy Moog Brooks, MS. The step-by-step book, designed for parents of children ages birth to 4 years old, addresses topics such as hearing instruments, cochlear implants, and understanding audiograms. To order a copy, call the Institute at (877) 444-4574, ext. 133.
Auditory Research Handbook
CRC Press, Boca Raton, Fla, announces the publication of Mouse Auditory Research:From Behavior to Molecular Biology, written by James F. Willott, PhD. This contemporary review of the progress in auditory research presents a comprehensive treatment of all areas of research using mice, and also focuses on the greater context of auditory research. The book integrates behavioral and psychophysical research activities with research using modern molecular biology techniques. Each section of the book includes procedures, potential problems and solutions, and tricks of the trade provided by the authors. In addition, it contains more than 3,000 figures and tables with more than 2,000 references, including a wealth of previously unpublished data. To order, call (800) 272-7737.
---
Conferences/Conventions
Millennium Conference II
The Millennium Conference II will take place on April 21 and 22 at the Marriott Courtyard in Philadelphia, immediately following the AAA Convention. The conference will highlight technological advancements in hearing devices. For more information, call John Oltman at Key Consultants, (608) 832-4430.
Balance Workshop
The VA Medical Center of Little Rock, Ark, presents a Balance Workshop in Little Rock on May 31-June 1. The featured speaker is Dr. Neil Shepard. For more information, call (501) 257-1085.
FLASHA Annual Convention
The Florida Association of Speech-Language Pathologists and Audiologists (FLASHA) will hold its annual convention, Making Connections, on May 16-19 at the Hyatt Sarasota in Sarasota, Fla. This event, with 18 hours of exhibit time and an estimated 500 plus hearing care professionals in attendance, will feature a variety of educational discussions and interactive workshops. If interested in either exhibiting or registering, call (407) 774-7880 for further information.