Terrorist attacks force rescheduling of IHS Convention to November 7-11


Livonia, MI — In the wake of the terrorist attacks on Washington, DC and New York City, the Intl. Hearing Society (IHS) postponed its 50th Annual Convention, originally scheduled for September 12-15, to its new date of November 7-11. The convention will be held at the Hyatt Regency Riverwalk in Chicago, the same venue as originally planned.
Board members of the Society were meeting in Chicago as the horrifying events of September 11th unfolded, and they quickly concluded that postponing the event to a later date was the only practical course of action due to safety concerns and the cancellation of all air travel. "Everybody is shocked at what's happened," says IHS Executive Director Robin Clowers, "and I think it's a new look that we all have on the world. Hopefully, we all have a renewed appreciation for what we have." She says that, while the rescheduling of the 50th anniversary event was a great disappointment, the organization is thankful for the safety of its members and those in the hearing industry.
According to Clowers, the rescheduled convention will essentially adhere to the same itinerary and feature the same seminars, exhibits and special events as the previously planned event. The organization has automatically sent out new convention packs to those who previously signed up to attend in September, and has reopened its registration for those who would like to attend Nov. 7-11.
---
ASHA to hold its first Audiology & Hearing Science Convention

ROCKVILLE, MD — The American Speech-Language-Hearing Society will hold its first Audiology and Hearing Science Convention within the context of its annual convention in New Orleans, November 15-18. According to program chair Fred Bess, the Audiology and Hearing Science Convention is designed to meet the needs of today's practicing audiologists and features an exceptional program that includes hearing aid fitting and evaluation, early identification of hearing loss and follow-up, clinical electrophysiology, genetics and practice management. The event will also offer keynote addesses on Thursday-Saturday. The Thursday address features the first annual Denis Byrne Memorial Lecture given by Byrne's close friend and colleague at the National Acoustics Laboratory (NAL) in Australia, Harvey Dillon, PhD, who will explain the principles and applications of Byrne's work. Peter Dallos, PhD, will give Friday's keynote address on the topic of cochlear neurobiology, while Arthur Boothroyd, PhD, will give Saturday's keynote address entitled "Auditory Management of Early Identified Children With Hearing Loss: The Child, the Family and the Audiologist." The program events and seminars have been developed by some of the leading figures in audiology, including Bess, Ruth Bentler, Michael Dennis, Mary Sue Fino-Szumski, Michael Gorga, Judy Gravel, Linda Hood, Larry Humes, Gus Mueller, Rick Talbott, Richard Tyler and Christie Yoshinaga-Itano.
The convention, held at the Ernst N. Morial Convention Center (southwest of the French Quarter), also features three days of poster sessions, convention hall exhibits and special events. For more information, contact ASHA: (800) 638-8255; www.asha.org.
---
Twelfth Annual Audiology Videoconference scheduled
Rochester, MN — The Mayo Clinic's Twelfth Annual Audiology Videoconference will take place on November 10, from 10 am to 4:30 pm. The conference, which is an interactive event designed for audiologists, otorhinolaryngologists and hearing instrument specialists, will cover a broad range of topics including OAEs, steady-state evoked potentials, and functional and physiological adaptation to amplification, as well as evidence-based hearing aid outcomes. Additionally, current management approaches to auditory verbal therapy will be addressed. The course directors are Christopher Bauch and David Fabry, and guest faculty include James W. Hall, Deborah Hayes, Barbara Cone-Wesson, Catherine Palmer, Dennis Van Vliet and Warren Estabrooks.
For information on attending the conference or to register as a host site, contact Ann Roeder at (507) 538-0090.
---
Medicare Aural Rehabilitation and Hearing Aid Act introduced
Washington, DC — A bill that would provide Medicare coverage for aural rehabilitation services and hearing instruments has been introduced by Congressman Mark Foley (R-FL). The Medicare Aural Rehabilitation and Hearing Aid Coverage Act (HR 2934) would include a comprehensive audiologic assessment, fitting and adjustments to hearing aids, instruction on the use of aids and aural rehabilitation including counseling on hearing loss, speech reading and auditory training.
Currently, Medicare is specifically prohibited from paying for hearing instruments. The bill would repeal this prohibition and add hearing aids to the list of covered durable medical equipment. HR 2934 would provide new hearing aids every three years as needed by Medicare beneficiaries. It would also allow hearing care professionals to "balance bill" for devices beyond what Medicare would agree to pay.
"Congressman Foley has demonstrated vital leadership by addressing this important issue," says ASHA President John Bernthal, whose organization played a central role in working with Congressman Foley.
---
Widex pioneers and licenses new computer shell-making technology
Vaerloese, Denmark — Licensing of a computerized shell-making technology reportedly developed and patented by Widex has been made available to hearing instrument manufacturers. The shell-making technology, which uses a process called stereo lithography, was patented by Widex in 1990, and the new technology could eventually lead to instant electronic storage and transfer of all shell data over the Internet, according to the company.
"At the end of the 1980s, Widex researchers developed a sophisticated manufacturing method utilizing 'stereo lithography,' which makes it possible to produce hearing aid shells with extreme precision," reports the company. "Widex has named this new technology CAMISHA (Computer Aided Manufacturing of Individual Shells for Hearing Aids). The company has held the basic patent on this technology since 1990 (US Patent #5,487,012). Recent advances in laser scanning and computer modeling technology have enabled Widex to make CAMISHA a reality.
"This method involves the use of laser and advanced imaging technology to collect and transfer an impression of the patient's ear canal into a three-dimensional computer model. Data for shell thickness, venting and component positioning are then factored into the model. Finally, these computer model data are transmitted to a stereo lithography machine, which builds the plastic shell that precisely fits the individual patient's ear. Other large hearing aid manufacturers, through various media including industry conventions and trade journals, have made public their intentions to use this computer-controlled technology for shell manufacturing. Widex realizes the enormous impact this process will have on the hearing aid industry, and is willing to license this technology to them."
The technology is designed to afford many advantages beyond precision, one of which is the electronic storage of the patient's impression data for an unlimited amount of time. This enables the manufacturer to remake a 100% identical copy of the original shell, or a modified version, without the need for a new impression from the patient. In the future, Widex says the laser-based technology will enable the hearing health care professional to scan the patient's ear canal electronically. The patient's scan image data will then be transmitted via the Internet, directly to the hearing aid manufacturer.
"Widex is proud to have developed this technology, which holds great promise for hearing aid users, hearing health care professionals and manufacturers alike," states the company.
---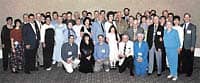 Changing of the Guard at Seminars
San Diego — Jerry Northern, PhD, longtime editor-in-chief of Seminars in Hearing, recently handed over his duties to Catherine Palmer, PhD, of the Univ. of Pittsburgh. The journal is published by Thieme Medical Publishers Inc. of New York.
---
AAO and ASHA partner to form Hearing Healthcare Team
Rockville, MD — The American Speech-Language-Hearing Assn. (ASHA) issued a joint statement with the American Academy of Otolaryngology-Head and Neck Surgery (AAO-HNS) announcing the formation of a partnership in America's Hearing Healthcare Team.
The partnership was announced at a special reception honoring audiologists during the annual convention of AAO-HNS in Denver, Colorado. The action formally marks ASHA's participation in the Hearing Healthcare Team, an AAO-HNS educational initiative that has the goal of bringing greater visibility to serving the needs of individuals with hearing impairment.
The joint statement of ASHA and AAO-HNS recognizes audiologists as autonomous, independently practicing professionals who are an integral part of a multidisciplinary team, according to ASHA.
"ASHA is pleased to join with AAO-HNS to build greater public awareness of hearing loss, its causes, its prevention, and treatment and rehabilitation options available from hearing professionals," said ASHA President John Bernthal, PhD. "The joint statement recognizes that audiologists may practice independently to identify, assess and manage disorders of the hearing and balance systems. Audiologists collaborate with otolaryngologists and other members of the hearing healthcare team to provide the most efficient access and best quality care to children and adults with hearing and balance disorders."
The hearing healthcare initiative, which will unfold over the next five years, is intended to reach nearly 28 million Americans with hearing loss, physician groups and allied providers to give greater visibility to hearing healthcare issues. The initiative is designed to educate the public about the composition of America's Hearing Healthcare Team: otolaryngologists-head and neck surgeons, audiologists, hearing instrument specialists, primary care physicians, consulting physicians, nurses, speech-language pathologists, educators, and researchers—and how these professionals work together toward the diagnosis of hearing loss and balance disorders, and the best possible treatment and rehabilitation options.
The initiative also emphasizes that access to hearing health care can come through any member of the team, and some of the audiology organizations have objected that the profession of audiology is not represented as being uniquely qualified to treat people with hearing loss.
---
Widex Canada & Audioscan donate first
Verifit VF-1 system to National Centre

London, ONT — The new National Centre for Audiology, Univ. of Western Ontario, was presented with the first Verifit model VF-1 to roll off the assembly line at Audioscan, Dorchester, Ontario. The new state-of-the-art clinical real-ear hearing aid analyzer was jointly donated by Widex Canada and Audioscan President Bill Cole for use in the Child Amplification Lab at the Centre. Featuring dual signal presentation and dual measurement channels, real speech test signals, new DSP analysis capabilities and special tests for directional hearing aids, the Verifit VF-1 is said to represent a new level of sophistication in the testing and fitting of hearing instruments and assistive devices, according to Audioscan. Above (l to r) Susan Scollie, research audiologist, Richard Seewald, professor and founding member, and research audiologists Jane Joyce and Marlene Bagatto try out the new system. w
---
UHS to distribute Intrason digital hearing instruments
Central Village, CT — United Hearing Systems Inc. announced their appointment as the U.S. distributor for Intrason S.A. France, a designer and manufacture of digital hearing instruments.
According to UHS President Ralph T. Campagna, Intrason's latest product line uses a Speech Optimization System (SOS®), which consists of a noise reduction algorithm utilizing 32 channels. The algorithm is designed to offer exceptional improvement of speech recognition in noisy environments.
"Intrason and their well-deserved reputation for developing innovative products and United Hearing Systems commitment to quality and service is a combination destined for success," says Campagna. He says that UHS will be presenting the Digison product line in upcoming seminars, trade shows and conventions.
---
HATIS donates systems to survivors of terrorist attacks
Walnut Creek, CA — HATIS Corp. announced it will donate Freedom HATIS (Hearing Aid Telephone Interconnect Systems) systems to the employees and rescue personnel at the World Trade Center and Pentagon who suffered hearing loss from the attacks on September 11, 2001. The company develops the systems for hearing instrument users to enable clear, interactive communication between hearing aids and telephones.
The Freedom uses patented technology that transmits audio signals directly to the hearing aid, eliminating the need for increased telephone or hearing aid amplification. The reduced need for amplification plus direct transmission of sound from the telephone is designed to reduce sound distortion and electromagnetic buzzing.
"HATIS may be thousands of miles away from where the attacks took place, but our hearts and prayers are with these victims every day," says Alice M. Morgan, the company's president and founder. "As Americans and as an American company, we too, wanted to give our support to these victims in any way possible. In the months ahead, both survivors and rescue personnel may be suffering irreversible hearing loss due to the explosions and buildings collapsing. For people who find they can no longer hear without a hearing aid, HATIS would like to give them the tool they need to use that hearing aid with a telephone and not experience distortion or other electromagnetic interference naturally caused by the electronic interaction between aids and phones."
---
AudiologyOnline holds conference in November
San Antonio, TX — AudiologyOnline has announced a conference in Miami/Ft. Lauderdale on November 9-10 of this year and seven conferences in 2002. The Advanced Bionics Conference on Cochlear Implants will be presented in November by AudiologyOnline and NOVA Southeastern Univ.
The 2002 conference series includes the topics of tinnitus (February), entry level hearing aids and middle ear implants (March), auditory processing disorders (May) and auditory rehabilitation and counseling (June). For more information, visit the AudologyOnline Web site at www.audiologyonline.com.
---
We the People
We the people of America,
stand for Liberty;
Brothers and Sisters united,
living in the land of the free.
We abide by the Golden Rule,
we treat our neighbors right;
But if our Freedom is threatened,
together we shall fight…Because,
We the people of America,
stand proud and tall;
And when it comes to one another,
it is Liberty for all.
We the people of America, share Equality;
All races and religions, different as can be;
Our nation has grown to greatness,
as a melting pot.
A home for every color,
and proud of all we've got…
For, We the people of America,
our future is divine;
These words spoken by our Heroes shall stand the test of time:
"I know not what course others may take, but as for me …Give me liberty
or give me death"
"Four score and seven years ago our
forefathers brought forth on this continent
a new nation, conceived in liberty
and dedicated to the proposition that,
All men are created equal."
"Ask not what your country can do for you…but what you can do for your country."
"I've been to the mountain, I've seen the other side, and I have a dream."
"Terrorists attacks can shake the foundation of our biggest buildings, But…They can not touch the foundation of America".
We the people of America,
enjoy Prosperity,
We work hard on the farm,
and in the factory;
From the mountains to the oceans,
across the wide prairie,
Our America is beautiful,
from sea to shining sea…
Yes, We the people of America,
in God we trust;
God bless America, and everyone of US.
—Submitted by Roy Bain©