ADA convention goes to North Carolina

Columbia, SC — The Academy of Dispensing Audiologists (ADA) will hold its 25th annual convention at the Grove Park Inn in Asheville, NC, October 21-24. This year's convention theme is "Appreciating the Past—Envisioning the Future," reflecting the organization's looking back on its quarter-century of achievements, as well as looking ahead to the future of dispensing. The convention will feature a large number of practical seminars that are divided into several subject areas, including business, amplification, counseling, medical and miscellaneous topics. Additionally, this year will feature several "Gabfests" in which attendees can chat in informal settings with facilitators and other attendees on topics ranging from "Which hearing aids do you use?" to "Convince me I need an AuD degree."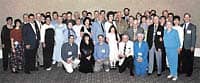 Former President James McDonald (r) passes the leadership gavel to current President Robert Manning during last year's meeting.
"With it being the ADA's 25th anniversary," says President Elect Cynthia Ellison, "we will be talking about our history as well as exploring avenues for future growth. It's really a great program being offered this year, and we've tried to divide the seminars into tracts, so if you're interested only in hearing aid fitting or marketing issues, for example, you have a wealth of options from which to choose." Ellison also says that the Gabfests will feature innovative ways to help out private dispensing businesses. For example, in the "Audiology Napster" Gabfest, attendees are encouraged to bring a variety of their office forms (client history assessments, etc.) they've devised and share them with other attendees.
The Academy's annual dinner takes place at the historic Biltmore manor and includes a candlelight tour. For more information contact ADA at (803) 252-5646 or visit their website at www.audiologist.org.
---
William Demant acquires minority share of AHAA
West Chester, PA — American Hearing Aid Associates, Inc. (AHAA) has announced an investment agreement with William Demant Holding Group, the Copenhagen-based parent group of Oticon, Bernafon, Phonic Ear and Interacoustics. Under the terms of the agreement, Demant Holding will acquire a minority interest in AHAA that will give the group of international companies worldwide rights to use AHAA's business model and intellectual materials with international customers.
AHAA, which was founded in 1995 to provide marketing, business management, and wholesale buying support for what has now become a network of about 1800 independent dispensing offices (1300 practitioners), reports that it will remain independent and under the control of the founding management. It also reports that it will continue to act as a multi-line supplier of hearing instruments, with Demant Group products as an option. "We will continue to present a full range of hearing instruments and products to our associates," says AHAA CEO Vince Russomagno. "The William Demant Holding Group shares our commitment to providing business, marketing and training services to independent hearing care practitioners. We believe the group's investment will strengthen AHAA and enhance our ability to bring our associates an even broader range of cutting-edge services."
"William Demant Holding continues to look for successful, established companies with solid growth potential, like AHAA, that strive to improve the quality of hearing health care," says Mikael Worning, president of Oticon, Inc. "AHAA is one of the most successful companies in the U.S. in providing business solutions to hearing care professionals who are not members of one of the hearing aid chains. AHAA offers a much needed support system for these dedicated independent practitioners."
"This opportunity allows a proven business model to accelerate training of new professionals in the industry and promotes the hearing healthcare field in a disciplined manner to the end user," says Peter Van Nest, president of Bernafon US.
Financial analysts reported that William Demant acquired 49% of AHAA for a price of $36 million plus another $14 million being earnings-dependent.
---

Phonak earns Good Housekeeping Seal
Warrenville, IL — Phonak Hearing Systems announced that it has received the Good Housekeeping Seal for its entire product line, including its Claro digital heaing instrument. The Good Housekeeping Seal, which reportedly has served as a warranty against product failure for nearly 100 years, is said to be one of the most recognized and trusted product symbols in the American marketplace. Founded in 1900 for the purpose of improving the lives of consumers and their families through education and product evaluation, all products earning the Seal must go through the scrutiny of various industry experts at the Good Housekeeping Institute.
"The Phonak team maintains its commitment to helping people with hearing impairments make significant improvements in their quality of life by designing advanced, innovative hearing systems," says Phonak President Mike Jones. "By subjecting Phonak's products to rigorous inspection by scientists at the Good Housekeeping Institute and earning the Seal, we believe we are reinforcing consumer confidence in the quality and reliability of our products and improving lives."
---
Space shuttle to carry experiment on vestibular system
St. Louis — When the U.S. space shuttle Endeavor blasts off on November 29th, it will be carrying an experiment involving 36 quail eggs designed to discover how gravity affects the development of vestibular systems, according to Sound Effects (Spring/Summer 2001), the newsletter of the Central Institute for the Deaf (CID).
The experiment, devised by J. David Dickman, PhD, a scientist at CID in St. Louis and Anna Lysakowski, PhD, of the Univ. of Illinois-Chicago, will place half the eggs in microgravity while the other half will be spun at a constant force to simulate gravity on earth. The eggs will be refrigerated initially, then warmed to stimulate a 15-day development period. The shuttle flight is scheduled to last for 14 days.
Upon return, the eggs will be studied via an electron microscope for any changes in inner ear vestibular receptor cells (analogous to hair cells used in hearing) and to count the oticonia, which are responsible for the maintenance of balance. The researchers hypothesize that they may find an increase in receptors and ear stones in the embryos exposed to low-gravity, as the embryos may try to make up for the lack of stimuli from gravity while in space. The team will also examine nerve fibers that connect with vestibular receptor cells in microgravity.
It is hoped that the data can lend insights into vestibular disorders such as BPPV, and the research may even have implications in sensory cell regeneration.
---
Med-El gains FDA approval for cochlear implant
Durham, NC — Med-El reports that the company has received FDA approval for its COMBI 4O+ Cochlear Implant System. This allows severe-to-profoundly hearing-impaired people to gain immediate access to the company's technology, which reportedly includes the first FDA-approved modular ear-level speech processor, Tempo+. The device is said to have performance characteristics equal to body worn processors, which allows up to four days of battery life.
The company offers a family of products and services to support the needs of cochlear implant patients and their medical professionals. Med-El reports 6000 successful implants in over 258 clinics in 54 countries worldwide. To date there are over 5000 Tempo+ BTE speech processors in use. "With FDA approval, we now have an open gateway to bring innovative Med-El solutions to the severe to profoundly hearing impaired," says Chris Bertrand, CEO of the company's North American headquarters. "With the unique design of the modular behind-the-ear speech processor, we can easily meet the needs of infants, children and adults alike."
"Med-El cochlear implant recipients have in the past, and will continue to benefit from each progressive generation of new implant products, such as the Tempo+ BTE speech processor," says Dr. Ingeborg Hochmair, company founder and CEO of Med-El Worldwide. Dr. Richard Miyamoto of Indiana Univ. School of Medicine says, "At IUMC, we have had tremendous success using Med-El cochlear implants with our patients. Med-El's products are well researched and designed to meet the needs of hearing-impaired patients."
The company was established by researchers who developed one of the world's first cochlear implants, and it now has 14 regional offices worldwide, including its North American headquarters in Durham, NC, and worldwide headquarters in Innsbruck, Austria.
---
Today Show features hearing technology
New York City — On August 14, NBC's top-rated Today Show featured a segment in which hearing loss and instrument technology was prominently featured. An extended feature with Today Show co-host Matt Lauer and NBC's Chief Medical Correspondent Dr. Bob Arnot dealt with coping strategies like reducing background noise, and pointed out that "a lot of [hearing-impaired] people feel bludgeoned, they feel hurt and they withdraw. And as they withdraw, they put themselves at risk of depression, immune system dysfunction. And studies show if you lose it early enough, you put yourself at risk for a heart attack and stoke. It's not just social." Dr. Arnot showed examples of CICs, BTEs, directional instruments, remote control technology and a telemessaging/Internet device.
According to Widex, Dr. Arnot held up both a Senso Plus CIC and then a Senso Plus C19 BTE and said, "There's wonderful sensing technology. They can take a very low, soft voice sound and bring it up, take a very loud, sort of irritating sound and bring it down. And even with the word 'pencil,' it'll pick up and boost the 'p' and the 'n' and the 'c', but not the 'l'." Dr. Arnot later showed a Senso Plus BTE and discussed its direct audio input capability.
---
Sonic Innovations reports advances in speech understanding in noise
Salt Lake City, UT — Sonic Innovations Inc. has announced that results from an independent clinical study demonstrate that its Natura™ 2 SE products help hearing-impaired people to understand speech better in noisy environments. The device processes sound via nine channels and its Personalized Noise Reduction™ technology is said to suppress many background noises.
The clinical study was conducted at the Dept. of Otolaryngology- Head and Neck Surgery at Washington Univ. School of Medicine in St. Louis by Michael Valente, PhD. The results reportedly indicate that the Natura 2 SE enabled hearing-impaired subjects to understand speech significantly better in challenging listening environments with background noise. While clinical studies into the efficacy of the noise reduction features are continuing at Washington Univ. and Cleveland Clinic, according to Sonic Innovations' Vice President of Clinical Research Victor Bray the results are the first to show that a digital hearing instrument is capable of speech-in-noise improvement on objective performance measures without the use of a directional microphone system. Greg Koskowich, PhD, vice president of research and development of Sonic Innovations, says that the latest findings are consistent with the company's own research, which was first reported in November 2000 edition of The Hearing Review (pgs. 60-65).
"We're very excited by the independent findings about the performance of our Natura 2 SE products," says Andy Raguskus, Sonic Innovations' president and chief executive officer. "With its proven ability to help hearing aid users understand speech in background noise, and in an ultra-small size that can reduce 'image' concerns, the instrument goes a long way toward knocking down the major barriers to hearing aid usage."
---
GN ReSound acquires part of Ultravox in U.K.
Copenhagen, Denmark — In late August, GN ReSound reportedly acquired 25% of Ultravox Holdings Ltd., one of the largest multi-brand hearing instrument retailers in England. Ultravox chains throughout the United Kingdom include Ultratone, Sietech and Hearing Health. While Ultravox reportedly purchased a substantial percentage of its hearing instruments from GN ReSound prior to the agreement, it is expected by industry analysts that Ultravox's purchases of products from GN ReSound will increase.
---
Oticon Foundation grants $270,000 to four organizations
Somerset, NJ — The Oticon Foundation announced that it has awarded $270,000 in grants to four U.S. hearing health and education organizations to support the development of specialized programs for those with hearing loss. The foundation sponsors social and educational programs, research, publications, and conferences for researchers, hearing care professionals and the general public. This year's grant recipients are the Alexander Graham Bell Assn. for the Deaf and Hard of Hearing (AG Bell), the American Speech-Language-Hearing Foundation (ASLHF), Spokane Falls Community College and the Audiology Foundation of America (AFA).
The foundation grants will provide resources for a variety of programs, ranging from mentoring projects to the creation of a state-of-the-art computer laboratory for students enrolled in a hearing instrument specialist associate degree program.
AG Bell will use the Oticon grant to initiate a three-year mentoring program for children with hearing loss (see this month's Information Please announcement). "Mentoring programs have been shown to boost the self-esteem of participants," says Donna Sorkin, AG Bell's executive director. "This generous grant from Oticon will enable AG Bell to provide a unique type of support to our children while tapping into the talents and enthusiasm of our adult members with hearing loss. As an international organization, our materials will be designed for use by mentors around the world." The program will include an online component, allowing children from all over the world to link with other young people who are deaf and hard-of-hearing.
For ASLHF, the grant will help bring the organization closer to the goal of its "Dreams and Possibilities—Campaign for the New Century" fund-raising effort. The campaign aims to raise $2 million for the acceleration of funded research for new and senior investigators and for scholarship support for doctoral students pursuing teacher-investigator careers in the communications sciences. "The Oticon Foundation grant will ensure that the highest research priorities will be funded and that we can support new research to address how best to evaluate and fit amplification to better serve adults and young children with hearing impairment," says Noel Matkin, PhD, president of the ASLHF.
Oticon Foundation funding will also benefit students enrolled in the Spokane Falls Community College Hearing Instrument Specialist associate degree program. The new program will provide education and training needed for graduates to fulfill requirements for a newly mandated state licensing program for hearing instrument dispensers. The grant will enable the school to purchase computers and HiPro programming modules to facilitate the 500 hours of hands-on laboratory and clinical experience required by the program. "We want to continue to be the standard by which this industry of specialists is educated and trained and this grant will help to assure that we are," says Tom Hopkins, Dean, Professional/Technical Education and Human Services for Spokane Falls Community College. "This is the largest single award we have received for our program and it will enable us to provide our curriculum to the students on campus as well as to our distance-learning students through on-line methods."
"Hearing loss is America's number one disability," says Mikael Worning, president, Oticon, Inc. "The Oticon Foundation is committed to making a positive difference in the lives of people with hearing loss and to supporting the excellent and innovative organizations and programs that are also working toward this goal."
---
List-server established for musicians who have hearing loss
In July, a new Internet listserv, Association of Musicians with Hearing Loss (AMHL), was established to exchange information on how to continue making music once a person has a hearing loss. Subjects of the new list-server include how amplification, such as hearing aids, cochlear implants and assistive listening devices, help or hinder in musical endeavors, and how to cope with the angst felt when playing for an audience with better hearing will be the topics of discussion on the list server.
Although current members are amateur musicians, the group encourages those who have succeeded in becoming professional musicians to join. Several members lost their hearing as children, and took up playing a musical instrument after the onset of the hearing loss. Others had normal hearing, played instruments for a long time, then experienced hearing loss.
AMHL hopes that the information exchanged on the group's list server will contribute to "the current paucity of literature on applied music instruction to hearing-impaired individuals and on how one perceives music with the current state of hearing aid and cochlear implant technology." The organization reports that educators, hearing care professionals and engineers are "also welcome to lurk/contribute on this list." Information on subscribing to the list is available at: www.topica.com/lists/amhl.
---
Bio-logic Systems awarded $1M Phase II grant by NIH
Mundelein, IL — Bio-logic Systems Corp. has announced that, after the successful completion of a study measuring the feasibility of a new clinical evaluation method for detecting minute acoustic tumors, the National Institutes of Health (NIH) awarded the company a Phase II grant of approximately $1 million to develop advanced Auditory Brainstem Response (ABR) technology (Stacked ABR) and collect clinical data on normal patients and those with small acoustic brain tumors.
The project will be administered by Bio-logic and its research partner, House Ear Institute of California (HEI), with testing of up to 500 patients conducted at HEI and two other clinical sites. This testing is expected to last two years with approximately one-half of the grant going to Bio-logic and the remainder to HEI and the other sites.
As the exclusive licensee of HEI's patented methodology for identifying small tumors, Bio-logic reports that it will develop a product that will be able to detect tumors as small as two millimeters at one-fifth the cost of an MRI procedure. Testing performed with this advanced ABR system should help reduce the number of non-tumor patients being sent for costly MRIs. Accurate and early detection of very small acoustic tumors, less than one centimeter, is difficult with the current standard ABR technology. As a result, expensive MRIs are still being utilized as the initial screening device for patients suspected of having this type of tumor.
Bio-logic estimates that half of the 8000 practicing ENT physicians will show strong interest in this new technology as a faster, reliable and more cost-effective alternative initial screening device. Furthermore, once the clinical test results are published and the Stacked ABR software is developed, the market segment for diagnostic ABR is anticipated to expand for this new application. MRI will still be the standard diagnostic method for those patients whose ABR results are positive in order to locate the tumor prior to treatment, reports the company.
"As a principal investigator, I am enthused about the NIH Phase II grant as it represents another important milestone for Bio-logic," says Gabriel Raviv, chairman and CEO. "Since our Phase I grant from the NIH in late 1999, we've made significant progress in developing a Windows-based, compact version of our standard ABR system. The Navigator Pro will be the platform for the Stacked ABR software. Systems already in the field can also be updated to include this software module. While standard ABR technology lost some ground to MRIs over the last several years due to limited capabilities in small tumor detection, our more advanced version of ABR will be used in the ENT office at a substantially reduced cost per test."