Directional Microphone System
Siemens Hearing Instruments, Piscataway, NJ, now offers the patent-pending VoiceMic™ directional microphone system as an option in half-shell models of the Signia™ Select and Prisma™ digital hearing instruments. The directional option is available within multiple programs, and programming omnidirectional or directional mode is possible in each. According to the company, the microphone system is designed to improve the signal-to-noise ratio and enhance the understanding of speech in noise.
---

Wireless Hearing System
TV Ears Inc, Park City, UT, offers TV Ears, a wireless hearing system designed to help those with hearing loss have a more natural listening experience while watching television. Also suitable for those without hearing loss, the system uses an under-the-chin design and reportedly provides rich, full-bodied sound. Features include: television audio processing (TAP); automatic volume control (AVC); a volume/tone enhancer; and a combination charger/transmitter. The system works with any television, and can be used in many public facilities, such as movie theaters, playhouses, museums and places of worship, according to the company.
---

Portable Induction Loop System
Oval Window Audio, Nederland, CO, introduces the portable InfoLoop, a self-contained induction loop assistive listening system that is reportedly compatible with all hearing aids, cochlear implants and induction receivers that have telecoils. The system weighs 3 1/4 lbs and measures 11"x10"x4", and houses a microphone, automatic gain control, noise gating electronics, a built-in loop wire antenna and a 24-hour rechargeable battery. An external microphone with a 10' cord is also provided. Listeners receive the signal at a distance of up to 4 feet from the system, according to the company.
---

BTE Hearing Instrument Line
United Hearing Systems, Central Village, CT, offers a complete line of BTE instruments with a variety of features, including: a mini K-AMP or push-pull circuit with a #13 battery; a small class "D" AGC-o with a #13 battery and a user program switch; a power instrument with the Knowles CI receiver using a #675 battery; a programmable 2-band with multiple memories; and water-resistant instruments in P, PP, and HPL versions.
---

Word Recognition Test
Auditec™ of St. Louis introduces the Lexical Neighborhood/ Multisyllabic Lexical Neighborhood Test (LNT-MLNT). The test was developed by Karen Kirk, PhD, of the Univ. of Indiana School of Medicine and is intended primarily for children using cochlear implants. It is based on the assumptions of the neighborhood activation model (NAM). Stimuli on the test are separated into easy and hard word lists. The package includes both single-talker and multiple-talker recordings of the word list, a test manual and scoring forms.
---

Medical Grade Wires
California Fine Wire (CFW), Grover Beach, CA, offers a variety of fine wires suitable for use in medical devices. According to the company, its wires have been used in cochlear implants.
---

Keychain Battery Tester
Fecom, Dayton, NJ, introduces its keychain battery tester, which features a built-in compartment for storing up to two spare batteries. A battery is tested by briefly pushing it against the metal piece at the top of the keychain; an LCD bar graph above it will indicate if the battery is good.
---

Fitting Station
Versabench, Portland, OR, introduces the Versabench fitting station. Reportedly developed by hearing instrument professionals, the station is designed to include all necessary components in a self-contained workstation. Features include a Versapump receiver/microphone vent cleaning system and vacuum chamber, a built-in UV curing station with QuickCure technology, built-in lighting and a UV curing kit. In addition, heavy-duty casters allow for in-office mobility. Available options include custom colors and a Redwing/dremel lathe and bits.
---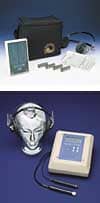 Custom Earpieces
Westone, Colorado Springs, CO, offers its custom earpieces, which are designed to allow for safe hands-free cellular or cordless phone use. According to the company, the earpieces are available to fit most lightweight microphone/speaker combinations on the market. The company also offers a package that incorporates the Plantronics M140 or M145 voice-activated microphones fitted with a custom Style 26 earpiece. Their standard 2.5-mm plugs fit most cellular and cordless phones, either directly or with an adapter.
---

Digital Signal Processing Instrument
Electone, Longwood, FL, introduces the Sierra™ hearing instrument, which is designed to transition patients to digital technology. The instrument combines the sound quality of a digital circuit with easily accessible controls, according to the company. Up to four potentiometers provide control over low-frequency gain, maximum gain, input compression for soft sounds and output compression for loud sounds.
---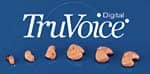 Digital Hearing Instrument
Magnatone, Casselberry, FL, announces the addition of TruVoice™ 100% digital signal processing to the DigiPro™ (digital programmable) line of custom programmables. The four-channel WDRC instrument features high and low level gain adjustments along with upper and lower threshold adjustments, and each channel can be adjusted independently. It reportedly provides complete and accurate adjustability over the entire frequency range.
---

Fitting Software
HIMSA, St. Paul, MN, announces the release of NOAH version 3.0. New features include: the ability to view multiple module windows simultaneously; the ability to display other applications in separate windows; a new interface; improved search functionality; additional export options; the ability to set user security levels, and a range of customizable options. In addition, new audiograms can be based on existing ones to allow for comparison. The system is designed to work with version 2.0 modules.
---
Directional Microphone
Microtronic, Minnetonka, MN, introduces the 6903 directional microphone module. The module is designed from two 6000 series omni-directional and directional microphones with a combined sound inlet. One microphone can be turned off to switch from directional to omni-directional mode. The company reports that the sensitivity at 1 kHz is equal in directional and omnidirectional mode, eliminating the need for gain switch circuitry. The module is recommended for use in BTE or ITE directional hearing instruments.