BOOK AND BOOKLET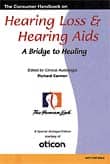 Learning to Hear Again
Hear Again Inc., Austin, TX, is releasing a second edition of Learning to Hear Again written by Donna S. Wayner, PhD and Judy E. Abrahamson, MA. This curriculum guide is designed to assist audiologists and speech-language pathologists in providing rehabilitation and education for their patients with hearing impairment. It includes 356 pages of lesson plans for the clinician, which provide specific activities and instructions to be used individually or in an audiologic rehabilitation class. Published in three-ring binder format, Learning to Hear Again also provides camera-ready documents, with information covering a variety of topics related to hearing aid use, assistive devices and audiologic rehabilitation. This second edition is also available on compact disc. Visit www.hearagainpublishing.com for further information.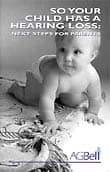 Cochlear Implant System Booklet
Cochlear Corp., Englewood, CO, introduces Issues and Answers: The Nucleus 24 Cochlear Implant System, a 40-page information booklet. Topics covered include information about cochlear implants, the Nucleus 24 Cochlear Implant System, candidates who can benefit from the device, the evaluation procedure and implant surgery. It is designed to be informative and easy to read.
---
CATALOG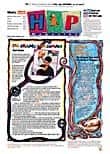 Publications Catalog
Self Help for Hard of Hearing People (SHHH), Bethesda, MD, announces the release of its 2001 Publications Catalog, with a wide selection of titles for people with hearing loss, their family and friends, employers, educators and hearing health care providers. Selections span the area of medical information, scientific research, family support, new technology, hearing aid information, psychology, communication options, assistive devices, captioning, access, employment, legal rights, children and education. Selections this year include two reports that answer the most frequently asked questions of SHHH: "Whom should I see for a hearing test," and "How do I select a hearing aid?". For a free 2001 SHHH Publications Catalog, send a self-addressed, stamped, business size envelope to: SHHH Publications, 7910 Woodmont Avenue, Suite 1200, Bethesda, MD 20814
---
WEBSITES

www.rexton.com
Rexton, Plymouth, MN, introduces its new website, www.rexton.com. Visitors can read about the company's product line, download specifications on Rexton premier products, check on new order status and warranty information and obtain information on hearing loss. Consumers who fill out Rexton's hearing loss survey will be directed to a Rexton hearing health professional in their area. Contact a Rexton representative at 800-876-114 for information on how to obtain a password for account-specific information.

International Websites
Hear-it AISBL, Brussels, Belgium, the organization behind www.hear-it.org, reportedly the world's largest international hearing loss website, recently launched three new global websites concerning hearing and hearing loss. A version of www.hear-it.org, www.youth.hear-it.org is oriented towards young people. At www.medical.hear-it.org, family physicians and other medical professionals can find facts and statistics about hearing, hearing loss and the common hearing-related diseases. At www.political.hear-it.org, hear-it has collected information designed for the interests of politicians and civil servants, including an overview of the regulations regarding hearing impairment in a number of countries, statistics and calculations of the costs of treating and not treating hearing loss.