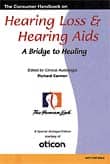 Clinical Practice Algorithms Information
The American Academy of Audiology (AAA) announces the release of Audiology Clinical Practice Algorithms and Statements, a reprint from Audiology Today, August 2000 issue. The 20-page reprint features information on the joint committee on clinical practice algorithms and statements. Topics covered include audiology services, audiologic practice statements and algorithms, cochlear implant assessment, and programming and audiologic rehabilitation. Contact AAA at 800-AAA-2336.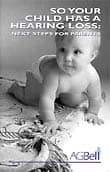 Guide to Hearing Aids
A 22-page information booklet, Consumer Guide to Hearing Aids, is available from the American Assn. of Retired Persons (AARP), a national organization for people age 50 and older. Topics covered include signs and problems of hearing loss, the anatomy of the ear, checking hearing, selecting a hearing care provider, types of hearing aids and assistive devices to name a few. It is informative and designed for easy reading. For more information see the review of the booklet in the Oct. 2000 HR (p. 30) or contact AARP website: www.aarp.org ; tel: 800-424-3410.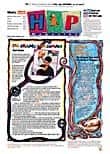 Product Booklet
Oticon offers its 12-page support booklet on DigiFocus II Direct, Directional, The Direct Way to Better Speech Understanding, covering topics on directionality, fitting and services offered by the company. A story of Richard Skeuse, a businessman who experienced hearing loss in both ears and was helped by using the DigiFocus II Direct, is also featured. More information can be obtained through www.oticonus.com.

Noise Manual
American Industrial Hygiene Assn. (AIHA) announces the release of The Noise Manual, 5th edition, a revised and expanded edition of the AIHA Noise Manual, 4th edition. Elliott Berger, the senior scientist for auditory research at E-A-R/Aearo Company, is the lead editor. Other editors are Larry and Julia Royster, Dennis Driscoll and Marty Layne. Topics featured are sound, vibration, hearing, hearing conservation programs, noise interference and annoyance, regulations, standards and laws. This 800-page book is designed to be comprehensive and practical with content that appeals mostly to industrial hygienist. However, because it covers topics on the nature of noise and hearing conservation (hygiene, safety, acoustics, audiology, occupational medicine and nursing, engineering, behavioral and legal issues), it can appeal to other occupationists besides industrial hygienists. The book is intended to serve as a supplemental textbook for courses and seminars in hearing conservation, occupational audiology and the effects of noise on people. Visit www.aiha.org or call 703-849-8888 for further information.
---
Websites

www.nfss.com
NFSS Communications (formerly Nationwide Flashing Signal Systems) announces the launch of a new web-based store, www.nfss.com, offering discount prices on their products, according to the company. The company has recently closed their location in Silver Spring, MD, to begin offering products through their website, catalog and phone orders. Products include a selection of TTYs, amplified phones, alerting and signaling devices, closed caption decoders, hardware and software for computers to be used as TTYs and smoke detectors. Tel: 888-589-6670.

www.HearingExchange.com
The website, www.HearingExchange.com, for adults with hearing loss, parents of deaf and hard-of-hearing children and the professionals who work with them, has been launched. The site offers current news on hearing research, assistive technology, people with cochlear implants, politics, resources, experts and events. It also enables visitors to ask questions from special educators and an auditory verbal therapist.
---
Conference
International Hearing Aid Conference
The International Hearing Aid Conference VI, Novel Processing and Fitting Strategies, will be held on June 7-9 at the Univ. of Iowa, Iowa City, Iowa. Speakers include guest of honor, Chris Turner, PhD, and Bill Noble and Sophia Kramer. For more information contact Rich Tyler at 319-356-2471; email: [email protected] ; website: www.medicine.uiowa.edu/otolaryngology/news/news.
National Managed Care Summit
Hear PO Corp. announces its sponsorship of the first National Managed Care Summit that will take place on April 16-18 in Reno, Nevada. The summit is designed to provide hearing care professionals the opportunity to gain knowledge on practice-building strategies for success and increasing revenues through seminars, workshops, think-tanks and one-on-one meetings. CEU's can also be earned. Through an incentive program, Hear PO reportedly will pay for the round-trip airfare and hotel accommodations at The Summit in Reno, as well as airfare to AAA (contact the company for more information). More than 350 participants, including hearing professionals, senior executives and industry experts are expected to attend. Contact Kathy Foltner at [email protected] or Kim Cavitt at [email protected] for further information.