Toy Speech Processor for kids

Cochlear Corporation, Englewood, CO, introduces a stuffed Koala bear that features a toy speech processor made for Nucleus recipients who are 18 years of age or younger. The Koalas® are shipped with orders for the Nucleus cochlear implants so that the gift can be given to the child on the day of the surgery. The Koalas® are intended to inspire children to decipher speech and sound, and to serve as a companion that recipients can identify with, according to the company.
---

Directional Microphone
United Hearing Systems, Inc., Plainfield, CT, announces it has incorporated the newly designed sD-MIC into its custom product line. The device is compact and is intended to serve as a better hearing instrument component for directional performance in custom hearing instruments, according to the company.
---

Infant Eartips
E-A-R Auditory Systems, Indianapolis, IN, introduces two sizes of Infant Eartips for use with the E-A-RTONE®' Insert Earphone. These disposable PVC tips, packaged in bags of 20 each, are available from the company's distributors in 3.5 mm and 4.0 mm sizes. Using the same stem as the E-A-RLINK® 3A/3B/3C foam couplers, they will allow insert earphones to be used for subjective and objective pediatric testing in cases where the E-A-RLINK 3B (pediatric) foam tips are too large to insert into an infant's ear canal, according to the company.
---

BTE Instrument
Beltone Electronics Corp., Chicago, IL, introduces the Beltone Ultima 80, a high power behind-the-ear hearing instrument with output compression for moderately severe to profound losses. The key features include AGC-O, three-position Mic-Tel switch and a Class-D amplifier. The amplifier produces a peak output of 136 dB and peak full-on gain of 80 dB. The instrument features four controls: Power/AGC-O, Gain, Active Low-Frequency Cut Control and High-Frequency Cut Control. Optional features include damped ear hook and audio input/BICROS adapter. The instrument is available in beige, brown and grey colors.
---

Listening Device
Westone Laboratories, Inc., Colorado Springs, CO, announces the release of TV Ears, a wireless infrared system that transmits television audio to a headset worn by the person with a hearing loss. The user can adjust the volume to suit his/her preference while others can listen to the television at normal volumes. The instrument is intended to solve domestic disputes over TV-volume levels. The company reports that the device is engineered to transmit clear dialogue and clarify voice frequencies while preventing background noise from overwhelming the spoken word.
---

TTY Answering Machine
Ameriphone, Inc., Garden Grove, CA, introduces an answering machine, Easy Recall, that can record text and audio messages intended for households with users of different hearing needs. Easy Recall incorporates amplification technology with the ability to receive TTY messages. Its playback volume control allows the volume to be increased up to 20 times louder than normal for loud and clear message retrieval. The adjustable tone control enables the user to set the frequency of the playback message to suit his/her hearing needs. All messages are recorded digitally. The calls can be answered from anywhere with the remote. The device has a Toll Saver feature that avoids unnecessary long-distance charges when calling to check on messages, according to the company. Other features include message forwarding, message reverse, voice stamp for time and day when each message is recorded, memo recording, delete button, memory backup in case of a power failure, message counter and remote activation for accessing messages. The incoming message-recording capacity is 14 minutes, but when the memory is full, the device switches automatically to playing an announcement.
---

Swim Plugs
International Aquatic Trades, Inc., Santa Cruz, CA, introduces protective earplugs, Doc's Proplug, designed to keep water out of the ear while surfing, swimming, water skiing, scuba diving, kayaking and participating in other water sports. Doc's Proplug is designed to prevent ear problems from excessive exposure to water and cold air. It is available in two models: Vented and Non-Vented. The Vented earplugs have a hole and allows for equalization and better hearing and balance. Non-Vented is without a hole and can be used with a perforated eardrum with physician's approval, according to the company. The Vented model attenuates 20 dB of high frequency with less muffled occlusion. The company reports that Doc's Proplug is soft, comfortable and does not impact earwax. It is available in eight sizes.
---

Real-Time Analyzer
Quest Technologies, Inc., Oconomowoc, WI, introduces RT-1000, a precision real-time analyzer with a range of 90 dB for SPL measurements to minimize range switching and to capture data quickly. It has a large liquid crystal display with backlighting for easy viewing of full width octave spectra. Real-time 1/1 and 1/3 octave band analysis may be performed by the RT-1000 as well as simultaneously measuring All Pass levels for Leq, Lmax, Lmin and Lpk. It also allows measuring NC Values in 1/1 mode for room acoustical measurements and two separate All Pass levels may be measured simultaneously. The large internal memory is user-programmable in three different modes to allow flexibility for measuring needs. Stored data can be transferred to a personal computer or printer.
---
Programmable Circuit
Gennum Corp., Ontario, Canada, announces the GA3206, a programmable multi-memory AGC-O linear hybrid in a CIC-compatible package. It uses thinSTAX™ packaging technology. The device features six programmable parameters: VC adjustment, threshold adjustment, high and low cut filters, gain trim and low frequence boost. It also features adjustable system gain, adjustable output compression limiting, 8:1 compression ratio, programmable or manual volume control, averaging detector circuit for natural sound, CIC-suitable package size (0.195 x 0.110 x 0.070 in.), optimized pad layout for flexible implementation (from CICs to ITEs) and up to four configurable memories, according to the company.
---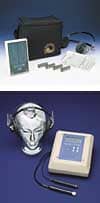 Audiometer & Middle Ear Analyzer
Quelle Corp., Port Orange, FL, introduces DSP Pure Tone Audiometer™ and Earscan™.
The DSP Pure Tone Audiometer™ is portable, lightweight and can be purchased for battery and AC/DC use. A headphone, carrying case, four AA alkaline batteries and AC adapter with the AC/DC model are included with the instrument.
Earscan™ is a middle ear analyzer offering impedance and/or air conduction audiometry. Tympanometry features one- and three-second test speeds and an optional ipsilateral acoustic reflex. The device is designed for easy use, according to the company.
---

Digital Instrument
Sonic Innovations, Salt Lake City, UT, announces the release of CONFORMA™, the smallest digital hearing instrument, according to the company. The device has 100% digital sound processing and is reportedly 50% smaller than the average hearing instrument. It is also designed to reduce background noise. CONFORMA™ is held in the ear by a disposable soft shell that molds in the ear canal for a custom fit.
---