FDA to release Hearing Aid Regulation
Washington, DC — The long-awaited Federal Hearing Aid Regulation reportedly has been sent to Food and Drug Administration (FDA) Commissioner Jane Henney for approval, and then will be sent to HHS Secretary Donna Shalala for approval prior to the November elections. Assuming Shalala approves it, the Rule will then be sent to the Office of Management and Budget (OMB) for final signing by the White House.
The Federal Hearing Aid Regulation, better known as the "Hearing Aid Rule", establishes provisions for the sale and distribution of hearing instruments. It was first promulgated by the FDA in February 1977. In November 1993, the FDA announced its intention to review the Rule, and testimony was presented to a six-member panel of FDA staff in December of that year (see Jan. 1994 HR, p. 6-7). The disputed points of the regulation within the hearing health care field have included the possible establishment of a "point of entry" for consumers seeking hearing help, mandated tests for a "comprehensive hearing assessment," and the current "Red-Flag" and hearing aid waiver systems.
In the January 22, 1999 FDA Week, the FDA announced that it had changed "course on its ambitious program to require certain tests for people being fitted with hearing aids and may instead leave those decisions to the states." The report went on to say that the Center for Devices and Radiological Health (CDRH) was drafting regulations "to grant states an exemption from being preempted by federal hearing aid law if they have hearing aid restrictions already on the books." (see March 1999 HR, p. 6).
In related news, the American Speech-Language Hearing Assn. (ASHA) recently announced in its July 5 ASHA Leader an alliance with Self Help for Hard of Hearing People, Inc. and the Alexander Graham Bell Assn. to lobby for the release of the revised regulations. ASHA also addressed the current pre-purchase requirement of a physical examination or signing of a waiver by an adult. In ASHA's opinion, this requirement is an unnecessary financial burden to the consumer. "Audiologists should be allowed to exercise their professional judgement and refer to a physician when warranted by virtue of their education, expertise and adherence to applicable codes of ethics," said Larry Higdon, ASHA's vice-president of governmental and social policies.
The alliance reportedly supports the current requirement that the Hearing Aid Rule supersede state laws.
---
Advanced Hearing Research Center dedicated

Dallas — The Univ. of Texas at Dallas (UTD)/Callier Center for Communication Disorders opened the doors of its new Advanced Hearing Research Center (AHRC) on the Callier campus during a VIP dedication. The new facility extends Callier's research programs focused on hearing and hearing loss, with the goal of embellishing service programs for the community. The event included a presentation by Ross Roeser, PhD, and the Callier Center's first cochlear implant recipient, 11-year old Michael Noble, who helped provide a demonstration of the successful implant.

The newly constructed 12,500-sq.-ft. facility provides additional laboratory, office and clinical space for the assessment and treatment of hearing loss, as well as classrooms for undergraduate and graduate students. The AHRC will provide research labs for the application of studies on both children and adults with cochlear implants and hearing instruments, and the designs allow Callier researchers to test their findings in real-time situations with patients. Students will also have the opportunity to become more actively involved with patients in the Center's clinical services areas.
Funding for the AHRC came from the Texas legislature, the Foundation for the Callier Center, the Dallas Foundation and numerous other sources. u
---
Hearing Review purchased by MWC; launches HR website
Los Angeles — In June, The Hearing Review magazine was purchased by Medical World Communications (MWC), the nation's second-largest medical and health care publishing firm based in Jamesburg, NJ.
HR joins MWC's Allied Healthcare Group in Los Angeles. CurAnt Communications, a division of the Allied Healthcare Group, will now be performing the actual production of the magazine. This division publishes more than 14 journals, including Chiropractic Products, Home Health Care Dealer/Provider, Orthodontic Products, Orthopedic Technology Review, Plastic Surgery Products, Rehab Management and Physical Therapy Products. MWC publishes more than 50 journals and, in addition to its Allied Healthcare Group, has a medical division, dental division, institutional health care division, food sciences division, as well as newsletter and conferences divisions.

"When The Hearing Review became available, we felt that the fit within our portfolio was extremely well suited to our growth plans," says Curtis Pickelle, president of MWC's Allied Healthcare Group.
The purchase is anticipated to provide HR with several new growth opportunities. As one of the nation's largest health care publishers, MWC affords a wealth of resources, and several new developments will be announced in the near-future. Currently, a new HR website (www.hearingreview.com) is being launched, which contains current news, product information and other departments, as well as archived articles that can be easily accessed by HR readers. It is anticipated that the site will go online in August.
HR Publisher Pauline Davies and Editor Karl Strom will continue to work from their offices in Duluth, MN. It is anticipated that Marjorie Skafte will continue to be seen on the pages of HR periodically, as well as contribute to special projects. Lars and Toni Fladmark, Shirley Brandt and Pat Kelley are pursuing other publishing interests (outside the hearing care field) with Fladmark Publishing Co.

MWC's George Ross has been named group publisher of HR and will work closely with Davies. Ross has played vital roles in the success of several trade journals, including Chiropractic Products, Physical Therapy Products, Plastic Surgery Products and Orthodontic Products.
Zarpan Osmani assumes the position of assistant editor. She has a degree in journalism from California State Univ.-Fullerton and has experience in both TV and print media, with her last positions being a news writer for FOX network television and the Orange County Register's Irvine World News. Additionally, Michael Hirano joins HR as its new art director. Hirano has a degree from Honolulu Community College and has worked on numerous magazines within the Allied Healthcare Group.
The new address and contact information for HR is: Hearing Review, Allied Healthcare Group, 6701 Center Drive W., Ste. 450, Los Angeles, CA 90045; tel: (310) 642-4400; fax: (310) 310-641-4444. Pauline Davies' direct telephone line is (800) 722-8262, and Karl Strom's direct line is (218) 525-5558.
---
Marcon holds annual meeting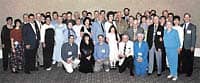 Hopkins, MN — Marcon Hearing Instruments, a member-owned national association of dispensers and audiologists, recently held their annual meeting in Orlando, FL. The meeting began with a full day of industry speakers on business and marketing, followed by a day of presentations by Marcon Partners (representatives from 11 hearing instrument manufacturers) who discussed their latest technologies. Attendees also took part in a round-table discussion on a variety of topics, including disposable hearing aids, and heard about subjects ranging from the financing of equipment to aural rehabilitation.
---

BHI appoints new executive director
Alexandria, VA—The Better Hearing Institute (BHI) announced that John T. Olive, Jr. has been named as the organization's new executive director. He will report to BHI President Reg Garratt and the board of BHI.
Olive is a veteran health care executive, having served as CEO and COO in acute care, behavioral health and consulting organizations. He holds a BS from Lipscomb Univ. and a master's degree in Health Administration (MHA) from Duke Univ.
BHI is restructuring its operations to focus on stronger communications with consumers and health care professionals. Olive will initially meet with and gain the views of hearing industry management and hearing care professionals. From this input, he will develop a BHI Strategic Plan which will also incorporate the findings of the landmark study by the National Council on the Aging (NCOA). This study confirmed the important role of hearing instruments in improving quality of life (for a summary, see Kochkin & Rogin's article in the Jan. 2000 HR).
---

Hearing aid drying system purchased by S&S Laser Products
New Port Richey, FL — S&S Laser Products announces its purchase of the rights for manufacturing the Moisture Guard Electronic Hearing Aid Dryer from Hearing Technologies, Pinellas Park, FL.
The Moisture Guard system is housed in an attractive cherry wood (jewelry type) box, is driven by a 12V transformer and is designed to be economical.
---
AuD students log onto ASHS distance education course
Phoenix, AZ—Thirty-three AuD students from 20 states are logging onto their first distance education class this month, according to the Arizona School of Health Sciences (ASHS).
"I want to make sure the students have an easy transition back into school and into the challenging realm of distance education," says Tabitha C. Parent-Buck, AuD, audiology department chair. "Many of the students have been out of school for 15 years or more."
ASHS will continue to enroll new students each month through October 2000, and then enrollment will be on a quarterly basis each year. Audiologists wishing to obtain an AuD from the ASHS are screened for their respective strengths and weaknesses, with a resulting program developed for their needs. The ASHS curriculum contains 44 courses (modules) which cover the broad scope of audiologic care, including topics such as neuroanatomy, tinnitus, central auditory processing, advanced hearing instrument technology, hearing conservation and business courses. On average, students' individualized academic plans contain 6-12 courses which can be completed in a one-year period. The distance education AuD program will be offered through 2004-2005. For information, visit the ASHS website at www.ashs.edu.