TOP NEWS and HEADLINES in August
New Access Legislation Hailed by Consumer Advocates
Jerry Northern Appointed Director of Special Projects in Education and Training at Starkey
Sonion Businesses to Be Renamed Pulse
US Congress Overrides Bush's Medicare Veto
With Gestures, Rules of Grammar Remain the Same
Phonak Announces third European Pediatric Conference
American Tinnitus Association Names Gary Reul as CEO
Levofloxacin Effective for AOM in Infants and Young Children
Beltone Introduces "Reach"
MedRx Enhances REM Speech Probe Microphone Design
To Sing Like Shakira, Press "One" Now
New hearing aid technology passes restaurant noise test. A study by Michael Valente, PhD, and Karen Mispagel, MS, at Washington University in St Louis is the first to test open-fit directional hearing aids using the Revitronix R-Space system designed to simulate accurately a noisy restaurant (see October 2007 HR). "We found that the open-fit hearing aids with directional microphones on average gave wearers a 20% improvement in speech intelligibility in the restaurant setting compared to not having a hearing aid or wearing an open-fit aid without a directional microphone," Valente says. "We are the first to show that a directional microphone in open-fit can provide improved performance in noise." Aids without directional microphones performed worse in the noisy situation than no aid at all. The study, which was supported by Vivatone, appears in the June edition of the International Journal of Audiology, guest-edited by Sigfrid Soli, PhD. July 17, 2008 HR The Insider

Rep Heller Honored by HLAA & HIA

Brenda Battat, president of HLAA (center), and Andy Bopp, director of government relations for HIA (left), welcomed Rep Dean Heller to the event. The hearing aid tex credit bill has attracted 92 House co-sponsors.

Reno, Nev—The Hearing Loss Association of America (HLAA) and Hearing Industries Association (HIA) thanked Rep Dean Heller (R-Nev) for his support of hearing health issues—including the hearing aid tax credit—during the HLAA Convention on June 13. Heller welcomed the HLAA members to Reno and added that he will do everything possible to support this legislation, which he referred to as one of the few bills that he has decided to co-sponsor in this Congress. Heller was also interviewed at the conclusion of the program by a camera-team from NBC television in Reno, and he answered questions about the importance of passing the hearing aid tax credit. For more information, visit www.hearingaidtaxcredit.org.

Sudden hearing loss could be warning sign of future stroke. Sudden sensorineural hearing loss (SSNHL) can be an early warning of impending stroke, according to a case-control study posted online on June 26, which will also appear in the October issue of Stroke. Herng-Ching Lin and colleagues at Taipei Medical University in Taiwan recommend that patients with sudden sensorineural hearing loss, "particularly those with other vascular conditions or elderly patients, should undergo a comprehensive hematologic and neurological examination to help clinicians identify those who are potentially at risk for stroke in the near future" and should have routine follow-ups for several years after the occurrence of SSNHL. July 3, 2008 HR The Insider.
Memory impairment affects central auditory function. A study by George A. Gates, MD, and his research team at the University of Washington in Seattle found that, on all auditory tests administered, the scores worsened as memory ability went from unimpaired to mildly impaired to dementia. This finding held true even after adjusting for age and peripheral hearing status. Writing in the Archives of Otolaryngology-Head and Neck Surgery, the authors concluded, "We recommend that central auditory testing be considered in the evaluation of older persons with hearing complaints as part of a comprehensive, individualized program to assist their needs in both the aural rehabilitative and the cognitive domains." July 24, 2008 HR The Insider.
Task Force recommends UNHS over targeted screening. All newborn infants should be screened for congenital hearing loss that is present at birth, according to a new recommendation from the US Preventive Services Task Force, publishing its summary of evidence in the July 7 issue of Pediatrics. The Task Force detailed how children whose hearing is impaired at birth, during infancy, or in early childhood can have problems with verbal and nonverbal communication and social skills, increased behavioral problems, and lower academic achievement compared with children with normal hearing. Infants at high risk for hearing loss include those who have spent more than 2 days in a neonatal intensive care unit; those diagnosed with certain syndromes, such as Waardenburg or Usher syndrome; and those with a family history of childhood hearing loss. Because half of infants with hearing loss have no identifiable risk factors, the Task Force proposes universal newborn hearing screening (UNHS), rather than targeted screening. Detecting and treating infants for hearing loss, rather than detecting it at a later age, provides better chances for positive outcomes such as stronger language skills, says the report. The Task Force recommends screening using a two-step screening process that includes otoacoustic emissions followed by auditory brainstem response in those infants who fail the first test. July 10, 2008 HR The Insider.
Scott Haug Hill Country Audiology Retreat scheduled for September. The 24th annual Scott Haug Hill Country Audiology Retreat is scheduled for September 25-28, 2008. Speakers this year include Donald Schum, Robert Sweetow, William Shapiro, Rose Minnete, MA, and Paul Dybala. For information, visit www.scotthaug.org. July 3, 2008 HR The Insider.
New US Drug Marketing Code draws line at gift pens. New guidelines released July 10 by the Pharmaceutical Research and Manufacturers of America (PhRMA) prohibit drug makers from giving out pens, as well as other "non-educational" items, such as mugs, to health care providers and their staffs. As part of its revised marketing code, the pharmaceutical trade organization determined that such items, which are typically adorned with a company or product logo, may foster misperceptions that these interactions with health care professionals "are not based on informing them about medical and scientific issues." July 17, 2008 HR The Insider.
Study details use of TMS coil on tinnitus patient. Mark Mennemeier, PhD, and John Dornhoffer, MD, at the University of Arkansas for Medical Sciences (UAMS) published results of an initial case in the July issue of The Laryngoscope in which a single patient was tested to examine the safety and feasibility of using maintenance sessions of low-frequency repetitive transcranial magnetic stimulation (TMS) to reduce tinnitus loudness and prevent its return over time. TMS involves the placement of a coil on the scalp that creates a 2-3 cm magnetic field over the brain's surface designed to activate or inhibit neural activity. "The patient in our case study reported his tinnitus to be unobtrusive in his daily life when he was assessed 4 months after his final round of maintenance therapy," Mennemeier says. July 17, 2008 HR The Insider.
TAA to hold "Audiology at the Crossroads" in November. A 2-day conference by the Texas Academy of Audiology (TAA) with the theme "Audiology at the Crossroads" will take place November 14-15 in Richardson, Tex, bringing together hundreds of audiologists from Texas and adjacent states. Featured speakers include Marion Downs, James Jerger, Aage Moller, Todd Ricketts, Craig Newman, and an array of other notable audiologists. "This year, the Texas Academy of Audiology is offering one of the most outstanding programs ever, with internationally known speakers," says TAA President Ross J. Roeser, PhD. For information, visit www.texasaudiology.org. July 3, 2008 HR The Insider.
Advanced Bionics settles dispute with FDA. Advanced Bionics, Sylmar, Calif, agreed to settle an administrative complaint arising from a disagreement with the US Food and Drug Administration (FDA). At issue was an FDA assertion that the company should have made a formal submission 5 years ago before using a second vendor for a component, called a feedthru, in its cochlear implant system. Although the FDA did not accept Advanced Bionics' arguments, the company believes it acted in good faith, and followed FDA guidelines, and denies that it violated the law. Nevertheless, rather than continuing a protracted and costly legal process, the company reports that it decided to settle the issue, agreeing to pay the FDA $1.1 million, with the CEO agreeing to pay $75,000. July 24, 2008 HR The Insider.
---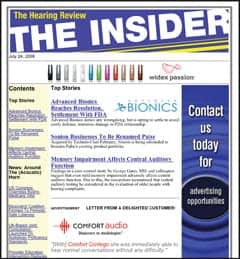 Get Your Weekly Edition of THE INSIDER
Every week The Hearing Review sends out THE INSIDER, a weekly FREE e-newsletter devoted to the top hearing-related news, research, product introductions, fitting topics, and marketing research stories that are influencing your business or practice, as well as the industry at large. [register]Sign up for your free subscription[/register].