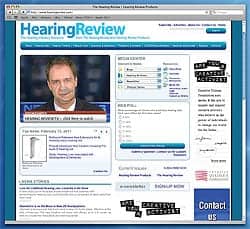 TOP NEWS and HEADLINES in February
Bone-Anchored Hearing Aids Beneficial for Pediatric Applications
Sonic Innovations Launches into Wireless with Varicom Line
Hearing Impairment Common, Perhaps Preventable, for Middle-Age Adults
Cure for Childhood Hearing Loss Could Be in the Nose
Some Insomnia Related to Work-Related Hearing Loss and Tinnitus
Phonak Launches Phonak CROS for Unilateral Hearing Loss
SoundBite In-the-Mouth Hearing System Is FDA Cleared for SSD
Otometrics Is on the Move to New US Headquarters
NIH Grants Available for Technology that Improves Access to Health Care
Phonak Introduces New Ceramic Housings for Audeo S Hearing Aid
Hearing Loss Associated with Development of Dementia
Hearing aid unit sales increase by 3% in 2010; up 1% for private practices/businesses. According to Hearing Industries Association (HIA) year-end statistics, 2.69 million net hearing aid units were sold in the United States during 2010, for a 2.8% increase over 2009 sales. However, the Department of Veterans Affairs (VA) had another busy year in dispensing hearing aids, with its unit volume topping 536,000 units (19% of the total market), or an increase of 10.8%. Thus, when ignoring VA activity, private sector unit sales increased by 1.0%.

Total sales in the fourth quarter were down by 1.4%, while private sector sales decreased by 2.0%. HIA figures also show that BTEs now constitute 66.9% of the market, after making up 58.8% and 65.7% of the market in 2008 and 2009, respectively.

Boycott of Internet hearing aids garners support…and controversy. The Web site BoycottInternetHearingAidSales.com (BIHAS) has gained over 800 registrants in 3 months—while also provoking some strong industry protest with regard to the site's current list of six alleged "online suppliers." Launched in late November by EarQ Group founder and President Edward Keller and what the site describes as "a group of hearing healthcare professionals who believe that the growing trend of Internet sales is an industry-wide crisis," BIHAS is designed to bring attention to what it says are the negative effects of selling hearing aids online.

In an interview with HR, Keller said that his motivation for establishing BIHAS was to prevent consumers from "placing themselves at risk for a medical issue," but he also believes that Internet hearing aids have the potential to slowly destroy private practice dispensing. "This is an enormous issue, and to me, it's an industry-defining issue…. What we're learning is that the Internet presents a lot of opportunity but also several challenges, because an issue like [hearing loss] shouldn't be dealt with through a Web site and a call-in center. It's just too complex an issue; the consumer needs to start with the correct first step in order to ensure that their specific needs are adequately met."

According to MarkeTrak VIII (October 2009 HR), 4.7% of all US hearing aid purchases involved mail-order sources, but it's unclear how many hearing aids (versus personal sound amplification products, or PSAPs, a class of devices that are not considered "hearing aids" by the FDA) are actually purchased online. Historically, the issue of Internet, direct-mail, and over-the-counter hearing aid sales has been controversial. For example, 8 years ago in February 2003, two Citizens Petitions were denied by the FDA: one would have abolished the required medical evaluation and waiver procedures prior to dispensing hearing aids, and the other requested the establishment of a new "over-the-counter" (OTC) hearing aid classification (see the March 2004 HR news story). Opposition from professional organizations to the petitions was virtually unanimous, and judging from several American Academy of Audiology forums on the topic, dispensing professionals probably opposed the petitions by about 2-to-1. However, many leaders within the professional organizations and the audiological community privately concede that both petitions made a number of good points, and access-related issues remain an industry-wide concern.

The BIHAS Web site's procurement of 800 members in 3 months would not have been attainable without strong support from dispensing professionals, says Keller. He points to the dispensing professionals' anonymous comments on the BIHAS bulletin board as proof of a need for a professional voice that places pressure on manufacturers that rely on the Internet for sales: "Finally, a place that is standing up for audiologists! It is a disservice to patients everywhere to think that ordering aids over the Internet is in their best interest," writes one person identified as an audiologist.

Sonova companies object that they're wrongly targeted. But it's the BIHAS "online suppliers" list—which lumps the Sonova Group (Phonak, HearingPlanet, and Seven Hearing Aids LLC) in with several other direct-to-consumer firms, including Natureear and America Hears—that has drawn a strong rebuttal from Phonak and HearingPlanet.

In an interview with HR, Phonak President Mike Orscheln said that his company "is committed to the hearing health professional channel" to dispense hearing aids to the consumer. "The independent dispenser is the lifeblood of Phonak," says Orscheln, pointing to the commitment of past company presidents Helmut Ermann, Mike Jones, and Cathy Jones. "Coming from a [nearly 30-year] health care background, I also have a very strong commitment and deep appreciation for the professionals who prescribe a medical device like hearing aids. We're completely committed to the hearing healthcare profession. In addressing the issue of online hearing aid sales, we officially issued in late 2007—right after I joined Phonak and while working closely with Cathy [Jones]—a position statement that can be found on our Web site. [It says] our commitment is to help people with hearing loss, and we will do that only through hearing care professionals."

Bill Brownie, president of HearingPlanet, also objects to the BIHAS characterization of his company as an "online supplier" of hearing aids. "HearingPlanet does not sell hearing aids over the Internet, period," says Brownie. "We use the Internet solely as a lead-generation tool to set an appointment for a consumer at a clinic that's close to them." He says that their system of funneling patients to hearing care professionals differs only slightly from that of other network organizations that compete for online referrals—including HearPO, Epic, and TruHearing—in that HearingPlanet collects payment from the consumer and then pays the clinician the agreed fees-for-services. He also contends that many, if not most, networks and dispensing groups use consumer call-in centers, including EarQ.

Orscheln emphasizes that a wide gulf exists between the Sonova companies and direct-to-consumer Internet firms. "The Internet is obviously a great way for consumers to research anything, including topics related to hearing devices and hearing loss," he says. "But we certainly don't support the idea of consumers buying hearing aids directly online or consumers trying to fit themselves with hearing devices. We only support what might be viewed as 'the approved channels,' including a system where consumers initially come into contact with HearingPlanet hearing consultants. But these consumers always end up working closely with qualified dispensing professionals who fit them with a hearing aid and counsel them."

Further, Orscheln maintains that this is a corporate-wide Sonova view. "Although I'm not a Sonova Group spokesperson, I do know that's the only way Sonova would [dispense hearing aids in developed countries]. And, if that changed, I would be fundamentally opposed, because I think that's just wrong—not just from a dispensing standpoint but also from a patient-care standpoint."

Fees for service a threat to independent dispensing? Beyond Internet sales of hearing aids, Keller and those who started BIHAS are critical of fee-for-service/online referral organizations, which, they say, if successful, will have a negative long-term effect on independent hearing care practitioners by taking customers and sapping profits. "Ultimately, I think private practices need to make wise choices about their business partners, and we all need to be conscientious about who we support, as well as mindful of suppliers who are also our competitors.

"When you have a [business] entity that contrasts with your practice's ability to maintain its long-term [fiscal] health, then you have to look at how this ultimately affects your patients," continues Keller. "We're seeing private practices that are struggling financially. If we continue to support organizations that are not creating market growth and that are also [sapping revenues with] fee-for-service structures, we're changing the whole dynamics of the industry in a way that is not good for the patient, not good for private practice, and ultimately not good for the manufacturers.

Orscheln disagrees. "I'd like to see the financials that they're basing these assumptions on," he said. "I can build a financial model that, in terms of invested or managed capital [relative to lead generation], can be very profitable for the dispensing professional to belong to a HearingPlanet-type network—if it's right for them, and they fit the right products, and they provide excellent patient care. Our financials indicate that this is accretive, not dilutive, to a hearing care business or practice—and the fact that so many successful practices have belonged to the network for upwards of a decade is a testament to this fact."

Brownie says that HearingPlanet and others like it are merely going where the consumer is, and if Internet referral services did not exist, many more consumers would end up getting their hearing aids through nonprofessional channels. "We're simply pulling them into the professional channel, as opposed to pushing out a message that 'we can do it better or differently or without the help of a qualified professional.'" He also notes that HearingPlanet is able to provide consumers with background information on their network providers, which gives them a level of comfort that is crucial in their decision to seek hearing help.

Keller is skeptical that online referral organizations have created real growth in the market. "All they're really doing is taking customers and revenues from the existing dispensers. Ultimately, their goals and the goals of private practices don't fit together very well…. We believe that the best thing possible for private practice dispensing is to have a [financially] healthy business that will be around for many years to serve patients…. In order to do that, your practice needs proper staffing and training, you need to educate patients, invest in marketing, etc—and ultimately you need revenue to pay for all these activities."

The issue of liking or disliking the fee-for-service structure boils down to the type of practice you have, says Brownie. "HearingPlanet isn't for everyone," he says. "Yes, we pay the professional a flat fee [about $500 per ear] for seeing a patient, and that's the same fee whether the patient purchases an economy or premium hearing aid. So, one assurance for a reluctant hearing aid purchaser is that they're going to get a recommendation based on their specific needs and not based on any perceived profit motive of the dispensing practice…. We try to provide good value and service to our customers, and we also try to build a good relationship with our network providers. But HearingPlanet isn't for everybody, and we know that."

According to Brownie, the HearingPlanet business model is built completely around lead generation and new business, and the strongest incentive for belonging to their network is repeat purchasers, as well as the satisfied customers who refer family and friends to the dispensing office. "Our retention rate relative to previous purchasers is miniscule," says Brownie. "We're the first to tell our network providers that 'You now have a relationship with a patient that you didn't have before, and they are now your patient. So, if you provide good service to one of our referrals, they become your customer, period. And so are their friends and family members that they refer to you.'" He adds that a few of HearingPlanet's 1,200 network providers don't do any advertising or marketing, and instead rely completely on HearingPlanet referrals for business growth.

Seven Hearing Aids. Brownie also runs Seven Hearing Aids LLC, which is based out of HearingPlanet's headquarters in Brentwood, Tenn. Sonova's market research indicates that the younger mild-to-moderate hearing loss group is extremely convenience-focused and very resistant to seeking help that would require an office visit(s) or professional consultation. Thus, the Seven Web site is deliberately vague regarding the fitting process. When visiting the www.sevenhearing.com Web site, it's easy to jump to the conclusion that it is a direct-to-consumer hearing aid company; however, Brownie says that Seven operates as a regular hearing aid company, with HearingPlanet offices assisting in the lead generation. Seven is currently available in only a few states and, due to its lower product price and the resulting lower margins, he says that it has been a challenge to get dispensing offices to offer the brand.

Orscheln notes there has been a lot of confusion about Seven primarily due to its Web site and the unique demographic group that it is attempting to capture. He also admits that the company did not relate information about Seven in a "broad way" because it is a "pilot or trial" approach for a previously untapped market. "What I see in Seven," says Orscheln, "is that Sonova is trying to push the envelope as a leader in innovation [to find] a way to break into or crack the code relative to groups where there are so few people utilizing hearing aids. So Sonova is introducing products, like Seven, that are essentially entry-level or first-worn types of products. However, it's important to understand that these still go through the hearing care professional. To me, that's why I'm very proud of our company, and feel very lucky to be a part of Sonova and the hearing health care industry."

An evolving professional organization. Keller says that one of the goals of BIHAS is to put a brake on the number of fee-for-service organizations appearing in the hearing care market. "What happens if, in the future, 25%, 35%, then 45% of your patients start coming from fee-for-service organizations that rely on Internet [referrals] and this becomes a primary conduit for customers? What would be the effect on today's private practices, and how many would still be able to survive?"

He also believes that the BIHAS Web site is only a starting point. He says that, ultimately, he would like to see BIHAS grow to a point where it would be handed off as its own organization that pursues private practice issues related to the Internet.

Although it is clear that this topic has multiple issues and several different stakeholders, one important area of agreement in the comments above reflects the critical role of hearing care professionals in the testing and fitting of hearing aids for both patient care and the ongoing success of the industry.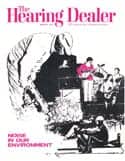 Hearing Dealer, March '71
Looking Back…
40 Years Ago in March 1971. The Hearing Dealer featured a special edition on "Noise in the Environment" that dealt with noise pollution and hearing protection. Alan Eckel provided an overview of audiometric rooms in hearing testing, and a review of products included test booths from Dahlberg, Audio Shuttle Corp, EAC, Amplifon, C.A. Tegner, Rink Corp, and Industrial Acoustics. In the news, Danavox established its wholly owned US subsidiary after distributing their US hearing aids through a national agency during the 1960s. National Hearing Aid Society (now IHS) Executive Secretary Anthony DiRocco shared a description of a typical day at NHAS, which included a call from NHAS President Joe Lucke about the upcoming (Nixon) White House Conference on Aging, and DiRocco also noted the great popularity of the new textbook, The Hearing Aid: Its Operation and Development, by Kent State's Kenneth Berger.
30 Years Ago in March 1981. This issue of Hearing Instruments magazine was also dedicated to the topic of noise. In the HI Opinion column, Karen Cranmer (now Briskey) detailed the just-released OSHA

1981 HIA Officers and Board of Director members (l to r) Milton Bolstein (Hearing Aid Journal), HIA Counsel Russell Bennett, Tom Yeats (Bosch Hearing Instruments), HIA Outgoing President Glenn Kennedy (Danavox), James Keyes (Audiotone), John Zei (Beltone), HIA Executive Director Sheldon Hauck, Marjorie Skafte (Hearing Instruments magazine), newly elected HIA President William Austin (Starkey), Ed Wright (Ray-o-vac), and Ed O'Gara (Telex).
recommendations for hearing conservation programs, which called for hearing protectors, exposure monitoring, audiometric testing, and training for workers (except those in agriculture and construction) exposed to noise levels that are equal to or exceeding an 8-hour TWA of 85 dB. An article by Junius C. McElveen, Jr, JD, discussed how much compensation noise-induced hearing loss is worth, and listed various formulas for compensation rates. Harold and Dana McSpaden (children of current HR Editorial Board Member Jay B. McSpaden), who at that time were in high school, published a brief article that described a high-school dance in which noise levels exceeded 100 dB as measured 10 feet from the live band's speakers. (Harold would become a medical doctor, and Dana is a prominent audiologist and lecturer at state and national meetings.) In the news, Gene McHugh was announced as the director of sales and marketing at Westone; Rexton (Zurich) President Paul Bommer announced the appointment of H. Jakob Skadegard as the company's executive vice president; and Phonic Ear President Tom Cowley announced the promotion of Rick Pimentel to vice president.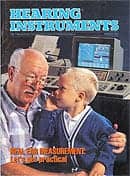 Hearing Instruments, March 1981
20 Years Ago in March 1991. The March edition of Hearing Instruments was dedicated to real-ear measurement. An article by David Hawkins, Ellen Alvarez, and Joanne Houlihan explored the reliability of three types of probe-mic measures; Robert Sandberg, Jay McSpaden, and Dan Allen compared probe-tube placement methods; and Veronica Heide looked at variables in REM. An article by Roy Sullivan and Jerry Agnew detailed a new Binaural Equalizer Tool from Starkey for use in pre-selection counseling, fitting, and follow-up, and Robert Sweetow wrote an article on "Binaural Fittings for Asymmetrical Losses." In the news, Marshall Rosner of GN Danavox was quoted in a story about the company's new instrumentation division in Minnetonka, Minn, to support Madsen, Hearware, and the CAS computer analyzer; Knowles President and COO Reg Garratt was promoted to CEO; Glenn Kennedy was named president of Sonotone; and the House Ear Institute moved into its brand-new facilities in Los Angeles.
10 Years Ago in March 2001. HR's cover story was about the House Ear Institute and featured an article from Andrew Grove and Neil Segil titled "The Challenge of Hair Cell Regeneration." Another staff-written article, "An Industry in Transformation: Technology and Consolidation Lead the Field into a New Millennium," detailed how the consolidation movement and digital instruments were reshaping the industry. Randi Pogash and Curtis Williams published an article on occlusion and own-voice fitting protocols, while Joel Mynders published an opinion column, "Disposable Hearing Aids: Advice and Suggestions," in response to the new Songbird Medical hearing device. The news noted that industry groups were petitioning the FCC in an effort to halt the auctioning off of the 216-220 MHz bandwidth.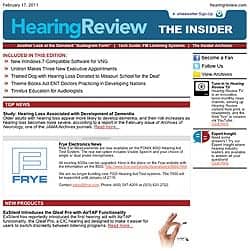 Get Your Weekly Edition of THE INSIDER
Every week The Hearing Review sends out THE INSIDER, a weekly FREE e-newsletter devoted to the top hearing-related news, research, product introductions, fitting topics, and marketing research stories that are influencing your business or practice, as well as the industry at large. [register]Sign up for your free subscription[/register].