Crystal Ear PRO Launched as a Device for Dispensing Professionals
Lutz, Fla — Crystal Care International, a company known for its Crystal Ear mail-order hearing aids, has launched a marketing program for a digital product that involves dispensing professionals and a unique money-back coupon for professional dispensing assistance. The new approach has even gained the support of two prominent audiologists, former Academy of Dispensing Audiologists (ADA) President Kenneth Smith, and long-time industry audiologist Roxann Bonta, former editor of ADA Feedback.
Bonta's company, Involutions, Eden Prairie, Minn, has partnered with CCI to introduce the Crystal Ear PRO and a marketing program that involves an "over-the-counter product" for $379 to be dispensed by about 100 hearing care franchises throughout the US in the first year. The Crystal Ear PRO is a soft-shell digital ITE-type product that is billed as an assistive listening device (ALD) designed to fit 85% of adult ears (ie, the average adult over age 55). It reportedly includes a volume control, wax guard, and "clean, crisp sound" with digital feedback suppression. The company's literature states that the marketing program is "an invitation-only process which will not be available to every clinician," and those dispensing offices that choose to become part of the process "may be given an exclusive territory in which to promote this product and process."
The "process" relies more upon its marketing concept than the actual digital device. The dispensing process involves no initial hearing testing, counseling, or professional contact, but does provide for a unique professional referral component. Leads are generated by CCI's regional and national advertising, as well as that of participating dispensing offices, and the ads will be directed at "people who need a 'little help' or need something for specific usage," including situational and part-time wearers. The product literature dissuades people who have medical conditions (eg, diabetes) from using the device. Consumers purchase the product from the hearing care office (eg, office staff members) without professional contact. However, the important element of the program is that the device comes with a 30-day money-back trial and a 90-day warranty to the consumer, plus a coupon good for a substantial amount off a purchase (eg, approaching or exceeding the cost of the Crystal Ear Pro hearing aid) should they become dissatisfied with the hearing aid. Those consumers who purchase the aid(s) and find it to be unsatisfactory, can return it within 30 days to get their money refunded (minus $19.95 for postage and handling) and also receive the coupon which can then be applied to a professionally fit hearing aid.
Those dispensing offices that sign up for the program have to pay a fee for which they get a territory, but they also have the option of signing up other clinicians in that territory.
Crystal Ear International has a controversial reputation in the hearing care field because it has sold hundreds of thousands of mail-order devices and, at one time, implied in advertising that dispensing professionals overcharge for their services. In 1996, the US Food and Drug Administration (FDA) sent Comtrad International a letter stating that the product was, indeed, a hearing aid and that their advertisements were misleading. A number of state attorneys general, including Florida, also accused Nehr of selling hearing aids in violation of state prohibitions against mail order aids. Nehr has consistently contended that his products are assistive listening devices (ALDs)—and not hearing aids—and therefore are not subject to FDA hearing aid fitting rules and regulations. Going before court in Tampa, Fla, in August 2002, a jury ruled in favor of his contention, and he was cleared of felony fraud charges.
The Crystal Ear PRO follows two other attempts at over-the-counter-type approaches that were, at least in part, aimed at increasing market penetration among younger consumers (eg, Baby Boomers). The Songbird disposable hearing aid was geared toward a similar percentage of hearing losses as the CE PRO (85%), but the product and its dispensing concept failed to gain traction in the professional market. A recent Internet posting indicates that Songbird has now pulled all its products from the US (although it continues to be sold in Europe). The company has not responded to repeated contacts by HR. Likewise, FDA Citizen's Petitions for OTC hearing aids filed by Mead Killion and Gail Gudmundsen were rejected in February 2004 by the Agency (see March 2004 HR, p 10). The petitions would have permitted the establishment of a product class of low-power, non-custom OTC hearing aids, with the goal of allowing consumers to "try" amplification similar to "cheater" glasses that are available in pharmacies and grocery stores.
Likewise, Smith and Bonta explain that their involvement with the new product stems from a pragmatic need to reach the nearly 24 million people who have a significant hearing loss but who will not try amplification for a number of reasons. These include younger people who have milder losses, as well as those who are reluctant to purchase a hearing aid due to price and convenience issues. Currently, the average age of a first-time hearing aid purchaser is over 68 years old. Additionally, through years of marketing its Crystal Ear device, CCI has one of the nation's most comprehensive lists available of people interested in improving their hearing, and Nehr and his company have repeatedly expressed a desire to share this list with dispensing professionals.
---
.Pediatric Hearing Assistance Program Members Announced by Widex
Lisle, Ill – Widex recently hosted the group of hearing health care professionals who are its 2005 Pediatric Hearing Assistance Program partners at its Office of Research in Clinical Amplification in Lisle, IL. This is the fourth consecutive year of the program where Widex teams with professionals to provide state-of-the-art digital hearing aids to children whose families have limited financial resources. For this year, the company has provided over $125,000 in funds to five groups of pediatric professionals, and the professionals contribute their expertise and resources to assist children in obtaining high-technology hearing instruments. In return, the hearing, speech, and language development of the children is monitored in order to document the impact of this technology. The performance information is pooled across the sites and managed by Widex. It is hoped that the information obtained from the program will further increase the understanding of pediatric hearing aid fittings as well as improve hearing aid reimbursement procedures for children. The 2005 Pediatric Hearing Assistance Program Partners and the Site Managers included Lynn Spivak, PhD, site manager, Long Island Jewish Medical Center, New Hyde Park, NY; Jace Wolfe, PhD, site manager, Integris Baptist Medical Center, Oklahoma City, OK; Arla Melum, MA, site manager, Columbia Regional Program, Portland, Ore; Gloria Garner, AuD, site manager, Medical College of Georgia, Augusta, Ga; Kelly Tremmel-Howell, AuD, site manager, Long Island Jewish Medical Center, New Hyde Park, NY.

Widex Pediatric Hearing Assistance Members for 2005 include (seated l to r) Gloria Garner, Lynn Spivak, Jeremy Federman, Kelly Tremmel-Howell, Jane Auriemmo, (standing) Francis Kuk, Jace Wolfe, Carolyn Barton, Cindy Kollofski, Teresa Caraway, Arla Melum, and Alison Nachman
---
Cochlear Corp Gains FDA Approval for New Implant
Denver — Cochlear Americas has received approval from the FDA to market the Nucleus® Freedom™ cochlear implant system, and the new device begins shipping to clinics this month.

Cochlear Corp's Nucleus Freedom includes both a new internal component and speech processor.
"The Nucleus Freedom offers a variety of innovative features designed to provide users with an experience more similar to natural hearing, allowing them the freedom to interact more fully with the world around them," says Chris Smith, president of Cochlear Americas. "For instance, the Nucleus Freedom is the first device to offer SmartSound™, a combination of three unique sound technologies designed to enable better hearing in everyday listening situations. It is also the only cochlear implant system with a water resistant speech processor."
The Nucleus Freedom implant features the Contour Advance™ electrode, a self-curling electrode array that allows the electrodes to be placed close to the hearing nerve for targeted stimulation and increased power efficiency, while applying minimal pressure on the cochlear structures. The Contour Advance is said to be the only electrode array designed to protect cochlear structures during surgery.
The new device also offers SmartSound™ Beam™, a dual-microphone system designed to soften distracting background sounds and the ADRO™ algorithm, which is designed to automatically adjust sound levels to deliver a balance of clarity and comfort, as well as enhance listening to music and in dynamic environments. The device is also designed to operate on one set of commercially available batteries for up to five days, depending on the user's coding strategy and rate.
---
Tri-State's Willoughby Award Goes to Austin
Portland, Ore – Scott Austin, CEO of Willoughby Hearing Aids Inc, was just awarded the Paul Willoughby Award by the Tri-State Convention Inc. The award, named for Austin's mentor, is given for the "person who has contributed to promote effective hearing aid use and their unselfish contributions to the hearing aid industry."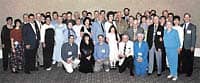 Scott Austin was presented with the Paul Willoughby Award at the recent Tri-State Convention in Portland, Ore. File photo.
Only seven people, including Austin, have received the award since it's inception nearly 20 years ago, in 1986. Currently Austin is the vice-chair of the Oregon Governor's Advisory Council on Hearing Aids, the state licensing board that regulates hearing aid distribution. He served as president of the International Hearing Society from 2000-2002. In that capacity, he oversaw the successful efforts to end an FDA rule-making effort that would have erected barriers hindering hearing aid specialists from helping the hard-of-hearing. The battle was waged over 12 years, but ended successfully for the industry, when the rule-making was closed without changes.
Austin is a founding member of America's Hearing Healthcare Team, an initiative to promote better hearing awareness for all Americans. He also served as director of the National Board for Certification in Hearing Instrument Sciences (NBC-HIS). He is co-owner of Willoughby Hearing Aids Inc, one of the largest private dispensing offices in the Pacific Northwest, headquartered in Portland and serving all of Oregon and southwestern Washington.
---
Audio Controle Awards 2005 Scholarship to Brian Miles
As part of a student program initiated four years ago, Audio Controle, Sherbrooke, Quebec, has rewarded scholastic excellence with a scholarship for deserving students. In March, the company named Brian Miles of Grant MacEwan College as its 2005 recipient of the Audio Controle Scholarship for Excellence.

Jacques Erpelding, VP of R&D at Audio Controle, presented the Audio Controle Scholarship to Brian Miles from Grant MacEwan College's 2005 graduating class in March. Also pictured is Jean Duncan, chair of the Hearing Aid Practitioner Program at the college.
---