---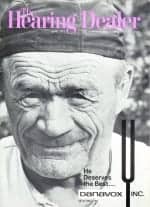 June 1972 Hearing Dealer
40 Years Ago to June 1972. In Hearing Dealer magazine, an article on the channel capacity of the ear, drawn from research by the National Bureau of Standards, showed that hearing "must therefore consist primarily of recognition of groups of sounds, with recognition of meaning being a separate and subsequent process. The relationship that was found between channel capacity and loudness suggests that knowledge of loudness-intelligibility relationships will greatly assist medical research on hearing impairment." In industry news, National Hearing Aid Society (now the International Hearing Society) President Joseph Lucke, NHAS executive director Anthony DiRocco, A.P. Mynders, and Buel Kent met with Veterans Administration Director of Prosthetic and Sensory Aids Robert Stewart, DDS, to suggest that "the vast network of hearing aid dealers could be utilized to provide more convenient, economical and efficient hearing aid services to veterans."
30 Years Ago to June 1982. Hearing Instruments magazine carried Part 1 of an article on pediatric hearing loss and educational performance by Gerald Burgener, PhD, and John Mouw, PhD, that concluded: "Thus, it appears that normal hearing cannot predict high achievement, but a minimal hearing loss can predict low achievement." In the news, President Reagan welcomed Better Hearing and Speech Month chair Nanette Fabray and poster child Greg Hill to the Oval Office to lend his support for hearing care awareness.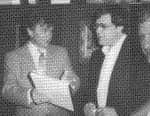 March 1982: Bob Sandlin discusses a paper with Dan Bode at the 12th Annual International Hearing Aid Seminar in which Sandlin served as the chairman. Speakers included Pamela Sample, Patricia Baird, Geary McCandless, Hyman Goldberg, James Curran, James Nunley, David Preves, E. Robert Libby, David Pascoe, Ole Berlund, Hans Bergenstoff, and Hans-Jurgen von Killisch-Horn.
20 Years Ago to June 1992. GN ReSound was reported by Hearing Instruments as the first hearing aid manufacturer to receive ISO 9001 certification. A dispenser survey by HI editor Karen Cranmer-Briskey showed that, in 1991, 56% of all US hearing aid fittings were binaural, with 82% being in-the-ear aids and 33.5% being non-linear (today's statistics: 75% binaural, 30% ITE, and >95% non-linear, respectively). Average prices ranged from $644 for BTEs to $815 for ITCs (or $1,630 and $2,062, respectively, in 2012 dollars). An article by 3M's Paul Stypulkowski et al looked at the company's MemoryMate hearing aid, one of the first to program multiple responses into an 8-memory, 2-channel device. James Piccolo provided an article titled "Computerizing a Hearing Instrument Dispensing Office" (Piccolo recently launched a new OMS system called HearingFusion at AudiologyNOW! 2012), and the news contained obituaries for Stevenson Porter, the first-ever employee of GSI founder Rufus Grason, and Hans-Jurgen von Killisch-Horn, founder of Median-Verlag, the publisher of the German trade journal Hörgerate-Akustiker (now known as Hörakustik), which was established in 1962.
10 Years Ago to June 2002. Hearing Review published an article by Laurel Christensen, Dana Helmink, Wim Soede, and Mead Killion on the Etymotic Research Link-it array microphone, a highly directional device that resembles a miniature boom microphone. In the news, information was provided on the upcoming HIPAA legislation to be implemented in April 2003, Gennum and DSPfactory announced a strategic supply agreement, and the National Association of Special Equipment Distributors (NASED) honored Gordon Stowe with its Lifetime Achievement Award.
---