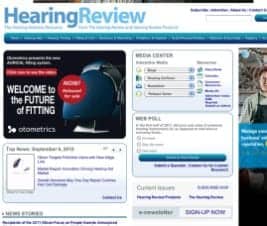 TOP NEWS and HEADLINES
Recipients of the 2011 Oticon Focus on People Awards Announced
Cochlear Issues Voluntary Recall of Nucleus CI500 Implant. AB Gets FDA Approval for Reentry of HiRes 90K
HLAA Redesigns Website
ASHA Announces 2011 Media Award Winners
U Penn: Hearing Aids May Help Decrease Brain Atrophy in Older Adults
Video: Hearing Loss Gets National Attention with Matt Lauer
After Starkey Foundation Event, Whoopi Goldberg Reveals She Wears Hearing Aids
SEC Issues Alert Regarding Fraudulent Investment Fund for the Deaf
Hearinghealthmatters.org Adds Blog for Consumers
Oticon Targets First-time Users with New Intiga Lines
BHI Survey: Hearing Aids Help Majority of Users to Regain Quality of Life
Growth Hormone May One Day Repair Cochlea Hair Cell Damage
Researchers from Western Kentucky University and the University of Louisville have identified a growth hormone that repairs hair cell damage in the ear of a zebrafish. The findings may one day lead to a therapy for repairing cochlea hair cells in humans.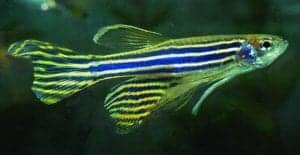 As hearing professionals are well aware, loud noise, especially repeated loud noise, can cause irreversible damage to the hair cells inside the cochlea and eventually lead to deafness. In mammals, this is irreversible; however, both birds and fish are able to regrow the damaged hair cells and restore hearing. But how?
Researchers from the universities experimented with zebrafish and examined their internal repair process.They first looked for the zebrafish genes that were switched on or off after acoustic trauma and found distinct patterns of gene expression. Two days after noise injury in the zebrafish, inner ear cells were busy dividing to repair and replace the damaged hair cells.
The researchers traced the repair to an alteration in the regulation of 839 genes. Many of the cellular pathways involved were the same as those involved in cancer. This included a massive 64-fold increase in the transcription of growth hormone.
They then investigated the effect of injecting growth hormone (GH) on cell proliferation in control zebrafish utricles and saccules, since GH was significantly increased in the zebrafish following acoustic trauma.
The GH injection increased cell proliferation in the inner ear of non-sound-exposed zebrafish, suggesting that GH could play an important role in sensory hair cell regeneration in the teleost ear.
The research, published in BioMed Central's open access journal BMC Neuroscience, may one day lead to a growth hormone therapy for repairing damaged hair cells in humans.
ASHA Announces 2011 Media Award Winners
The blog EverydayHealth.com, the Los Angeles Times, Real Simple magazine, Spanish-language television network Univision, and The Wall Street Journal Radio Network, are the American Speech-Language-Hearing Association (ASHA) 2011 media award recipients.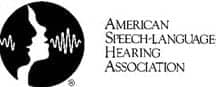 EverydayHealth.com won for its March 15, 2011, blog post "How Exercise Can Help Your Ears," about a possible link between exercise and healthy hearing.
The Los Angeles Times won for its November 29, 2010, article "Sometimes Words Fail," one of the first that was inspired by the movie, The King's Speech. The article highlighted the important role speech-language pathologists play in helping people who stutter.
Real Simple magazine won for its September 2010 full-page feature "How Can I Tell If I'm Playing My MP3 Player Too Loudly?" which highlighted safe listening practices.
The Spanish-language television network, Univision, won for its February 2011 interview with an ASHA member speaking about communication development in young children, during its morning show ¡Despierta América!
The Wall Street Journal Radio Network won for its March 2011 interview with ASHA President Paul Rao about the need for better health care coverage of traumatic brain injury rehabilitation services.
The first ASHA Media Outreach Champion Award has been given to Vivian Sisskin, CCC-SLP, and Janice Trent, AuD, CCC-A, for their individual efforts to educate media outlets about hearing loss and speech and language related health issues.
All of the winners will receive their awards at ASHA's 2011 Annual Convention to be held in San Diego in November.
Advertisement Retraction: The Hearing Review and Sycle.net regret that the August 2011 print issue of HR contained an advertisement (p 55) that inadvertently used material produced by Hearing HealthCare News. Sycle.net apologizes for the error.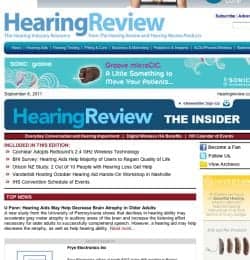 Get Your Weekly Edition of THE INSIDER
Every week The Hearing Review sends out THE INSIDER, a weekly FREE e-newsletter devoted to the top hearing-related news, research, product introductions, fitting topics, and marketing research stories that are influencing your business or practice, as well as the industry at large. [register]Sign up for your free subscription[/register].