Bernafon Offers Chronos with ChannelFree
Bernafon, Somerset, NJ, introduces Chronos, a high-performance ChannelFree™ hearing system equipped with Audio Efficiency™. ChannelFree digital signal processing assesses incoming signals at phonemic speed; even the shortest speech unit is amplified precisely according to its particular intensity, according to the company. Audio Efficiency is designed to reduce unwanted parts of a signal, helping the important information to be amplified. Chronos has three price and performance categories. Each supplies a full range of designs, from the CIC and the discreet Nano BTE to the new performance-enhanced Compact Power Plus BTE.
(732) 560-9996
www.bernafon-us.com
---
ExSilent Releases Ytango with MaRiC
ExSilent, Eden Prairie, Minn, launches Ytango, the first BTE hearing aid system with MaRiC, which places the microphone inside the ear canal, allowing the concha and the ear canal to retain their natural acoustic sound-enhancing properties. The technology reportedly allows for more natural sound by enabling users to more precisely pinpoint where a sound comes from. The design also reduces wind noise and enhances patients' ability to understand conversation in noisy situations. A module in the ear fits deeply, so that it is nearly invisible. Ytango's product line includes a BTE base model, the Ytango Pro with AirTAP, and a Pro-T with telecoil.
(866) 742-0808
www.exsilent.com
---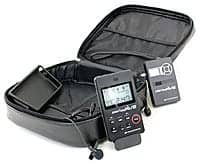 Digital Personal Communication Systems
Williams Sound, Eden Prairie, Minn, has introduced two new personal communication systems with Digi-Wave. The Digi-wave is a simultaneous, one- or two-way wireless communication system in the 2.4 GHz band. Slim, lightweight, and simple to set up and use, Digi-Wave Personal Communication Systems can be used in one-way, listen-only situations or for two-way interaction—connecting through conversation with family members, co-workers, or fellow students. This digital technology is designed to facilitate discussions in the car, TV listening, talking at a restaurant, sharing ideas in a meeting, and other one-on-one or small-group settings, reducing background noise and compensating for poor room acoustics.
(800) 328-6190
www.williamssound.com
---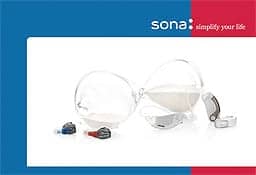 New Upgradeable RIC
Sona, Naperville, Ill, introduces the new sona:vogue RIC, reportedly the world's only upgradeable receiver-in-the-canal hearing aid and the latest edition to the sona:vogue family. The vogue RIC is compatible with standard and power xReceivers and is suitable for hearing losses up to 90 dBHL. The upper part of the housing can be easily exchanged to match client color expectations. Sona's flex:performance platform allows the sona:vogue RIC to be configured to three performance levels during fitting.
(877) 821-5944
www.sonapro.com
---
Blueprint Solutions and CounselEAR Now Work Together
Blueprint Solutions, Eden Prairie, Minn, and CounselEAR, Evanston, Ill, have entered into an agreement that will provide data integration between its two applications. Blueprint OMS is an online office management system (OMS) that features an intuitive graphical user interface with drag and drop functionality, real-time QuickBooks integration, a powerful marketing module, and other tools for managing and growing hearing industry businesses. CounselEAR is a Noah and HIPAA compliant software that enables audiologists to create customized counseling summaries, professional audiologic reports, and chart notes. Patient data is automatically forwarded from Blueprint OMS to CounselEAR where reports and patient counseling summaries can quickly be composed.
(877) 686-8410
www.blueprintsolutions.us
---
Starkey Named Finalist
for SoundLens

Starkey Laboratories Inc, Eden Prairie, Minn, announced that SoundLens™, its invisible-in-the-canal hearing aid, has been named a 2011 Edison Best New Product Awards finalist in the Science & Medical – Handheld or Miniaturized Devices category. SoundLens is Starkey's custom invisible-in-the-canal hearing aid with Voice iQ, the company's noise management and speech preservation system that can reduce the noise between syllables.
(800) 328-8602
www.starkeypro.com