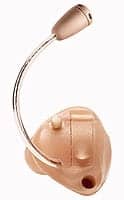 Remote Microphone Technology from ReSound
ReSound, Bloomington, Minn, offers a proprietary Remote Microphone Technology designed to enhance natural directivity, spatial awareness, and wind noise performance in hearing aids. The Remote Microphone Technology uses a thin tube to connect the hearing aid to a microphone that is tucked into the concha cymba area of the external ear. The remote microphone utilizes the natural effects of the pinna, as they relate to directivity, high frequency amplification, and wind noise reduction. The body of the hearing aid is placed in the ear canal to create device retention and cosmetic appeal. Placement in the concha cymba not only hides it from view, but it also improves acoustic performance due to pinna effects.
(800) 248-4327
www.gnresound.com
---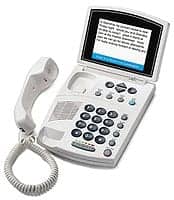 New Captioned Telephone
Hamilton CapTel, Aurora, Neb, now offers the CapTel 800i captioned telephone. The CapTel 800i provides real-time, word-for-word captions of what is said over the phone on a bright screen built into the phone. As a result, the user can see what is being said, ensuring superior clarity for both parties on the call. Utilizing standard telephone service and high-speed Internet access, the phone features captions that can be turned on or off as needed, adjustable font sizes and colors, as well as a phone book that stores 95+ frequently called numbers.
(800) 233-9130
www.hamiltoncaptel.com
---
Integrated Alerting System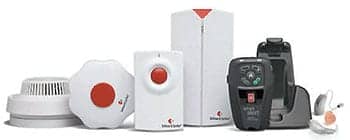 Unitron, Kitchener, Ontario, Canada (with US headquarters in Plymouth, Minn), offers the Smart Alert System—an integrated hearing and alerting system—responding to a need of hearing care professionals and their clients for a fully integrated system that enables household alerts, such as the telephone, doorbell, or smoke alarm, to communicate directly with hearing instruments. The system, developed in partnership with Bellman & Symfon, which specializes in alerting technologies, brings together Unitron's remote control and advanced hearing instruments with home alerting detectors.
(800) 888-8882
www.unitron.com
---
New Test to Simultaneously Screen All Deafness Genes

The OtoSCOPE test includes the latest DNA sequencing technology to simultaneously screen all 54 genes known to cause non-syndromic deafness–-hearing loss that is not associated with other medical problems—along with a dozen additional genes that cause syndromic deafness—hearing loss that occurs with other complications, such as blindness. OtoSCOPE will be available through the University of Iowa's Molecular Otolaryngology and Renal Research Laboratory (MORL) by spring 2011 to clinicians and patients within the United States.
(319) 335-6623
www.healthcare.uiowa.edu/labs/morl/index.htm
---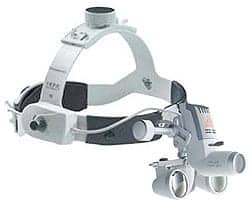 Illumination with Magnification
Oaktree Products, Chesterfield, Mo, carries Heine headlights with magnification and Seiler loupes with illumination, both offering economic portability. The lightweight, self-contained systems offer pure bright light, wide field of view at high magnification, depth perception, rechargeable battery packs, and ability to fine-tune optics to one's personal vision. Designed to aid in removing cerumen, inserting otoblocks for deep ear canal impressions, or fitting extended-wear instruments.
(800) 347-1960
www.oaktreeproducts.com
---
Hearing Aid Battery Removal, Installation Tool

Battery Easy, Wilmington, NC, is a new tool to insert and remove hearing aid batteries. The lightweight plastic grip with a small magnetic tip is designed to allow users to remove and install tiny hearing aid batteries with adult-sized fingers. The device was created by hearing aid wearer, Elmer Wolke of Hampstead, NC, who unveiled the tool at the recent International Hearing Society convention in Orlando, Fla. The product is now available to both patients and hearing professionals ordering in bulk quantities.
(888) 983-9228
www.batteryez.com