RESEARCH
Starkey Hosts Implementation Science Conference
New technologies and evidence-based research are developed and published all the time. However, the adoption of new technology or research as a medical standard of care can take years or even longer. To address these implementation issues in audiology, Starkey Laboratories, Eden Prairie, Minn, recently hosted a conference designed to consider solutions to more immediate acceptance and adoption of new technologies as the required standards of care.
The often long delay between the development of a new technology or research and its general acceptance and application is the basis of a new behavioral field of study known as the Implementation and Dissemination Sciences (IDS). A current example of the implementation gap in health care is the recent reports that detail the dangers of cough syrup for children (www.fda.gov/ohrms/dockets/ac/07/briefing/2007-4323b1-02-fda.pdf). While there is little or no evidence that cough syrup is better than a placebo, this research has had little effect on the sale of cough syrup products. Similarly, evidence suggesting that pediatric patients with middle ear fluid are more likely to be harmed by the aggressive overuse of antibiotics has not diminished the administration of these medications known to have numerous adverse side effects.
The hearing care profession has been relatively successful in recent years developing an evidence base for best practices (EBP); unfortunately, the majority of professionals in the field have not been willing to adopt these practices as part of everyday routine clinical care.
Recent MarkeTrak VIII survey data, as reported in the April 2010 edition of HR, suggest that patient satisfaction with hearing aids could be much higher due, in part, to a failure to implement best practices such as the evaluation of speech understanding in noise, probe-microphone verification of hearing aid fittings, appropriate assessment of patient outcome, and provision of post-fitting rehabilitation.
A small group of key audiology leaders met with a team of Starkey staff in order to learn about the sciences of implementation and dissemination and to discuss possible approaches to apply these principles to the field of audiology.
The Starkey Group has sponsored this first IDS-based "think tank" in the field to address issues of adoption, adaptation, and spread of EBP for optimization of hearing health care for adults in the United States.
The specific goals for the meeting included:
Developing an understanding of IDS and implications for audiology practice;
Exploration of potential barriers and facilitators of adoption and adaptation of EBP protocols in audiology; and
Strategy planning for translation of evidence to practice in hearing health care.
The keynote speaker for the Implementation Research Conference was Phyllis C. Panzano, PhD, visiting professor in the Department of Behavioral and Community Sciences and the Florida Mental Health Institute at the University of South Florida. The meeting was attended by a number of audiologists, who Starkey says will continue working with Panzano. The group plans to proceed with deliberations to generate ideas, encouraging widespread adoption of innovative hearing science technologies.
Restricted Diet Decreases Age-Related Hearing Loss in Mice
Researchers around the globe are showing that restricting calories can extend life and slows a range of age-related disorders in mice, rats, and other organisms. However, scientists are still unclear about how caloric restriction exerts its age-battling influence.
To help narrow the suspects, researchers at the University of Florida at Gainesville, and colleagues at the University of Wisconsin, have used age-related hearing loss as an indicator for what may be responsible for slowing down the aging process. The suspect: Sirt3, a key protein.
The researchers found that when Sirt3 is removed from normal mice subjects, caloric restriction loses its antiaging powers. More specifically, in normal mice, lowering their calorie intake to 75% of a regular diet reduced hearing loss, but in Sirt3-deficient mice, these dietary restriction had no effect. Further, after caloric restriction, mice lacking Sirt3 lost more cellular structures vital for hearing—sensory hair and nerve cells in the ear—than did normal mice on a similarly restricted diet.
A lead author of the study, Christiaan Leeuwenburgh, PhD, chief of the biology of aging division in the UF College of Medicine Department of Aging and Geriatric Research and a member of the UF Institute on Aging, explained that eliminating Sirt3 seems to be very negative for mitochondrial cell function and allows the accumulation of oxidative stress and damage to neurons and other cells: "That's an important clue about the role that Sirt3 plays in protecting cells from age-related damage."
Age-related hearing loss is the most common sensory disorder among the elderly. The disorder is marked by the death of sensory hair and nerve cells in the inner ear. While those cells are long-lived, they do not regenerate, so their demise means permanent loss of hearing.
But all is not lost, since the environment in which those cells reside can be remodeled over time as damaged organelles such as mitochondria get replaced. Caloric restriction helps to rescue those damaged cells by reducing oxidative damage.
Closer examination also revealed that Sirt3 regulates a mitochondria-based defense mechanism called the glutathione antioxidant system, via which caloric restriction works to help maintain the appropriate chemical balance needed to keep sopping up damaging oxygen-containing chemicals as they appear.
Even more promising for antiaging researchers, the effects seen in the ear were also observed in brain and liver tissue, suggesting that Sirt3 might have a role well beyond age-related hearing loss, and a potential benefit in cardiovascular and neurological diseases.
The new findings identify Sirt3 as a target around which to focus antiaging therapeutic efforts, including investigating ways to activate its production in the body.
The findings are reported in the November issue of the journal Cell.
Common Side Effect of Radiation Therapy for Head and Neck Cancer: Hearing Loss
Research published in the November issue of Archives of Otolaryngology–Head & Neck Surgery, one of the JAMA/Archives journals, shows that patients who receive radiation therapy for head and neck cancer are more likely to experience hearing loss and to be more disabled by its effects than those who do not receive such treatment.
Head and neck cancer is the sixth most common type of cancer worldwide, according to background information in the article. Treatment methods include surgery, chemotherapy, and radiation therapy, either alone or in combination.
Radiation therapy is increasingly being used on head and neck tumors, and close to 100% of the radiation delivered may reach the structures of the auditory system, the authors note.
The study was comprised of 282 individuals, including 141 who had undergone radiation therapy for head and neck tumors and 141 controls who had never undergone a treatment that placed their hearing at risk. All participants underwent hearing evaluations and completed questionnaires regarding how any hearing loss they had experienced was affecting their lives.
Hearing loss was detected in 102 (72.3%) of the participants who were exposed to radiation therapy and 69 (48.9%) of those in the control group. Hearing loss was mostly sensorineural (resulting from disorders or damage involving the nerves or the inner ear) as opposed to conductive (resulting from interference in sound transmission, usually involving the outer or middle ear). Severe or profound hearing loss occurred in 6.4% of right ears and 8.5% of left ears in the radiation-treated group, as compared with 0.7% in the right ears and 1.4% in the left ears of control group participants.
Participants in the radiation treatment group were more likely to be severely impaired by hearing loss (19.1%, versus 2.8% in the control group). "This indicates that, when present, hearing losses were substantially greater and more incapacitating after the radiotherapy," the authors write.
Another potential side effect of the hearing loss: depression. Study participants whose hearing loss was untreated were more likely to feel lonely, depressed, worried, anxious, or paranoid; had fewer social activities; and were less able to process information about their environment.
The abstract and full article, "Hearing Loss and Complaint in Patients with Head and Neck Cancer Treated with Radiotherapy," are available for download at archotol.ama-assn.org/cgi/content/abstract/136/11/1065.
New Test to Simultaneously Screen All Deafness Genes
Researchers at the University of Iowa, Iowa City, working with colleagues at Baylor College of Medicine have developed OtoSCOPE, a test that reportedly can screen all of the genes known to cause deafness in a single run, in 1 to 3 months, for about $2,000.
Traditional testing of the exact genetic cause of inherited deafness involves sequencing one gene at a time, a process that can take up to a year and cost roughly $1,000 per gene, or about $75,000 to test all known deafness-causing genes.
The OtoSCOPE test means that physicians will have quicker answers for families anxious to determine treatment options or learn the likelihood that future children will have hearing loss. It is designed to capture and sequence all the portions of a patient's DNA that coincide with areas of the human genome known to contain deafness mutations. This new method uses the latest DNA sequencing technology to simultaneously screen all 54 genes known to cause non-syndromic deafness—hearing loss that is not associated with other medical problems—along with a dozen additional genes that cause syndromic deafness (ie, hearing loss that occurs with other complications, such as blindness).
The test covers two of the most common types of syndromic deafness: Usher syndrome and Pendred syndrome. Usher is the most common cause of deaf-blindness in the United States, but while the deafness occurs early, blindness does not develop until the child is around 10 years old.
OtoSCOPE will be available through the UI's Molecular Otolaryngology and Renal Research Laboratory (MORL) by spring 2011 to clinicians and patients within the United States and potentially in other countries.
Adam DeLuca, a UI graduate student and co-first author, and Todd Scheetz, PhD, UI associate professor of biomedical engineering, also contributed to the development of OtoSCOPE. The team also included Kyle Taylor, UI graduate student in biomedical engineering, and Jose Gurrola, MD, resident physician in otolaryngology.
The research was funded in part by grants from the National Institutes of Health (NIH).
Can You Hear Me Better Now, America? Yes, You Can
Good news, America. You're hearing better than you did 40 years ago—or at least that's what researchers have found after comparing the results of two hearing surveys conducted roughly 40 years apart. The findings are published in the December 2010 issue of Ear and Hearing.
The new findings come from researchers from the Bethesda, Md-based National Institute on Deafness and Other Communication Disorders (NIDCD), the National Institute for Occupational Safety and Health (NIOSH), and the University of Texas Health Science Center at San Antonio. Data gathered from the National Health Examination Survey I (NHES I) in 1959-1962 was compared with data from the National Health and Nutrition Examination Survey (NHANES) in 1999-2004. Although the testing equipment and methods have changed somewhat over the years, the goal was essentially the same: to find the softest sound levels at which randomly selected subjects between the ages of 25 and 64 could hear a range of frequencies, from 500 to 6000 Hz for the earlier survey and from 500 to 8000 Hz for the later one.
The scientists discovered that men and women today across the age spectrum have better hearing than their decades-older counterparts primarily in the upper frequencies (2000, 3000, 4000, and 6000 Hz), while being roughly the same for the middle frequency of 1000 Hz. Hearing loss in the upper frequencies makes it especially difficult to discern speech sounds in the presence of background noise.
Although the cause for improvement is not clear, the researchers suggest a variety of health factors may have played a role, including a decrease in the number of people who smoke, better health care for diabetics and people with cardiovascular disease, and better care for childhood ear infections, all of which are linked to hearing loss.
Another factor may be due to modern vaccines. MMR for measles, mumps, and rubella, and the vaccine against Haemophilus influenzae type B (HiB), which helps protect children from meningitis, were developed in the intervening years.
Two additional factors may have been the reduction in manufacturing jobs over the years, now fewer than half the number they once were, as well as the increase in hearing conservation programs in noisy workplaces, thanks to the Occupational Safety and Health Act of 1970 and the Hearing Conservation Amendment of 1983.
"The bottom line is that the people with really noisy jobs have to be using hearing protection and getting annual hearing tests, so I think there's been a very definite change," said coauthor Robert Dobie, MD, of the University of Texas Health Science Center at San Antonio.
As part of the study results, the researchers have produced a new percentile distribution table showing hearing ability by age and gender in Americans based on the more recent NHANES data. The researchers propose that this table replace the current table used for international and national standards, which is based on the older NHES I data. The national and international standards are frequently used in research, occupational medicine, and law as a way to compare how a particular activity or product might affect hearing in a population or to determine how hearing in a specific group of individuals, such as fire fighters or construction workers, stacks up against today's norm.
"Obviously, if you're going to look at a bunch of people of different ages today to see whether this group of people hears worse than it should, then it would be good to have up-to-date data," says Dobie. "So that was part of the reason for doing this study."
Among the next steps, the authors plan to investigate how children's hearing may have changed over the past half-century using parallel national surveys of children for comparison. Given the improvements that have been made in vaccines and ear infection care, they hypothesize that the results will likely be very similar to those of the adults.
UPCOMING CONFERENCES
Upper MidWest Audiology Conference in February
The 2011 Upper MidWest Audiology Conference will take place February 25-26 at the Sheraton Bloomington Hotel, just outside of Minneapolis.
The theme of this year's conference is "Beyond Hearing Loss." The meeting will feature an opening presidential reception, noted speakers on various audiology topics, a silent auction, AAA/ABA continuing medical education courses, as well as plenty of networking with fellow audiologists and hearing industry professionals.
Attendees will be able to see the following presentations:
Cognition Can Inform Advances in Audiologic Rehabilitation and Hearing Aid Design, but Are Audiologists Ready to Measure It? by Kathy Pichora-Fuller, PhD.
Mild Traumatic Brain Injury and Blast Exposure:Effects on the Peripheral and Central Auditory System , by Therese Walden, AuD.
Audiologic Rehabilitation: The Road to Blissful Hearing Aid Satisfaction, by Patricia Kricos, PhD.
Tinnitus Treatment, by Richard Tyler, PhD, University of Iowa.
Alarming Facts About Smoke Detectors by A.U. Bankaitis, PhD.
Modality Specificity of (Central) Auditory Processing Disorders: A Useful Diagnostic Construct?" by Terri Bellis, PhD.
Visit the conference Web site at www.minnesotaaudiology.org for more information.
HEARING IMPAIRED PHONE AIDS
New Video Relay Service iPhone 4 App for Deaf and Hard of Hearing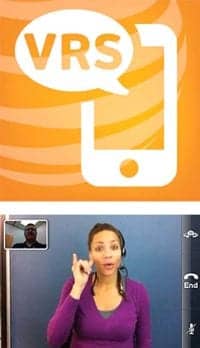 VRS application for iPhone
Dallas-based AT&T has released a new video relay service (VRS) app for iPhone 4 that allows deaf and hard of hearing customers to make VRS calls.
AT&T VRS is a free service that allows a person who uses American Sign Language (ASL) to place a relay call to a hearing person by communicating through a certified ASL interpreter.
AT&T has offered video relay services to customers for many years, but the new AT&T VRS app reportedly provides a more flexible and convenient way for users to make VRS calls on the go. iPhone 4 customers can make unlimited VRS calls using the AT&T VRS app at no additional cost, according to the company.
The feature is available only with the iPhone 4 because of its "FaceTime" video phone feature that is unavailable on previous iPhone versions. FaceTime allows iPhone 4 users to speak and see each other using the iPhone 4's built-in camera.
To use the app, users must first enable a Wi-Fi connection, as FaceTime will not currently work through AT&T's 3G or Edge network alone.
Once connected to Wi-Fi, users launch the VRS app, log-in, and can choose to place a VRS call by selecting someone from their contact list or by manually dialing a number. The app then contacts an AT&T ASL interpreter, who initiates a FaceTime video call with the user. The interpreter will connect the ASL user to the hearing person they are calling, and relays the conversation between the two parties through ASL.
In addition to the app, AT&T VRS also offers a free software download called AT&T Video Link that turns a computer or laptop into a video phone. This software works on certain Macs and PCs enabled with a Web cam and a broadband connection.
AT&T VRS will also provide users with a 10-digit telephone number and supports all the FCC-required 911 emergency capabilities.
The AT&T VRS app is available for free from the App Store on iPhone or at www.itunes.com/appstore. For additional information about AT&T VRS, visit www.att.com/vrs, or access AT&T VRS via video phone at ATTVRS.tv.
New iPhone App for Testing Hearing and Hearing Aids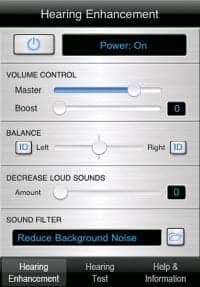 EarTrumpet for the iPhone
As mobile phones become more mini-computers, inventors and entrepreneurs are creating unique applications for medicine, including hearing apps. The most recent one is EarTrumpet, a hearing application suite for the iPhone for $1.99.
According to the product's Web site, "the hearing test component analyzes your hearing" and the hearing enhancer component "amplifies and adjusts sound to discreetly improve hearing via the earphones."
EarTrumpet was created by Allen Foulad, a medical student "aspiring to develop a set of comprehensive hearing tools through scientific inquiry and analysis." The young inventor reportedly collaborated with the Otolaryngology Head and Neck Surgery Department at the University of California, Irvine to develop the app.
According to EarTrumpet, preliminary studies have demonstrated high accuracy of the included hearing test and the benefit of the hearing enhancement component, but notes that "features will continue to be further refined through clinical studies, leading to increased optimization of the sound processing and hearing testing technology."
The app description also notes that the device is not a substitute for professional medical care. EarTrumpet's Web site states that it plans to develop even more hearing features in the future. If successful, and peer reviewed testing validates the app, this handheld device may one day be an inexpensive method for consumer self-screening for hearing loss, or for the diagnosis and treatment of various ear conditions, such as tinnitus, according to the developers.
Arkansas Residents Eligible for Free Amplified Phone
Clarity XL45
Arkansas residents with certified hearing loss can now obtain a new amplified telephone. The Arkansas Telecommunications Access Program (TAP, www.arsinfo.org) is offering the Clarity XL45, a new phone that is designed to reduce background noise while amplifying the incoming voice.
Designed by Clarity, Chattanooga, Tenn, the XL45 features a digital technology that amplifies incoming sounds up to 50 dB. The phone additionally features caller ID, an easy-to-read screen, and large buttons for users with arthritis and vision loss.
The phone also includes ClarityLogic, a patented service that enables customer representatives to remotely access and optimize the phone for the end user. The service provides less frustration to seniors by significantly speeding up the customer service process and providing peace of mind, since they don't have to trouble friends or family for technical help.
To access the service, Arkansas residents simply need to dial the ClarityLogic 800 number and they will be quickly connected to a customer representative who can then access the user's product and make adjustments, such as increasing or decreasing amplification levels, adjusting tone, programming the phonebook, or customizing speed dial.
The Clarity XL45 is free to any Arkansas resident who has a disability and has been certified by a qualified professional that they cannot use a standard telephone. The person must also earn $50,000 a year or less. If the applicant earns more than $50,000, a shared cost option is available.
Applicants can call (800) 981-4463 to receive more information about this and other available phones, or can download the application online at www.arkansasrelay.com/pdf/TAP_Jan2010.pdf.
Clarity offers a similar program for Florida residents, as well.