Next Generation Hearing System
The elia series next generation hearing system from audifon USA Inc, Debary, Fla, with the new Sound Dynamix technology adapts to different sound environments automatically. The elia is available in several styles including RITE, BTE, ITE, and super-power custom aids with up to 70 dB gain. It has eight WDRC channels and includes the company's latest Storm platform, offering faster processing speed for sophisticated algorithms.
(800) 776-0222
www.audifon.com
---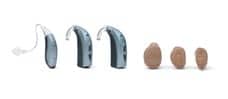 Addition to Advanced Product Line
Bernafon, Bern, Switzerland, with US headquarters in Somerset, NJ, introduces the latest addition to its ChannelFree line of hearing instruments—Veras. Using proprietary ChannelFree technology, Veras analyzes and adjusts sounds instantly. It features Bluetooth capability and a range of fitting options, including premium and advanced Nano, Micro, Power BTE, and custom choices.
(888) 941-4203
www.bernafon-us.com
---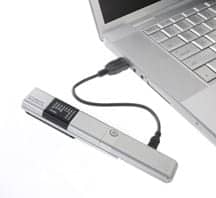 Personal Noise Dosimeter
Etymotic Research, Elk Grove Village, Ill, offers a new programmable, datalogging version of their original Personal Noise Dosimeter. The device is cost-effective, user-friendly, and lightweight. Normal mode measures the noise dose for 16 hours for 3, 5, or 7 days. Data are reported in Excel, and reports can be printed. QuickCheck mode measures for 2 minutes and displays estimated dose per hour. LEDs alert users when safe levels have been exceeded.
(888) 389-6684
www.etymotic.com
---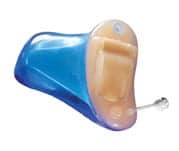 Intelligent 16-Channel Hearing Instrument
Audina Hearing Instruments Inc, Casselberry, Fla, introduces their new INTELLIO, an intelligent 16-channel hearing instrument featuring the exclusive IntelliScan, which is designed to scan the environment and automatically adjust to several different situations. The EnviroScan component works in harmony with IntelliScan to enhance the patient's listening experience and provides improved comfort. Features include IntelliSense, the smart adaptive directional microphone; digital volume control, softwave, datalogging, and high fidelity audio processing.
(800) 223-7700
www.audina.net
---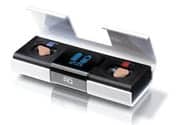 ITE Rechargeable Hearing System
Hansaton USA, Plymouth, Minn, introduces the AQ in-the-ear hearing system, with patented rechargeable battery technology. The systems are recharged overnight in a custom charging station, and use a patented smart inductive charging station. The sealed battery compartment reduces moisture ingress, extending the life of the hearing system. The hearing aids have an operating time of more than 20 hours and take between 2 and 4 hours to recharge. They are available as canal or concha models and are suitable for mild-to-severe hearing loss.
(888) 984-7432
www.hansaton-usa.com
---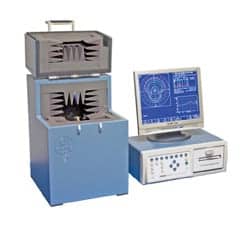 Hearing Aid Test System
Frye Electronics, Tigard, Ore, offers the FONIX 8000 Hearing Aid Test System, which performs quick and accurate coupler measurements of hearing aids including an optional directional Polar Plot test screen and sound chamber. Dual probe and built-in speech signals are expected to be added in the coming year. ANSI, IEC, JIS test sequences can be ordered. New AutoDetect Battery Simulator Pills are included. All units include tests of signal processing delay and phase.
(800) 547-8209
www.frye.com
---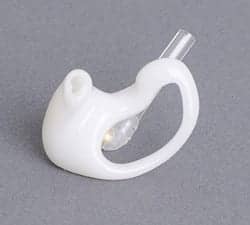 Skin-Friendly Earmold Material
Microsonic, Ambridge, Pa, introduces Micro-Cera, a new product to address severe allergy problems. The new material is designed to be a solution for patients who have hypersensitivity to conventional acrylic molds. The company has added a process called Micro-Glaze, which helps reduce skin irritation by coating the entire earmold with an antibacterial and skin-friendly material.
(800) 523-7672
www.microsonic-inc.com
---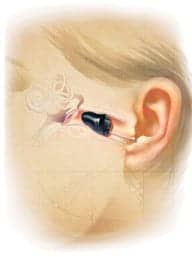 Invisible-in-the-canal Hearing Aid
Starkey Laboratories, Eden Prairie, Minn, introduces S Series iQ OtoLens, an invisible-in-the-canal (IIC) hearing aid. The custom-molded device is built using the Comfort Fit process and resides in the second bend of the ear, so it is 100% invisible with minimal occlusion. It features the same technology and digital signal processing as the company's leading product family, S Series iQ, and provides 35 dB of gain, allowing professionals to fit patients with moderate to severe hearing loss. OtoLens takes advantage of Starkey's Voice iQ and includes other iQ features such as PureWave Feedback Eliminator and T2 Remote.
(800) 328-8602
www.starkeypro.com
---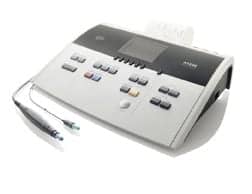 New Line of Clinical Middle Ear Analyzers
Interacoustics, Eden Prairie, Minn, is releasing the new and improved line of AT235 series clinical middle ear analyzers and the AA222 combo clinical audiometer/impedance instruments. The new design incorporates the power supply, provides built-in calibration cavities, and has updated USB interfaces. In combination with the newly introduced Diagnostic Suite software, all IA instruments are moving toward full integration for combined audio/tymp reports.
(800) 947-6334
www.interacoustics-us.com
---
Wireless Hearing Aids

ReSound, Bloomington, Minn, unveils ReSound Alera—a new generation of wireless hearing instruments featuring 2.4 gH technology. The devices deliver wireless technology that doesn't require a body-worn streamer, with cable-free wireless fitting and a long transmission range that gives patients greater range on TV streaming and range of remote control.
(800) 248-4327
www.gnresound.com
---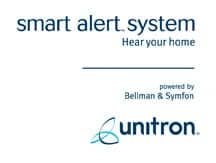 Integrated Alert System
Unitron, Kitchener, Ontario, Canada (with US headquarters in Plymouth, Minn) introduces the Smart Alert System—an integrated hearing and alerting system—responding to a need of hearing care professionals and their clients for a fully integrated system that enables household alerts, such as the telephone, doorbell, or smoke alarm, to communicate directly with hearing instruments. The system, developed in partnership with Bellman & Symfon, which specializes in alerting technologies, brings together Unitron's remote control and advanced hearing instruments with home-alerting detectors.
(800) 888-8882
www.unitron.com
---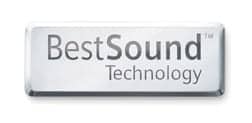 New Technology Enhancements
Siemens Hearing Instruments, Piscataway, NJ, introduces BestSound Technology—new advanced features offered across a complete portfolio of products. New features include FeedbackStopper to quickly and accurately reduce or eliminate feedback before it starts, SpeechFocus for better understanding even for speech coming from behind the wearer, and SoundLearning 2.0, which learns and automatically applies wearer preferences in various listening situations.
(800) 766-4500
www.usa.siemens.com/hearing