TOP NEWS and HEADLINES in April
US Hearing Loss Approaching Epidemic Proportions
AG Bell Denounces Demonstrations
New Stem Cell Therapy May Eventually Lead to Treatment for Deafness
Advancements Made in Tinnitus Research
Greater Incidence of Childhood Hearing Loss in Hispanic-American, Low-Income Households
Researchers Find Lack of Key Molecule Leads to Deafness
Stanford Researchers' Discovery of Ion Channel Turns Ear on Its Head
Support for Hearing Aid Tax Credit Grows on Capitol Hill
Power Steering for Your Hearing
Obama Sets Up Formal Office for Health Care Reform
Salus University Names Victor Bray as Dean of Audiology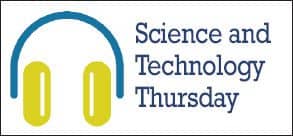 Listen to HR's Science and Technology Thursday Podcast for the field's most exciting research at www.hearingreview.com/sciencetech.
| | |
| --- | --- |
| April 9-May 7: | New Technology at the AAA Convention. A month-long series of interviews from this year's events and convention floor. |
| May 14, 21: | Questions & Answers on Dispensing. Special guest: Michael Nilsson, PhD |
| May 28: | What is Video Otomicroscopy? Special guests: Eugene McHugh, EdD, and Robert Traynor, EdD |
Better Hearing and Speech Month Kit offered by BHI. The Better Hearing Institute (BHI) theme for Better Hearing and Speech Month in May is "Listening Up in a Down Economy," with the campaign focusing on how hearing health issues affect job security, performance, and employment options. BHI is encouraging people of all ages who are seeking employment—or who want to protect their jobs—to make sure that unaddressed hearing loss does not hinder their employment success. For Better Hearing and Speech Month, BHI urges hearing care professionals nationwide to help kick off the campaign by visiting its Web site at http://www.betterhearing.org/professionals/turnkey09.cfm and downloading its BHSM Kit that contains customizable press releases, a backgrounder on hearing health, feature news articles, notes for interviews with reporters, and the BHI screening audiogram form and quick hearing check.
US hearing aid sales recover in Q1. According to Hearing Industries Association (HIA) statistics, unit sales of hearing instruments in the United States increased by 3.4% during the first quarter of 2009, after decreasing by 3.6% in the fourth quarter of 2008 in response to the stock market crash and the battered economy. First quarter unit sales were buoyed by a 20.8% increase in dispensing activity by the US Department of Veteran Affairs (VA), which constitutes about 17% of the market. However, even when disregarding VA activity, sales in private practices increased by 0.4%, a vast improvement from -6.6% in the fourth quarter of 2008. BTEs made up 64.8% of all private (non-VA) dispensing office sales in Q1, and receiver-in-canal (RIC/RITE) devices, a subset of BTEs, constituted about one-fifth (19.4%) of total sales.
Hearing Aid Tax Credit support grows. Supporters for the Hearing Aid Tax Credit (HR1646) now include Reps Linda Sanchez (D-Calif) and Earl Blumenauer (D-Ore), who recently joined eight Ways and Means colleagues as cosponsors of the bill. The total committee support for the measure is 10 Ways and Means committee members—seven Democrats and three Republicans—with 44 Representatives in all serving as cosponsors. Many have attended events in their districts in support of the measure and voice dedication to its passage. The Hearing Aid Tax Credit would provide assistance to many of the 32 million people who need hearing aids to treat their hearing loss. The legislation, which has the support of virtually every hearing-related advocacy and professional group, would provide up to $1,000 for two hearing aids for dependents and adults 55 years and over. The bill, with the addition of a $200,000/year income eligibility cap, is otherwise unchanged from legislation in the 110th Congress that attracted 112 cosponsors by the end of the session. For more information, visit www.hearingaidtaxcredit.org.

Eric Mann, MD, PhD

FDA issues guidance document on personal sound amplification products. In late February, the Food and Drug Administration (FDA) issued a guidance document for the hearing industry titled Regulatory Requirements for Hearing Aid Devices and Personal Sound Amplification Products (PSAPs), available at http://www.fda.gov/cdrh/ode/guidance/1696.html. Guidance documents represent FDA's perspectives on subjects, but are not legally binding. The key issue in the new guidance document is the classification of hearing aids, which are FDA-regulated Class I devices, versus PSAPs (including those sold online), which are not FDA regulated but consist of products that are sometimes identical to hearing aids and often carry advertising that obliquely skirts the issue of disability. The document says that, if the amplifier advertising does not state that the device is intended to compensate for hearing impairment but instead says it will assist the person in other pursuits (eg, hunting or listening to a distant speaker), it is a PSAP due to its intended use. At the Hearing Industries Association (HIA) annual meeting in Scottsdale during February (see sidebar), FDA Deputy Clinical Director Eric Mann, MD, PhD, reiterated the agency's position that PSAPs are intended to amplify environmental sound for non-hearing-impaired people, and these devices do not meet the regulatory definition for a medical device. HIA contends that this does little to alert potential purchasers to the fact that PSAPs are not hearing aids. The hearing industry and related professional organizations have expressed concern that most hearing-impaired consumers will be disappointed by those PSAPs that clearly seem to emulate the function of hearing aids; consumers often fail to recognize the distinction between those PSAPs and professionally fitted hearing aids; and those consumers purchasing PSAPs will equate their performance to that of professionally fit hearing aids, thus extending the usual 7- to 10-year period in which people acknowledge their hearing problem but do not seek professional help for their disability.

Question: Has the recession caused your clients/patients to seek lower-priced hearing instruments?
More than three-quarters (77%) of dispensing professionals said that the recession has caused their clients/patients to seek lower-priced hearing instruments (n=55).

Research changes ideas about location of ion channels in hair cells. A team of scientists from the University of Wisconsin and the Pellegrin Hospital in France found that the ion channels responsible for hearing aren't located where scientists previously thought. The discovery turns old theories upside down, and it could have major implications for the prevention and treatment of hearing loss. "Location is important, because our entire theory of how sound activates these channels depends on it," says study coauthor Anthony Ricci, PhD. "Now we have to re-evaluate the model that we've been showing in textbooks for the last 30 years." Hair cells contain tiny clumps of hairlike projections, known as stereocilia, which are arranged in rows by height. Sound vibrations cause the stereocilia to bend slightly, and scientists think the movement opens small pores, called ion channels. As positively charged ions rush into the hair cell, mechanical vibrations are converted into an electrochemical signal that the brain interprets as sound. Instead of ion channels being on the tallest rows of stereocilia, as scientists previously thought, Ricci's team found them only on the middle and shortest rows. Ion channels on hair cells not only convert mechanical vibrations into signals for the brain, but they also help protect the ear against loud sounds. Through a process called adaptation, the ear adjusts the sensitivity of its ion channels to match the noise level in the environment. Defects in the ear's adaptation process put people at risk for both age-related and noise-related hearing loss, so understanding adaptation is a fundamental step in preventing hearing loss. The study, which was funded by the NIDCD, appears in the May issue of Nature Neuroscience.

Victor Bray, PhD

Victor Bray named dean of Salus University. Salus University, Elkins Park, Pa, has appointed Victor Bray, PhD, as the new dean of the George S. Osborne College of Audiology, starting in June. Bray holds a PhD in speech and hearing science from the University of Texas at Austin and a master of speech communication in audiology degree from Auburn University. Bray's prior experience includes adjunct professorships at Central Michigan University and Utah State University, and he was most recently the vice president and chief audiology officer of Sonic Innovations. He has presented in numerous workshops, seminars, and conferences on the clinical applications of research results and is the author of several publications, including numerous articles in HR. "The Osborne College of Audiology includes one of the profession's largest and finest training programs and has outstanding faculty, staff, students, alumni, friends, and facilities," says Bray. "I look forward to continuing the work of the program's founding dean, Dr George Osborne, to ensure that our Doctor of Audiology graduates will be prepared to provide the finest patient care possible."
---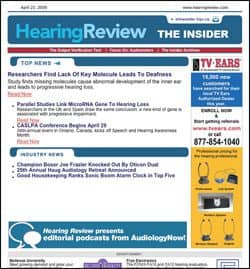 Want the inside scoop?
Every week The Hearing Review sends out THE INSIDER, a weekly FREE e-newsletter devoted to the top hearing-related news, research, product introductions, fitting topics, and marketing research stories that are influencing your business or practice, as well as the industry at large. [register]Sign up for your free subscription[/register].
HIA Meets to Discuss "The Consumer Connection"
HIA board members include Mike Orscheln, Phonak; Ron Meltsner, Widex; Jeff Taylor, Pulse Engineering; Chair Jerry Ruzicka, Starkey Laboratories; John Zei, Knowles Electronics; Executive Director Carole Rogin; Randy Raymond, Rayovac; Robert Tong, ON Semiconductor; Samuel Westover, Sonic Innovations; and Ian Roane, Sound Design Technologies (not pictured: Peer Lauritsen, Oticon; Christi Pedra, Siemens).
Scottsdale, Ariz—Members of the Hearing Industries Association (HIA), Washington, met in late-February to elect new leaders for the association and set the organization's course for the year. HIA Chair Jerry Ruzicka of Starkey Laboratories addressed the hearing aid companies and dispensing organizations' leaders at this year's conference, entitled "The Consumer Connection," noting that consumers are the integral entity in hearing services around which manufacturers and hearing professionals need to come together.
In a program that reflected this theme, attendees heard from Brenda Battat, executive director of Hearing Loss Association of America (HLAA), and Alex Graham, AG Bell Association for the Deaf (AG Bell). Lucille Beck, PhD, chief of audiology and speech pathology at the Veterans Administration, highlighted the scope of audiology services for veterans. HIA also welcomed special guest Valentin Chapero, PhD, president of the European Hearing Instruments Manufacturers Association and CEO of Phonak AG.
HIA Chair Jerry Ruzicka presented Cathy Jones with HIA's Volunteer of the Year Award. Jones is the former chair of HIA and recently became president of the Better Hearing Institute.
Ruth Day, PhD, director of the Medical Cognition Laboratory at Duke University, provided an expert's view of how consumers view advertising of medical devices and drugs, noting that the current ads for listening devices look like hearing aid ads to many with hearing loss. Eric Mann, MD, PhD, deputy clinical director of the Center for Devices and Radiological Health at the FDA, acknowledged the devices and advised that the FDA is issuing a guidance document that outlines the differences between these devices and regulated hearing aids (see HR Online News).
Board elections held at the meeting re-elected for 2-year terms on the HIA Board: Peer Lauritsen, Oticon; Ron Meltsner, Widex; Christi Pedra, Siemens; Ian Roane, Sound Design Technologies; Robert Tong, ON Semiconductor; and Samuel Westover, Sonic Innovations. Mike Orscheln, Phonak, was elected to a first term on the board. Ruzicka; Westover; Jeff Taylor, Pulse Engineering; and Cathy Jones, Phonak, continue as officers of the Association.