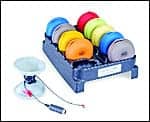 Cable Management/Storage System
Westone Laboratories Inc, Colorado Springs, Colo, presents the NOAH's ARC Cable Management/Storage System for the many programming cables every dispenser must have on hand. The system neatly winds up cables into color-coded pods for easy cable selection. The pod storage rack can be placed on top of a HI-PRO box or on any flat surface. Each NOAH's ARC comes with 10 cable pods, a storage rack, Mylar cable combiners (to wrap right and left cables together in one pod), and manufacturer labels to assist in quickly identifying the right pod. (800) 525-5071; www.westone.com.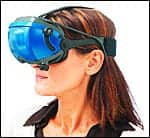 Vestibular Testing System
GN Otometrics, Schamburg, Ill, introduces the ICS™ Chartr 200 VNG/ENG, a compact and portable balance-assessment product. Chartr offers all traditional vestibular functionalities, and also features remote use, and Interpretation Assistant™, a diagnostic algorithm, and a flexible goggles design with fixation light. It combines VNG/ENG with EP. Advanced diagnostic testing can be completed using Chartr's test battery and test protocols for custom tests. It has a Windows® interface, integrated software, and shared databases for securing data and consolidating patient records. (847) 534-2150; www.gnotometrics.com.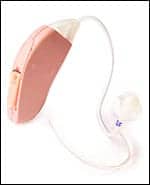 Open FIT OTE Hearing Instrument
Audina Hearing Instruments Inc, Longwood, Fla, introduces the SPARO™ digital open fitting, over-the-ear hearing instrument. SPARO delivers a personalized fit, and has the capability of processing 2.56 million calculations per second. An advanced DSP chip achieves a high performance level with a low battery consumption level. Other features include 4-channel, 12-band gain adjustment; programmable multi-microphone directional processing; intuitive feedback reduction; 10-bands of layered noise reduction; and adjustable threshold levels in each channel. (800) 223-7700; www.audina.net.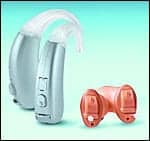 Open Fit BTE Hearing Instrument
Siemens Hearing Instruments, Piscataway, NJ, offers CIELO, an open-fit BTE hearing instrument. CIELO instruments offer six frequency shaping and compression channels with adjustable crossover frequencies, enabling precise fitting to the patient's audiogram and dynamic range. The noise reduction system suppresses disruptive sounds while maintaining the speech signal. It features an adaptive directional microphone, a phase cancellation system, an AutoPhone function, and soft, flexible non-occluding LifeTips for a more comfortable fit in the ear canal. CIELO Life does not require a custom made earmold. (800) 766-4500; www.usa.siemens.com/hearing.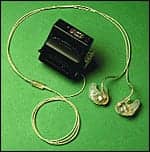 Custom-fit Gel Silicone In-Ear Monitor
Sensaphonics Hearing Conservation, Chicago, offers a 3D Active Ambient in-ear monitor. This system adds full-range, natural ambient sound to the in-ear experience. A highly sensitive, precision-equalized microphone is embedded in each custom molded, soft gel silicone earpiece. The ambient sound is picked up and routed to the compact 3D bodypack, where it is combined with the user's monitor mix using Active Signal Processing. The bodypack acts as both preamplifier and mixer. The 3D Active Ambient can work as an adjunct to a standard wireless IEM system or as a standalone wired IEM. (312) 432-1714; www.sensaphonics.com.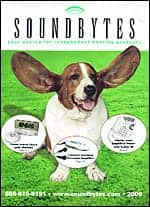 Hearing Products Catalogue
Soundbytes, Hicksville, NY, offers its latest catalogue of products for the deaf and hard-of-hearing. The catalogue features items such as amplifiers, baby monitors, books and videos, cellular products, cochlear implant accessories, emergency phones, hearing aid accessories, hearing protection, speech augmentation, television amplifiers, tinnitus mitigation, voice amplifiers, watches and wireless communication. The company offers five ways to order: by phone, by mail, by TTY, by fax, and via the Internet. (888) 816-8191; www.soundbytes.com.