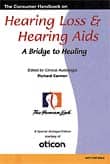 Totes for Hearing Products
Kidlfyx Kreations, Tulsa, Okla, introduces Kidl Kare Kits, designed to provide functional items to keep hearing aids working properly. According to the company, each item included in the Kit has been tested for its functionality, use, and appeal by audiologists. Kits are specialized for BTEs or ITEs, and pediatrics or adults. Customers can choose the fabric and style of the Kit. A typical BTE Kidl Kare for pediatrics contains: Dri-Aid Kare Kanister; desiccant blister pack; cleaning tools; battery tester; tubing puffer; listening scope; supply box; flannel cleaning cloth; sample package of double-sided skin tape; Lansinoh creme .25 ounce; and a clip. (918) 607-2451; www.kidlfyxkreations.com.
---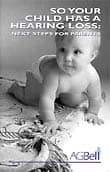 Wireless Hearing System
TV Ears Inc, El Cajon, Calif, offers the TV Ears wireless hearing system, designed to deliver sound directly to the wearer's ears. Television audio processing (TAP) technology ensures that all words are heard clearly, while the automatic volume control (AVC) circuit is designed to reduce loud bursts of sound. The system works separately from television speakers so that others can set the TV volume at the level they desire. TV Ears also work in nearly all movie theaters, playhouses, concert halls, and other public places, according to the company. (888) 883-3277; www.tvears.com.
---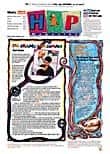 Digital Volume Control
Deltek, Itasca, Ill, introduces its model 7720 Digital Volume Control for the hearing care market. Digital volume controls emit a pulse when turned rather than a traditional analog voltage, allowing them to feed a direct digital control signal to the hearing aid. The 7720 model has a 4 mm diameter, and leaded package. The 7720 is designed around an extremely robust precious-metal contact mechanism in order to provide consistent electrical performance over thousands of rotational cycles by the hearing aid wearer.
(630) 250-5100; www.deltekelectronics.com.
---

All-Natural Ear Conditioner
Westone Laboratories, Colorado Springs, Colo, offers Nurturell™, an all-natural conditioner to help maintain healthy skin in the ear canal. Nurturell lubricates the ear with natural properties, including aloe extract, reducing discomfort. It also helps with cerumen management by softening earwax to prevent damage to the keratin layer of skin in the ear during removal.
(800) 525-5071; www.westone.com.
---

FM Compatible DSP
Sonovation, Eden Prairie, Minn, offers BigNano XP, a digital signal processing unit. Utilizing the ImpaCt DFC algorithm, the BigNano XP moves high frequency speech sounds to lower frequency regions. A voice clarity multi-channel speech emphasis algorithm optimizes gain and output based on varying speech levels and changing environmental conditions. Features include optional directional microphones, a digital volume control, multi-program switch, telecoil, and the device is FM compatible. BigNano XP is available in a variety of colors. (800) 462-8336; www.avrsono.com.
---

Implant Power Batteries
ZeniPower, Zhuhai, China, introduces its newest generation of Implant Power batteries. The new batteries offer a 30% improvement, and can power a cochlear BTE speech processor for 3-6 days. According to the company, comparison tests show ZeniPower batteries have a longer life than the leading brand at 30mA discharge. A strictly controlled manufacturing process guarantees high reliability and consistency. Free samples are available. (814) 825-8398; www.zenipower.com.