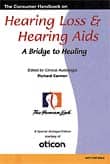 Newborn Hearing Screener
Natus Medical Inc, San Carlos, Calif, offers the handheld ALGO® 3i newborn hearing screener, which has been awarded a 2004 Medical Design Excellence Award. The ALGO 3i screener is a small, portable system with multi-language user interface, enhanced data management capabilities, and Natus' proprietary AABR® hearing screening technology. The ALGO 3i device screens both ears simultaneously and features the SpeedScreen™ function, which allows tests to be performed while entering patient information. (800) 255-3901; www.natus.com.
---
Hearing Instrument
Vivatone Hearing Systems LLC, Westport, Conn, introduces the Vivatone™ hearing instrument. Available in four models, Vivatone hearing instruments feature a tiny speaker located directly in the ear while keeping the ear canal open. It is designed to preserve the ear canal's natural resonance by mixing amplified and natural sound, and provides additional high frequency gain without insertion loss. The digital instruments also feature up to four programmable memory settings and an optional directional microphone. (877) 278-8482; www.vivatone.com.
---
Diagnostic Testing Software
GN Otometrics, Bloomington, Minn, introduces two diagnostic tests for its CHARTR EP software: auditory steady state response (ASSR) and vestibular evoked myogenic potentials (VEMP). ASSR is a simple, fast, and accurate measurement tool for objectively evaluating ear-specific, frequency-specific hearing in infants. The automated ASSR program allows the user to obtain an audiogram quickly. VEMP is used to measure the integrity of the sacculocollic pathway of dizzy patients. It supplements the current ENG/VNG test battery by providing diagnostic information about saccular and inferior vestibular nerve function. (800) 362-3736; www.gnotometrics.com.
---
Portable Telephone Amplifier
HITEC® Group, Burr Ridge, Ill, offers the ClearSounds® CS-IL40 portable telephone amplifier. The amplifier attaches to corded phones to increase the incoming volume of any call. The light and compact-sized device features quick and simple installation, volume control, and a boost button to increase incoming volume up to 40 dB, and tone control, which allows for sound matching to individual needs. (800) 288-8303; www.hitec.com.
---
Digital BTEs
Phonak Inc, Warrenville, Ill, introduces two new case colors in their digital BTE line: light pink and light blue. The new colors were developed with the focus of children in mind. Phonak's digital BTEs are now available in a choice of 13 colors. The digital BTE line includes Perseo, Valeo, Supero, and MAXX BTE hearing instruments. (800) 777-7333; www.phonak.com.
---
Programmable Hearing Aids
Prairie Labs Inc, Hopkins, Minn, has introduced two digital, programmable hearing aids, Prairie Songs 2 and Prairie Songs 4, which use the latest technology in signal processing, noise management, and adaptive feedback rejection. Prairie Songs 2 is a two-channel, 10-band digital amplifier that could be used as a programmable (three possible programs or inputs) or stand-alone digital hearing aid with up to three programmable trimmers. Prairie Songs 4 is a four-channel, 12-band programmable digital amplifier (four possible programs or inputs) with adaptive feedback rejection and many other capabilities. (800) 322-8238.
---
Send press releases to Arati Murti at:

The Hearing Review,
6100 Center Drive, Suite 1020
Los Angeles, CA 90045

Phone: (310) 642-4400, ext 231
Fax: (310) 641-0831
Email: [email protected]