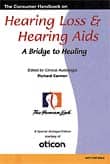 In-the-Ear Microphone
Advanced Bionics® Corp, Valencia, Calif, introduces the BTE T-Mic™, an in the ear microphone for users of its Clarion CII BTE and Platinum BTE ear-level cochlear implant sound processors. The T-Mic's microphone position takes advantage of the natural properties of the outer ear in collecting and directing sound toward the microphone. The T-Mic is said to interface easily with cellular phones and to eliminate compatibility problems associated with telecoils. It also provides an interface to headphones, which allows access to consumer electronics and assistive listening technologies.
---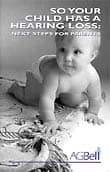 Digital Hearing Aid Circuit
Audina Hearing Instruments, Longwood, Fla, introduces the Paragon 2 DSP, a 2-channel, 4-band digital circuit designed to provide a digital alternative for hearing aid users who find it financially difficult to purchase the Paragon 4 and Nueve models. The Paragon 2 includes the choice of WDRC, linear, and AGC-o processing strategies, anti-feedback notch, low battery indicator, and twin average detectors. Additional options include multi-memory, t-coil, and external VC.
---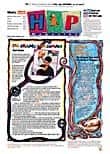 Hearing Aid Battery
Duracell, introduces the Activair with EasyTab™, and easy to replace hearing aid battery with three new features. It contains a pillbox package that makes it easy for patients to store, transport, and remove batteries, as well as a longer tab design that makes the batteries easy to see, hold, and insert in hearing aids. In addition, the new battery cell construction delivers up to 30% longer life than the previous Activair batteries. For more information, call Phonak at (866) 285-6264; www.phonak-us.com, or Unitron Hearing at (800) 888-8882; www.unitronhearing.com.
---

Pre-wired Faceplate
Interton/AHS, Plymouth, Minn, introduces its new line of pre-wired faceplates. Assembled with 100% digital or programmable circuits, the products are designed to meet the needs of small manufacturers. Interton was founded in 1962 and has corporate headquarters in Bergisch Gladbach, Germany.
---

Digital Power BTE
Siemens Hearing Solutions, Piscataway, NJ, introduces the Triano™ SP BTE, designed for individuals with severe to profound hearing loss. With the product's adaptive TwinMic system, the user has the option of manually activating the directional effect or relying on an automatic mode that transitions between directional and omni-directional modes according to the situation. The Triano also filters out noise coming from different directions both quickly and efficiently, with a high adaptation speed that makes it possible to reduce the effects of multiple alternating background noises from different directions. The directional microphone system targets the sounds that are in front of the user.
---
2002 Worldwide Registry Corrections
The following information represents updates and corrections to the 2002 HR Worldwide Registry published in July. Please copy and place this page in your Registry for reference.
Beltone Electronics Corp
4201 W Victoria St
Chicago, IL 60646
(800) 621-1275; (773) 583-3600;
Fax: (773) 583-1955
Web site: www.beltone.com
Executive VP, GN Resound; President, GN Resound Group North America: Alan Dozier
President, Beltone USA: James Curran
Senior VP Sales: Ed Braun
Senior VP Manufacturing: Michael Mann
VP Marketing: Barb VanSomeren
VP Product Management: Steve Hannibal
VP and GM, Alternate Distribution Initiatives: Randi Binstock
VP Business Development: Craig VanDeVelde
VP Finance: Cindy Kaempfer
Director Product Marketing: John Cariola
PRODUCTS/SERVICES: Complete custom and conventional hearing aid line, digital hearing instruments, hearing aid accessories, hearing aid batteries, hearing aid fitting software, impression materials, education materials, hearing aid insurance, publications, marketing and sales materials, training manuals, and video tapes.