Signaling System
Ultratec, Inc., Madison, WI, manufacturer of text telephones (TTYs) and amplified phones for people who are deaf or hard of hearing, introduces a new signaling system called Simplicity™, the updated replacement to the Watchman™ series. The new Simplicity signaling system alerts people to events such as a telephone ringing, someone at the door, and other common sounds around a home or workplace, by turning the sounds into signals that people can see. Comprised of individual signalers that work alone or all together, the Simplicity system is designed to be flexible for accommodating a wide range of environments. Each signaler provides a visual alert when sound is detected either by flashing a plugged-in lamp, illuminating a strobe light, or signaling remote receivers which flash lamps in other rooms. An Add-on Strobe accessory enables individual signalers to flash independently, alerting users in areas where a lamp would not traditionally be used, such as a hallway, bathroom or garage. Simplicity signalers are available in two different styles: a contemporary "desk-top" style that rests on a table or countertop and a classic "wall-mount" style that plugs into an electrical outlet. Individual units include a variety of Telephone Ring Signalers, Doorbell Signalers, Sound Signalers, and Remote Receivers to alert people in areas throughout the home or office.
---

Programmable Instruments
Magnatone, Casselberry, FL, introduces the DigiPro™ (Digital Programmable) EQ3 product line, an advancement over the dynamic EQII version. The added features are three additional memories, a notch filter designed to eliminate feedback without much effect on the gain or high frequency response, output limiting what is achieved with AGCo (less distortion) versus using peak clipping, and MNR (Microphone Noise Reduction) to help remove microphone noise and circuit noise in quiet situations. It also features high and low frequency gain adjustment with high frequency compression ratio adjustment, low frequency compression fixed at 3:1 and similar ranges in threshold control with the lower end being slightly higher to reduce feedback in quiet. DigiPro™ EQ 3 will be available in the CIC, ITC, half shell, DB ITE and rechargables.
---

Disposable Earplugs
Dalloz Safety, Reading, PA, announces that it now offers 200-pair packaging of its Bilsom® Series Eardown® and 300 Series foam disposable earplugs. The new packaging is designed to accommodate changing quantity requirements of distributors. The earplugs are available in two sizes and are designed for easy fitting. The 200 Series offers NRRs in high-frequency noise areas and reportedly permits clear worker communication. The 300 Series offers NRRs in low-frequency noise ranges and features a tapered shape with a round tip for fitting in the ear canal. All Bilsom® hearing protection devices are tested to ANSI S3.19-1974 and comply with current OSHA, EPA, ANSI and CSA standards.
---

Amplified Telephone
Hal-Hen, Garden City Park, NY, introduces the Phone Max Amplified Telephone, model 030. The device featuers boosted high frequencies for improved speech clarity, a frequency range of 300-2800 Hz and an acoustic output of 112 dB. The phone also includes an extra loud ringer (85 dB) and features a flashing ring indicator.
---

Digital Hearing Instruments
Rexton, Plymouth, MN, introduces gran-D Custom, a hearing instrument designed to provide superior digital performance with the ease of conventional manual trimmer adjustments, according to the company. The instrument features 100% digital technology in two independent channels for clear and comfortable listening and manual trimmer adjustments with a maximum of three detent trimmers to allow flexibility when fitting patients' hearing loss. Gran-D Custom has a comprehensive model selection with a full line of instruments from CIC to BTE (Piccolo gran-D).
---

Digital Rechargeable Instrument
Audio'D', Scarborough, ME, introduces the 100% Digital Captiva. The Digital Captiva features 16 bands, 4 channels and a Smooth Noise Reduction algorithm that improves the signal to noise ratio by as much as 12 dB, according to the company. The rechargeable option recharges the instrument using electromagnetic induction and is available on the Full Shell and Canal instruments. The Digital Captiva is available as a Full Shell, Canal, and CIC.
---

ITC Device
United Hearing Systems, Central Village, CT, announces the release of its new ITC product, the UHS Model 904. Reportedly, this advanced faceplate assembly represents the new image of ITC technology in UHS programmables. The instrument is designed to be attractive in appearance and has been developed for easy usage and enhanced reliability.
---

NAL-NL1 Added to Fitting Software
Siemens Hearing Instruments, Inc., Piscataway, NJ, announces that CONNEXX™ 3.4, its recently released programming upgrade, provides enhanced performance of its premium digital aid, Signia™. Developed at the National Acoustic Laboratory (NAL) in Australia, the NAL-NL1 algorithm introduced in Connexx 3.4 now joins DSL [i/o] as another algorithm able to program compression, gain and frequency response characteristics. Connexx 3.4 adds the ability to designate certain acoustical parameters of the hearing instrument shell or ear mold during First Fit™. It simulates the effects of the chosen parameters and takes these effects into account during calculation of targets. The new 3.4 version has a program selection screen to program Signia digital instruments with multiple programs, permitting modifications of the second program and the telephone program for other environments.
---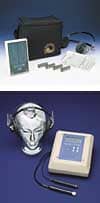 Digital Instruments
HearPO, Corrales, NM, announces the expansion of its digital product line to include 100% digital instruments ranging from manually programmable devices that do not require software to 9-channel devices with expansion technology. The product line includes: distinctly digitalTM signature available in BTE, ITE, ITC and CIC and distinctly digitalTM standard which combines 100% digital technology with manual trimmer programming. Available styles are BTE, ITE, ITC and CIC. The product line also includes distinctly digitalTM plus designed to reduce the noise often associated with WDRC hearing instruments. The distinctly plus features nine channels and fast-acting narrow band compression with attack and release times that are nearly simultaneous. It is available in BTE, ITE, ITC MC and CIC styles.
---

Software for Audiology Offices
Hearing Office Software, Klamath Falls, OR, announces their second software product, Hearing Office ProTM, a follow-up product to the Hearing Office LiteTM. Compatible with WinOS computers, the Hearing Office ProTM software is designed for managing hearing aid and audiology offices. The software includes the same functions as the LiteTM version but additional features such as patient records, billing, CPT codes, appointments, contact manager, message center and report writer. Free technical support is provided via email. The software can be downloaded by visiting http://www.hearingoffice.com.