How To:
Patient Care
How To Use the Online Hearing Screening Test—
A First Step to Hearing Help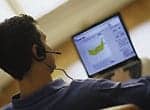 Do you have a computer with Internet access and a pair of stereo headphones? If so, then you have all you need to screen the hearing of your loved ones in the privacy of your home. The Online-Hearing Test includes two parts. In Part 1, the hearing thresholds of a "normal-hearing" listener are measured to establish the reference for the computer system you are using. This provides a "biologic calibration" that serves as a baseline for Part 2, when the person with the suspected hearing loss is tested.

The Online-Hearing Test provides a reasonably reliable estimate of hearing loss in the critical speech frequencies from 250 Hz-4000 Hz. The test is available at www.apherma.com/web2004/test.htm. It must be stressed that this test is designed for screening purposes only; it is not intended to replace the more accurate traditional assessment performed in the clinic by a qualified hearing care professional.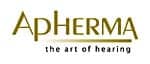 The true value of Apherma Corporation's Online-Hearing Test is in creating new opportunities for helping hearing-impaired listeners to recognize their hearing loss. The Online-Hearing test is most useful in getting a reluctant friend or family member to overcome the denial of his/her hearing-related problem and seek professional help. It will also generate referrals for audiologic evaluations and hearing aid fittings. And it does this through an actual listening test rather than through the more conventional "pencil and paper" behavioral based tests.
The Online Hearing Test is available at www.apherma.com/web2004/test.htm. For more detailed information on the test, see the article by Zezhang Hou, PhD, and Huanping Dai, PhD, entitled "An Online Hearing Screening Test" in the October 2004 Hearing Review, pgs 48-49.
For Information, contact:
Apherma Corporation
Sunnyvale, Calif, (877) 274-3762
www.apherma.com
---
Fitting Tips
How to Combine Open-Fit Technology
with Directional Performance


Bernafon LLC continues its long industry history of innovative hearing solutions in 2005 with the introduction of two new products, SwissEar™ and Win™.

Introduced at the AAA Convention in Washington, DC, SwissEar is the intelligent combination of the accuracy of ChannelFree™ digital sound processing with OpenFit™ technology to provide a high-frequency open fitting solution. The new hearing instrument is designed to be unique not only in signal processing and for its directional microphone, but it is also an exceptional solution for the first-time high-frequency hearing loss patient who may need more amplification in the future. Bernafon's OASIS plus™ software allows the clinician to convert the SwissEar into a full-gain behind-the-ear directional fitting solution in your office via a software setting and a physical ear hook change. SwissEar™ is available this month (July 2005).

Bernafon LLC also announces another innovative hearing solution for your patients with the introduction of Win™ in the basic digital product segment.
Win is the most competitively priced digital hearing solution from Bernafon, allowing hearing care professionals to reach significantly more people—even those with limited budgets. For additional information on all of Bernafon's products, contact (888) 941-4203, or visit the company's Web site at www.bernafon-us.com.
For Information, contact:
Bernafon LLC
Somerset, NJ, (888) 941-4203
www.bernafon-us.com
---
---
Fitting Tips
How to Find Out if the Noise Reduction Function
of a Hearing Instrument is Working


Many digital hearing aids can be programmed with a noise reduction feature. This feature often recognizes steady-state signals as noise, and makes gain reductions in that part of the frequency spectrum where the noise resides. Modulated signals (eg, speech) are not attenuated.

With the modulated Digital Speech and steady-state composite signals available on FONIX analyzers, a simple test can be made to determine if the noise reduction feature is working on a digital hearing aid.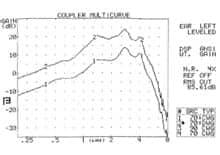 The first step is to record the gain response using the steady-state composite signal and obtain a gain response of the hearing aid. In this step, the signal may need to be applied for a period of up to 30 seconds before the noise reduction feature activates. The next step is to switch to another curve and use the digital speech signal, using the same amplitude of drive. This signal, when left on for the same length of time, should not trigger the noise reduction feature. An example is offered below, using the FP 35 analyzer.
With a FP35 analyzer, from the opening screen:
Select COUPLER MULTICURVE mode (F3).
Select Composite Signal for the Source (with F4).
Select a level of 70 dB SPL (UP and DOWN buttons).
Connect the hearing aid to the proper 2cc coupler and press START.
After 30 seconds, stop the test and press F2 for the next curve.
Again, select 70 dB SPL but use the Digital Speech signal (with F3).
Repeat the test. The gain should not be reduced with time.
For information, contact:
Frye Electronics,
Tigard, Ore, (800) 547-8209
www.frye.com
---
---
Fitting Tips
How to Use the Configuration Features on the Affinity Test System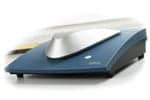 With the advancement of digital technology, many hearing aids require advanced stimuli or special test setups to appropriately assess their true performance. The Affinity's Hearing Instrument Testing software module (HIT440) has a flexible and configurable menu to customize unlimited hearing aid tests as well as current ANSI standardized tests. With this software, you can easily run multiple intensities and/or frequencies for response curves and input/output functions to access all of the possible affects of AGC circuits in multiple bands.

While the HIT440 comes with a standard set of stimuli, including ICRA sound files and speech dialogue using male and female voices, in future applications other test stimuli may be developed by hearing aid manufacturers which can then be imported via WAV files and stored within the test setups. Other special applications allow testing of directional microphones, and you can program hearing aid processing delays as well. A unique "Pause" feature provides the ability to insert a JPG photo with instructions prior to running a section of the test. For example, a reminder can be inserted that would tell the tester to either minimize or maximize the AGC circuit of a hearing aid in order to comply with the new ANSI procedure.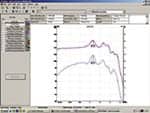 In addition, hearing aid manufacturers may have alternative settings that apply only to a particular model. In this case, a separate test configuration can be designed and named for that specific model, thereby making the test as simple as a choice from a menu and pressing "Start." If integrated with NOAH, the HIT440 will permit the simultaneous use of hearing aid fitting software, making it possible to see "real-time" effects of programming changes.
For information, contact:
Interacoustics
Eden Prairie, Minn, (800) 947-6334
www.interacoustics-us.com
---
Pediatric Testing
How to Use Speech Reception Thresholds to
Screen School-Age Children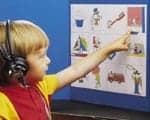 Children in the 3- to 5-year-old range often become frightened or confused during the traditional pure-tone hearing screening that is required by many states. Soft pure-tones can be abstract to preschoolers, whereas conversational speech is a familiar sound.

The fully portable Digital Pilot Test audiometer integrates an automated Speech Reception Threshold (SRT) test into the instrument. This allows an SRT to be quickly obtained in a screening situation for those children who have a difficult time responding to pure-tones. The test is turned into the "Pilot" game in which the child "helps the airplane pilot fly the plane" by pointing out the pictures when prompted. Digitally recorded sentences containing spondee words, such as "Show me the baseball," play through the earphones. The child identifies the word by pointing to the corresponding illustration on the picture board. Each consecutive sentence is reduced in level by 5 dB, down to 15 dB. Since the test is designed specifically for screening purposes, the entire test can
be completed in a small space without a soundroom or microphone to present the speech.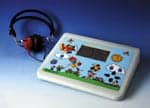 This quick screening can provide fast information regarding the child's ability to understand speech and an idea of their hearing thresholds, since the SRT score is correlated with certain pure-tone thresholds.
For older children who are comfortable with pure-tones, the Pilot Test audiometer includes a manual air-conduction audiometer for traditional pure-tone screenings.
For information, contact:
Maico Diagnostics
Eden Prairie, Minn, (888) 941-4201
www.maico-diagnostics.com
---
Fitting Tips
How to Make Use of the Activity Analyzer
in the Oticon Syncro 2

Syncro 2 offers an important new feature: the Activity Analyzer. This data storage functionality accumulates basic information, including the use of the different programs or the volume control adjustments made by the patient, and also presents the results of advanced environmental analysis.

The advanced analysis includes information such as the distribution of sound levels across the time that the hearing aid has been active, the proportion of the time that speech and/or noise signals are present, and the amount of time spent in the three directional modes (Surround, Split and Full Directional). The professional can access this data any time that the patient is in the office for follow-up. The data storage can be cleared at any point in time and different monitoring periods can be compared.

The data can be used for three major purposes: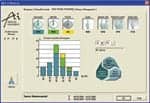 1) It can be reconciled with reports from the patient concerning the needs for fine tuning.
2) It can reveal to the professional important aspects about the patient's auditory life experiences.
3) It can demonstrate to the patient and family members the sophisticated manner in which Syncro analyzes and reacts to the environment.
For information, contact:
Oticon Inc
Somerset, NJ, (800) 526-3921
www.oticonus.com
---
---
Marketing
How to Run a Battery Club Program


Are you looking at ways to increase patient loyalty and grow your practice? Hearing Aid Battery Clubs offer you the opportunity to do both by making batteries part of your patient relationship.

Rayovac ProLine Battery Club programs can be executed in a variety of ways: Battery Club Booklets, Frequent Purchaser Punch Cards, and Frequent Purchaser Battery Coupons.

Battery Club Booklets. These booklets, supplied free by Rayovac ProLine and customized for your office, can be used as either pre-paid or a pay-as-you-go programs. By offering the pre-paid option, you are able to secure battery sales up front with your patient and assure a contact point for future purchases. A pay-as-you-go program gives your patient the option to enjoy the savings of a battery club while being financially flexible.

Frequent Purchaser Punch Cards. Punch Cards, also customized free of charge by Rayovac ProLine, offer a simple battery club option. Handled like many other loyalty programs, patients simply receive a punch on their card when they purchase hearing aid batteries from your office. After a pre-determined amount of purchases, your patient receives a free pack of hearing aid batteries.

Frequent Purchaser Battery Coupon Program. Using a Rayovac ProLine coupon program, patients receive coupons for battery pack purchases and receive a free pack of batteries once they have accrued a predetermined amount of coupons. These programs offer you a variety of ways to stay in contact with your patients and reward them for purchasing hearing aid batteries from your office.
By taking the time to discuss hearing aid batteries with your patients and enrolling them in a battery club program, you can establish that important ongoing link that will bring them back to your office for their next hearing instrument. What an easy way to get repeat hearing aid and battery purchases directed back to you!
For information, contact:
Rayovac Corp
Madison, Wis, (800) 356-7422
www.rayovac.com;
---
---
Fitting Tips
How to Scan Ear Impressions Right in Your Office


The iScan will change the way hearing care professionals work. iScan lets dispensing professionals scan impressions right in their office, view 3D images onscreen, and order online with just a click of a mouse. With a seamless electronic integration that enables them to complete a customized and validated order entir
ely online, iScan™ is designed to eliminate the traditional barriers to productivity. There is no need for order forms, shipping hassles, or waiting. With just a few mouse clicks, an order is transmitted directly to Siemens by either the mySiemens e-business Web site or via the NOAH eTona electronic ordering system. iScan also reduces turnaround time by up to 48 hours for a quick response patients will appreciate.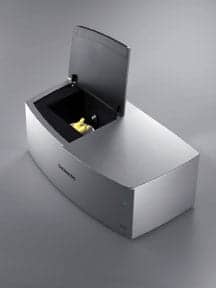 iScan's plug-and-play functionality makes start-up easy. Because iScan integrates automatically with Siemens existing e-ordering workflow, hearing care professionals can complete a fully validated order in just minutes. Here's how:
Scan. Place the impression into iScan and click "start." Using high-end optical scanning technology, results are precise to the micron.
View. In minutes, view the reconstructed 3D scan onscreen to verify the scan from any position or angle.
Send. iScan integrates effortlessly with mySiemens e-Form and NOAH eTona. With just a few clicks, the order is sent to a Siemens manufacturing facility.
Additionally, with iScan's digital storage capabilities, hearing care professionals now have the option to order remakes or replacements for lost or damaged instruments without the need for a new impression. 3D impressions are stored at Siemens for up to three years.
For information, contact:
Siemens Hearing Instruments
Piscataway, NJ, (800) 766-4500
www.siemens-hearing.com
---
Fitting Tips
How to Do Better than Saying "You'll Get Used to the Sound of Your Own Voice"


Aperson investing $5,000 in state-of-the-art digital hearing aids should not have to be told, "There's nothing we can do to make your own voice sound more natural, but don't worry, you'll get used to it." Sonic Innovations has developed a method of adjusting the frequency and amplitude characteristics of the wearer's own voice using the intricate electroacoustic behavior of modern hearing aid fittings in order to move the perceived location of the voice to its natural position. Innova's nine-frequency control of loud and soft speech sounds in 1 dB increments provides manipulation of perceived location of the wearer's own voice as well as sound quality.

The "Voice Manager" tab, under "Fit Hearing Aid" in EXPRESSfit, allows the clinician to make these adjustments interactively. Ideally, the perceived location of the wearer's own voice should be in front of the mouth, with minimized "boominess" and harshness, and no "echo."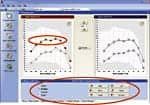 Select "Position" under the "Voice Manager" tab and ask your patient to count to five (preferably with eyes closed), giving the following instructions: "Try to identify where your voice sounds like it is coming from; right to left, up in your nose or down in your throat, in your head or in front of your mouth." Based on the patient's response, click the appropriate button. For example, if the patient says that it sounds like his/her voice is in their head and behind their eyes, first click the "Nose" button to "move" their voice downward; repeat as many times as necessary to make it level with the mouth. Next, click the "Inside" button to "move" the patient's voice outside his/her head. The changes to the actual fitting values are subtle, but have great effect on own-voice perception. The changes can be seen in the fitting curves as small deviations from the targets.
For information, contact:
Sonic Innovations
Salt Lake City, Utah, (801) 365-2800
www.sonici.com
---
---
---
Fitting Tips
How to Ensure Patient Satisfaction Using the Senso Diva ITC
Fitting a custom Senso Diva hearing aid is simpler than you think. However, there are several steps to remember in order to ensure satisfaction with the fitting.

1. Start with a perfect ear impression. Make sure that the ear canal is clean before you take the impression. Also make sure the impression material goes beyond the second bend, and covers the tragus and helix areas of the pinna.

2. Ensure comfort. Make sure that the Senso Diva ITC fits comfortably in the ear and that the angles formed by the dual microphones are within 20° of each other in both the horizontal and sagittal planes. Check that the faceplate is not inserted by more than 3 mm beyond the tragus, and that both microphone openings are visible (see figure).
3. Perform Sensogram in a quiet room. An in-situ threshold measure (sensogram) at 500, 1000, 2000, and 4000 Hz is required to specify gain at these and other frequencies. Frequencies within the interoctaves can also be tested for more precise threshold specification. The expanded sensogram may be helpful for atypical audiograms with >20/octave change in hearing thresholds.
4. Conduct feedback test. A feedback test will be needed to estimate the feedback path and to set the gain limit of the Senso Diva. Make sure that the test is performed in a quiet room with no reflective surfaces near the patient. A slight "jaw-open" position is desirable.
5. Voila! You have just fit a Senso Diva hearing aid successfully. This will satisfy the majority of your patients.
Additional fine-tuning
may be necessary for a small number of patients. Before fine-tuning, however, remember the following:
Make sure that your patients have realistic expectations.
Give the default setting a try (at least 1-2 weeks). In many cases, patients would prefer the default Senso Diva settings over any modifications.
To understand patient objections, it may be helpful to examine some of the fine-tuning screens (ie, input-gain screen, input-output screen, frequency-output screen at various input levels, and speech spectrum screen).
For information, contact:
Widex Hearing Aid Co
Long Island City, NY, (800) 221-0188
www.widexusa.com
---