Hearing Aid Sweat Band
VanB Enterprises of West Valley, NY, offers the Hearing Aid Sweat Band, a disposable soft fabric sleeve that protects behind-the-ear (BTE) devices from moisture. Available in four colors and five sizes, the Hearing Aid Sweat Band protects BTE hearing aids from perspiration, snow, and rain, as well as from infiltration of damaging dirt and grime. The sleeve is easily slipped over the microphone of a hearing aid, without the need for a tool. (716) 942-6313; www.vanbenterprises.com.
---

Single-Wall Screening Booths
Acoustic Systems, Austin, Tex, offers single-wall screening booths for screening environments where the ambient conditions require increased attenuation, or clinical testing may be required. The booths are constructed with the company's standard, Type 2, four-inch-thick wall panels and provide isolation. Acoustic Systems is accredited by the National Voluntary Laboratory Accreditation Program (NVLAP) and submits its audiometric rooms and suites to regular testing. (512) 444-1961; www.acousticsystems.com.
---

Enhanced Listening Tools
Enhanced Listening Technologies Corp (Connections Unlimited), Riviera Beach, Fla, introduces PT tools™, a range of microphones, mixers, adapters, and couplings to help the audiologist and patient derive maximum benefit from the personal amplifier class (Pocketalker, Sound Director, Sound wizard, Echo-Tech, etc.) PT tools help patients with mild to moderate and severe to profound hearing loss. (800) 286-3481; www.eltgroup.com.
---

Compact Maintenance Kit
S & S Laser, New Port Richey, Fla, offers a compact version of its hearing aid maintenance kit. The kit includes Moisture Guard™, a 12-volt DC transformer, a battery tester, a combination tool (brush, waxpick, and magnet), and an SPV vent cleaning tool. (800) 934-6815.
---

Warranty Coverage
Starkey Laboratories Inc, Eden Prairie, Minn, has expanded its warranty coverage into one comprehensive program designed for a variety of patients' needs. Coverage is available in four unique programs: Worry Free Deluxe Loss, Damage, and Repair Warranty Protection; Worry Free Loss and Damage Warranty Protection; Worry Free Repair Warranty Protection; and Worry Free Extended Warranty Protection. The new warranty plan gives hearing professionals the opportunity to set their own pricing based on their individual services and policies. (800) 328-8602; www.starkey.com.
---

Upgraded Hearing Instrument Verification System Software
Audioscan, Dorchester, Ontario, the manufacturer of the Verifit® hearing instrument verification system, announces the release of software version 2.4. New features include a fitting system for CROS instruments using insertion gain or Speechmap—when CROS is selected, the Verifit automatically uses the reference microphone on the nontest ear; a real-ear occlusion effect test; ANSI S3.22—2003 and ANSI S3.22—1996; new, reorganized, and updated help files; cursor readout on most graphs; support for shared and networked printers; manual control that shows SPL, gain, and distortion as bar graphs and values; and last-used fitting method, transducer type, stimulus type, and level that may be saved when power is turned off. Tests can be run in Speechmap with no need to enter an audiogram first. (800) 265-2093; www.audioscan.com.
---

Hand Sanitizer
Hal-Hen Company Inc, Garden City Park, NY, features its Instant Hand Sanitizer System (catalog #3625), which can be placed anywhere hand cleaning is required. The automatic touch free design delivers a 1 ml, 3 ml, or 5 ml dose of waterless hand cleaner, which has been clinically proven to kill 99.99% of germs in 15 seconds. Conveniently packaged in 1,000 ml disposable pouches. (800) 242-5436; www.halhen.com.
---

Test Sequence
Frye Electronics, Tigard, Ore, introduces the ANSI 03 test sequence for the FONIX 7000, FP35, FP40, 6500-CX Hearing Aid Analyzers. This test sequence is expected to replace the ANSI 96 currently required in the manufacturing process. (800) 547-8209; www.frye.com.
---

Digital Open Fitted Instrument
Audina® Hearing Instruments Inc, Longwood, Fla, has released the ARC™ 100% digital open fitting hearing instrument. This instrument offers one of the only customized approaches to open fittings in the industry. The high-fidelity ARC features advanced technology, including the latest in 20-bit digital audio processing, which provides sophisticated sound quality, reduced distortion, and 128-band Adaptive Noise Reduction 3.0. Additional features include Adaptive Feedback Cancellation 2.0, 16 kHz bandwidth, and faster fitting times. The ARC enables custom open fitting, which takes advantage of the concha for a more natural listening and an improved secure fit. The unique shell design reduces occlusion. (800) 223-7700; www.audina.net.
---

Hearing Instrument
Beltone Electronics Corporation, Chicago, EDGE has advanced features that help solve the most common problems for hearing instrument wearers with high frequency hearing losses—occlusion, feedback, and distortion. EDGE uses a virtually invisible sound tube to create an open fitting that helps eliminate occlusion. EDGE's Active Feedback Cancellation™ feature stops potential feedback while maintaining gain, and its incredibly fast Rapid™ compression system reduces distortion. (800) 621-1275; www.beltone.com.
---

Educational CD
CareCredit, Anaheim, Calif, a national payment program, is offering a FREE educational CD entitled "Enhancing the Patient Experience," featuring Gyl Kasewurm, AuD. In the informative audio program, Kasewurm explains how practices can capture more of the hearing health care market by moving from an audiologist-driven to a patient-driven model of care. The program highlights tips and techniques practices can use to set themselves apart from the competition. With more than 20 years' experience in the field of audiology, Kasewurm is president of Professional Hearing Services Ltd, a state-of-the-art facility that includes the HearWorld Center, the first-ever virtual hearing care experience. CareCredit offers a comprehensive range of no- and low-interest finance plans. (800) 300-3046, ext 4519; [email protected].
---

Ear Drying Device
Westone Laboratories Inc, Colorado Springs, Colo, offers DryEar, an ear drying device to treat ear disorders by drying the ear canal. A customized computer chip directs a heater and fan to regulate the flow of warm air. The airflow runs for about a minute at a comfortable temperature to dry the outer ear canal. Each DryEar comes with five color-coded earpieces for use by the whole family. Equipped with a rechargeable lithium battery, DryEar can be used up to 50 times between charges. A handy travel kit, which includes a neoprene case and car/boat charger, is available separately. (800) 525-5071; www.westone.com.
---

Receiver Series
Minnetonka, Minn-based Sonion's new 3300 series receiver was designed to meet the high demand of providing maximum SPL output with premium performance. The balanced twin motor design reduces unwanted mechanical vibration without sacrificing acoustic bandwidth, thus creating a receiver that will offer customers an opportunity to increase output and gain, while reducing the annoyance of feedback. (952) 543-8300; www.sonion.com.
---

Cordless Amplified Telephone
Clarity, a division of Plantronics Inc, Chattanooga, Tenn, introduces the C4205, the first cordless amplified telephone available through its Clarity Professional™ brand, a specialized product line that features hearing solutions for those who experience a moderate to severe hearing loss. The C4205 amplifies sound up to 40 dB and uses Digital Clarity Power™ technology. Digital Clarity Power provides high sound quality by using technology that makes soft sounds audible while keeping loud sounds bearable. The C4205 features a bright, flashing visual ring indicator on the handset and base of the telephone; a vibrating handset to signal incoming call, and 2.4 GHz cordless technology. In addition, it includes a large lighted dial pad, vibrating handset ringer, and a 2.5 mm headset jack for hands-free telephone calls and a 3.5 mm audio output port. Available through Clarity authorized distributors. (800) 552-3368; www.clarityproducts.com.
---

Sonic Bed Shaker Alarm
The new Sonic Shaker portable travel alarm is available through Harris Communications, Eden Prairie, Minn. Be awakened by a powerful bed shaker and/or extraloud pulsating alarm. The clock has easy-to-use function keys and an easy-to-read display. Harris Communications is the largest distributor of Sonic Alert products. (800) 582-8569; www.harriscomm.com.
---

Powerful Personal Amplifier
ClearSounds Communications Inc, Burr Ridge, Ill, offers its redesigned Sound Wizard ergonomic powerhouse of a personal amplifier. Use the new Sound Wizard II alone for personal amplification with tone control for clarity, or share it with a friend (it has two headset jacks). Sound Wizard offers a choice of the omni directional or the directional built-in microphone, adjustable for optimum listening. Use it with the optional 95 kHz infrared receiver module for TV listening or theater use. The optional teleconnect module lets you use it as a powerful in-line telephone amplifier. You can even hook it up to optional speakers to use in a conference room. It comes with powerful ear buds, but you can use it with a headset or neckloop. (800) 288-8303; www.hitec.com.
---

Artificial Intelligence
Oticon, Somerset, NJ, introduced Syncro, the first hearing instrument with artificial intelligence. Now Syncro 2 introduces a range of innovative new features to this highly successful product: SYNCRO ACTIVITY ANALYZER, AUTOMATIC ADAPTATION MANAGER, and SYNCRO 2 POWER. It is all part of the Oticon promise to continuously improve everything we do—to help the practitioner build higher levels of client satisfaction and practice success. (800) 526-3921; www.oticonus.com.
---

Earlight Kit
Hal-Hen Company Inc, Garden City Park, NY, offers its new super bright Deluxe Earlight Kit. The new LED-PRO earlight is compatible with its previous earlight tips, loops, and accessories; a super-bright white light is supplied using the latest in long life LED technology. The LED-PRO is powered by two inexpensive AAA alkaline batteries, included with two earlight tips and storage case. (800) 242-5436; www.halhen.com.
---

Open Ear BTE
Micro-Tech Hearing Instruments, Eden Prairie, Minn, has released the Seneca Open Ear BTE, a new open-ear digital solution for patients with mild-to-moderate, sloping or precipitous high frequency hearing loss. The Seneca Open Ear BTE provides feedback management to expand the range of open-ear fittings; full-time directionality as a standard feature; acoustically transparent radial-fin earbud and nearly invisible tube; four-channel, 10-band digital processor; two settings of expansion to reduce unwanted soft sounds; comfortable fit; straightforward user interface and instantaneous programming; discreet case design available in three colors; and fast programming speed using standard Micro-Tech cables and programming ribbons. (800) 745-4327; www.hearing-aid.com.
---

Custom Fit Monitors
Ear Inc, Boulder, Colo, has announced the release of its custom-fit OTS (on the spot) Sports Monitors™. Specifically designed to block out loud background noise (wind, motors, crowds) while listening to high-definition acoustics, the monitors offer unbelievable clarity and comfort, and can be used for motorcycling, biking, aerobics, flying, industrial noise, iPods™, computers, radios, and more. (800) 525-2690; www.earinc.com; [email protected].
---

Instructional CD
The Wilson Group, Ft Worth, Tex, a national leader in practice building for the medical specialties, offers Turn Every Phone Inquiry Into an Appointment, an instructional CD that will teach a business' telephone staff to take an active role in patient management, and successfully interact with patients and prospective patients. Practices using this method report sales increases of 20% to 300%. Call for information or to order. (800) 346-6279; www.jameswwilson.com.
---

Digital Sound Processing
Unitron Hearing International offers Breeze™ combining the benefits of digital with the ease of conventional, trimmer-controlled fittings. Digital sound processing provides the advantages of greater personalization, improved sound quality and reduced perception of background noise. Trimmer-based controls enable fitting anywhere without computer-dependent fitting technology. Select from one of four preset processing strategies—WDRC, AGCo, or Linear—depending on clients' individual hearing losses and preferences. (519) 895-0100, ext 257; www.unitronhearing.com; [email protected].
---

NOAH 3 Modules
Frye Electronics, Portland, Ore, now has NOAH 3 modules available for all of its analyzers and audiometers. This module enables the user to remotely control FONIX hearing aid analyzers and audiometers from a computer. All test data is saved in the NOAH 3 database. Hearing aid fittings can be performed using the NAL-NL1 and the DSL protocals. New live speech mapping software is included in release 1.10. (800) 547-8209; www.frye.com.
---

BTE Loss Prevention
Westone Laboratories Inc, Colorado Springs, Colo, presents Ear Gear, a new product for children and adults that is designed to prevent BTE hearing instruments from getting lost, while at the same time protecting them from dirt, sweat, rain, and chafing. In addition, Ear Gear is a great way to keep expensive FM boots attached to children's BTEs. With 13 brilliant color and pattern options, Ear Gear can also be a fashion statement. Available in six styles to accommodate both monaural and binaural fittings, with or without cords and clips. (800) 525-5071; www.westone.com.
---

Audiometric Technology
The AVANT from MedRx, Largo, Fla, is a complete integrated audiological system designed to provide quality professional hearing health care. The AVANT features USB connectivity in order to accommodate rapidly advancing computer technology. This system has a modern design that is easy to use and equipped with excellent counseling and fitting tools. Features include dual channel audiometry; real ear measurements; live speech mapping; hearing loss simulator; occlusion effect; integrated Hi-Pro, 3-D speech mapping; AVANT testing, fitting, and presentation software; and NOAH™ compatibility. The AVANT also comes with video otoscopy and tympanometry software modules. (888) 392-1234; www.medrx-usa.com.
---

BTE Instrument Line
Audina® Hearing Instruments Inc, Longwood, Fla, recently launched a new line of 100% digital BTE hearing instruments: INTUITION D, INTUITION 4, and INTUITION 2. These are fully programmable, 100% digital BTE instruments. The INTUITION series offers fitting flexibility with layered noise reduction and intuitive feedback reduction. These features provide comfort and relief from irritating noise and whistling feedback. The INTUITION is available in 10- or 12-band gain adjustment for precise target matching, and offers up to four memories that provide versatility with independent channel compressor characteristics, in addition to dynamic contrast detection to amplify quiet speech. (800) 223-7700; www.audina.net.
---

UV LED Spot Cure Unit
Lightning Enterprises, Limington, Me, announces Spotty, a handheld UV Spot Cure device capable of curing UV adhesives and coatings. Spotty is lightweight and portable, and incorporates a unique interchangeable head system, which enables the user to swap curing heads of different wavelengths and power outputs for various curing applications. Spotty is also available with hard shell carrying case and can be operated by supplied wall transformer, or 9 V battery pack. (877) 546-1797; www.lightningenterprises.com.
---
Intelligent Amplification
Oaktree Products Inc, Chesterfield, Mo, introduces two new amplified telephones from Clarity's Professional™ brand: the corded C2210, and the cordless C4205 phones. Both phones feature Clarity's new Digital Clarity® Power™, providing what the company refers to as "intelligent amplification," including digital signal processing, noise reduction, feedback management, and wide dynamic range compression. While this type of technology is not new, it is the first time that hearing aid technology is being incorporated into a telephone. Both phones provide up to 40 dB of amplification and a choice of up to three tone control options for optimum listening. The corded C2210 includes a built-in alarm clock with an optional bed shaker and lamp flasher available for additional notification. The cordless C4205 operates on the 2.4 GHz technology and is equipped with a vibrating handset ringer. (800) 347-1960; www.oaktreeproducts.com.
---

Medical-Grade Silicone Swim Plugs
Perfect Seal, Wichita, Kan, offers Aqua-Tite swim plugs, which are reportedly made from medical-grade silicone. They are hypoallergenic and can be tinted to almost any color, or swirled up to three colors for the same price. Each plug comes with embedded handles, which are designed to make them easier to insert and remove. A connecting cord can also be ordered. (800) 311-9810.
---

Amplified Telephone
Harris Communications, Eden Prairie, Minn, offers the latest product from Clarity, the C600 Amplified Telephone. The 2.4 GHz cordless phone has caller ID and amplification of 30 dB. A unique feature of this phone is a battery backup, which gives users the convenience of a cordless phone with the assurance they can receive calls in the event of a power outage. Harris Communications is an authorized distributor of Clarity Products. (800) 582-8569; www.harriscomm.com.
---

Omni-Directional Microphone
Sonion, Minnetonka, Minn, offers its newest and smallest Series 8000 omni-directional microphone design. Cylindrically shaped for all applications, it provides performance that is consistent throughout environmental extremes, and offers industry leading EMI and ESD protection. Directional applications will benefit from well-matched 8000 sets, as a result of its stability across all frequencies. (952) 543-8300; www.sonion.com.
---

Hearing Aid Dispensing Book
AudioCare Inc, San Diego, is offering The Book on Dispensing Hearing Aids by Roy Bain. According to a review by TV and radio personality, Art Linkletter, "A man with inspiration, a master at provocation without anger and a good friend whose word you can trust—two thumbs up for The Book on Dispensing Hearing Aids! The elderly of our population who suffer from a loss of hearing need professionals to persuade them to accept available help. This book is a well-written, powerful presentation, spelling out exactly how to accomplish that task. Astonishingly rich in philosophy, this book should be studied by all who enter the hearing-aid business." To find out how to get a copy, contact Ron Bain. (800) 974-4100; www.audiocareinc.com.
---

Infant Screening Device
Starkey Laboratories Inc, Eden Prairie, Minn, features the DP2000, a state-of-the-art otoacoustic emissions infant screening device. Weighing less than six ounces, without the computer, the DP2000 has a range from 500 to 16,000 Hz. The system allows the examiner to save up to 10 curves per ear per test session for each patient. The system comes with seven different sizes of disposable test tips to ensure a good acoustic seal. The DP2000 plugs into any Windows-compatible computer with an available PCMCIA type II slot. (800) 328-8602; www.starkey.com.
---

Hand and Power Tools
Hal-Hen Company Inc, Garden City, NY, provides a very comprehensive offering of fine hand and power tools for every application. Of special note is the new ergonometrically designed Dremel XBR rotary tool, which fits in the palm of your hand. The XBR series combines comfortability and functionality rolled into one. Hal-Hen offers Dremel®, X-Acto®, Foredom®, Handler®, and much more. If the item is not in the catalog, call and request it. (800) 242-5436; www.halhen.com.
---

Digital Sound Batteries
iCellTech, Seoul, Korea, offers Digital Sound batteries. These batteries are specially designed to operate for a much longer lifetime in high current drain applications, while maintaining higher operating voltage and an increased voltage reserve to the 1.1 V cut-off limit of the latest digital hearing aid devices. The company guarantees high quality standard by strict piece-by-piece in-house inspections and reliability tests under ISO9001-2000 quality management. iCellTech batteries are available in more than 40 countries worldwide, and offer superior product quality and competitive pricing. Fax: 82-2-6735-6965; [email protected]; www.icelltech.com.
---

Open Caption Films
InSight Cinema, Santa Monica, Calif, provides option-caption services for big-screen, first-run box office movies. The service helps convey loud sound effects, narration, voice-overs, music lyrics, and garbled words that even hearing audiences miss. (310) 452-8700; www.insightcinema.org.
---

Turbo Torch Chip Technology
Mid-States Laboratories, Wichita, Kan, announces the addition of the new turbo torch chip technology Earlight with wide angel and focussed beam. It offers 100,000 hours of light and no bulb to replace. Comes with probe tip for better otoscopic visibility. (800) 247-3669; e-mail: [email protected].
---

Multimedia Program
Oticon, Somerset, NJ, offers eCAPS, a new multimedia program designed to enhance the entire counseling and rehabilitation process. It combines Oticon's experience with the original CAPS (client assisted product selection) counseling tool, Syncro Counseling, and best practices from today's most successful hearing care professionals. eCAPS provides a framework that can be customized to suit a practitioner's own fitting, counseling, and sales process. Highlights of the program include: a hearing loss simulator, a tour through the ear, everyday listening situations, a full product portfolio, and a comprehensive aural rehabilitation section. (800) 526-3921; www.oticonus.com.
---

Full Service, All-Make Repair Lab
Discovery Hearing Aid Repair, headquartered in Mobile, Ala, is staffed with personnel who have extensive experience in all facets of repairing and reconditioning hearing aids. The team offers high-quality repairs, rapid response time, and competitive pricing. Discovery Hearing Aid Repair is one of the Discovery Companies, which also includes Discovery Hearing Aid Warranties and Hansaton. (800) 736-9903.
---

Dual Channel Audiometry
MedRx Inc, Largo, Fla, presents the advanced AVANT audiometer, which utilizes innovative computer technology to create a state-of-the-art testing environment. The AVANT audiometer allows fast, accurate pure tone and speech testing, with an intuitive user interface for data presentation and patient monitoring. Separate outputs for all transducers allow them to remain plugged in and calibrated, adding speed and convenience to testing protocol. While extremely small and lightweight, the unit combines the power of a PC with MedRx's proprietary sound chip technology to create an audiometer like no other. Powerful built-in amplifiers eliminate additional hardware connections for sound field and live speech testing. Features include dual channel audiometry, separate outputs for all transducers and speakers, plug and play USB single cable connection from PC through a sound booth, high-power 2 x 20 watt internal amplifiers, extremely small and lightweight with optional mounting capability inside or outside the sound booth, and NOAH™-compatible software for patient archiving. (888) 392-1234; www.medrx-usa.com.
---

Global Web Locator
Starkey Laboratories Inc, Eden Prairie, Minn, announces the release of a new global locator page and 22 new consumer Web sites. All of the sites are accessible at www.starkey.com. Each site addresses four main topics: 1) how hearing loss affects life, 2) what people can do about hearing loss, 3) information about hearing aids, and 4) how to locate a hearing professional. After selecting from a list of countries, viewers can read about these topics in the language of the selected nation. Because hearing care is not as culturally accepted as other forms of health care, many people do not know who treats hearing loss. The Web sites locally define the different types of hearing professionals and better prepare consumers to seek help. (800) 328-8602; www.starkey.com.
---

Customized Newsletter
Hearing HealthCare News®, a customized newsletter for patients published since 1986, and Audiology HealthCare News®, a customized newsletter for physicians and other health care providers, are both edited by Dennis Hampton, a dispensing audiologist based in White Plains, NY. The newsletters are valuable resources for marketing a practice to patients and physicians. The newsletters are published quarterly, and delivered ready to mail. Samples and marketing videos are available. (800) 342-1643; www.hearinghealthnews.com.
---

Clear Speakerphone
The AT&T959 Speakerphone offered by Beyond Hearing Aids Inc, Florence, Ky, provides clear and loud speakerphone capability. This is an economical phone that solves the problem of feedback and meets the needs of clients who prefer to listen binaurally to a speakerphone. The AT&T959 Speakerphone is simple to operate and includes caller-ID. (800) 838-1649; www.beyondhearingaids.com.
---

Acoustic Impedance/
Microprocessor Audiometer
Micro Audiometrics, Murphy, NC, introduces the Earscan® middle-ear analyzer and pure tone audiometer. According to the company, the device is lightweight, durable, and affordable; performs an acoustic impedance test in 1 or 3 seconds; and can test ipsilateral reflexes. It reportedly presents signals from 250 through 8K, at 0 to 90 dB, in a pulsed or continuous mode, and can test automatically. The Earscan comes complete with the audiometric headset, impedance probe, eartips, and limited 3-year warranty. The first factory calibration is free. (800) 729-9509; www.microaud.com.
---

New Product Line
In'Tech Industries Inc, Ramsey, Minn, a leading supplier of miniature plastic hearing aid components, introduces its new VTM™ product line. Services include providing high-quality, highly accurate, digitally created ear shell services and rapid manufacturing to hearing instrument manufacturers. Proven technology includes precision scanning, electronic detailing, and stereo-lithography services while offering multiple surface finishes and color options that can improve your customer satisfaction ratings. This service is now available to all hearing aid manufacturers. www.intech-ind.com.
---

Pocket Audiometer
Otovation LLC, Lederach, Pa, features the Pocket Hearo SE Audiometer, a pocket PC-based audiometer providing a manual or automated self-test (a modified Hughson-Westlake) with patient questionnaire, graphical display of an audiogram, and basic recommendations for treatment based upon test results. It comes with Pocket Hearo software, pocket PC, and software to print audiograms from a PC, calibrated with included TDH-39 headphones or EARTONE-5A insert earphones. It also features Greta for physicals or industrial testing. (866) 686-8284; www.otovation.com.
---

Portable, Amplified Telephone
Clarity, a Division of Plantronics Inc, Chattanooga, Tenn, has unveiled its Clarity® C440 2.4 GHz amplified telephone. The C440 is lightweight, portable, and ideal for use by people with varying degrees of hearing loss. The phone offers enhanced clarity, reduced interference, and increased range of movement to telephone users. The C440 features amplification of sound up to 30 decibels, adjustable ringer volume, a bright visual ringer in base and handset to alert users to incoming calls, a large lighted dial pad, and hearing aid compatibility. In addition, it features caller-ID with 50 number and name memory, a customizable handset ringer, a one-touch emergency key, as well as redial, flash, mute, and page functions. The C440 also includes a belt clip and a 1-year limited warranty. (800) 552-3368; www.clarityproducts.com.
---

Wireless Video Otoscope
Audio Optics, Oradell, NJ. features the AO-16 wireless video otoscope. The AO-16 enables wireless transmission of video otoscopy to any device having a video input (a little yellow plug). The optional USB receiver enables computer storage and printing. Multiple receivers can be used, allowing one otoscope to serve multiple fitting and testing rooms. The AO-16 offers internal storage of 16 images and a 50% increase in resolution over previous models. Suitable for health fairs with a laptop, or portable TV monitor. There is a 1-year manufacturer's warranty. (866) 986-0055; www.audioptics.com.
---

Volume Control Series
Sonion, Minnetonka, Minn, features the PJ 185. According to company reports, the PJ 185 is the "world's smallest" volume control with a built-in on/off switch. Although the body is small, there is still a large diameter knob. PJ 185 is becoming the industry standard for small ITE volume controls. (952) 543-8300; www.sonion.com.
---

Master Digital Super Power
Oticon Inc of Somerset, NJ, introduces Sumo DM, an advanced digital super power instrument. The compact new Sumo DM improves listening performance in noise by using Oticon's unique tri-state noise management system to differentiate between speech and noise inputs—and apply narrow band noise reduction accordingly. Dynamic feedback cancellation effectively eliminates feedback without the loss of gain. A new gain and compression strategy for severe and profound hearing losses—dynamic speech enhancement—balances speech understanding and loudness compensation across eight individual frequency channels. The instrument also contains another industry first—a programmable LED light to indicate power on, preferred VC level, and program changes—making Sumo DM the ideal super power choice for children. (800) 526-3921; www.oticonus.com.
---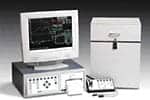 Newsletter
CareCredit, Anaheim, Calif, offers up-to-the-minute tips in its quarterly newsletter. Past topics have include: How to Attract More Patients, Making Hearing Aids Accessible, and Maximizing Acceptance of Optimal Technology. The newsletter also features the best ways to present financing and price to patients, how to increase the patient's credit line, and how to effectively display and discuss CareCredit to ensure successful fee presentations. CareCredit is a nationwide company, offering a comprehensive range of plans including 3-, 6-, and 12-month no-interest and 24-, 36-, and 48-month low-interest payment plan options. (800) 300-3046, ext 4519; [email protected].
---

Hearing Aid Test System
Frye Electronics, Portland, Ore, offers its top of the line replacement for the 6500-CX, the FONIX 7000. This instrument has great flexibility and a high-resolution display on a LCD monitor, and is computer upgradeable. Manufacturers, researchers, and dispensers are currently using the 7000. It is designed with a worldwide market in mind. This system has the advantage of being a standalone unit and can be conveniently used with a computer. The team at Frye is willing and able to help when custom programs are designed by customers. (800) 547-8209; www.frye.com.
---

Engraved Gifts
S & S Laser, New Port Richey, Fla, features custom engraved items (see ad on page 43). The company offers unique and personalized gift items along with custom and standard signage, available to fit any budget. S & S Laser also offers the V-Series of indoor/outdoor signage. (800) 934-6815.
---

Practice Builder
The Wilson Group, Ft Worth, Tex, a national leader in practice building for the medical specialties, offers weekly 30-minute in-office telephone seminars by conference call. Independent research conducted by Wilson Group mystery shoppers discovered that most receptionists fail to know how to convert a phone call into an appointment. The Wilson approach is to turn inquiries into appointments by training a company's already efficient reception staff. (800) 346-6279, ext 11; www.jameswwilson.com.
---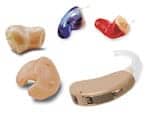 Digital Hearing Instrument
Starkey Laboratories Inc, Eden Prairie, Minn, offers Mesa digital hearing instruments. Mesa's Precision Frequency Resolution provides unmatched fitting flexibility for a wide variety of losses. Dynamic directionality, feedback cancellation, and noise management provide an excellent opportunity to fit patients with a fully featured, value-level instrument. Mesa is available in all styles from CIC to BTE. (800) 328-8602; www.starkey.com.
---

Tubing Spreader
Hal-Hen Company Inc, Garden City Park, NY, offers its 45 degree angle tubing spreader (patent pending), the latest addition to Hal-Hen's extensive offering of tools for servicing hearing aids. The new angled tip provides easy access to tubing ends and a quick and effective means to insert connectors. (800) 242-5436; www.halhen.com.
---

Amplified Stethoscope
Beyond Hearing Aids Inc, Florence, Ky, is the leading distributor of amplified stethoscopes and accessories with years of practical experience working with consumers with all types of hearing loss. Features the Cardionics Escope Stethoscope with specialist diaphragms and bells for superior sound conduction and a variety of accessories that interface the stethoscope to hearing aids. (800) 838-1649; www.beyondhearingaids.com.
---

Intuitive Hearing Instrument
Unitron Hearing International's Liaison™ is an intuitive hearing instrument for active clients, offering the advantages of multiple programs in the convenience of one. Liaison's Dynamic SoundScene™ provides effortless transitions within a single program automatically, adapting microphone strategy, noise reduction, feedback cancelling, and wind noise management. Liaison is available in a full range of styles, from a new lightweight, comfortable, and discreet BTE design to CIC. (519) 895-0100, ext 257; www.unitronhearing.com; [email protected].
---

Smoke Detector System
Beyond Hearing Aids Inc, Florence, Ky, offers a reliable solution to being awakened by the smoke detector. The Shake-up Smoke Detector system from Silent Call features a smoke detector with transmitter and either a vibrating receiver or strobe receiver to alert the person when the smoke detector is activated. "Would you be awakened by the smoke detector?" is a valid question to ask anyone with a severe high frequency hearing loss, and the Shake-up system provides the solution. The smoke detector emits both an audible alarm and a transmission to the receiver that is placed next to the bed (up to 100 feet from the smoke detector). (800) 838-1649; www.beyondhearingaids.com.
---

Personal Listening Device
Available from Hal-Hen Company Inc, Garden City Park, NY, Williams Sound's redesigned Pocketalker offers a smaller sized unit that resembles a cell phone. It features external volume and tone controls, 100 hours of battery life (two AAA alkaline batteries), a removable microphone, and a belt clip—all in a new retail friendly packaging. Hal-Hen offers a full range of assistive devices for the deaf and the hearing impaired. (800) 242-5436; www.halhen.com.
---

Consumer Vacuum
jodi-vac LLC, Portland, Ore, offers jodi®, the first hearing aid vacuum for consumers. The 12-volt DC portable unit weighs less than two pounds, and is 3 x 4 inches in size. A filtered syringe assembly is replaceable, enabling ease of maintenance. Also, the syringe has a flow indicator built in, showing when the needle is plugged with debris. A toothbrush is included to clear debris blockages from the needle. A reamer is also included to keep in the needle between uses. The unit is effective with all hearing aids. (866) 856-5634; www.jodivac.com.
---

Motorcycle Headset
For those who love their motorcycle and their music, Westone Laboratories Inc, Colorado Springs, Colo, offers the MH-1 Motorcycle Headset. The MH-1 is powered by a set of high quality drivers in a pair of full shell clear custom earpieces. Because the earpieces have a low profile, they slip easily under most helmets. In addition, the custom fit and comfortably soft vinyl material reduce the harmful effects of road noise. Each headset comes with a 50-inch black cable, hardwired toward the bottom of the ear, and a 3.5 mm stereo plug to fit virtually any CD, MP3 player, or onboard sound system. (800) 525-5071; www.westone.com.
---

Open Fit Solution
Lotus Technology Inc, Mooresville, NC, announces the release of Isis™, the new standard in state-of-the-art "open-fitting solutions." Isis™ delivers an expanded fitting range over other "open-ear" hearing instruments, offering the ability to provide a closed fitting when needed. This gives Isis™ the ability to reach 70 db flat losses and greater, as well as provide high-fidelity sound quality for open-ear fittings. (877) 483-1072; www.lotustechnology.com.
---

Digital Products
Beltone Electronics Corporation, Chicago, offers its two most sophisticated digital products, Beltone Corus and Oria. Corus helps eliminate common fitting problems, including feedback and occlusion. It automatically monitors and eliminates feedback while in the ear. Oria has 12 channels of digital signal processing and a wealth of features to help amplify soft sounds and keep loud sounds from becoming uncomfortable. (800) 621-1275; www.beltone.com.
---

Web Site
Starkey Laboratories Inc, Eden Prairie, Minn, has introduced the Internet site for SoundChoice, its proprietary credit program for hearing care practices. Hearing care professionals and their patients now have access to extensive information about the new SoundChoice Credit Card at www.soundchoicefinancing.com. Patients who suffer from hearing loss and want treatment can explore SoundChoice financing options at the site. Information is also available for professionals who want to offer patients convenient monthly financing on a revolving line of credit. SoundChoice offers patients two ways to finance better hearing: they can choose either a no-annual-fee credit card or an extended-installment payment plan. Either way, they can finance up to 100% of treatment costs. They can also use SoundChoice for ongoing care, including batteries, warranties, and future maintenance. Patients who are confident and comfortable with their decision are more likely to experience higher satisfaction from their investment in better hearing. (800) 328-8602; www.starkey.com.
---

High-Output Receivers
Knowles Electronics, Itasca, Ill, announces the expansion of its family of Pantograph high-output receivers by offering the PHF+, an increased high-frequency output version of the PHF receiver. The new designs offer additional output in the critical 2 kHz to 6 kHz range under both nominal drive (low-power levels) and maximum power output level conditions. Used in today's modern hearing aids, the PHF+ can help provide additional sound quality and speech clarity for patients with high-frequency hearing loss. The PHF+ also provides for increased output for patients with moderate to severe losses that require significant acoustic gain. The PHF+ receiver uses Knowles' patented Pantograph drive linkage to minimize receiver vibration while emphasizing high-frequency output. Combined with Knowles' high-output armature geometry, the PHF+ provides increased acoustic output and maximizes gain-before-feedback in BTE and power ITE hearing instruments. (630) 250-5100; www.knowleselectronics.com.
---

New Generation Batteries
Sy Kessler Sales Inc, Dallas, the official North American Importer for Renata Batteries, will launch Maratone, Renata's latest generation zinc-air hearing aid batteries in the fourth quarter of 2005. According to a Renata representative, the batteries are called Maratone, because Swiss engineered batteries perform "like a true marathon runner." Henry Kessler, president of Kessler/Renata, says, "All battery manufacturers have continued improving their products, in order to keep up with the increasing high power demands of the latest generation digital hearing aids." (800) 527-0719; www.renata.com; [email protected].
---

2.4 GHz Amplified Telephone
ADCO Hearing Products Inc, Englewood, Colo, announces the CLS45i, an amplified telephone specifically designed to ensure ease of communication for those affected by hearing loss. The Ameriphone CLS45i by Clarity® is a portable telephone that makes phone conversations not only louder, but also clearer and easier to understand. Unique in its ability to amplify incoming sounds up to 40 dB, the CLS45i also offers telephone users enhanced clarity, reduced interference, and increased range of movement through its use of 2.4 GHz technology. It also features several modifications specifically for the hearing impaired, including amplified speakerphone in the base and handset, adjustable ringer volume, bright visual ringer in the base and handset to alert users to incoming calls, a large lighted dial pad, caller ID, and hearing aid compatibility. (800) 726-0851; (303) 794-3928; www.adcopro.net.
---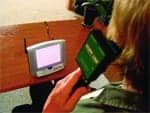 Directional Technology
Starkey Laboratories Inc, Eden Prairie, Minn, offers Precision Directional Imaging (PDI) available for all Genesis digital products. A unique software addition to the Precision Audio Imaging operating system, PDI improves speech understanding in difficult listening situations found in restaurants, parties, and other loud environments. PDI's single microphone design also eliminates drift and yields significantly quieter directional performance in true in-the-canal instruments. Unlike manual systems, Axent II instruments equipped with PDI's dynamic algorithm continuously monitor signal strength in both the omni and directional modes. When the system senses that directional processing will provide noise reduction benefit, it automatically activates a preprogrammed directional pattern. Arista, Sequel, and Endeavour feature user-activated PDI technology. (800) 328-8602; www.starkey.com.
---

Hearing Screening Booth
Acoustic Systems, Austin, Tex, introduces the RE-125 hearing screening booth. Shipped preassembled, the RE-125 offers improved isolation and meets OSHA standards. The unit is easily moved through most office doors and is kept in stock for rapid delivery. Acoustic Systems is accredited by the National Voluntary Laboratory Accreditation Program (NVLAP) and submits its audiometric rooms and suites to regular testing. Factory-trained representatives help with selection and installation. (512) 444-1961; www.acousticsystems.com.
---

Cell Phone Accessories
Hal-Hen Company Inc, Garden City, NY, now features a full line of cell phone accessories for the hearing impaired, ranging from in-line amplifiers, induction loops, boom mikes/headsets/earbuds to inexpensive ear pads for feedback reduction. Hal-Hen accessories are compatible with most popular brands including Motorola®, Nokia®, and LG®. Many of these items provide compatibility with Walkman® players and iPod® and other popular MP3 players. (800) 242-5436; www.halhen.com.
---

Hearing Device
Vivatone Hearing Systems LLC, Trumbull, Conn, offers the patented Vivatone™ hearing device. Vivatone minimizes insertion loss, eliminates occlusion, and vastly reduces acoustic feedback. It is the only hearing device that places the receiver/speaker discretely in the ear while keeping the ear canal totally open. This new technology offers one of the widest fitting range (500 Hz to 6,000 Hz with usable gain) of any "open fitting" device available. Vivatone's design virtually eliminates the discomfort that often leads to the rejection of even the finest hearing instruments. (877) 278-8482; www.vivatone.com.
---

Implant Batteries
Varta Microbattery Inc, White Plains, NY, has developed a new battery specifically for use with advanced cochlear implants. The power one p675 IMPLANT plus has been engineered in conjunction with industry leader Cochlear Corporation. Modern cochlear hearing devices need batteries that can supply high currents supported by high and stable voltage. The ability to sustain this heavy load demonstrates that power one p675 IMPLAN