Contract Awarded to Telecommunications Company for Relay Services for the Deaf
Arkansas has awarded Sprint a 3-year Telecommunications Relay Services (TRS) contract to provide a variety of assistive communications services to the deaf and hard of hearing within the state. Sprint replaces SBC as the state's official provider of TRS, and will become responsible for delivering nearly 90,000 minutes of assistive communications services each month. Arkansas joins 30 other states plus Puerto Rico and the federal government in selecting Sprint Relay to provide TRS to the deaf and hard of hearing.
The agreement is expected to deliver significant cost savings to the state while providing a wide range of assistive communications technologies. Sprint's experience in the field also provides the assurance that all services delivered will meet or exceed Federal Communications Commission mandates for TRS.
The new Sprint Relay services were made available on January 1, 2004, within Arkansas by dialing 711 or one of several toll-free numbers; Sprint will also provide video relay services for the state through a Web site. Sprint Relay services will enable deaf, hard-of-hearing, deaf-blind, or speech-disabled Arkansas citizens to communicate with hearing persons on the phone through traditional, online, or video relay services.
Traditional relay services involve a relay operator serving as an intermediary for phone calls between a deaf user and a hearing party. The TRS operator speaks words typed by a deaf user on a text telephone (TTY) or via the Internet, and relays the hearing person's spoken response by typing back to the deaf user. Video relay service uses a similar process but enables the deaf user to communicate in American Sign Language via a computer with a Web camera instead of typing. These services can be accessed at www.SprintVRS.com, and www.SprintRelayOnline.com.
---
Audiologist Innovator Returns to the Industry
C. Mike Hall, Walnut Creek, Calif, a private practice audiologist whose career spans more than 30 years, recently announced that he was ending a 3-year hiatus to volunteer his expertise to SeboTek Hearing Systems, Tulsa, Okla, and assist with the introduction of the company's PAC hearing instruments.

C. Mike Hall
Hall, a long-time hearing aid wearer, purchased a PAC instrument for his personal use, which motivated him to contact SeboTek and offer his support in the company's efforts to build awareness and market support for its new hearing instrument.
In addition to operating his own private practice, Hall has worked to further the proliferation and acceptance of advanced hearing aid technologies for more than a decade. His Walnut Creek practice was one of the first in the United States to offer WDRC, digitally programmable instruments, as the standard for his patients.
In Hall's career as a clinical audiologist, he dispensed more than 8,000 advanced technology instruments. His extensive, personal dispensing experience provided him with the basis for the numerous articles he has authored. In addition, Hall served as an advisor to three hearing aid companies in the development and introduction of their high technology products during the past 10 years.
Hall will support SeboTek by assisting with its marketing and training as well as technical refinement and product development. He will be available on a limited basis for talks and presentations.
---


Rachel Blair


Chris Boyd


Kent J.
Rappaport
Company Announces Five New Sales Representatives
Siemens Hearing Instruments Inc, Piscataway, NJ, has appointed five new sales representatives. Among these individuals, who combine more than 40 years of experience in the hearing health care industry, are: Rachel Blair, who has been appointed field sales representative for Northern California and Alaska, and is responsible for new account generation and customer support; Chris Boyd will serve as a field sales representative for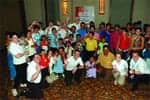 John Scott

Dennis Wilkinson
California, and is responsible for supporting and growing business by helping his clients attain their practice goals with a superior product and marketing plan; Kent J. Rappaport will be the inside sales representative for the Midwest region (focusing on Iowa and Missouri)—his responsibilities include assisting customers in their daily functions and helping make their business successful; John Scott is the new inside sales representative and supervisor for the southern region, including Alabama, Arkansas, Louisiana, and Mississippi; and Dennis Wilkinson, an inside sales representative for Northern California and Alaska, is responsible for assisting hearing care professionals in identifying the right solutions for their patients' needs.
Siemens Hearing Instruments designs, engineers, and manufactures a variety of digital (programmable and trimmer-driven) hearing instruments in all custom (in-the-canal, in-the-ear, and completely-in-the-canal, and behind-the-ear) models. The company also offers audiological software and a wide array of assistive listening devices.
---
New Identity Based on Key Technology
Plantronics Inc, Chattanooga, Tenn, recently announced that it has changed the name of its Walker Ameriphone division (a national manufacturer of hearing health care products) to Clarity®, to reflect the company's position as a provider of technology-based solutions for the hearing impaired.
Clarity is a leading supplier of amplified telephones, notification systems, assistive listening devices, and other communication devices for the hearing loss and deaf markets. Its signature product, Clarity Power™, enables users to tailor the levels of amplification and incoming high-frequency sounds.
"Clarity Power technology has been so successful and is now so well recognized in the hearing loss community that we have decided to leverage our technology position and change our name to Clarity," says Carsten Trads, a global executive in the hearing industry, who joined Clarity as president last September. "Its strong name recognition and dependable quality make it the technology of choice for millions of people who have difficulty hearing. Building on this existing, loyal customer base, we see a tremendous potential for long-term growth. We are poised to deliver the advanced hearing experience of Clarity Power for generations to come."
Since 1999, Clarity has steadily increased its presence with major domestically based retail operations. The name change comes at a time when Clarity is seeing increased interest in its products from the hearing health care community, and plans to expand into international markets in the coming year as part of its overall growth strategy.
Among the latest products introduced by Clarity are a new version of its cordless amplified telephone (Clarity 435), a dual speaker amplified telephone (CLS45i), as well as a mobile headset amplifier (MHA100) that was introduced under the Plantronics brand.
The name change will take effect immediately, and all products and information formerly found on the Walker Ameriphone Web sites can be found on www.clarityproducts.com.