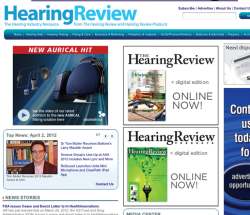 TOP NEWS and HEADLINES
FDA Issues Letter to hi HealthInnovations for Online Test
75% of Tinnitus Patients Benefited in Acoustic CR Neuromodulation Trial
United Health/hi HealthInnovations Pulls Online Test for "Enhancements"
BHI Creates PR Kit for "Better Hearing Month" in May
European Study: New Internet-Based Therapy Relieves Persistent Tinnitus
Siemens Introduces Next Generation of Its BestSound Technology and a New Deep-Fit CIC
First National Guideline for Sudden Hearing Loss Is Now Available
Westone Launches Custom RIC Earpiece Education Campaign
Audiology Awareness Campaign's 5th Annual "Listen Up America"
FDA Letter Says hi HealthInnovations Online Test Needs 510(k) Clearance
On March 28, 2012, the US Food and Drug Administration (FDA) issued a letter to hi HealthInnovations that stated that the company's online hearing test was in violation of the Federal Food, Drug, and Cosmetic Act. In the same letter, FDA ordered the company to take down the test until it was approved under 510(k) clearance.

The FDA letter was written by Steven D. Silverman, director of the Office of Compliance Center for Devices and Radiological Health, and addressed to hi HealthInnovations' CEO Lisa Tseng, MD.
News that the FDA had issued the letter was first reported in an April 18 e-mail alert from the American Academy of Audiology, which included a redacted copy of the letter that was sent to Dr Tseng. The letter appears to follow the general format of most FDA letters that cite a violation of 510(k) premarket notification for what it believes to be "new devices."
In it, Silverman says that the agency reviewed a hi HealthInnovations slide presentation and summary, the January 2012 HR article by Dianne Van Tasell, PhD, as well as Web sites and other related materials, and determined that:
…the Online Hearing Test is a device because it is intended for use in the diagnosis of disease or other conditions or in the cure, mitigation, treatment, or prevention of disease, or to affect the structure or function of the body. The Act requires that manufacturers of devices that are not exempt obtain marketing approval or clearance for their products from the FDA before they may offer them for sale.
The FDA letter later stated:
Your firm should immediately cease marketing the Online Hearing Test until your firm has submitted a new 510(k) application to be reviewed for clearance by FDA. You may continue to sell hearing aid devices provided you comply with the regulations found at 21 CFR 801.420 and 801.421.

Please notify this office in writing within thirty business days from the date you receive this letter of the specific steps your firm has taken to correct the noted violations, including an explanation of how your firm plans to prevent these violations, or similar violations, from occurring again.
Currently, the online test is preceded by a Web page that provides instructions on how to get a hearing test that states: "Ask your physician for a hearing test. We have provided hearing test kits to many physicians, but if your physician does not have a kit, please ask them to call [phone number]." When one clicks on the "Start Hearing Test or Enter Audiogram Results," which at one time brought visitors to the "At-Home version," it now only allows visitors to enter values from an audiogram.
Industry experts who have experience with FDA 510(k) requirements say that, although the agency has improved the speed at which it reviews applications, fulfilling the requirements remains a long and arduous process—and approval is rarely a foregone conclusion. Thus, it appears that, at least, the online At-Home test will not be available for some time, possibly extending into next year.
News of the FDA letter was applauded by AAA. "The Academy is pleased to see that our multi-faceted approach to addressing the patient safety concerns associated with the hi HealthInnovations online hearing test and online hearing aid purchase continues to be effective," said Academy President Therese Walden in a statement. "We will persist in our efforts on all fronts to ensure our patients receive the highest quality of hearing health care."
hi HealthInnovations did not respond to HR for comment about the FDA letter.
Editor's Note: The above story is a late breaking news topic that came to HR shortly before this edition went to press. Coincidentally, this month's HR includes an interview with hi HealthInnovations CEO Lisa Tseng, MD (here), an opinion piece by long-time industry expert Jerry L. Northern, PhD (here), and an article by Amyn Amlani, PhD, and Brian Taylor, AuD (here), that were all written prior to this breaking news and all have some relevance to this news story, as discussed in the Staff Standpoint editorial.
US Hearing Aid Sales Up 5.3% in First Quarter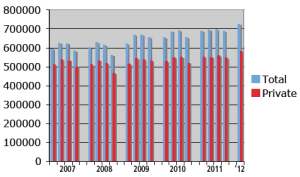 US quarterly net unit volume of hearing instruments dispensed from Q1 2007 to Q1 2012, with total units shown in blue and private sector sales (ie, excluding VA sales) shown in red. Total hearing aid unit sales increased by 5.3% in the first quarter of 2012.
Hearing instrument net unit volume increased by 5.3% in the first quarter of 2012 compared to the same period last year, according to statistics compiled by the Hearing Industries Association (HIA), Washington, DC. US private sector net unit sales (excluding units from the Veterans Administration) increased by 5.4%, while VA dispensing activity—which constituted 19.6% of the entire US market—increased by 4.8%.
Seventeen states and the District of Columbia saw sales rise by more than 10%, while only two states (Texas and Vermont) saw sales fall by more than -7%.
Behind-the-ear units made up 70.3% of all hearing aids dispensed in the first quarter, and 71.2% for the private sector. The average return rate was 19.4% for BTEs and 19.9% for in-the-ear devices, slightly higher than last year's figures (19.1% and 18.8%, respectively).
May Is Better Hearing Month
May is the traditional month in which dispensing professionals try to concentrate their collective marketing efforts to drive home the importance of hearing healthcare. Some opportunities afforded this month include:
BHI. The Better Hearing Institute (BHI) is providing online public relations resources for hearing care professionals to promote the campaign, which encourages employers to urge workers to get their hearing checked. BHI's 2012 local media kit includes:
Local customizable press release that can be customized for hearing health professionals (under the 2012 Better Hearing Month Campaign);
Hearing loss/health facts for the press;
Article reprint of "Assisting Employees with Hearing Health"
News feature (NAPS), "Hearing better may mean earning more"
Income and hearing loss study, one-page fact sheet titled "Hearing less means earning less"
Income and hearing loss study detailed fact sheet, a consumer or media handout
BHI screening audiogram form
BHI online quick hearing check
BHI logos for linking to online hearing check
For more details, visit www.betterhearing.org.
AAC. The Audiology Awareness Campaign® (AAC) recently announced its fifth annual "Listen Up America"® Week, a national hearing screening campaign that is scheduled for May 14-18, 2012, across the United States. The weeklong national event provides audiologists and hearing health professionals an opportunity to raise consumer awareness about hearing loss and hearing loss prevention.
The annual campaign involves audiologists from around the country offering free hearing screenings during the May time period. Consumers are directed to contact the registered offices and schedule an appointment during the campaign week.
AAC will provide participating audiologists with camera-ready materials to promote their office in their local area, and reports that last year's campaign was featured in 781 Internet articles and 63 newspaper articles.
To participate, call (800) 445-8629 or e-mail to register your office, hospital, or clinic.
HRI. The House Research Institute (HRI) will present "Hear the Experts" in New York on May 15 at New York's Directors Guild of America theater. Hosted by New York Times best-selling author Lee Woodruff, the evening is a free interactive event for adults that will discuss common hearing health concerns.
Designed for audience participation, participants and panel members will discuss common misconceptions about hearing loss, treatment options, information about the realistic abilities of today's hearing health technologies, and future technologies.
Panelists for the Hear the Experts forum include clinical otologist and House Research Institute researcher Joni K. Doherty, MD, PhD, FACS; the institute's EVP of Research, Neil Segil, PhD; and New York Eye and Ear Infirmary audiologist Elizabeth L. Davis, MA.
To register for the event, visit: http://hearingNY.houseresearch.org
---
Get Your Weekly Edition of THE INSIDER
Every week The Hearing Review sends out THE INSIDER, a weekly FREE e-newsletter devoted to the top hearing-related news, research, product introductions, fitting topics, and marketing research stories that are influencing your business or practice, as well as the industry at large. [register]Sign up for your free subscription[/register].