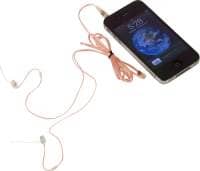 Audiologists Invent Earphone Designed for Sport Safety
Two audiologists have invented earHero earphones, which enable the skier or active outdoors enthusiast to listen to music while still hearing sounds around them. earHero's proprietary patent pending product uses miniature speakers that never block the ear canal, yet remain in place. Husband and wife clinical audiologists/inventors designed the eHero product to allow them to listen to music while exercising and still maintain awareness of the sounds around them.
www.earhero.com
(877) 817-4376
---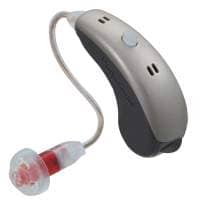 Panasonic Introduces R1-W RIC Series with Bluetooth
Panasonic Hearing Instruments has introduced the R1-W series, a new line of open-fit receiver-in-canal (RIC) digital hearing instruments with Bluetooth, designed for people with mild-to-severe hearing loss. The R1-W series offers three models. Each features a compact size with a sleek, curved shape that fits comfortably and discreetly behind the ear. The line includes Hearing Hub, a feature that allows users to wirelessly connect the hearing instrument to Bluetooth-compatible mobile phones, and landlines.
www.panasonic.com/hearing
(888) 422-6309
---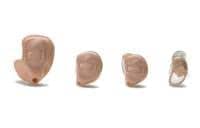 Starkey Features Wi Series
Starkey is featuring Wi Series™ custom products at AAA 2012, including the Secret Ear completely-in-canal (CIC), in-the-canal (ITC), and in-the-ear (ITE). Starkey's proprietary Comfort Fit process allows for smaller, more comfortable custom wireless products. All styles offer full wireless functionality, binaural spatial mapping, ear-to-ear communication, and synchronized user controls. Wi Series custom products also include Spectral iQ, Voice iQ2, PureWave Feedback Eliminator, Hear Clear™ with HydraShield®2, Self Learning, volume control, program switch, automatic telephone response, telecoil, and more.
www.StarkeyPro.com
(800) 328-8602
---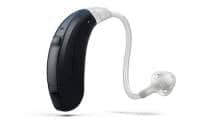 ReSound to Launch Vea
ReSound is launching Vea™ at AAA, a new budget hearing instrument designed for superior sound quality and speech understanding in noise. Features include adaptive directionality with integrated wind noise management, soft-switching, warp processing, Noise Tracker II, and Dual Stabilizer II technology. Vea also is treated with iSolate nanotech, the same level of durability and protection that is available on high-end ReSound models. Available in seven different models, Vea allows for fitting flexibility with several patient customization features.
www.gnresound.com
(800) 248-4327
---
Sonic Innovations Offers Its New miniRIC
Sonic is showcasing the new miniRIC. Despite its compact size, Flip includes popular features desired by patients, such as a long-lasting, easy-to-handle size 13 battery, fumble-free operation, and wireless device connectivity. Flip also features Sonic's sound quality, a new adaptive feedback canceling system, and noise management features. Flip was also designed to make it easy for hearing care professionals to fit and patients to use.
www.sonici.com
(888) 423-7834
---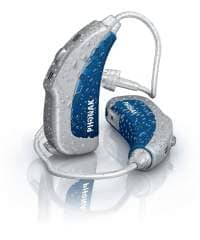 Phonak Expands Spice+ Portfolio with Water-resistant Products
Phonak expands the Spice+ portfolio with new water-resistant products. The company reports that all of the new instruments meet the Ingress Protection Rating of 67. This means that neither 8 hours of exposure to dust, nor submersion in water up to 3 feet for 30 minutes causes damage, according to the company. The new line is designed for clients with active lifestyles or who work in dusty or wet environments. More information is available on Phonak's Web site.
www.phonakpro-us.com
(800) 777-7333