New ITC Models, Next Generation of Custom Hearing Instruments

ReSound, Bloomington, Minn, introduces ReSound Live ITC remote microphone custom hearing instruments, which are small and powerful. According to the company, the expanded fitting range accommodates 90% of hearing losses, PhoneNow assists in automatic phone usage, the extended battery life with a 312 battery lasts up to 165 hours, and the remote microphone design is engineered to use the natural shape of the ear to provide improved directivity, wind noise protection, and sound localization.
(800) 248-4327
www.gnresound.com
---
Hearing Aid Test System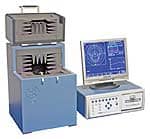 Frye Electronics Inc, Tigard, Ore, introduces the FONIX 8000 Hearing Aid Test System, which helps clinicians verify a hearing aid's directional response pattern (its polar plot). In the polar-plot sound chamber, the hearing aid is mounted on a rotating spindle in front of the sound chamber speaker. During the test, the FONIX 8000 automatically rotates the hearing aid in a 360° circle, taking measurements at angles specified by the user. A special damping configuration helps minimize acoustic reflections. Results are displayed in polar-plot format on a screen, and can be printed and saved electronically for future reference.
(800) 547-8209
www.frye.com
---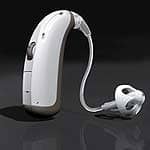 Prominent German Company Introduces Products to US Market
Hansaton, Hamburg, Germany, with US headquarters in Plymouth, Minn, has made its products available to US-based audiologists and hearing aid dispensers. Products include a range of hearing systems, including multiple sizes of behind-the-ear instruments, in-the-ear instruments (from full-concha to completely-in-the-canal), and the latest receiver-in-the-canal instruments with three available power levels. Systems for adults and children include the Velvet. The instruments, which include a comprehensive 3-year warranty, are fully wireless-enabled, with Bluetooth connectivity, stereo wireless listening, and ear-to-ear control.
(888) 984-7432
www.hansaton-usa.com
---
Basic Audiometry Learning Manual

Plural Publishing, San Diego, has published The Basic Audiometry Learning Manual, by Mark DeRuiter, MBA, PhD, and Virginia Ramachandran, AuD, a volume in its Core Clinical Concepts in Audiology Series. The book provides beginning clinicians and students with experiences and instruction in the art and science of clinical audiometry techniques. It can be used as a stand-alone tool, or in conjunction with the books of the complementary CCC Basic Audiometry Series. The content encompasses the breadth of audiologic evaluation, including history-taking and patient communication, ear canal assessment and management, immittance, pure-tone testing, masking, speech audiometry, patient counseling, and report writing.
(866) 758-7251
www.pluralpublishing.com.
---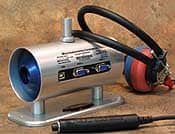 Computer-controlled Audiometer
Micro Audiometrics, Murphy, NC, introduces Earscan 4, the newest addition to the Earscan family of audiometers. The computer-controlled audiometer includes audiometric testing software, along with an optional integrated bioacoustic simulator and room monitor. The device offers automatic and manual puretone operation, dual station capability, USB connectivity, and audio capability. Multiple Earscans can be connected easily via USB hubs.
(866) 327-7226
www.microaud.com
---
Hearing Care Office Management System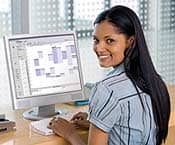 Blueprint Solutions LLC, Eden Prairie, Minn, is introducing its hearing care office management system (OMS) in the United States after 5 years of implementation in hearing clinics in Canada. The system has been modified and enhanced to provide total business solutions: it manages patient data, hearing equipment, medical information, and billing, and provides a marketing and promotion module that helps business owners and managers stay in touch with their patient base. The Internet-based system uses advanced database and application tools to create an intuitive user interface that can be accessed from any computer with Internet access.
(877) 686-8410
www.bp-solutions.net
---
Hearing Solution Transmits Sound Via Teeth

Sonitus Medical Inc, San Mateo, Calif, introduces the SoundBite hearing system, a nonsurgical and removable hearing solution that is reportedly designed to imperceptibly transmit sound via the teeth. Relying on the principle of bone conduction, the hearing and communication platform is initially intended as a noninvasive treatment for hearing disorders such as single-sided deafness and tinnitus. The system consists of an in-the-mouth hearing device that is custom made to fit around the upper left or right back teeth, and a small microphone unit worn behind the ear. The system is currently for investigational use only.
(650) 838-0325
www.sonitus.com
---
Cochlear Implant Accessories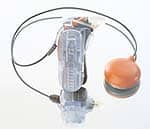 Advanced Bionics, Valencia, Calif, offers several new accessories designed to make using their behind-the-ear (BTE) sound processors more user-friendly for adult and pediatric recipients: the Kinder Clip, which allows Harmony BTE sound processors to grow with pediatric recipients by enabling the processor to be worn completely off the ear and on the collar or shirt instead; the Snuggie, which securely fits over the ears to keep the processor in place; and Skinit device covers, which allow recipients to dress up their processors with a variety of designs.
(877) 829-0026 or (800) 678-3575 TTY
www.advancedbionics.com/skinit
---
Crossover Hearing Instrument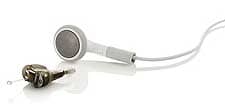 Unitron, Kitchener, Ontario, Canada, introduces Fuse, a crossover hearing instrument. Combining attributes of ultra-small BTEs and CICs, along with new purpose-driven innovations, it is open fitting and fully featured, and can be fit during a single consultation. At 45% less than the volume of a typical CIC, it is almost completely concealed inside the ear. An articulating joint helps eliminate pressure points by adapting with the ear canal as it moves during speech and while chewing and swallowing. Fuse is available in a choice of technology levels, including Passport, the company's premium hearing instrument, and in the Latitude 16 and Latitude 8 product lines.
(800) 888-8882
www.unitron.com